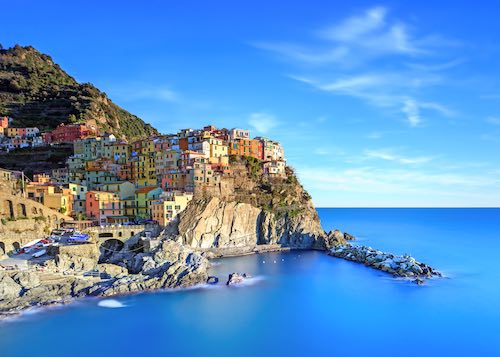 The best town to stay in Cinque Terre: how to choose the perfect one
Essential guide to help you choose the best town to stay in Cinque Terre depending on party and travel style.
The beautiful towns of Cinque Terre are one of the prettiest destinations in Italy.
Among the most colorful in Italy, they are charming fishing villages with colorful houses clinging onto stunning sea cliffs, making up one of the most distinctive and evocative landscapes in the country.
The towns have much in common so choosing to stay in one over the other may seem of little consequence.
However, the differences are significant enough to affect your stay significantly.
In this post, we look in detail to the Cinque Terre towns so that you know what to expect and can pick the best one for your specific needs and travel wishes.
Good to know: in Cinque Terre you find small guesthouses and apartments rather than big hotels. This is why this list focuses on this type of accommodation only.
Please note: this post contains affiliate links. Should you make a purchase, we might make a small commission.
Cinque Terre towns: what they are and how to get there
There are 5 towns in Cinque Terre (Cinque means 5 five in Italian). From East to West the Cinque Terre towns are:
Riomaggiore
Manarola
Corniglia
Vernazza
Monterosso al Mare
The towns are connected to each other by the local train, each stop being only a few minutes from the next, and by hiking trails.
The best town to stay in Cinque Terre depends on how much you want / can hike, how close you want to be to the sea, if you are traveling with kids and what type of atmosphere you prefer.
Best town to stay in Cinque Terre at a glance
| | |
| --- | --- |
| Name of town | Best town to stay in Cinque Terre for |
| Riomaggiore | Young, busy feel, nightlife, easy access to La Spezia, budget options |
| Manarola | Couples, photographers, quiet evenings |
| Corniglia | Hikers, off the beaten track feel, views, budget |
| Vernazza | Couples, photographers, people who don't mind crowds |
| Monterosso al Mare | Beach, families, anyone with mobility issues (the town is flatter than the others) |
Riomaggiore – best town to stay in Cinque Terre for social butterflies and nightlife
Riomaggiore is the first town you encounter coming from La Spezia and the one with the most dynamic nightlife.
While Cinque Terre are not a glamorous nor loud 'going out' destination out of the five towns, Riomaggiore is the one with the highest number of bars and restaurants and the one usually chosen by younger tourists interested in longer days out and social opportunities.
if that is the type of vibe you are looking for, Riomaggiore is perfect!
This is not to say however that Riomaggiore is only a 'party city'.
The town also has the colorful houses and the beautiful landscapes Cinque Terre is known for and it is also a good base for trekking, so it is overall a good all round choice as a base to explore the area.
Make sure you check the location of your hotel of choice if you are worried about noise late in the evening.
Riomaggiore is the best town in Cinque Terre for: young visitors, visitors interested in a lively, bigger center.
Riomaggiore is, often, the cheapest town to stay in Cinque Terre. If budget is a concern, you can also stay in Levanto or Porto Venere, pretty towns close to Cinque Terre and with a similar feel albeit not part of the 'famous 5'.
Good to know: Riomaggiore is rather steep. Make sure you have sensible luggage with you and double check the location of your hotel is walking up stairs may pose a problem. You can find our recommended luggage for Italy here and our specific packing list for Cinque Terre here.
Some of the best places to stay in Riomaggiore
Sottocoperta Guesthouse – nice guesthouse in Riomaggiore, with rooms and apartments 5 minutes walk from Riomaggiore town center. The guesthouse has a marine-themed decor and some of the rooms have pretty balconies and essential kitchen facilities. Free wi-fi available throughout.
Cà dei Ciuà, Apartments for rent – nice apartment in the center of Riomaggiore with a double room and bunk beds for kids, perfect for a family stay.
Cinque Terre d'Amare seaview apartment – lovely big apartment with incredible views just outside your window! Italian breakfast available.
Manarola – best town in Cinque Terre for a romantic stay
Manarola is one of the prettiest and most photographed of the Cinque Terre town and, for many, an absolute favorite.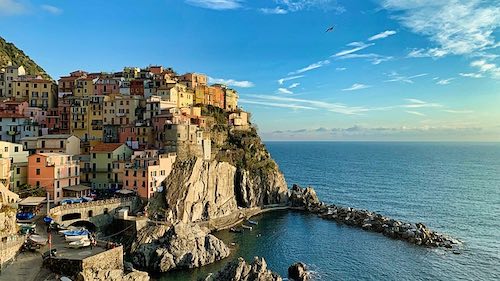 The town has delightful colorful houses, scenic and rocky access to the sea and a plethora of small alleyways climbing up from the sea up to the tallest part of of town, at the top of the cliff.
Manarola is smaller than Riomaggiore and has a different vibe.
There is less going on here at night, which means Manarola is a good place to stay if you want more relaxing evenings.
The small streets and sea views make it perfect especially for couple looking for a romantic place to stay and for photographer.
Manarola is also the most ancient of all Cinque Terre towns: It has been inhabited since the middle Ages and has an interesting tradition of wine production.
Manarola is also a good place for hiking: Sentiero Azzurro and Sentiero dell'Amore are both easily accessible form here however, they are often closed for safety reasons so access cannot be guaranteed. Ask local authorities on the day of your visit.
Manarola is the best town to stay in Cinque Terre for: couples, photographers, hikers.
Need to know: Manarola is has steep roads and it is not a good place if you have very small kids or have mobility issues.
Some of the best places to stay in Manarola
Ines Apartments – Nice apartments in a great location right above Manarola, with wonderful views over the town yet still walking distance from the train station.
Ca' de' Carlin – another lovely apartment in the center of Manarola, in perfect location to visit the town and the area. The apartment has a well equipped kitchen, a double bedroom, bunk beds and a lovely balcony.
Corniglia – best Cinque Terre town for a quiet stay
Corniglia is the only one of the 5 Cinque Terre town not to be on the sea and it is therefore pretty different in feel from the others.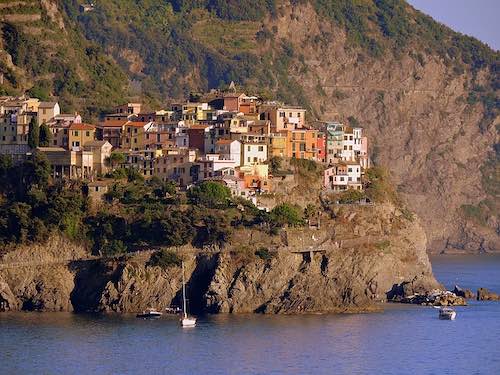 It is much less visited than the other towns, most people usually prioritizing Vernazza, Manarola and Riomaggiore, and this gives it a wonderful quiet charm and a true local feel.
The town develops along one road connecting the city center to a belvedere and has some interesting churches (San Pietro dates back to 1300) as well as incredible viewpoints to admire the sea below.
Something important to know about Corniglia is its accessibility.
The town is accessible by train but once out of the station you need to negotiate 377 steps to get to the town! Bus connections are available to cover that stretch however, the town is mostly suited to hikers and people with no mobility issues.
Corniglia is the best town to stay in Cinque Terre if you want to stay off the beaten path, have quiet evenings and do not want to be on the sea. The town is also often cheaper than others, making it a good budget option.
Good accommodation options in Corniglia
Locanda il Carugio Guesthouse – 2 star hotel with clean, modern and pleasant rooms with balcony and garden. Beautiful mountain and sea views and fantastic shared outdoor areas too.
Arbanella – lovely rooms in a good location in Corniglia, offering sweeping views over the iconic Cinque Terre landscapes: perfect especially if at ease with heights due to the nature of the views!
Find here >> our essential travel guide to Corniglia
Vernazza – the most popular of Cinque Terre towns
Vernazza is probably the most popular and photographed of all the towns in Cinque Terre and it is indeed maybe the one that most of all embodies the 'Cinque Terre' experience visitors expect.
The town dates back to the XI century and is now a delight of meandering streets and colorful houses, all arranged around the town port.
The landscape here is dominated by the Doria Castle and worth a visit are also the church of Santa Margherita and of course the small Vernazza port, one of the most charming in the area and one of the best known.
This is one of the bigger towns in the area and is full of restaurants and hotels however, it is also one of the busiest so booking accommodation well in advance is mandatory.
Vernazza is wonderfully romantic and it is one of the best towns in Cinque terre for couples.
Good places to stay in Vernazza
MaDa Charm apartments – located immediately above the Vernazza port, this apartment is as central as it gets! The sea and the main piazza are just outside your door and the facilities are new and modern.
Casa Vacanze Zia Maria (holiday home): new, comfortable apartment in a very convenient location close to Vernazza train station, offering a double bed and sofa bed and self catering facilities.
Please be advised that Vernazza is so popular, it tends to have higher accommodation costs than others in the area.
Find here >>> our complete travel guide to Vernazza
Monterosso al Mare – the best town to stay in Cinque Terre for families with kids
Monterosso is the biggest of the five towns, the only one with a beach and the only one not perched on rocky cliffs, something that makes it very different from the other four.
The town has a modern part and an older part with some pretty historical attractions but it is mostly chosen for its beautiful beach.
Monterosso al Mare is the only town in Cinque Terre with easy access to the sea and the best place in Cinque Terre if you want to enjoy the water more as well as or more than the hiking.
You can find here >>> our guide to Monterosso al Mare
Find our guide to Cinque Terre with kids here.
Some of the best hotels to stay in Monterosso
Tramonto sul mare apartment – lovely self catering apartment in a perfect location right in front of the sea and with beautifully curated decor. Apartmets suitable for up to 5 people, perfect for families.
La Rosa dei Venti – lovely rooms right in the heart of the old town, with a modern decor. Tea and coffee facilities available in the room, free wifi, pet friendly.
I hope you found this overview of the towns of Cinque Terre useful and it helped you picked the best place to stay in the area. Safe travel planning!
Planning a trip to Italy? Don't forget to also check out our 100+ Italy travel tips and our guide to planning a first trip to Italy!
Additional Cinque Terre travel guides you may want to use:
Pin this article!