Italy in July: all you need to know to plan the perfect trip
Visiting Italy in July: all you need to know to plan a trip! The best places to visit in July in Italy, when to book what, what to expect from the weather.
July in Italy is the heart of summer.
Schools are out, the sun is high in the sky and people start getting into vacation mode.
Weekends are spent on the beach, evenings are enjoyed outdoors and the sun turns from friend to enemy: July in Italy is time for shaded terraces and al fresco dining, not sightseeing in the scorching sun!
July is a popular vacation time for foreigners too. In this guide, we look at Italy in July and we share travel tips and destination advice.
This is our guide to help you plan your trip to Italy in July.
Please note: this is a seasonal travel guide about Italy in July, meant to help you decide the best time of the year for your visit. For official information and travel advisory that may affect your trip, please refer to your Government travel advisory. Check here for official info if traveling from US, Canada, UK, Ireland, Australia, New Zealand.
Please note: this post contains affiliate links and, should you make a purchase, we might make a small commission at no extra cost to you.
Italy in July 2021: need to know
Several exceptional rules and regulations are in place in Italy for July 2021.
This may affect your ability to enter the country, the documents needed to do so, movement between regions, movements within a certain locality (local curfews may be in place) and hospitality services including museums, restaurants and hotels.
Wearing of protective face masks may be compulsory indoor and outdoors.
Please refer to the latest news for an up-to-date overview of the situation and always abide by local and national rules at all times.
Italy in July: what you will find in this article
Overview of weather in July in Italy
Recommended places to visit in Italy in July
July in Italy with kids
What to book in advance for July in Italy
The weather in Italy in July: what to expect
July is a summer month in Italy.
The weather is likely to be hot and sunny everywhere on the Italian peninsula and the islands, with the possible exception of the mountains and you should expect high temperatures well in the 30s in most places.
Light summer clothing, sunscreen, sunglasses and sunhat are a must, and so are sandals and plenty of drinking water. Find our packing list for Italy here.
At a glance, the weather in Italy in July is:
| | | |
| --- | --- | --- |
| Name of the place | Temperature Low/High | Rainy days (average) |
| Milan, Lombardy | 30C/F – 20C/F | 5 |
| Venice, Veneto | 28C/F – 19C/F | 5 |
| Florence, Tuscany | 32C/F – 18C/F | 8 |
| Rome, Lazio | 31C/F – 19C/F | 2 |
| Amalfi, Campania | 29C/F – 25C/F | 6 |
| Palermo, Sicily | 31C/F – 23C/F | – |
| Cagliari, Sardinia | 31C/F – 19C/F | – |
| Bolzano, Dolomites | 30C/F – 16C/F | 14 |
The best places to visit in Italy in July
The best places to visit in Italy in July are coastal areas, the islands, the mountains, the lakes and, with certain precautions, the countryside.
Other places such as big art cities are also popular with tourists at this time however, you will need to negotiate the heat.
Beaches and coastal localities
The best place to be in Italy in July is the beach! Followed by the mountains, the other place where you can easily escape the heat.
Italy has stunning beaches and coastline and it is worth spending at least part of your time enjoying it.
Wonderful, scenic places are Cinque Terre, Amalfi Coast, Puglia and all Italian islands and you can also find nice beaches in Tuscany and part of the northern Adriatic coast.
The Dolomites
The Dolomites are a hikers' paradise and one of the best places to visit in Italy in July. At this time, the weather is mild and while you will have some rainy days, you also have the highest chance of a string of nice ones, perfect for hiking.
Weather is never guaranteed here and this is why we recommend to spend a good few days, to spread the risk.
You can find here >> the list of our favorite places on the Dolomites to inspire you!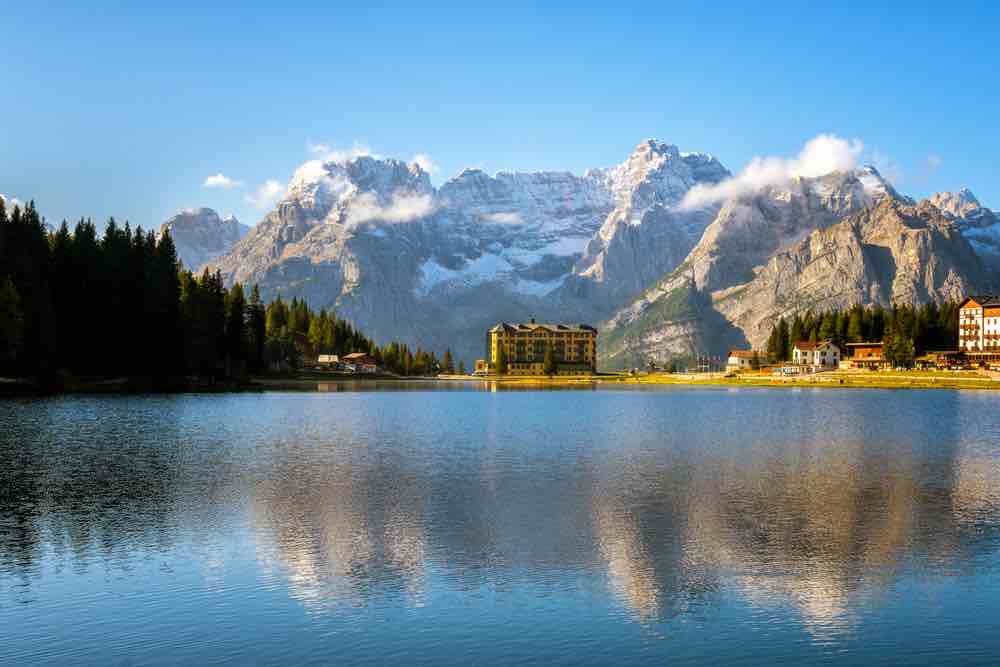 The Italian lakes
July is also a great month to visit the Italian lakes. Lake Garda and Lake Como are lovely at this time and they offer respite from the city heat and they are just the two most famous!
Visiting lakes in July means being able to go boating, sunbathing, possibly swimming (it depends where you go): just be careful if visiting at weekends as they are popular day trips from cities and tend to get very busy.
Find here >> our guide lakes in Northern Italy we believe you will love
The Amalfi Coast
The Amalfi Coast in July will steal your heart.
This stunning part of Italy is breathtaking in summer: it will be busy, but it will treat you to stunning views, waters perfect for boating and swimming, fantastic al fresco dining and even hiking trails!
This is our guide to planning a stay on the Amalfi Coast. Fund things to do on the Amalfi Coast in July include:
Taste of Sorrento food tour – a fantastic way to enjoy the city and its delicious culinary tradition
Sorrento to Capri boat tour – one of the best ways to enjoy the coast from the perfect vantage point: the sea!
Discover Capri, one of the most beautiful and glamorous islands in Italy
Explore pretty Procida, a romantic island with pretty houses and a local feel
Discover the archaeological site of Paestum and its incredible temples.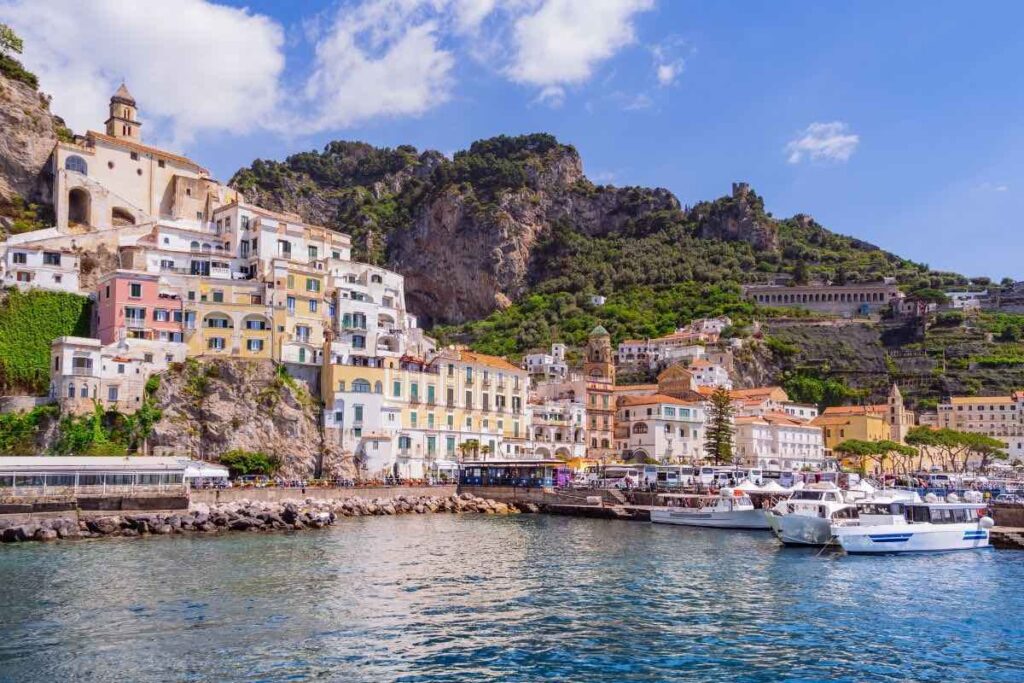 Cinque Terre in July
July is one of the best months for visiting Cinque Terre.
At this time, weather conditions allow most trails (always check specific conditions for the days of your trip), the beaches lovely and the sun bright.
Make sure you book in advance as there is no such as thing as a quiet time here and July tends to be exceptionally busy!
Find our Cinque Terre guides at the following links:
Tuscany in July
Tuscany is wonderful in July but hot. The best way to enjoy the region, at this time, is to get a villa or agriturismo on a hilltop and with a pool or stay close to the beautiful Tuscany beaches.
From here, you can take day trips to all the beautiful villages and towns in the area.
We adore Tuscany and have many travel guides for you:
Tuscany in summer – tips for dealing with the heat
Florence – very hot in summer, only visit in July/ August if you have no other time option
Val d'Orcia – an area of Tuscany of natural beauty so unique, it is now Unesco World Heritage Site
San Gimignano – delightful medieval town and Unesco World Heritage Site
Siena – One of the most beautiful small towns in Italy, with a wonderful historical town center
Lucca – a pretty town with a lovely center and the option to cycle along its medieval walls
Montalcino – wine town, perfect for wine lovers
Montepulciano – one of the prettiest villages in Tuscany and my personal favorite
Pienza – built in the Renaissance as the perfect city, no less!
San Quirico d'Orcia – a delightful medieval town in the heart of stunning Val d'Orcia
Monticchiello – a delightful country hamlet perfect to immerse yourself in relaxing country settings
Bagno Vignoni and Saturnia, two thermal localities with some of the best thermal springs in Tuscany – go early in the morning or in the evening as the hot waters under the sun are pretty intense!
Sardinia in July
Sardinia in July is ideal for a sea and sun holiday. Sardinia is busy at this time and perfect for swimming, boating and snorkeling. Some fund things to do in Sardinia in July are: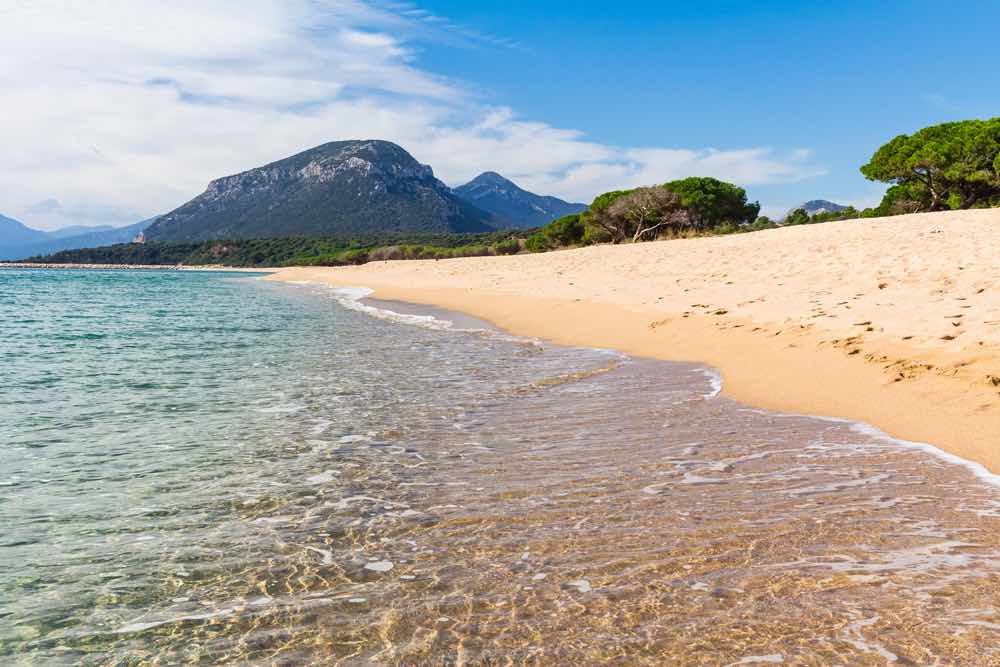 Sicily in July
Sicily is perfect in July if you want to have a sea and sun vacation. At this time, sightseeing of archaeological site can prove hard because of the high temperature and relentless sun, but all experiences along the water will be pleasant and you can still plan some excursion early in the day.
Some fun things to do in Sicily in July include:
You can find here >> our travel guide to Sicily
Puglia in July
Puglia is one of my favorite destinations in Italy in July
Blessed with a stunning coastline and some of the prettiest towns in Italy, Puglia is a great place for mixing lazy summer sightseeing and time on the beach.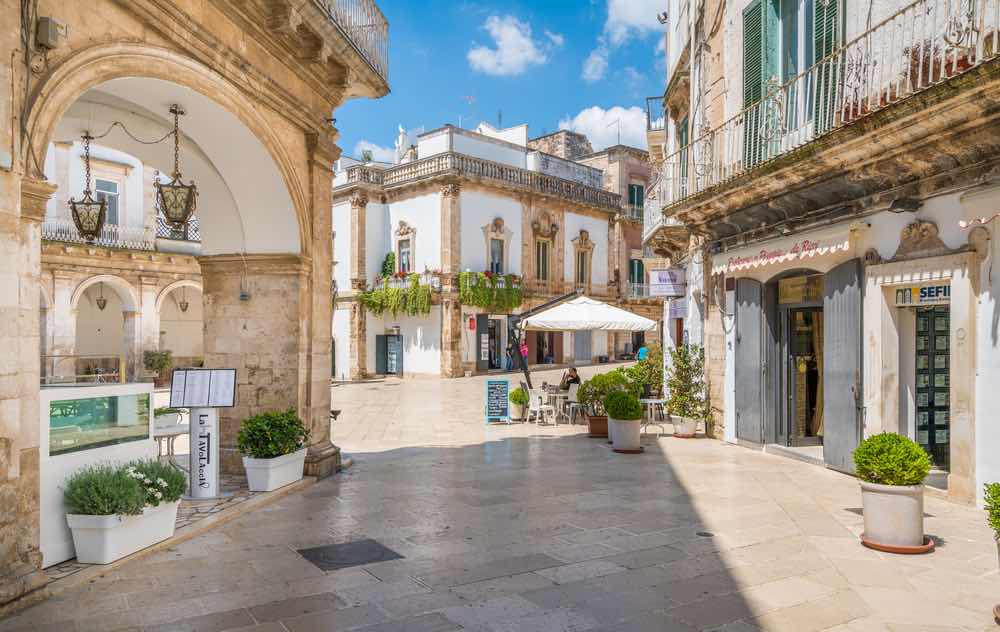 Wonderful places to visit in Puglia at this time are
Trani – a pretty, small village with a stunning church overlooking the sea (a vision!)
Martina Franca – a lovely, whitewashed town with wonderful churches in a unique Baroque style called 'Barocco Martinese'
Alberobello – the famous town of trulli, UNESCO World Heritage Site
Locorotondo – a delightful small town with whitewashed houses and pretty balconies everywhere (they win an annual prize for them, they are so special!)
You can see them all with a short road trip: you can find our 3 day Puglia itinerary here.
July in Italy with kids
Kids tend to love Italy in July as they can be in full summer mode. The best places for them to be are the beaches, the Dolomites and the lakes however, you can find something fun for them anywhere – just make sure you sprinkle it with sun hat and gelato!
You can find here >> a selection of Italy's best beaches (family friendly).
Travel guides to help you plan your trip to Italy with kids are:
Florence with kids – always lovely with children and not too hot at this time
Venice with kids – nice if you also want to head to the beaches in the area
Tuscany with kids – July has the perfect temperature for hilltop town hopping
Rome with kids – full of indoor and outdoor attractions for all ages
Sicily with kids – mild and beautiful perfect for family sightseeing and days on the beach
Amalfi Coast with kids – perfect for days boating!
Cinque Terre with kids – lovely for hiking and enjoying the small villages
Sardinia with kids – lovely for a sea and sun vacation
Lake Garda with kids – lovely time for hikes and time on the lake shore
Dolomites with kids – fantastic for an outdoor vacation
Looking for family destination ideas in Italy? Find my selection of the best places to visit in Italy with kids here.
What to book in advance for spending July in Italy
July can be busy in Italy but advance booking for all main attractions is a must.
This is also the case in 2021 when crowds are lower but advance booking is compulsory to ensure compliance with current regulations.
Attractions that need advance booking are:
Trains do not usually need to be booked in advance however, high-speed train on popular routes such as Rome to Florence do tend to book out or only have very expensive tickets available.
I always recommend booking accommodation in advance and my favorite booking engine is booking.com.
They have a large selection of accommodation options and excellent free cancellation opportunities too.
I hope you enjoyed this quick guide to Italy in July. Don't forget to also check out our 101 travel tips for Italy, for extra info. Safe travel planning!
Tips for visiting Italy in July – pin this!