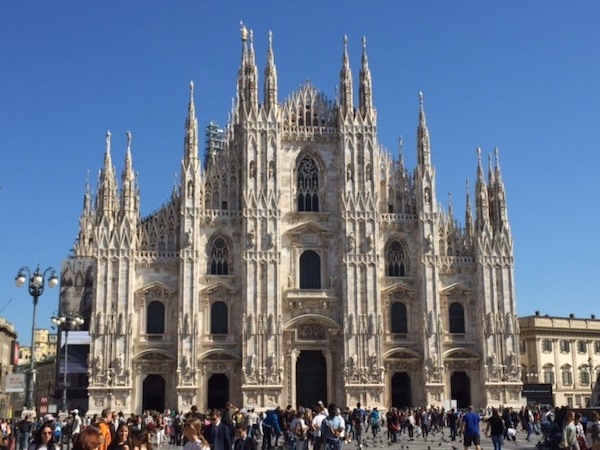 Visiting Milan with kids: what you need to know for the perfect family visit
All you need to know for visiting Milan with kids: child friendly attractions in Milan, best accommodation for families, travel tips.
Milan is the biggest city in the north of Italy and one of the easiest to visit with kids.
Known as the capital of industry and fashion, it may not be the first place that comes to mind when it comes to children however, it has a nice center that is fun to visit with little ones and some family attractions worth seeing.
If you land in Milan, maybe on your way to the Lakes, I recommend you spend one of two days here, and hit some of the following attractions for kids, I am sure they will enjoy them!
Please note: this post contains affiliate links. Should you make a purchase, we might make a small commission.
Why visit Milan with kids
I recommend you visit Milan with kids if you want to:
See Milan's main landmarks such as the duomo, galleria and Last Supper, all easy to visit with children
Experience a wealthy, cosmopolitan Italian city with some of the best shops in the world (if you have a mini fashionista, the city is incredible)
Treat your soccer loving child to a visit to San Siro, the legendary stadium of AC Milan and Inter.
The best things to do in Milan with kids: family friendly attractions in Milan
Milan has several kid-friendly attractions and family attractions for kids of all ages.
Visit Piazza Duomo with kids
All my trips to Milan start with a visit to Mlan's Duomo, the city's cathedral, a landmark that is sure to leave an impression on grown ups and kids alike!
The cathedral is Gothic in style and opens up onto a large square called Piazza del Duomo.
If you have small kids, the piazza will be a real treat as it is car free and it always has very many pigeons who call this large square home: chasing them is easy and guaranteed fun (careful with the Instagrammers though, there many of them too, posing in front of the church!)
The church itself is also fun for kids although more than the inside, the biggest it with kids is usually the facade: it is decorated with over 3500 statues, many of animals real and imaginary and one resembles the statue of Liberty, always fun to spot!
Climb to the roof of Milan's Duomo
After a visit to Piazza Duomo, I recommend you head to the back of the church and get the lift up to the roof.
The terrace on top of the Duomo is high but it is easy to visit with kids and very impressive: you find yourself very close to the gothic spires of the church, which are very cool, and the view over the city is vast and beautiful.
Access to the terrace is ticketed: you can book it in advance here
Have a snack in La Rinascente's Cafe
In front of Milan's Duomo you find La Rinascente, a large department store with a nice kid friendly cafe at the top.
The cafe has nice tables and sofas with views over the side of the duomo and it is great for families with kids as they serve snacks and juices and they also have restrooms and changing stations, otherwise rare in the city!
Twirl on the bull in Milan's Galleria
Milan Galleria is a beautiful and architecturally significant covered gallery with shops and cafes and something that is sure to catch the attention of kids: a bull!
The bull in questions is a design on the floor and it is famous as it is at the center of a legend: if you put your heel on a specific spot on its body and you twirl three times, you can make a wish and the bull with bring you good luck!
This is a popular thing to do and often you see university students on their way to their exams twirling here and it is easy and fun for kids. The exact spot is easy to see at is is consumed and I won't mention what it is in case you are reading this with your kids but let's put it this way: it is definitely a bull and not a lady cow!
Visit MuBa, Milan's children museum
Milan is a lovely children museum with a full program of activities for kids of all ages. The museum has lovely interactive installations, tons of colorful areas and fun/educational stations, nice workshops (check for the language as most are in Italian) and it also has a bistrot and access to a large garden.
You can find official info, opening hours and tickets here.
Explore a submarine
If you have kids who love science, exploration or both, then you cannot miss Milan's science museum. Here, you find permanent exhibitions about air travel, naval and train transport, physics, energy, space and machinery and you can also visit a real submarine!
This is is called Toti and it is the first submarine built in Italy during World War II! The submarine is open to the public (kids 3+) and it is super cool although not recommended to parents with claustrophobia as the space is rather small!
Play in Milan's Parks
Milan has several nice parks that offer welcome respite from the busy city streets.
The easiest to access from the city center is Parco Sempione, which is the large green garden of the Sforza Castle (worth seeing, for kids especially outside), but worth seeing are also Villa Reale, a 'park for kids only' and the nice Giardini Pubblici Indro Montanelli.
Good to know: the Sforza Castle gardens and main is free to visit and lovely to visit with kids. Inside there are several exhibition spaces with important art too so if you have kids who don't mind a visit to an art museum, this is a place you should not miss!
Visit Milan on water at i Navigli
A peculiar, nice and fun for kids area of Milan is that of i Navigli, an area where it is still possible to see the canals that were typical of Milan: yes, Milan used to be a city on water, a little bit like Venice!
I Navigli are now a very popular area for aperitivo and if you come here in the evening at the weekend you will find plenty of young people celebrating Friday night.
However, it is also a place with nice family-friendly restaurants and pretty views, nice especially for a family brunch on a lazy morning.
Visit San Siro Stadium
If you have a soccer lover then you cannot miss a visit to San Siro, the legendary stadium of AC Milan and Inter.
The stadium is open to visitors and it is wonderful for sports lovers, one of those places that simply makes you want to be amazing at what you do – a fantastic feeling for kids and adults alike!
You can book ticket and tour in advance here
Run in Piazza dei Mercanti
Piazza dei Mercanti is an ancient square in the heart of Milan and while there is nothing for kids to do here as such, I believe it deserves a mention as it is beautiful, car free and usually empty, meaning it is perfect for running around!
You find it just off the main corso, between the Duomo and the castle and it is just a lovely place if you have a little one and find yourself in need for them to be free to run lose for a while!
Get a hop on hop off tour
If you are only in Milan for a short while, a fun thing to do in Milan with kids is a hop on hop off tour.
Tickets can be booked in advance here and will allow you to see Milan's main landmarks and learn about the city with the headset with guided commentary in English (other languages available too)
Where to stay in Milan with kids
Most of Milan's attractions are in the city center so I recommend this as the best area to stay in Milan with family.
The area of the Duomo is very well located, Brera is also convenient, beautiful and well served and, if you need easy access to the station, you can also opt to stay close to Stazione Centrale.
Some family friendly accommodation in Milan you may want to consider is:
Heart Hotel Apartments San Sepolcro: nice, well-appointed apartments in several locations in Milan, including some very close to the Duomo, right in the center, perfect for bigger families.
Just Hotel Milan: close to the train station, this is a good 4-star hotel with triple and quadruple rooms, suitable for larger families.
Hotel Romana Residence (4 star hotel) In a great location in the heart of the city, this is a 4 star family hotel in Milan offering family rooms for up to 4 people with an additional sitting area to relax at the end of a day of sightseeing.
Art Hotel Navigli (4 star hotel) Good family-friendly hotel in the area of 'i navigli' with family rooms catering for up to 4 people.
Family-friendly and pet-friendly (small pets only) it has parking on-site and is well connected to the center by public transport.
43 station hotel Milan (3 star hotel) A more budget-friendly option, close the station, this hotel has family rooms, kids TV channels and can arrange baby sitting (extra charge). 
What to pack for visiting Milan with kids
The main thing to be aware of when visiting Milan as a family is that the city has pretty distinct seasons so your experience will be very different whether you are visiting in summer or winter!
In summer, Milan is hot so you want to have summer clothing, breathable tops and sun accessories such as sunscreen, sun hat and shades.
In winter, you wan to wrap up! Milan can get very cold and grey so you need to have a proper winter coat, scarf, gloves and hat. For small kids, a snowsuit can be handy and you definitely want a stroller footmuff and rain covers
In the mid seasons Milan has changeable weather so layers are your friends.
In terms of kids accessories, Milan is more stroller friendly than many other places in Italy so I recommend you bring a good lightweight stroller and also a carrier for museums.
Additional resources for visiting Milan with kids
Some extra tips for planning your stay at best are:
I hope you enjoyed this quick guide to planning a trip to Milan with kids and gave you good ideas. Safe travel planning!
Pin this guide to Milan with kids using this image!