Italy with kids in winter: best places to visit and fun activities the whole family will love
A mama's guide to the best places to visit in Italy with kids in winter, best kid-friendly activities and tips to enjoy Italy with family in the cold season, based on our own family travels.
Italy is a wonderful family destination all year round, winter included.
However, there is no doubt that a winter family vacation in Italy requires different planning than one for hot weather.
Winter in Italy is cold and you won't be able to use pools, water parks, or take boat trips, all easy ways to break up sightseeing with kids.
This leaves many parents to wonder: my kids are too small to enjoy museums, will there be anything for them to enjoy in Italy in winter? Should we just rethink the trip and go another time?
I always say that the best time to go to Italy is the time you have!
So, if you are looking at a winter Italy trip, you don't have to postpone it for the kids!
While you need to make sure expectations are suited to the time of the year, there are many things children can enjoy: traditional museums can be made fund with the appropriate type of tour, there are many hands-on and immersive museums, cool classes for all ages and even some outdoor pursuits the kids can enjoy.
I am a Rome mama of two and know Italian winters well!
While winter is not a time for lazy outdoor dining under lemon trees as the kids splash in the pool, we always have fun during our cold season and I am sure with the right tips, you can too!
Based on our experience, these are the best places to visit in Italy with kids in the winter!
Please note: this post contains affiliate links. Should you make a purchase through them, we might make a small commission.
The best places to visit in Italy with kids in winter – overview
| | | |
| --- | --- | --- |
| Destination | Type of Activity | Skiing/snow holiday |
| Dolomites | Skiing / snow holiday | December – mid-March |
| Aosta Valley | Skiing / snow holiday | December – mid-March |
| Torino | Sightseeing, kid-friendly museums, mountain access | All |
| Rome | Sightseeing, kid-friendly museums and classes (pasta, mosaic, pizza, fresco, gladiator…) | All |
| Bologna area | Sightseeing, kid-friendly museums (cars, gelato) | All |
| Florence | Sightseeing, kid-friendly museums and classes (gelato, pasta, paper marbling…) | All |
| Venice | Sightseeing, kids museums and classes (rowing, mask decorating, glass work…) | All |
Why visit Italy with kids in winter
You are likely to enjoy winter in Italy if you:
Want to ski/ spend time on the slopes (Mountain areas only)
Plan on visiting museums, taking kid-friendly classes
Are on a budget (this does not apply during the Christmas break, Carnival in Venice or Easter)
Why not to visit Italy with kids in winter
I do not recommend Italy in winter to families with kids who are hoping for a lot of outdoor time.
While Italian winters are relatively mild compared to other parts of Europe, Italy gets rather cold (this includes the south) and many agricultural activities stop.
So if you are hoping for farm visits, country stays etc, winter is not ideal.
I recommend you do not visit Italy in winter with kids if you know they do better in indoor playgrounds, soft play centers, indoor water parks etc.
Italy doesn't have very many of these and especially in smaller towns, the amount of indoor play area is very limited.
If this is an important resource for you it is best to plan it ahead or you may find yourself out of luck once at your destination.
What's open in Italy in winter
Anything that is not strictly weather-related is open in winter in Italy and most places in winter will be in full swing as local life is in its busiest time.
Of course, small coastal towns with a strong beach-vacation vocation, water/ outdoor parks, boat tours etc will be in their lowest season and this means limited offerings for overseas visitors who want a traditional tourism experience.
It is however still possible to visit towns and avail of all the services opening to cater to the daily needs of locals. Big medium and even small cities will be fully operational.
If you want to live in Italy like a local, this can be a lovely time!
You can make yourself at home in a town, hand in the playground after school hours to meet local kids and get a real taste of Italian life!
When is winter in Italy and how cold it gets
For the purpose of this guide, I am considering winter in Italy the months that go from the end of October to the end March.
While technically some of these months fall within the astronomical autumn/spring, from the point of view of families traveling these months are rather similar in terms of what kids can / cannot do.
In terms of weather, winter in Italy is cold and you will want proper coats, scarves and closed shoes.
While the thermometer might make you feel it is not that chilly, humidity and lower heating settings than elsewhere usually make Italy significantly colder than many expect so packing for it is important.
Have fun and happy planning!
The best places to visit in Italy with kids in winter: more in detail
Let's look at them more in detail.
The Dolomites with kids in winter
The Dolomites are my favorite place to visit in Italy with kids in winter as they are a real winter wonderland out of a fairytale book.
The area above Bolzano is unique in terms of cultural background and style, and like nowhere else in Italy.
Here, history has left a very strong Austrian influence and identity which you see in the aesthetic of the beautiful houses with pointed roofs Austro-Hungarian bell towers and food.
In winter, this aesthetic creates a quintessential mountain resort feel that makes you feel safe and cozy, plus since the area is beautiful and super well-equipped for tourists, you have plenty of things to keep you and the kids entertained!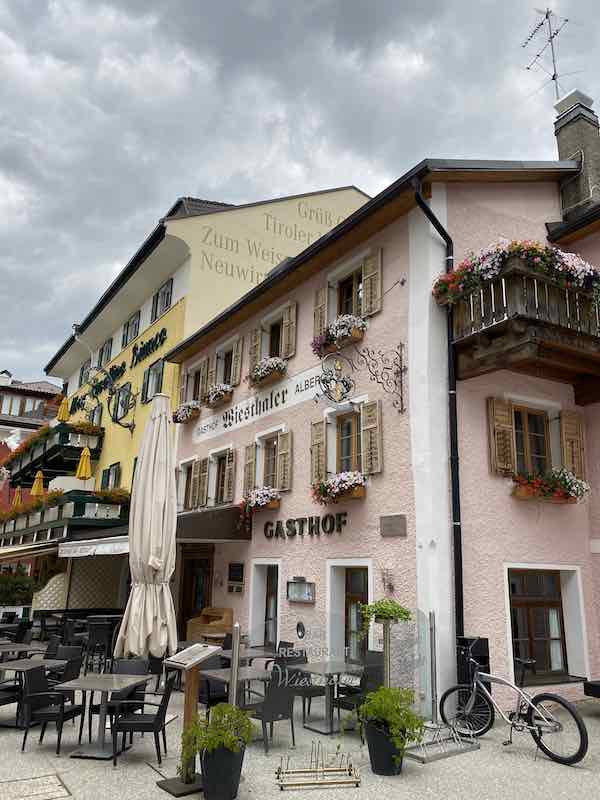 On the Dolomites in winter you can:
Ski
Play on the snow
Go snowshoeing
Play at hotels' kids' clubs (many hotels in the area offer kids' activities to complement time on the slopes)
Enjoy indoor pools – this area is famous for amazing hotel spas!
Go to Christmas markets (December only). Read here >>> the best Christmas markets in Italy
The whole area is wonderful and it's hard to go wrong!
However, if you are looking for all inclusivefamily hotels for families, some I can recommend are:
What you can see nearby: depending on the time you have, you may consider adding a visit to Venice and Verona, two beautiful cities within a few hours drive from here.
Aosta Valley
The Aosta Valley is another wonderful destination for families who love to ski.
The area is blessed with beautiful mountains and has excellent ski stations such as Zermatt/​Breuil-Cervinia/​Valtournenche and more.
Val d'Aosta is very different in feel from the Dolomites and close to France and Switzerland both geographically and culturally and it is a wonderful winter wonderland for kids.
Lovely places you may want to consider are:
Gressoney
Breuil – Cervinia – Valtournanche
Aosta / Pila, a lovely destination for a snow weekend and to mix a morning on the slopes with an afternoon exploring the lovely city of Aosta
To stay, you can consider Hotel Omama in Aosta, fun and colorful, if you want to stay in a town but with easy access to the cable car to Pila and its slopes.
Or for a chalet type of atmosphere consider the family Hotel Gran Baita in Gressoney.
Torino / Turin
Torino is a beautiful, elegant, fun and kid-friendly city perfect for a winter family vacation.
The first capital of Ital sits in an area of great natural beauty at the footsteps of the Alps and it is perfect for a city break or a longer stay to mix time in the city and on the slopes!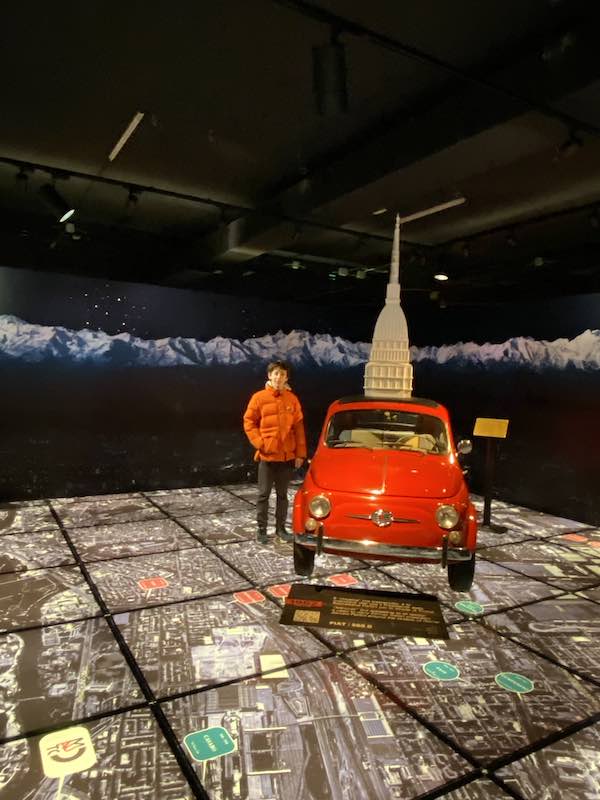 In Turin with kids in winter you can:
Visit Italy's Royal Palace (the armory is incredible and very impressive for kids!)
Explore the fabulous Egyptian Museum, one of the biggest in Europe, with kids-friendly tours and trails
Go to the National Car Museum (fantastic for car lovers and not only), aptly hosted by the city that gave birth to Fiat!
Enjoy the indoor play centers for younger kids: Magic Park, Parkoland, Scivoland Park.
You can read here >>> our guide to visiting Turin/ Torino with kids
Things to do nearby: ski in Bardonecchia or Pila (Aosta), day trip to Milan, day in Zoom Zoo (selected days only in November)
Rome with kids in winter
I am from Rome so you may say I am biased but Rome truly is one of the best places for kids in winter as there is just so much to do here!
Rome is huge and while many associate it with traditional sightseeing, there are plenty of things for kids to enjoy!
In Rome with kids in winter you can:
Take a kid-friendly tour to make sightseeing fun for them (Colosseum, Vatican, Capitoline Museum, gofl cart tour – there are many options!)
Treat the kids to kids' museums such as Explora Children's Museum, Ikono Roma, the Illusions Museum or the Museum of Dreams. Find here >> the best kids' activities in Rome (no sightseeing!)
Take a kids' class: pasta, pizza, mosaic, gladiator class…
Take like ones to an indoor play park such as Bimbilandia or Casina di Raffaello.
Rome usually also have weather that is good enough to allow for playing on parks and playground (wrap up!)
You can find here >> my guide to visiting Rome with kids
Things do do nearby: Rome is very central and well connected so you can use it as a base to explore as far as Florence and Pompeii (wrap up as they both tend to get rather cold!) or Naples
Bologna/ Modena area
The area of Bologna and Modena is one of my favorite places to visit in winter in Italy with kids on o a couple of accounts. One is the food, which is so warm and soothing!
The other is the presence of some museums and attractions that are fun for kids and adults.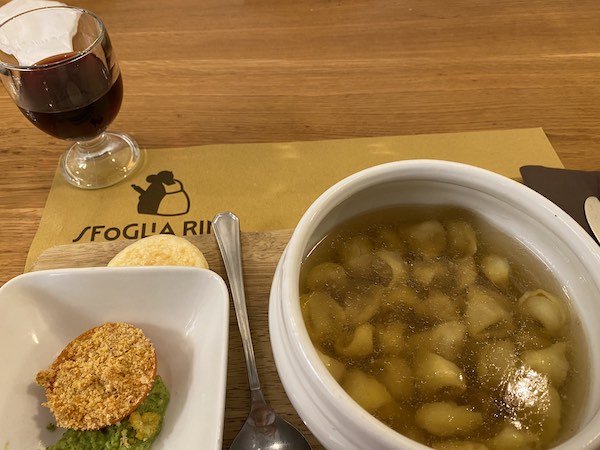 In particular, I love:
The Ferrari Museum of Modena and Maranello, are wonderful for car lovers but also anyone else: they truly are impressive and fun
Gelato Museum, an easy hit with kids!
FICO the food theme park of Italy
Indoor playgrounds such as il Borgo dei Piccoli, Baloon Park, Joy Park, Sala Borsa (this is a library with a wonderful kids' area)
Acquario di Cattolica (need a car)
Read here >>> our guide to visiting Bologna with kids
Florence
Florence is one of my favorite cities in Italy and whole it gets cold in winter, it is a place with a lot to offer to children!

As well as its famous museums (which I strongly recommend to visit with the help of a kid-friendly guide) winter ready kid ready-friendly attractions in Florence include:
Find here >>> my guide to visiting Florence with kids
Good to know! Florence is surrounded by beautiful countryside and is a perfect base for day trips. While visiting small towns won't be a problem in winter, farm visits and wineries may be tricker. I strongly recommend you plan keeping the season in mind to avoid disappointment, especially for little ones. You can read here >> my guide to Tuscany with kids in winter
Venice
Venice can get quite cold and humid in winter, so it may not strike as the most obvious place to visit with kids in Italy in winter; however, there are many reasons why I love it this time of the year!
In Venice with kids in winter you can:
Enjoy the city with smaller crowds. Outside of the busy Christmas and Carnival weeks, Venice is quiet and low-key at this time
You can take mask decorating classes and glass-blowing classes, which are a fun and local way to spend an afternoon indoors, away from the cold
You can still take a rowing class despite the cold season 9we did it in November and loved it!)
Venice is super atmospheric in winter and has special events such as ice skating rinks coming up for Christmas and of course the wonderful carnival!
Read here >> My guide to visiting Venice with kids with all the links to my favorite activities and tour operators and here >>> my guide to visiting Venice in winter
And the South? What about about the South?
You can definitely visit the Italian south in the winter and it can be wonderful.
However, I feel that with kids, the south is easier when the weather is a little warmer.
Places like Puglia, Calabria and Sicily, for instance, are gorgeous but they do get cold and they are more about natural beauty and town sightseeing than kids' activities and indoor entertainment.
So, while always worth going, I believe the best places to visit with kids in Italy in winter are others!
I hope you enjoyed my selection of the best things to do with kids in Italy in winter and helped you plan your trip!