How to spend 13 days in Italy with kids: itinerary + trip report
How to spend thirteen days in Italy with kids: a detailed itinerary and trip report to help you plan your own family vacation in Italy.
Planning a trip to Italy with kids can be great fun.
It can also, however, be overwhelming.
There is so much to see and do in Italy, and so many ways to go about it, you can easily spend weeks or months doing and undoing itineraries and this gets tiring fast.
To help make the task easier, I love sharing sample itineraries and trip reports by real families that you can then tweak and make your own.
Recently, I shared itinerary ideas for 10 days in Italy with kids.
Today, I am sharing a 13 Italy trip with kids that covers some of the most coveted areas in Italy: Rome. Venice, Florence and Tuscany.
The itinerary follows the trip by mama Lauren and Jack (her 6-year-old son), who visited Italy in March 2022 and generously shared their experience with us.
Lauren and I have been in touch before her trip and she took on board many of my recommendations.
She has however also put a lot of work into finding places herself so this amazing Italy itinerary is very much down to her research skills too!
The truffle hunting experience in Tuscany, for instance, is all her doing and sounds like great fun.
She inspired me to go try it with my own kids and I am sure you will also find yourself inspired by the end of this trip report.
This is Lauren and Jack's itinerary, as it happened.
In it, you will also find the link to book the same experiences and Lauren's observations about what worked and what she would do differently.
The read more links and stock photos are mine. Photos of Lauren and Jack have been generously supplied by Lauren and published with her permission for us on this article only.
Please note: this post contains affiliate links. Should you make a purchase through them, we might make a small commission at no extra ost to you.
If you want to discuss your own itinerary and find tips and advice, I recommend you join the private Facebook group: Italy with kids travel tips and advice. You will find all the tips for planning your family vacation in Italy and a super supportive group of parents too!
If you want even more help or you have any questions, please in my FREE Facebook group about traveling to Italy with kids: I will be happy to have you there and the tips from me and the other members are FREE!
See also:
13 days in Italy with kids itinerary at a glance
| | |
| --- | --- |
| Day 0 and 1 | Travel day + arrival in Rome and Welcome to Rome |
| Day 2 | Rome – Colosseum, Ghetto, Piazza Navona |
| Day 3 | Rome – St Peter's Basilica, Cat Sanctuary, Explora Children Museum |
| Day 4 | Train to Venice, city stroll |
| Day 5 | Venice – trip to the islands |
| Day 6 | Venice – Parco della Rimembranza, Doge's Palace, Correr Museum |
| Day 7 | Train to Florence, Uffizi Gallery |
| Day 8 | Florence: Accademia, Archaeological Museum, Duomo, Pasta Making Class |
| Day 9 | Train to Ponsacco (Tuscany countryside) and winery Tour |
| Day 10 | Tuscany countryside – Truffle Hunting experience |
| Day 11 | Train to Florence then Rome, Explora Children Museum |
| Day 12 | Rome, Castel Sant'Angelo, pre departure test, city walk |
| Day 13 | Departure Day |
Lauren's itinerary in detail
Day 1 – Rome: arrival and settling in
Useful links and info:
How to get from Fiumicino airport to your accommodation in Rome | Trastevere Travel Guide | Rome main attractions at a glance: how to plan Rome sightseeing
Day 2 – Rome: ancient Rome, Jewish Ghetto, Piazza Navona
Useful links and info: Tips for visiting the Colosseum with kids
Day 3 – Rome: Vatican City, Children Museum
Torre Argentina Cat Sanctuary – In the center of Piazza di Torre Argentina lies a large archaeological site and refuge for cats. (free)
Walked around the city
Explora Children Museum – Il Museo dei Bambini (book ahead of time – fills up fast)
Useful links:
Our tips for visiting the Vatican with kids (+ how to decide whether to include the Vatican Museums or skip them) | Our review of Explora Children Museum
Day 4 – Venice: arrival and settling in
Useful link: our complete guide to visiting Venice with kids
Day 5 – Venice and its islands
Editors' note: there are several pretty islands in the Venice Lagoon, well connected to the city center by easy to use ferries.
With children, the best ones to visit are Murano and Burano.
Murano is famous for its glass making workshops: one of them, Ferro Toso, offers the chance to have your kids make their own murrina
Burano is a smaller island, famous for having pretty, colorful houses and exquisite lace. It is a cute place to visit with kids.
While there isn't much to do, the pretty houses and the lack of cars make it a pleasant stop. Kids are also likley to enjoy tasting the local specialty: buranelli biscuits!
Day 6 – Venice: city highlights
Parco delle Rimembranze
St Mark's Basilica
Doge's Palace and Museo Correr (included one ticket)
Day 7 – Florence: arrival and Uffizi Gallery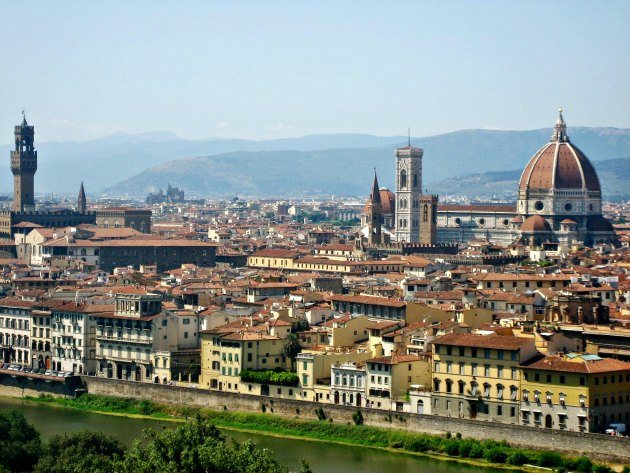 Day 8 – Florence: city highights and pasta making class
Day 9 – Tuscany countryside and wine tour
Train to Ponsacco (purchased at station)
Check into Le Colombaie Country Resort
Wine tasting at female owned and operated winery Castelvecchio
Day 10 – Tuscany countryside and truffle hunt
Day 11 – Travel day to Rome
Train to Florence (purchased at station)
Train to Rome @ 1:28 (booked on Italo)
Explora Children's Museum (again)
Day 12 – Rome
St Angelo's Castle: booked then canceled
Covid testing
Walked back to Trevi and Pantheon and Spanish steps to see again
Packed and relaxed
Day 13 – Departure from Rome

Tips and observations by Lauren about this Italy itinerary
Best things I did:
Packing in backpacks and then buying a suitcase for trip home with purchases (most of which were made in the last two days)
Using the train system – so easy!
Building in downtime for my son at local parks or at the airbnb
Staying in Airbnb's with washing machines and washing clothes every few days
Highlights for 6 year old were: Explora children Museum in Rome, Pasta class, cat sanctuary, Spanish steps, playing in parks and squares, lots of pasta, gelato, and snack breaks
Mistakes I made:
I think in retrospect I would have rented a car for the two days in Tuscany. We only got to see one
winery and very little countryside. A taxi cost me $40 one way to the winery.
I would have made the trip maybe 2-3 days shorter. The last couple of days we were exhausted.
The last two nights I stayed near the main train station at a hotel in Rome. It was convenient, but
that area doesn't feel very safe in the evening*.
I should have booked more hands-on experiences and less tours (for my son). We took two long
tours (first day in Rome
*Editor's note: the area around Termini station in Rome is mixed in terms of feel and safety.
While there are some excellent high-end hotels in the area, I usually recommend moving even just 10 minutes down the road to the area of Monti. You can find my guide to the Monti area here.
How to spend a fortnight in Italy with kids – pin this!