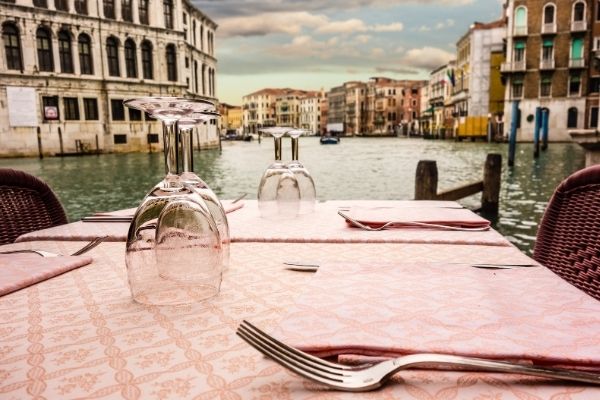 What to eat in Venice: 9 traditional Venetian dishes you will love
What to eat in Venice Italy: traditional Venice food and Venetian dishes to try while visiting Venice.
Venice is proud of its food tradition and there is no better way to tap into its treasure trove of flavors that tasting some of its most typical culinary creations.
Venetian food is unique as has been shaped by the peculiar geography of the city, developed over a lagoon, and by the flourishing trade businesses Venice as a city enjoyed for centuries.
The connections between Venice and the rest of the Mediterranean bought material and cultural wealth to Venice and they also bought delightful ingredients that make the cuisine of Venice a wonderful mix of Eastern and western flavors.
If you want to learn more about local specialties in Italy, you can read our introduction to Italian regional food here.
Please note: this post contains affiliate links. Should you make a purchase, we might make a small commission.
What to eat in Venice chart
| | | |
| --- | --- | --- |
| Venice Traditional Dish | Main ingredients | Served as |
| Sarde in Saor | Sardines (fish) | Starter |
| Baccala' Mantecato | Cod (fish) | Starter |
| Risi e Bisi | Rice, peas | Main |
| Bigoli in Salsa | Pasta, sardines | Main |
| Lasagnette al nero di seppia | Pasta, squid ink (seafood) | Main |
| Fritto Misto | Fried fish | Starter/ Main |
| Fegato alla Veneziana | Liver (meat), onions | Main course |
| Buranelli | Biscuits (eggs, flour, butter) | Dessert/Sweet |
| Fritole | Eggs, flour, fried | Dessert/Sweet |
Venice food need to know
When talking about Venetian foos, there are are two term you will hear over and overt again: cicchetto and bacaro (Plural is: cicchetti and bacari)
Cicchetti is the Venetian word for a small plate of food, something you would have not as a main meal but as an accompaniment to a drink.
Bacaro is the name of the traditional Venetian sine bars where you can still nowadays taste ' cicchetti'!
Good to know: Cicchetto is a Venetian word. In the rest of Italy, it exists too but it doesn't indicate a small plate of food but a shot of alcohol!
9 delicious foods from Venice to try
Sarde in Saor
Sarde in Saor is one of the most popular starters in Venice. The main ingredients is Sarde (sardines) that for this dish are dressed with onions and vinegar, pine nuts and raisins.
This dish is said to have been born from the necessity to preserve fish as long as possible, a result achieved with the vinegar and onions, and it is a perfect example of poor ingredients transformed into a local delight.
Baccala' Mantecato
Baccala' Mantecato – Baccala is the Italian name for salted cod and ' mantecato' means made creamy with butter and indeed, this is what this Venetian dish is all about: a creamy spreadable paste of fish!
Baccala' mantecato is served as a starter, usually with grilled bread and it is said to have been prepared in Venice already in the 1500s.
Risi e Bisi
Risi e Bisi is a vegetarian rice dish and maybe the best known out of all the traditional Venice specialties. The name identifies the two main ingredients of this dish, rice and garden peas, which is a staple especially of the spring season.
Traditionally, Risi e Bisi was eaten on the 25th of April, the day of St Mark, patron of Venice, and made with rice from Verona and peas from Vicenza, usually offered to the Doge to mark the special occasion and celebrate the abundance of his lands.
Risi e Bisi is very popular in Venice and it is a good one to know if you are visiting Venice with kids too: it has a more familiar taste than many other dished from this area and it is widely available, making dinner with children in Venice a breeze!
Bigoli in Salsa
Bigoli in salsa are another very popular and very ancient dish but unlike risi e bisi this was a plate for the poor, made by two of the most common ingredients available in Venice: onion and sardines.
Bigoli in salsa are a pasta dish, serves as a primo or main course (you can have a look at Italian meal structure here), bigoli being the name of a special type of pasta (long pasta shape) made in Venice and Veneto specifically.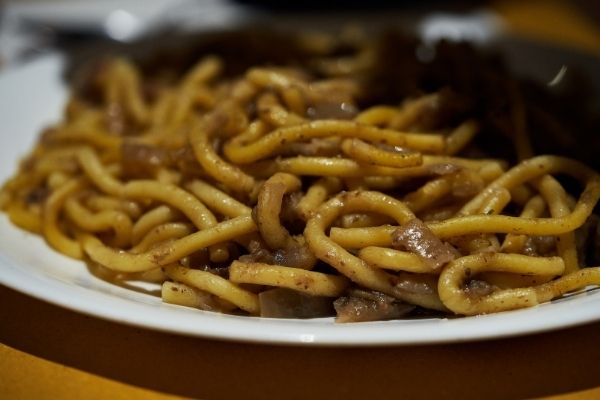 Lasagnetta al Nero di Seppia (Squid ink pasta)
Lasagnette al nero di seppia is the local name for pasta, usually spaghetti or similar, served with squid ink, a plate with a mild and sweet flavor.
The dish is usually offered as a primo or main course however, it is also possible to have the squid without the pasta and have is presented as a secondo with polenta, another staple of cuisine from Veneto.
Lasagnette, despite the name, doesn't mean the plate looks like a lasagna, it is just the name of the type of pasta format most used with this sauce.
Good to know: while the taste of squid ink is mild, the stain it leaves on your clothes are stubborn! Be careful when ordering especially with kids (it is, maybe surprisingly a very kid friendly dish, very delicate in flavor)
Fritto Misto
Fritto Misto in Italian simply means ' fried mix' and, in Venice, the things you mix are small fish and seafood.
Fritto Misto can be ordered in a restaurant but was born in a scartosso (Venetian for cartoccio, a cone of paper), which is how I recommend you try it.
The mixture usually has sardines, calamari, small fish and catches and some vegetables, all deep fried and served hot.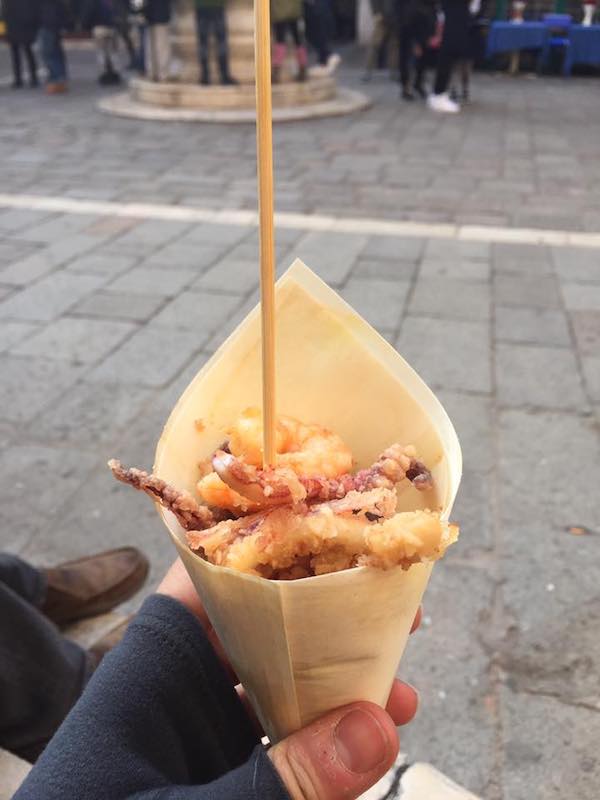 Fegato alla Veneziana
Fegato alla Veneziana (Venetian style liver) is a main course made of liver cooked in onion.
If you don't eat liver, there is nothing i can say to make you taste this dish however if you are open to trying it, you may be surprised to see how sweet and delicate this dish really is
Bussolai or Buranelli
Bussolai or Buranelli are biscuits made in Burano, a lovely small island in front of Venice famous for lace and rainbow colored houses.
They are easy to find in Venice and surrounding area and are the perfect accompaniment to coffee or tea.
Fritole
Fritole is the name of another sweet Venetian creation, this time a fried one popular for the time of the carnival.
Made with eggs, flour, sugar and deep fried, they are often serve with custard or zabaione cream – perfect for carnival celebrations and cold Venetian winters!
How to taste real Venice food
Venice is full of delicious restaurants (we are partial to I Quatro Feri, which was recommended by locals and we now love) but it is also full of tourist traps.
To avoid falling into those, a good option is to join a cicchetti food tour or a Venice traditional food and wine tour.
They are a way not only to taste nice foods and learn about them from a local, but the quickest way to find several reliable places to eat and be sure your meals will be great during your whole stay.
I hope you enjoyed this quick overview of Venetian cuisine and it helped you decide what to eat in Venice. Buon appetito!