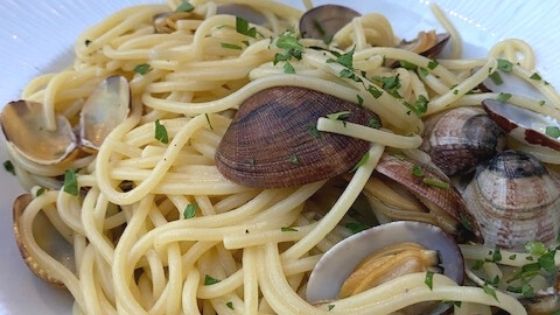 Traditional Italian food by region: regional Italian foods you will love + where to have them
Traditional Italian food by region: where to eat what in Italy + map of Italian regions for the the perfect foodie experience.
Traditional Italian food is world famous however, different Italian regions have different specialties and if you want to taste the real thing, in Italy, you need to know what to order where.
This is a quick guide to traditional Italian food regions and regional food specialties in Italy so you know where to get the best food of each type.
Map of Italian regions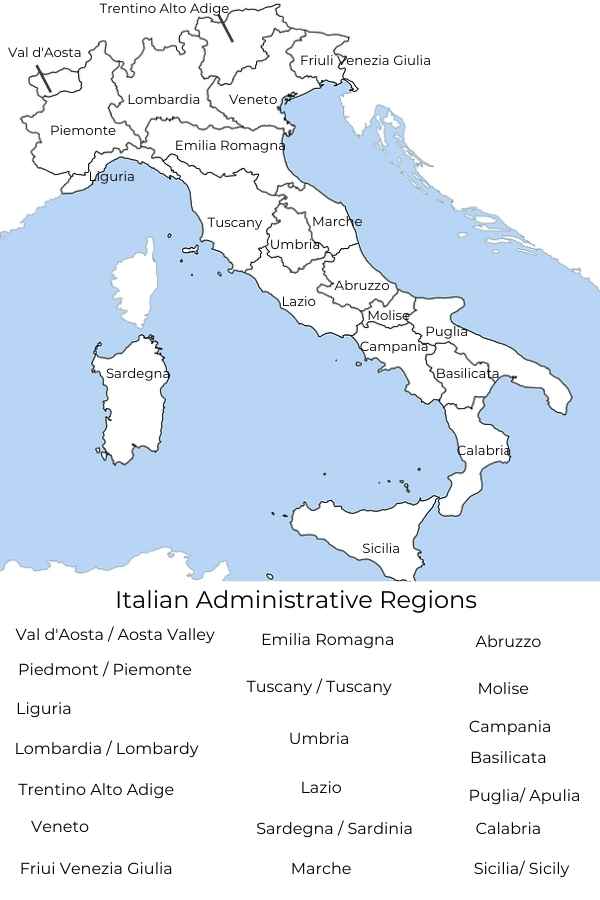 Italian regional foods to try, by region
Val d'Aosta
Val 'Aosta (Aosta Valley) is a small, mountainous region at North West corner of Italy.
Nestled in the Italian Alps, it is an area of great natural beauty and mountain landscapes, that attract hikers in the summer and skiers in the winter to famous and beautiful ski resort area such as Courmayeur and the and Cervinia/Valtournenche.
The regional foods typical of Val d'Aosta are warming and filling and dominated by the mountains produce and mountain climate.
Val d'Aosta regional foods to try
Fonduta – warming cheese fondue made with local cheese (fontina faldostana)
Polenta concia – polenta with fontina cheese
Seupa à la Vapelenentse – farmhouse 'soup' with fontina cheese and bread
Costolette alla valdostana – veal cutlets with fontina cheese and ham
Civet di camoscio – warming meat dish of chamois meat
Tegole dolci valdostane – typical Val d'Aosta biscuits
Caffe' valdostano – a group serving of coffee prepared with local liquor
Piedmont / Piemonte
Piedmont is a region in the North West of Italy famous for the beautiful city of Turin, many delightful food products such as gianduja chocolate and truffles as world renowned wines.
Regional foods from Piedmont to try
Bagna cauda – traditional and now UNESCO recognized local preparation made with garlic, olive oil, anchovies butter
Cotechino e lenticchie – a plate that has now become a staple across Italy for new year's celebrations, this is a special cut and preparation of pork and lentils
Vitel tonne' – a delicate preparation of thin slices of veal with a smooth tuna and capers sauce
Bollito misto – mixed meat simmered in stock
Brasato al barolo – warming beef based meat with local Barolo wine
Agnolotti del plin – delightful pasta parcels filled with mixed meet
Tajarin al tartufo bianco d'Alba – pasta with the local and amazing white truffle from Alba
Gianduia – delightfully addictive chocolate and hazelnut preparation used in confectioneries and as a spread.
Liguria
Liguria is the thin and long region bordering the Northern shores of the Mediterranean, often known by tourism as the home of the wonderful Cinque Terre and the land of green pesto (Pesto alla genovese, Genoa style pesto).
While pesto is indeed the most successful food export of the region, there are several other regional dishes worth trying in Liguria. Here are some of the best.
Liguria regional foods to try
Farinata di Ceci – flavorsome savory 'cake' made with chickpea flour
Focaccia di Recco (al formaggio) – traditional cheese focaccia
Focaccia genovese – fluffy, delightful local focaccia typical of Genoa
Trofie al pesto – the most famous of all Liguria food, often simply called 'pesto' (careful, however, as pesto is different in other regions, see below)
Torta pasqualina – savory cake with vegetables, cheese and egg, especially popular at Easter
Pansoti liguri – local type of filled pasta parcels
Coniglio alla ligure – Ligurian style rabbit dish
Canestrelli – buttery and sugary biscuits in the shape of small flowers, now so successful to be commercially available even abroad.
Lombardia / Lombardy
Lombardia is a large region in the North of Italy, known to tourism for the presence of beautiful Milan and lakes Como and Maggiore.
The region has lakes, plains and mountains and its food production is mostly warming and filling, in line with the colder winter temperatures of the area.
Risotto alla Milanese – Milanese Risotto, made with delicate saffron which gives the risotto a distinct yellow color
Osso Buco – veal bone marrow served in the bone
Cotoletta alla Milanese – Milanese style veal cutlet, fried
Panettone – traditional Christmas food now a Christmas staple everywhere in Italy
Torrone Cremonese – Christmas confectionery of honey and almonds, now available in many varieties in the whole of Italy and a national staple of festive cuisine. A typical Christmas eve dinner dessert!
Veneto
Veneto is the region of Venice, Lake Garda, Verona and one of the foodie heavens of Italy.
This area is known for its delicious wines and dishes that make the most of the presence of both the mountains and the sea.
What characterizes food from Veneto or more precisely I should say foods from Venice, is that the Venetian culinary tradition has been vastly influenced by those of the rest of Europe, Northern Africa and Middle East.
This is because the Venice Republic used to have a strong commercial fleet that had trades all over the Mediterranean: this created the multicultural and varied food landscape we can still enjoy in the region.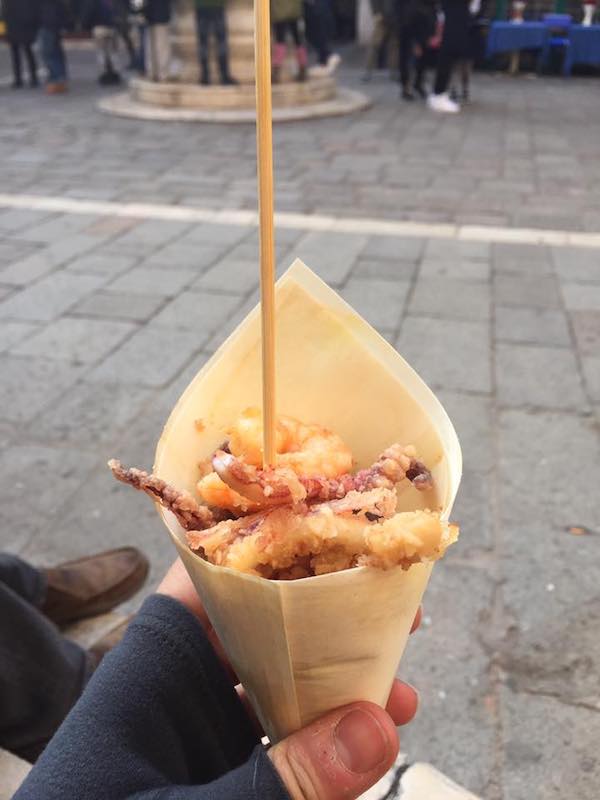 Regional foods from Veneto to try
Baccala alla Vicentina – fish dish from Vicenza made with baccala' (stockfish)
Bigoli con le aole – pasta dish from Lake Garda with local fish (aole)
Sarde in saor – sardines prepared in special vinegar and onion marinade
Risi e bisi – a typical Venetian spring rice dish with garden peas
Fegato alla Veneziana – Venetian style liver, with onions, a surprisingly sweet and mild flavored, delightful dish
Trentino Alto Adige
Trentino Alto Adige is a region in the North east of Italy, mostly known to tourism for the hiking and skiing opportunities offered by the stunning Dolomites.
The area has a peculiar story that made is hugely influences by Austrian culture, which impacted on the language of the area (it is bilingual Italian-German), its architecture and its delightful food.
Foods from Trentino Alto Adige to try
Knoedels aka canederli – Savory bread dumplings
Kaisersmarren – sweet omelette style preparation served with local jam
Spatzle aka gnocchetti tirolesi – a local type of gnocchi
Speck
Apfle strudel aka strudel di mele – apples based cake
Friuli Venezia Giulia
Friuli Venezia Giulia is a region in the North east of Italy and it is one of those places that depsite the presence of beautiful nature and the stunning city of Trieste tends to get little attention from tourism.
In terms of food, the region has several specialties and it is also the place that gave the world tiramisu!
This paternity claim is actually cause of contention with Veneto, another region that also has reason to claim it as its own creation: whatever the truth is, I reckon you should have it in both places, so you know one way of the other you will have had the real thing!
Prosicutto San Daniele, cured ham, a local excellence
Polenta – a staple of the area, with game or cheese
Frico con le papate – dish made with local cheese and potatoes
Orzotto – barley with mixed vegetables
Cjarsons (o Cjalsons), peculiar type of ravioli with sweet and savory filling
Tiramisu' – mascarpone, coffee and savoiardi biscuits cake
Emilia Romagna
Emilia Romagna is the food powerhouse of Italy, the land that produced parma Ham and Olive oil and that has given the world the concept of 'bolognese' (even if it doesn't exist as such here!).
These are only some of its most famous dishes
Food from Emilia Romagna to try
Tortellini in brodo – local tortellini past parcels served in meat stock
Ragu' alla Bolognese – the original version of what many call bolognese, a rich meat and tomato based sauce for pasta
Lasagne alla bolognese – so famous they don't need presentation
Parma Ham, from the area of the city of Parma
Parmigiano Reggiano (real Parmesan cheese)
Piadina Romagnola – local type of flat bread
Tuscany
Tuscany is another region very well known to tourism for its important cities (Florence and Siena just to mention two of them), its famous wines and delicious food.
Tuscany foods to try are
Pappa col pomodoro – delightful bread soup with tomatoes (pomodoro), garlic and oil, served hot or cold
Cacio di Pienza – typical cheese from the town of Pienza in Val d'Orcia
Pici – a typical type of long pasta from Siena
Ragu' Toscano – warming and flavorsome meat based pasta sauce
Ribollita – bread and vegetable soup
Pan Forte – a typical type of sweet from Siena, now especially popular as a Christmas confection
Panzanella – a summer dish made with bread, tomato and capers at its heart
Tagliere toscano – not a food as such but a common offering in Tuscan restaurants: a platter of local cheese and cured meats
Ragu' di cinghiale – wild boar pasta sauce
Umbria
Umbria is a small, wonderful region in the heart of Italy, famous for places such as gorgeous Assisi and Orvieto.
Often mentioned as a sort of 'little sister' of Tuscany, there is actually nothing little about what Umbria has to offer, both is beauty and its food being out of this word amazing.
Foods to try in Umbria are
Torta al testo – not a cake as the name might suggest but a delicious type of bread
Strangozzi alla spoletina – a type of pasta from the area of Spoleto
Truffles – famously delicious in this area
Norcineria – cured meats
Castelluccio lentils – legumes responsible also for a very special phenomenon, the flowering or large plains in the Castelluccio area that paint themselves in the colors of the rainbow when the lentils are in bloom!
Lazio
Lazio is the region of Rome and a place, outside the city, of rather harsh natural conditions, that have developed flavorsome and earthy dished.
You can find my full overview of dishes from Rome and recipes here however, this is a quick overview of regional dishes of Lazio also outside the city.
Foods to try in Lazio are
Carbonara pasta
Cacio e pepe pasta
Amatriciana pasta
Pasta alla Gricia
Porchetta – meat, a s special type of pork preparation
Tiella di Gaeta – a savory pie from Southern Lazio
Suppli – fried rice balls
Trippa alla romana – Rome style tripe
Pizza Romana – thin and made with a different technique than the Neapolitan one, it is by all means as delicious. Make sure you try both!
Marche
The region of Le Marche is located in central Italy and it is vastly undiscovered by tourism despite having some of the most beautiful beaches in Italy.
The food from the Marche is poor in origin and flavorsome
Foods to try in Le Marche are
Olive Ascolane – meat filled fried olive, from Ascoli
Ciauscolo – spreadable salami
Crescia – a local type of flat bread
Crema fritta – fried custard
Vincisgrassi – pasta bake
Abruzzo
Abruzzo is a mountainous region in the heart of Italy ,characterized by stunning mountains and earthy foods suitable fr the hard winters of of the area.
Foods to try in Abruzzo are
Arrosticini – super tasty lamb skewers
Virtu' teramane, pasta dish in broth made using what in origin would have been food leftovers
Spaghetti alla chitarra, a special type of home made spaghetti pasta
Scrippelle – local savory pancake- type of preparation
Pizzelle – think biscuit-like galettes
Molise
Molise is a small region in the South of Italy and possibly the real last hidden gem of Italy.
Despite being usually ignored by both local and international tourism, it is a region with beautiful landscapes and some lovely foods to try, some now known across Italy too.
Regional foods to try in Molise
Caciocavallo di Agnone – local, mild flavored cheese
Caprino di Monfalcone – delightful goat cheese
Cavatelli – famous and wonderful Molise pasta shape
Mostaccioli Molisani – honey and chocolate based sweets
Campania
Where to even start, to talk about food from Campania?
The region of Naples, Sorrento and the Amalfi Coast is home to so many amazing foods even just tackling the list is overwhelming!
Let's have a look at some of the most traditional dishes.
Traditional regional foods from Campania
Pizza Napoletana – no needs for introduction, a preparation so iconic it is now Unesco intangible heritage
Ragu' campano – tomato based, slow cooked pasta sauce
Gnocchi alla Sorrentina – local gnocchi dish
Impepata di cozze – mussels from the wonderful local waters of this region
Parmigiana di melanzane – aubergine parmigiana
Pizza di scarola / torta di scarola – vegetable pie with 'scarola' a type of local endive
Pastiera Napoletana – Easter cake with ricotta cheese and wheat
Baba' – sweet drenched in rum, typical of the area
Colatura di alici – anchovies, typical of the town of Cetara, on the Amalfi Coast
Anything with lemon, as long as made with the wonderful and local 'sfusato amalfitano' (granita, limoncello, delizia al limone…)
Torta caprese – flour free chocolate and almonds cake
Puglia / Apulia
Puglia / Apulia is the region forming the heel of the Italian boot, a region of great natural beauty, beaches, towns and home to several UNESCO world heritage sites such as Alberobello and Castel del Monte near Trani, that make it more than wortg a visit (or two, or three!)
Among the many things to experiences in Puglia (see our Puglia itinerary here to get an idea) there is definitely also the Apulian food, a delightful surprise.
Apulian foods to try
Orecchiette alle cime di rapa – orecchiette pasta with a special type of broccoli cutlets
Ciceri e tria – a local type of pasta with cickpeas
Stracciatella pugliese – shredded burrata (cheese)
Pure' di fave – surprisingly pleasant and flavorsome broad bean mash
Cartellate pugliesi – sweet, honey based confection
Basilicata
Basilicata is a small region in the South of Italy famous mostly for the city of Matera, a wonderful, out-of-this-world destinations that came onto the world stage in 2019, when it became UE capital of culture.
Basilicata dishes to try are
Taralli and friselle – bakery goods typical of this area
Cicorie e fave – a typical dish of this area mixing chicory and broad beans
Baccalà a Ciuredda – stockfish with tomatoes and onions

Calabria
Calabria is the region at the point of the Italian hill, a long region with coastal and mountainous landscapes famous for flavorsome and peppery foods.
Foods to try in Calabria are
'nduja – the most famous of all foods from Calabria, this is a very tasty, peppery type of local salami/sausage
Pesce spada alla ghiotta – swordfish
Pasta with meatballs – not quite what you may have tasted abroad, of which this dish is sure inspiration, this is a typical dish from this area where meat bases pasta sauce is made richer with small balls of meat
Sardegna
The beautiful island of Sardinia makes the most of its long coastline to spoil you with sea inspired dishes but also mixes it up with specialties that tap into the harsh conditions of its central area.
Foods to try in Sardinia are
Fregola con frutti di mare e zafferano – Sardinian specialty pasta dish with saffron and seafood
Porcheddu – roast pork, whole
Spagetti ricci di mare – spaghetti with sea urchins
Bottarga – fish eggs fro grey mullet or tuna
Agnello con i carciofi – lamb with artichokes
Mirto: not a dish but a drink, often served as digestif. Learn more about Italian digestive drinks and traditional Italian drinks here.
Sicilia / Sicily
Sicily needs to introduction, it is so beautiful, and neither needs introduction Sicilian food, among the best known and delicious in Italy.
Influenced by the many civilizations that called Sicily home, Sicilian cuisine is varied and rich.
Sicilian foods to try
Cannoli – the real thing is out of this world delicious, filled on the spot with creamy ricotta and your topping of choice
Cassata – again, a type of sweet that you can find aborad but never quite as amazing as when made fresh
Pistacchio di Bronte – pistacchio nuts, used also as a spread or in pesto
Pesto alla Trapanese – nothing to do with pesto from Liguria, this variation of pesto is red in color and typical of the area of Trapani in particular
Chocolate from Modica – an Italian artisan chocolate excellence
Sfincione – a special type of flavored bread/ Sicilian pizza
Arancini or Arancine – fried rice balls
Cous Cous di pesce – fish couscous
Caponata di melanzane – eggplant based dish
Almonds – used as a paste in many preparations or whole in biscuits
I hope you enjoyed this overview of traditional Italian regional foods and it gave you ideas on what to order, no matter where in Italy you are.
Left wondering what to drink with it all? Find our roundup of Italian drinks here! Buon appetito!