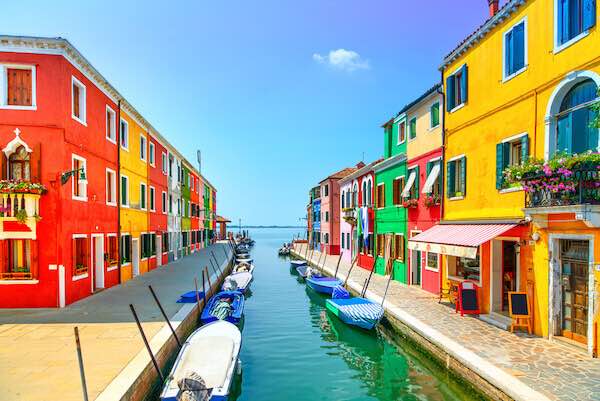 Visiting Burano: all you need to know about Italy's most colorful town
Visiting Burano: travel guide to the best things do in Burano, what makes this small island special and how to get there for a perfect day trip from Venice
Burano is a small, charming island in the Venice Lagoon, in the North of Italy.
It is often mentioned as one of the prettiest towns in Italy and also ones of the most unique thanks to two characteristics: its canals and its colorful houses that make the island a real rainbow of colors!
Visiting Burano is easy. You can visit as a day trip from Venice or even just for a half day and you can choose whether to do it on your own or add it to a longer lagoon trip that includes also nearby Murano.
We loved Burano when we visited: we got there on a cold winter day and even with the low light typical of January in Venice, the charm of the place came thought .
I highly recommend visiting Burano: this is all you need to know to plan your trip.
Visiting Burano: what makes it special
There are several reasons to visit Burano.
Burano is has colorful houses that make it unique in the Venice Lagoon and a photographer's dream
The town has small canals and feels a little like a miniature Venice, minus the crowds
Burano is famous for the artisan production of lace, so it is a lovely place for quality shopping
Burano is the birth place of Buranelli Biscuits, usually a hit with kids especially and a treat worth tasting, especially on a cold day, accompanying a cup of tea!
No time to read the full post now? Pin it for later!
The best things to see in Burano
Burano is a small place and the best way to enjoy it is to simply let the town inspire you and get lost in its streets: you will not stay lost for long and aimless wandering here is incredibly relaxing!
However, if you are short on time or you want to make sure you see the main Burano attractions, these are the best things to do.
Burano's colorful houses
The main reasons people come to Burano is to see the town's beautiful and quaint colorful houses and indeed, they are a delight!
You will see them straight away.
As you get off the ferry from Venice or Murano, you will see a first cluster of them right in front of you and the rest of the town has many more.
The houses all have different color facades, so the best way to enjoy them it to see a row of them or even the two sides of a canal flanked by colorful walls.
However, one house is special and worth seeking out, the so called 'Casa di Bepi'. Rather than one color, the house is decorated with many, thanks to the careful work of its owner!
You can see Casa di Bepi in Corte del Pistor, in Burano town center.
Burano Lace Museum: the place to learn about Burano's lace tradition
Burano has an ancient tradition of making lace and there are several place in the town to admire this art and learn about it.
Many shops around the town showcase their lace creations but the best place to learn abou tit is the Lace Museum (Museo del Merletto).
Fun fact: Burano's lace tradition seems to have its roots in the fishing nature of the village. The ability to sew came from the need to repair fishing nets and slowly evolved to a real from of art that got to international fame in the 1400s and is still going strong!
Piazza Galluppi
Burano has only one square as such, Piazza Galluppi, which is lovely and large.
Here, you have several cafes, lace shops and lots of space for kids to run around, something we loved when we visited Venice with the kids and spent out afternoon in Burano.
It was here that we got a warming cup of tea and Buranelli, a pleasant stop I recommend!
The leaning tower of Burano
The leaning tower of Pisa is way more famous than this one but Burano does have a leaning tower and it is worth seeing it!
You can spot it behind the rows of colorful houses, a perfect photo opp to capture the essence of Burano!
Mazzorbo
Most visitors stay around the ferry port of Burano but it is worth stretching your legs a little farther and go into Mazzorbo, a small island connected to Burano by a wooden bridge.
Mazzorbo is quiet, rural and secluded: it was founded in 640AD and is characterized by many vegetable patched and a distinctive bucolic feel.
This is a lovely place to see a different side of the Venice lagoon, away from the glitz, glamour and crowds of its most famous spots.
Visiting Burano with kids
Burano is lovely with kids. The rainbow houses, the small quaint streets and the lack of cars make it perfect for a quiet afternoon exploring and if you want you can also go and have a play in the small playground in Mazzorbo.
A good excuse to check out this part of the Venetian lagoon so many miss!
How to get to Burano from Venice
Visiting Burano from Venice is very easy.
The island of Burano is connected to Venice by regular ferries. They depart from Fondamenta Nuove, in Cannaregio, and bring you to Burano in about 40 minutes.
Ferry tickets are sold at the ferry stop and can be bough on the day.
If you prefer to visit Burano with a guided tour or include a stop in Murano, the intermediate ferry stop between Venice and Burano, you can also opt for a day trip.
These are some good options:
Tickets for the ferry to Burano are also included in the Venice Tranport Pass that you can buy here
I hope you enjoyed this quick guide to visiting Burano and it gave you good ideas. Safe travel planning!