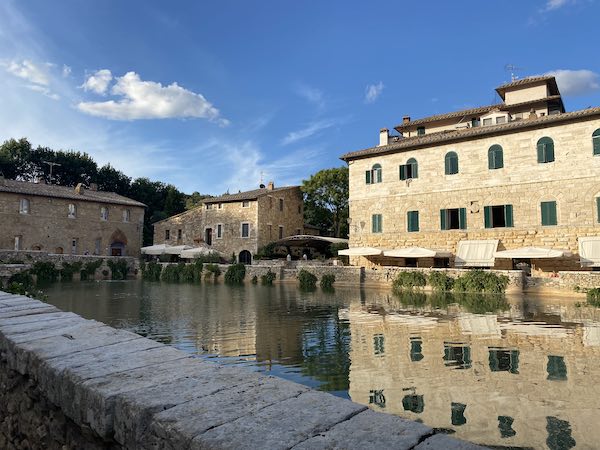 Bagno Vignoni: why you will love this unique village of water in the heart of Tuscany
Bagno Vignoni: practical travel tips to visit this pretty thermal town in the heart of Tuscany, Italy.
Bagno Vignoni is a tiny village in Val d'Orcia, Tuscany, with something unique: a main piazza entirely occupied by a large pool of natural spring water!
If this descriptions sounds peculiar, let me tell you: it is.
Bagno Vignoni is a place like no other and this is why despite its tiny size, it is a destination I highly recommend you add to your Tuscany Itinerary.
You can see Bagno Vignoni in a matter of minutes, but if you love thermal baths, you can also spend a day or a night here and tap into the atmosphere of this Tuscan village with pleasant waters, beautiful views and amazing wine.
Why visit Bagno Vignoni
Bagno Vignoni is a charming Tuscan town most visitors will enjoy. I specifically recommend it to:
Thermal Baths lovers
Amateur photographers (the town is picture perfect)
Foodies
Lovers of small historical towns: the town is in Val d'Orcia, UNESCO World Heritage Site
Families with kids – the town is car free and some of the thermal baths suitable for kids too. We recommend it as one of the best places to visit in Tuscany with kids.
Please note: this post contains affiliate links. Should you make a purchase, we might make a small commission.
What to do in Bagno Vignoni
Marvel at Bagno Vignoni Piazza delle Sorgenti
Bagno Vignoni develops around a central piazza with Medieval and Renaissance buildings overlooking a large, hot pool.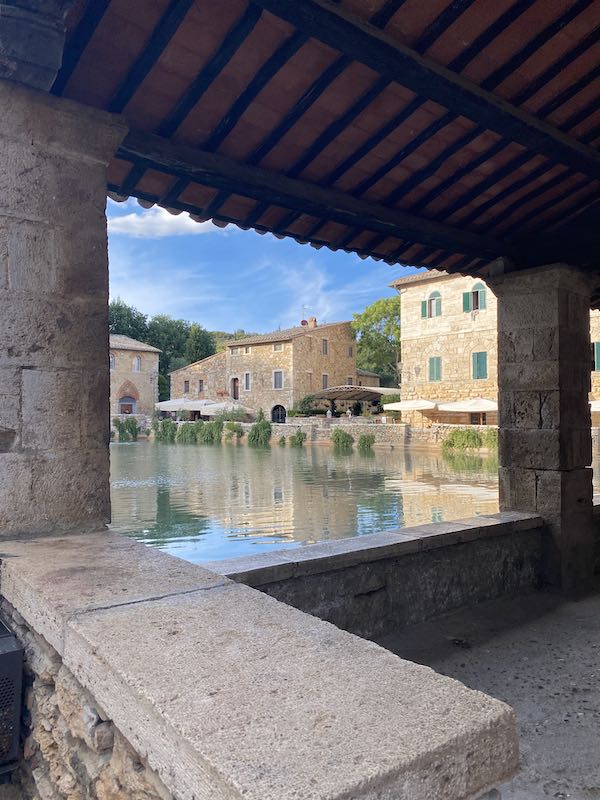 The square is a delight.
The buildings are made of honey colored Tuscan stone, typical of this area, and have green shutters that look like many eyes opened over the water below.
The houses all look towards the water and on a bright day, you can see their reflection in waters, trembling at the small movements of the natural spring water flowing here.
The pool is protected by small stone walls and it is rectangular in shape.
One its shorted sizes has a lovely loggia dedicated to Santa Caterina da Siena, who is said to have been very fond of this small town.
Bagno Vignoni, like San Quirico nearby, was along Via Francigena and therefore a resting place for pilgrims traveling through this are on their way to Rome.
It was also a beloved place for Pope Pius II: he was from Pienza, nearby, and loved Bagno Vignoni so much he wanted his summer residence to be here.
Enjoy al fresco dining in Bagno Vignoni's small alleys
As well as the main square, Bagno Vignoni has a second public area, now occupied by several cute restaurants and cafes.
The town has a strong food vocation and all the cafes offer local specialties: worth trying are the cheese and cured meats, usually offered in the form of a 'Tuscan platter' and of course the red wines of this area.
Rosso and Brunello di Montalcino, Morellino di Scansano and Vino Nobile di Montepulciano, are all from localities nearby and a delight for wine lovers.
The restaurant make the most of the pretty, car free alleys of the town and have a welcoming, bohemian chic touch to them enhanced by cascading plants and flower pots.
Experience the thermal spring waters
While the main pool in Bagno Vignoni is not for bathing, the town has several structures dedicated to thermal baths and treatments.
The one we usually go to is called Hotel Posta Marcucci and it is right in the town center.
The hotel is a 3 star and you can stay the night or just for for the day: you will never forget the sweeping views from the pools!
Enjoy the view from Parco dei Mulini
Bagno Vignoni used to be an important center for the grinding of grains and this is still visible immediately outside of the town center, in Parco dei Mulini (Park of Mills).
The Parco is just beside the main town parking area and develops along the slope of the hill degrading from Bagno Vignoni to the valley below.
In the town, you can easily see the remains of an ancient structure with canals still meandered by hot spring water.
This is par of the network of mills that used to be in the area and it is not just interesting but beautiful.
The view form here is incredible and, if you take the time to walk down the path that leads to the bottom of the valley, you will quickly find yourself totally immersed in beautiful nature!
Need to know: this is the area where the free thermal baths of Bagno Vignoni used to be however, please be advised that bathing here is currently forbidden and fines are enforced. Please look for local signage and abide local rules at the time of your visit.
How to get to Bagno Vignoni
Bagno Vignoni is in the province of Siena and it is very easy to reach by car.
The town is well indicated and a large parking lot is just outside the center, allowing easy access to the piazza and Parco dei Mulini on foot.
Unlike many other towns in this area, Bagno Vignoni is flat and doesn't pose mobility issues unless you decide to tackle the path down the valley: in that case, good shoes are paramount and some level of fitness is handy – the path is steep!
Bagno Vignoni has several pretty hotels, some in town, which are perfect to spend and evening and taste the local wine without the stress of having a designated driver.
Hotels you may want to consider here are: Hotel Posta Marcucci and Locanda del Loggiato and B&B Orto delle terme
I hope you enjoyed this quick travel guide to Bagno Vignoni and it inspired you to go visit. Safe travel planning!