Paestum Italy: all you need to know to visit this overlooked UNESCO site and its breathtaking Greek temples
The ancient Greek city of Paestum is one of the most beautiful yet often overlooked archaeological sites in Italy. This is all you need to know to plan a visit to Peastum, Italy.
If you love history and archaeological sites, then you should make sure to include in your Italy itinerary a visit to the stunning Greek and Roman archaeological site of Paestum.
Located in Campania, less than 1 hour drive South of Salerno, Paestum is home to three Greek temples of outstanding beauty and to a beautiful museums with unique burial paintings from the V century BC.
The site entered UNESCO's list of World Heritage Sites in 1998 and it is one of the most beautiful archaeological sites in the country and one of the best to see Greek ruins in the South of Italy.
Despite its importance and beauty, the site is largely overlooked by international tourism, probably due to its position, slightly off the most beaten track.
I highly recommend you go visit and spend a morning in this gorgeous location: you will never forget it!
You can learn how to include Paestum in your Southern Italy itinerary here
A brief history or Paestum, Italy
Paestum is an ancient Greek city originally built in this location by Greek colonies from, probably, the city of Sibaris, in the VII century BC.
Its original name seems to have been Poseidonia, a name that highlighted to special connection with the God of the Sea Poseidon, and seems to have changed name to Paistom and then Paestum respectively when taken over by the Lucanians first and the Romans next.
Poseidonia / Paestum went though a long period of prosperity and many of the ruins we see today date back to those years of wealth and power, which archaeologists place between  560 a.C. al 440 a.C. (Greek times) and then later 273 BC – 270 AD (Roman times).
Paestum seems to have become Christian relatively early and seems to have been home to Christian Bishops since the V century.
The town however fell into disgrace and was largely abandoned from the VIII century AD, when the area partially returned to be an unwelcoming swamp.
In the XVIII century the Greek city seems to have returned to some form of notoriety and eventually even entered the itinerary of the Grand Tour which mean it gained popularity among a certain section of European society.
Nowadays, the temples and the city are an archaeological park with attached an interesting museum and a wonderful place to learn about the history of this area and how different civilizations left their mark.
What to see in Paestum
Paestum is an open air archaeological site and museum, with ancient ruins of three Greek temples, houses, ancient city piazzas and artifacts.
The most impressive things to see in Paestum I believe are the three Greek temples and the museum.
The three Greek temples
The city of Paestum has three Greek temples in a stunning state of conservation.
Made of cream colored stone, they stand tall in the middle of what are now green lawns and are a vision of might and beauty against the backdrop of the Southern Italian blue sky and the frame of tall umbrella pines that surround them.
The temples are different one from the other but they are all in Doric style and where devoted to different deities, the attribution to which seems to have stumped historians in the past.
The temples are visible one from the other, two of which facing each other, and they are impressive both as a whole and individually.
The temple of Neptune
The temple of Neptune in Paestum dates back to the V century a.C. and is a sight to behold.
It has three naves and is entirely surrounded by Doric columns made of golden-colored travertine.
The columns are large and heavy but they are decorated with splendid vertical grooves: they capture the light as it hits the columns and create a wonderful game of shades that make this massive stone creation look as if it was feather-light.
You feel small inside it but the sun streaming in from the open roof also makes you feel part of this magnificent creation: it is really easy to see why this was a religious building, the effect on the visitor is truly powerful!
The temples of Neptune is said to be the best-preserved temple in the Greek world and is also unique.
The double order of columns that divide the tree naves of the temple is unseen in the Western Greek world and makes this temple the only example of this type of architecture in Magna Graecia.
This structure also connects this temple with the much more famous yet less preserved great temple of Zeus in Olympia, in mainland Greece.
The Basilica
Beside the temple sits another building, smaller yet somewhat similar, often referred to as 'the basilica'.
It got this name in the XVIII century, when archaeologists thought this was an administrative type of building however, archaeologists now believe it was original a temple to Hera and / or Zeus.
It dates back to 530 a.C and had, inside, several religious artifacts now preserved in the local museum.
The basilica is stunning: it is in excellent state of preservation and has some special traits that make it stand out.
One is the odd number of columns at its front and the other is the peculiar shape of the columns itself, narrower at the top, two architectural elements that give away the archaic origin of the building.
The temples of Athena or Temple of Ceres
A little detached from the two other temples lies another religious building identified as the temple of Athena or Ceres.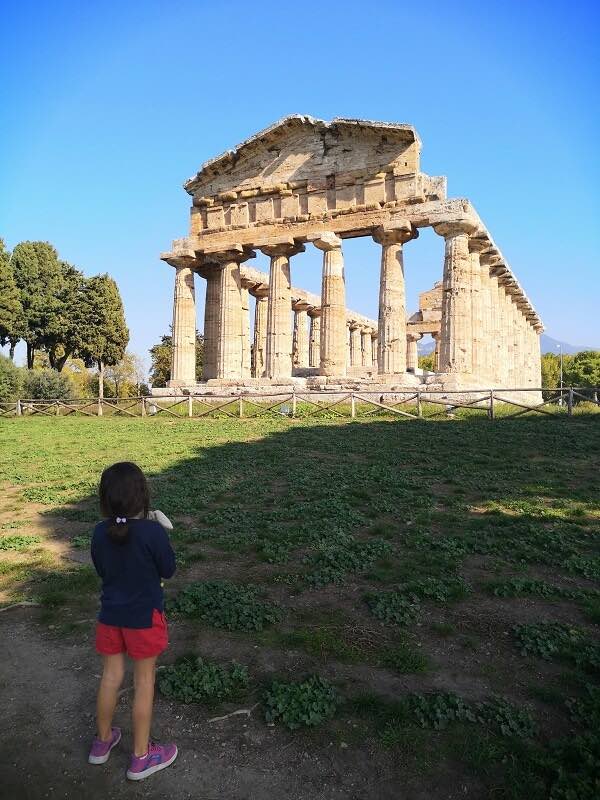 This is a wonderful Doric temple and likely the first you encounter when entering the park: the temple is framed by pine trees and flowers is a little detached from the other two, which you can however easily see and reach from here.
The temples seems to have been built after the basilica but before the temple of Neptune and has some peculiarities that make it unique: its plan is simpler than that of the other two temples and its pediment is also unique because of its Doric decoration.
Paestum's Archaeological Museum
Immediately outside the precinct with the temples, you find the beautiful and well kept Paestum Museum, which holds several ruins and artifacts from the temples / city area and additional finds from the area.
The most famous of all are the incredible burial paintings knows as 'diver's tomb' or 'tomba del tuffatore' in Italian.
The tomb of the divers dates back to the V century BC and it is a rare example of Greek embellishment of a burial space.
This is an exquisite painting of a diver taking a symbolic dip into the world of the dead and also has depictions of colorful symposium / banqueting scenes.
The tomb is unique and worth seeing, and complement spectacularly the beauty of the temples just in front.
Practical tips for visiting Paestum, Italy
Paestum is best reached by car. Its locality is called Capaccio, which is a small nondescript town in Southern Campania.
The drive here is easy and once you get to the temples you find shops, restaurants, parking lots and facilities for tourists.
To visit the park I recommend you wear good walking shoes or walking sandals.
The terrain is not particularly challenging or difficult and it is vastly flat however, this is an archaeological site so uneven terrain and grassy and dirt patches are the norm.
The site can be visited in a couple of hours and it is possible to have lunch just outside with view over the temples.
Opening hours: 9:00 am to 7:30 pm [last entrance 6:45 pm] from Monday to Sunday. Please note that the museum is closed on Mondays. 2020 rules and regulations may affect this hours.
Paestum entry ticket prices:
from December to February
Full price: € 6.
Reduced (from 18 to 25 years): € 2.
Family (2 adults + one or more children and young people up to 25 years): € 10.
from March to November
Full price: € 12.
Reduced (from 18 to 25 years): € 2.
Family(2 adults + one or more children and young people up to 25 years): € 20.
Visiting Paestum with kids
Paestum is one of my favorite archaeological sites in Italy to visit with kids. It is rather contained in size, therefore not overwhelming, and it has a lot of open spaces that are good for kids to run and explore in their own time.
The temples are fun for them to visit and there are simple enough information panels that, with the aid of an adult, can help them make sense of what they see.
The presence of the restaurants and cafe make this an easy place to visit in terms of logistics too and the car park is literally just in front of the temples.
I recommend you bring al all terrain stroller or do without for the duration of the visit.
Organized tours and day trip to Paestum
We visited Paestum on our own and I believe if you have a car, the information available on site and at the museum are sufficient to enjoy your day and learn about the place.
If you don't have a car or want to learn more about this site, there are day trips and day tours available.
You can check out the following (please note: these are affiliate links and, should you make a purchase though them, we might make a small commission at no extra cost to you. The links lead you to GetYourGuide, our favorite ticket and booking platform)
What to see near Paestum
Paestum is less than an hour South of Salerno, the getaway town to the Amalfi Coast and can be easily reached by car from there.
We drove here from Matera and the drive took approximately 2.5 hours, on easy roads.
If you want to have a dip in the sea, the town of Agropoli and the pretty beach of Trentova are a very short drive from the temples.
I hope you enjoyed this quick overview and tips for visiting Paestum Italy and it inspired you to go! Safe travel planning.