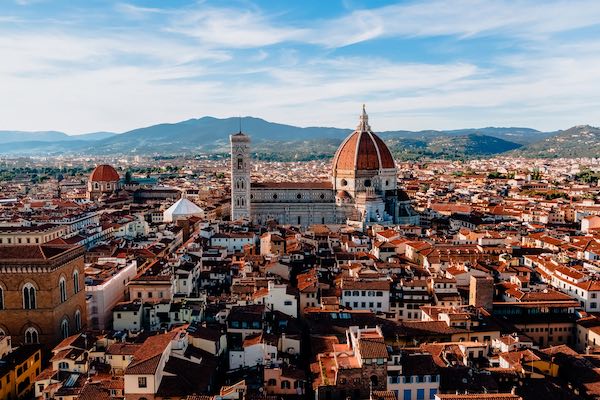 24 incredible things to do in Florence that will make you fall in love with the city
24 incredible things to do in Florence, Italy, that will make you fall in love with the city.
Florence is one of the most beautiful cities in Italy and a place I love.
Part of my family is from Florence, so you may say I am biased; however, you don't need relatives from the city to fall for Firenze's charms.
The most common ways to describe the city use expressions such as 'open-air museum', 'art city', 'medieval gem' and indeed, they capture a large part of what the city is all about.
Hover, Florence is also much more than that!

As well as an art city, Florence is a living and breathing city full of delicious food, shops, events and a lovely place to relax and watch life go by!
We have spent an inordinate amount of time in the city. Before, we talked about our tips for visiting Florence with kids.
Today, we look at Florence's main attractions, landmarks, and things you cannot miss on your first trip to Florence, Italy.
I mention Florence's tourist attractions, tours and experiences I believe will make your stay special. I hop you enjoy it!
Please note: this post contains affiliate links and, should you make a purchase, we might make a small commission at no extra cost to you.
24 incredible things to do in Florence, Italy
Take your time exploring the Historic Center of Florence
Florence city center is UNESCO World Heritage Site, in its entirety!
UNESCO included it on its list stating that it is 'unique artistic realization, an absolute chef-d'œuvre, the fruit of continuous creation over more than six centuries.
Indeed, it is a place like no other.
Walking around Florence city center is like stepping back in time: churches, statues, palazzi, alleys, markets… art and history are everywhere, mixed with the dynamic comings and goings of modern life.
There are many things to see in the city center, which we have included in this list.
However, make sure you don't get so taken by the individual attractions that you miss the unique atmosphere of Florence as a whole.
I fully agree with Unesco on this one: this is a place to live and breathe in its entirety!
To visit Florence city center you can:
Allow yourself to get lost in it – the best way for spontaneous visitors who have lots of time
Follow our recommended Florence itinerary (self guided)
Take a tour such as this one, which is suited to people who have very limited time or would like an overview of the city to then explore in their own time.
Visit the complex of Santa Maria del Fiore, Florence's Duomo
Florence's Duomo, the city's main church, is a marvel.

Arnolfo di Cambio presented the project for its construction in 1296 and the building work lasted over 170 years.
Over this time, several artists contributed to its appearance and the result is outstanding.
The cathedral of Santa Martia del Fiore is a masterpiece with contributions by Giotto, Pisano, Donatello and, of course, Brunelleschi, who is most famous for its world-famous dome.
Florence cathedral is part of a complex of buildings, one beside the other.
They include the cathedral itself, Florence's Battistero and Giotto's Belltower.
The Duomo complex is a place of beauty, probably my favorite spot in Florence.
The outside of the buildings is clad in polychrome marbles.
Their colors and geometrical shapes seem to dance in front of your eyes and the imposition red dome on top is so large and beautiful, it will momentarily take your breath away.
Even if you are not interested in churches, this complex is not to be missed!
Address: Piazza del Duomo, Firenze, Italy
Tour ideas:
A comprehensive tour of the Duomo Complex, perfect for art lovers is this one.
If you prefer an outdoor tour, without missing out on the dome climb, you may enjoy this one.
The tour remains on the outside of the buildings therefore is best suited to visitors interested in an introduction more than a full-on art tour.
However, it is fun and informative and a great way to learn about the Duomo complex in the broader context of the city.
Need to know! The view from the top of Brunelleschi's Dome is breathtaking. However, the climb is not for everyone. As well as being steep and tiring (there are almost 500 steps!), the spaces are narrow: avoid it if you suffer from a fear of heights or claustrophobia.
Admire the church of Santa Maria Novella
The church of Santa Maria Novella is one of the top landmarks in Florence and overlooks one of the most beautiful piazzas in Florence.
Santa Maria Novella dates back to the XIV century and is the result of almost two centuries of work and it is stunning inside and out.
As you arrive in front of the church, you will first notice the incredible marbles that decorate its facade in hues of cream and green.
We owe them to the fork fo Fra Jacopo Talenti and Leon Battista Alberti, who contributed to making it one of the most distinctive and recognizable Florence landmarks
Inside, the church is a treat for art lovers.
It has works of the caliber of Masaccio's Trinita', Ghirlandaio's Tornabuoni Chapek and Giotto's Crucifix, just to name the most famous.
Even if you are not into art, I highly recommend you visit this church or, at least, this piazza.
Several cafes and a gelato place are here and the square is historic and beautiful, with the church overlooking its large esplanade.
Tour idea:
Entry ticket to Santa Maria Novella with Audioguide – perfect for those who want to learn about the church at their own pace.
Address: Piazza di Santa Maria Novella 18, Firenze, Italy
Tease your senses in Officina Profumo Santa Maria Novella
If you love ancient pharmacies and workshops, you should not miss a visit to Officina Profumo Santa Maria Novella, one of the world's oldest pharmacies.
The story of this apothecary dates back to the 1400s.
At this time, Dominican Friars started cultivating medicinal plants in the yard of their convent in Santa Maria Novella and created a potent disinfectant that helped during the Black Death epidemics in the city.
The same plants also became the basis for the creation of lovely perfumes, which caught the attention of Caterina de' Medici, partial to their bergamot scent.
The pharmacy opened to the public in 1612 and is it still nowadays open to visitors.
You can now buy their products and visit the old pharmacy with the ancient apothecary pottery.
Address: Via della scala 16, Firenze, Italy
Admire beautiful Piazza della Signoria
Piazza della Signoria is one of the most beautiful piazzas in Italy.
The square has a distinctive medieval aspect and surrounds you with stunning buildings that develop, literally, at 360 degrees around you!
A little bit like the whole center of Florence, Piazza della Signoria is more than the sum of its part.
While the square has buildings worth admiring and visiting inside, the first thing you must do here is to look around you and take it all in!
Things not to be missed here are:
Palazzo Vecchio (see below): a stunning medieval palace, once the center of Florence's city life.
The Palazzo is one of the most recognizable in Florence thanks to its tall tower and it is reminiscent of other municipal palazzi you may have seen in Siena or Montepulciano.
La Loggia dei Lanzi (see below): a portico that hosts beautiful sculptures under open-air arches opening onto the street
Palazzo Ugoccioni, Palazzo delle Assicurazioni Generali with classical and neoclassical architerures.
Several important statues by some of Florence and Italy's most illustrious artists, including replicas of Michelangelo's David and Giuditta e Oloferne by Donatello.
The Fountain of Neptune, a fantastic fountain with an impressive statue of Neptune by Bartolomeo Ammannati and Giambologna, dating from 1563-1565
Address: Piazza della Signoria, Firenze, Italy
Visit Palazzo Vecchio
Palazzo Vecchio in Florence is the large, beautiful, towered building overlooking Piazza della Signoria, in Florence's city center.
The building dates to the Middle Ages and is the symbol of Florence's municipal power.
This is where, in Medieval and Renaissance times, the city meetings took place and its stunning decorations are proof of the important personalities that passed through its elegant spaces.
A visit inside Palazzo Vecchio is a must for history and art lovers.
Its halls have elaborate ceilings and stunning frescoes: Salone dei Cinquecento, built under Savonarola, has paneled ceilings and wall frescoes that will take your breath away!
Other parts f the museum showcase the private apartments of the Medici Family and, at the top of the palazzo, you can even visit the bastions.
I highly recommend you take a tour inside the palazzo. You may like this one, which allows you to visit with an audioguide and includes a visit to Salone dei Cinquecento and the climb up the tower.
Top tip! Palazzo Vecchio is a fascinating place to visit with kids too. If you have little ones, I recommend you book one of their specialized tour, which you can find here
Marvel at fascinating Loggia dei Lanzi
Loggia dei Lanzi is a covered portico (loggia) on Piazza della Signoria, famous for being nome to incredible sculptures.
The loggia is made of wide arches opening onto the square and it is free to visit; however, it has some statues that are as precious and beautiful as those in the city's most famous museums.
Among the most famous, seek out Perseus with the head of Medusa by Benvenuto Cellini and the taking of the Sabines by GIambologna.
Loggia dei Lanzi is an excellent example of what Florence does best: it leads you to a seemingly nondescript corner to then reveal it as the home to priceless treasures!
Visit the unique Uffizi Gallery
The Uffizi need to introduction.
One of the most beautiful, significant, and famous art museums in the world, they are a must-see for art lovers and one of those places you may want to see once in a lifetime even if art is not your thing.
Here, you have masterpieces such as the birth of Venus by Botticelli, Tondo Doni by Michelangelo and Madonna del Cardellino by Raphael, just to name a few of the best known.
The museum is located in Florence city center and is a destination in itself.
Vast and busy, it is the type of place you can spend a full day in (or more), so I recommend you do some planning before tackling it, mostly by deciding when and how long you need to visit.
Tickets to the museum must be booked in advance. Convenient ways to visit Uffizi are the following:
Uffizi Gallery Timed entrance ticket – a value option for those happy to visit the museums on their own (option of an audio guide available)
Uffizi Small Group Tour – a good option for those who prefer some guidance for this stunning (yet vast) museum.
Uffizi Tour for families with kids – this is a pricey option but a great one for families as, honestly, the Uffizi are not easy to visit with kids, boredom is very possible without an engaging guide!
Address: Piazzale degli Uffizi 6, Firenze, Italy
Cross the Arno walking on Ponte Vecchio
Ponte Vecchio (lit. Old bridge) is the oldest in Florence and the most distinctive landmark in Florence and one of the most famous.
The bridge connects the two sides of the river Arno and it is peculiar as it has rows of shops on its sides, which make it feel more like an enclosed road than a bridge: it is a unique sight!
History tells us that the bridge has hosted shops since the XIII century.
Originally butchers and greengrocers had their shops here. Then in 1593, Ferdinand the II stated only goldsmiths and jewelers could trade there, which has been the case ever since!
Ponte Vecchio has had many admirers, including Hitler. He admired the bridge to such an extent that he gave the order to spare it.
Take a stroll in the magical Boboli Gardens
The Boboli Gardens are the large, private, beautiful park of Palazzo Pitti, one of Florence's most beautigul renaissance palaces and museums.
The gardens develop over 45.000 acres and are a delight of fountains, sculptures, caves, stairs, and paths, all thought out and designed by some of the most influential architects and artists in the city.
The first time someone mentioned the Boboli gardens to me, the word they used was meravigliosi (= marvelous) and this is still my favorite way to evoke what they are truly like: an awe-inspiring vision of architecture and nature!
Boboli Gardens are not a park to run around and have picnics, but a place for strolls and for admiring one of the earliest and best examples of Italian gardens.
I highly recommend you book entry tickets in advance to reserve a space.
Address: Piazza de' Pitti 1, Firenze, Italy
Visit Palazzo Pitti inside
Palazzo Pitti, as mentioned above, is one of the most beautiful renaissance palaces in Florence.
Designed by Brunelleschi, the palace became the residence of the Medici family and today hosts their perfectly maintained apartments and an important art museum, including Italian art from XVI to early XX century and the Museum of Fashion and Costume as well as the above mentioned Boboli Gardens.
This is a great spot for art lovers especially. You can get entry tickets to Palazzo Pitti here.
Address: Piazza de' Pitti 1, Firenze, Italy
Visit world famous Accademia
The Accademia Gallery, like the Uffizi, are a world-renowned museum and a must-see in Florence for anyone who loves art and sculpture in particular.
The Accademia hosts the largest collection of statues by Michelangelo in the world.
People come here from all over, mostly to see Michelangelo's famous David, but Accademia has a lot more to offer than just this big ticket attraction.
As well as the stunning david, you can see here many sculptures and paintings from renaissance artists such as Gimabologna, Ghirlandaio, Perugino, and more.
Advance booking is mandatory: you can choose between an entry ticket and a small group tour.
Address: Via Ricasoli 58-60, Firenze, Italy
Catch a view from Piazzale Michelangelo
Piazzale Michelangelo is a large panoramic square at the top of a hill overlooking the city of Florence.
It is the place from where you can take the iconic photo of Florence from above, with Brunelleschi's Dome and the Arno river and it is a fantastic, romantic place you simply cannot miss in Florence.
The main reason to come here is the view: the piazza itself is nothing special but the view from here is spectacular.
Address: Piazzale Michelangelo, Firenze, Italy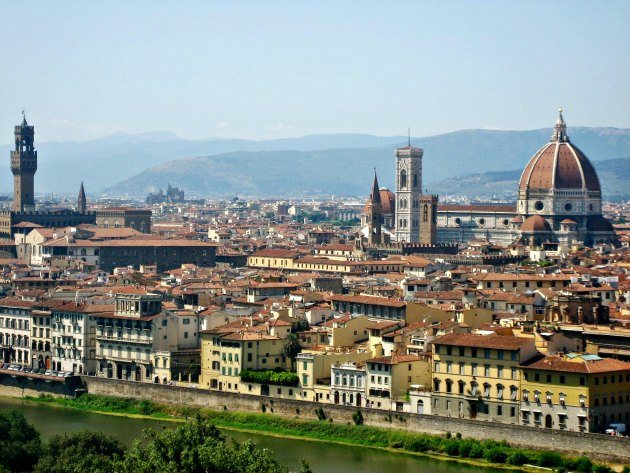 Climb up to breathtaking San Miniato al Monte
If you are looking for viewpoints, then you can do even better by visiting San Miniato al Monte, a wonderful church in Romanic style perched high above Piazzale Michelangelo and Florence.
The church is lovely and has beautiful marbles and chapels and the views from outside vast and expansive.
If you don't mind the walk, climbing up to San Miniato al Monte is one of the best things to do in Florence.
Address: Via delle Porte Sante 34, Firenze, Italy
Take a stroll in Santo Spirito neighborhood
Santo Spirito is a beautiful church in a quiet area of Oltrarno, overlooking a tranquil square.
From the outside, it is easy to miss the importance of this church.
Unlike the Duomo or many other churches in this list, Santo Spirito hasn't got an elaborate facade made of colorful marbles but rather a plain-looking, rather dull exterior.
However, it has some important works of art by Michelangelo, Perugino, Lippi and it is also worth noticing that was built by the design of Brunelleschi.
Address: Piazza Santo Spirito 30, Firenze, Italy
Vist the breathtaking Medici Chapels in San Lorenzo
Art lovers should not miss Piazza San Lorenzo and its church, home to the famous Medici's Chapels.
Cappelle Medicee (Medici's Chapels) are the resting place of the members of the Medici Family and they are a sight to behold.
Designed by Michelangelo and Brunelleschi, the chapels are wonderfully decorated and a Florence must-see for art and history lovers.
Address: Piazza di San Lorenzo, Firenze, Italy
Exolore the fun and busy markets of Florence
If you love the atmosphere of markets, then you should not miss Mercato San Lorenzo/Mercato Centrale.
The market is two markets in one: an indoor area, Mercato Centrale, is a mecca for food while the outdoor area has stalls selling pretty much anything else: pottery, leather goods, souvenirs and more.
San Lorenzo is a lovely area to visit and an excellent place for some of the best food experiences in Florence.
It is also a great place to learn about Italian food in general.
You buy your own or you can indulge in food made here on the first floor, now a great and pretty glamorous food court offering food workshops and high-quality Italian food made with traditional ingredients and methods.
Address: Piazza del Mercato Centrale, Via dell'Ariento, Firenze, Italy
Go on a food tour
You will find good food in Florence everywhere however, the best way to truly learn all that Florence cuisine has to offer is by joining a food tour.
My favorite way to enjoy a food tour is by joining one on my first night in the city. as well as a good way to have some company and good food, I use it to take notes of good places to go back to, so all my lunches and dinners are sorted!
A nice evening food tour in Florence is this one.
Get on the vintage Merry go round in Piazza della Repubblica
You may think of Merry Go Rounds as more typical of Paris than Florence.
However, there is a historical one in the city that is pretty and not just for kids.
Florence's historical merry-go-round in Piazza della Repubblica, it is pretty o see and a cool photo spot too, whether you decide to take a turn on it or just pose beside it!
Address: Piazza della Repubblica, Firenze, Italy
Visit the lovely area of Santa Croce
Art lovers will want to make sure they include into their Florence itinerary a stop in Santa Croce. This basilica now hosts the tombs of some of Italy's most illustrious sons, such as Machiavelli, Michelangelo, Rossini and Galileo Galilei.
It also hosts a memorial monument to Dante however, the poet is not here: he rests in Ravenna, where he spent his exile.
The church is impressive and has incredible frescoes by Giotto and works by Donatello. It is also in a lively area: after you visit the church, you will find plenty of places for aperitivo or a meal here.
I hope you enjoyed this overview of the best things to see in Florence and the most famous landmarks in Florence and it helped you decide what to see on your first trip to Florence.
Go shopping for leather goods
Florence is famous for the quality of its leather goods and you will find plenty of places for a shopping spree.
Great, traditional places to buy leather goods in Florence are Bemporad (Via dei Calzaiuoli, City center), Giorgio 1966 (San Lorenzo), Casini (in front of Palazzo Pitti) but suede and leather shops are everywhere, with varying quality levels and price points.
Go rowing on River Arno
The Arno River in Florence is large and calm, perfect for a rowing adventure!
During your stroll around Florence city center, you are likely to see locals on the water but if you fancy getting active, you can also book a rowing tour and join them.
The activity is not strenuous and a fun thing to do in Florence if you like staying active and being outdoors. You can find info and prices here.
Relax in Florence's gardens and parks
Florence city center is not particularly green; however, there are several nice parks in Florence perfect for relaxation.
For picnics, running and just a day out, check out:
The Rose Garden, just below Piazzale Michelangelo a wonderful place for stunning views of Florence as well as an immersion in fragrant flowers (May and June are best for rose flowers, but the views are stunning all year round)
Bardini Gardens, not far from Ponte vecchio
Parco delle Cascine, large and beautiful (and home to a swimming pool, if you are in Florence in summer)
Parco del Boschetto, beautiful and leafy
See Florence by bike
Florence is a walkable city however, it can be even more fun to visit Florence by bike.
As well as being a great way to cover a lot of grounds, a bike tour of Florence is a fun way to make the city fun for kids and teenagers, who may find the sightseeing walk tiresome.
You can check what a bike tour entrails and the cost here.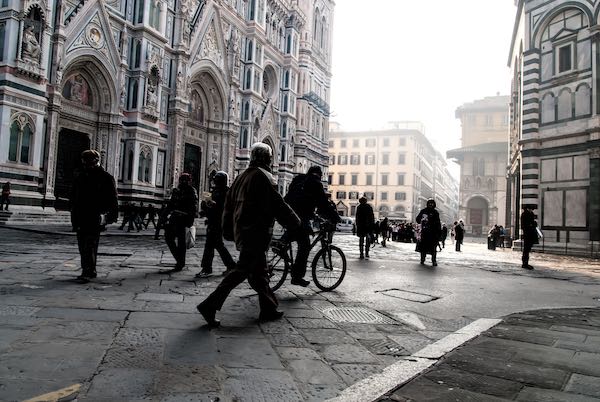 Where to stay to enjoy Florence must-see sites and landmarks
Florence's most famous sites and landmarks are mostly located in Florence's historical center.
The most convenient locations for accommodation in Florence are the center itself and Oltrarno, the area immediately on the other side of the river from Piazza della Signoria, so to speak.
Hotels you may like are:
Hotel Davanzati, a great 3-star hotel in an excellent location right in the center of Florence. The decor has old-world charm and the rooms cater to single, couple, and family travelers.
Tornabuoni Suite Collection Aparthotel, a great property right in the center of Florence, perfect if you are looking for a stay in an upscale apartment-style accommodation with all comforts
Palazzo San Niccolo', a lovely hotel in Florence city center with a leafy courtyard, delightful for relaxing after a day of sightseeing!
I hope you enjoyed this overview of Florence landmarks and must-see sites in Florence and it helped you plan your stay.
Happy travel planning!
You may also like:
Fabulous day trips from Florence and day tours from Florence to Tuscany and beyond
The best beaches near Florence perfect for hot days
How many days in Florence: our recommended Florence itineraries
Planning a trip to Italy? Don't forget to also check out our 100+ Italy travel tips and our guide to planning a first trip to Italy!