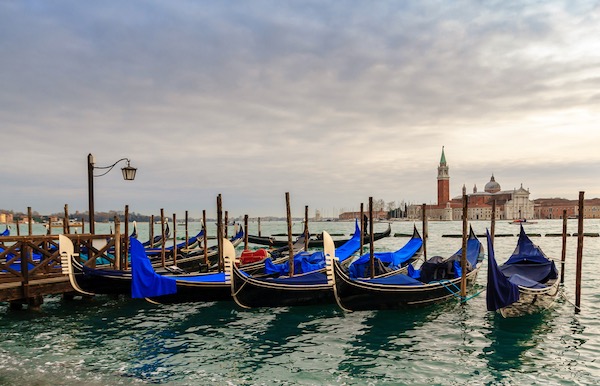 Venice in winter: all you need to know to plan your visit
All you need to know to visit Venice in winter: winter weather in Venice, best things to do, what to pack and challenges the rainy season can bring to the tourist visiting Venice, Italy.
Winter in Venice is cold and humid; however, it is also atmospheric, evocative and romantic.
If you have the chance to visit Venice in winter, I recommend that you do!
Winter is a varied and interesting time to visit Venice.
Depending on the exact time of your visit, you may find Venice wrapped in the Christmas atmosphere you may enjoy the low season and winter shopping opportunities of January, you can experience the famous Venice's carnival or witness the timid beginning of spring.
I love Venice in winter; however, the season may pose some challenges to first-time visitors.
In this guide, I share travel tips for visiting Venice in the cold season: I look at what to expect from the weather, what to pack, the best things to do, and the challenges you may face.
Please note: this post contains affiliate links. Should you make a purchase, we might make a small commission.
Winter weather in Venice: when is it and how cold does it get?
Winter in Venice officially starts on the 21st of December and ends on the 21st of March.
From the visitor's point of view, however, I find it easier to consider winter in Venice the whole month of December as well.
From the start of December to mid-march, when spring starts making an appearance, the temperatures in Venice are cold, the sky is often gray and the days are short.
At this time, you want to wrap up with a good coat, scarf and hat.
You also want to make sure you have shoes that can keep your feet warm and dry (we'll talk more about what to wear in Venice in winter farther down in this guide).
However, it doesn't rain much in Venice in winter: the humidity however can be intense!
At a glance, these are the temperatures you can expect in Venice in the winter months:
| | | |
| --- | --- | --- |
| Month | Temperature (Max-Min) | Rainy Days (average) |
| December | 8C/46F – 0C/32F | 6 days |
| January | 8C/46F – -1C/30F | 5 days |
| February | 10C/50F – 0C/32F | 4 days |
| March | 14C/57F – 4C/39F | 5 days |
Does it snow in Venice?
Snow in Venice is not common, especially if what we mean with 'snow' is beautiful, abundant snowfall able to cover the city with its powdery flakes.
In the heart of winter, especially in January and February, you may have snowflakes filling the air; however, in most cases, they do not stick and do not impact your experience of the city.
On rare occasions when it does snow, however, Venice is spectacular!
The view of the snow on Venice's domes and gondolas is spectacular and this is why you may have seen many photos of Venice in the snow. When snow happens, people stop and stare, it is so beautiful!
In terms of planning your wardrobe for Venice in winter, you don't need to plan for snow.
Just make sure you have good shoes on the off chance you get a snowy day while there.
Acqua Alta: how to deal with high tide in Venice in winter as a visitor
The most peculiar weather phenomenon you may experience in Venice in the winter is high tide (Acqua Alta).

Acqua Alta means 'high water' and it is the name Venetians give to the days of high tide when the sea level grows so much to spill over and flood the streets and piazzas of Venice.
Aqua Alta happens most often in November, followed by December and October.
Aqua Alta is a big problem for the Venetians and the integrity of the buildings and works of art of the city (it's an interesting topic, but it falls outside of the scope of this guide).
However, Venice's high tide is not necessarily a nuisance or a scary experience for visitors.
When Acqua Alta happens, the lowest parts of the city get flooded.
The first part of Venice impacted by Acqua Alta is Piazza San Marco, Venice's lowest point over sea level, followed by the area of Rialto Bridge.
The area of Santa Lucia station is higher and usually doesn't get affected by the high tide.
When Acqua Alta happens, the city of Venice lays out raised pedestrian walkaways to help movement in the affected areas.
These pedestrian boardwalks connect the main transportation hubs to the city center (Piazzale Roma and Santa Lucia Station).
This means that even on days with Acqua Alta, you can walk around Venice city center without the need for technical equipment.
Water-resistant boots or Wellington Boots can be handy – you can usually buy rubber boots on the day.
Good to know: when aqua Alta is about to happen, syrens blare, warning of its arrival. You will not miss this event so you don't need to worry about being caught out by the high tide. If it happens when you are in Venice, you may want to keep this website handy: it has the official maps showing the pedestrian walkaways.
Where to stay in Venice in the winter
I recommend you pick a hotel in Venice city center.
Hotels I love here are:
Ca' I Due Leoni, a pretty and clean 3-star hotel, overlooking a private campiello (small Venetian piazza).
This is a delightful, value-for-money hotel with lovely staff and a perfect location in Cannaregio, close to the train station.
Cannaregio is one of my favorite areas of Venice: close to the train station, this is a beautiful, historical area with beautiful canals, pretty streets and services and a place that strikes a great balance between tourist-friendly and local.
Hotel Bisanzio, a beautiful 4-star hotel overlooking the beautiful Riva degli Schiavoni, one of the most scenic locations in Venice and close to San Marco and all Venice main attractions.
The hotel has a classic, elegant decor with exposed ceiling beams and luscious textiles that give the hotel a welcoming and distinctly Venetian feel.
Ca' Maria Adele, was repeatedly awarded the title of 'most romantic hotel in the world', this is a lovely Venice boutique hotel in one of the most scenic locations in the city: the area of La Salute church.
Just one ferry stop from San Marco, the hotel has lovely interiors and it is a real treat for couples looking for that special Venice honeymoon experience.
If you prefer a rental, so you can stay in and relax in case the cold and humidity gets to you, you can find here >>> our list of recommended, family-friendly rentals in Venice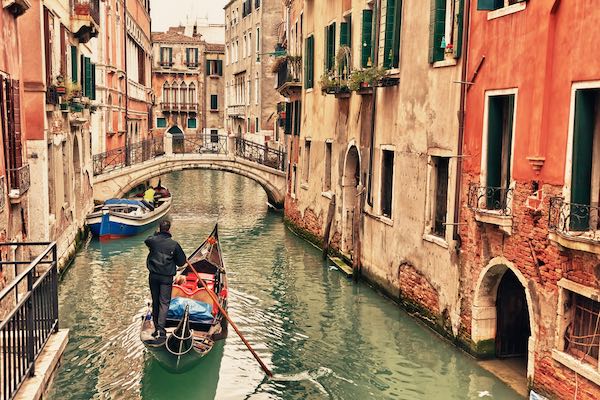 How to get around Venice in winter
During the winter, you will want to alternate walking around Venice with occasional journeys on the local water buses (vaporetti) for longer stretches.
Depending on the length f your stay and the location of your hotel, you can opt for a single ticket or a public transport pass.
Transport solutions you may want to consider for Venice, if staying more than a couple of days:
Express bus from Venice Airport to City center – a great, budget-friendly option for your arrival in Venice, especially if you have accommodation towards Piazzale Roma / Train station (including Cannaregio)
Venice Public Transportation Pass – a great purchase for longer stays or if your hotel is not beside main attractions or in Mestre. It includes ferries to the lagoon islands and Lido.
You can find here >>> our full guide to getting around Venice
If you are not sure how long to stay in Venice, I recommend you have a look here >>>> our recommended Venice itineraries.
Venice in winter: days of notice
Several celebrations and events take place in Venice in winter and may impact your visit.
Date of notice in the winter months in Venice are:
8th of December – the Immaculate Conception (Immacolata Concezione). This is a National Holiday in Italy and a traditional time for Italians to take a long weekend break.
This might impact the availability of accommodation and tours; prices may be at a premium for rooms.
Venice's main museums and attractions usually stay open, on this day.
24th December: Christmas Eve. Shops tend to close earlier on this day. Reservations for dinner in restaurants are essential: special menus may be set for the occasion.
25th December: Christmas Day. This day affects the opening hours of shops and the running of tours. Reservations for Christmas lunch in restaurants are essential, set menus may be in place for the occasion.
26th December: St Stephen's Day. A National Holiday, this is a day of high tourist affluence.
31st December: new year's even. Shops may close early, advance booking for dinner in restaurants is essential.
6th January – The Epiphany. This is a National Holiday and a day of high tourism affluence
4th February – 21st February 2023: Venice Carnival.
This is a huge event that attracts visitors from all over the world. Advance booking of hotels and tours is essential. You can find 2023's carnival program here.
What to do in Venice in the winter
Special closures aside, in winter you can enjoy all Venice has to offer.
Take in stunning Piazza San Marco
Piazza San Marco, St Mark's Square, is Venice's most iconic site.
Here, you find several of Venice's most important attractions, such as St Mark's Basilica and Doge's Palace, as well as several museums and traditional cafes.
Like many other famous piazzas in Italy, however, Piazza San Marco is more than the sum of its part.
If you do nothing else, while in Venice, you simply cannot miss it.
Come here on foot or by ferry, and take your time to stroll around and take in the exquisite details of its facades, the lion sculptures towering above the city, the red bricks of the bell tower and the round shapes of St Mark's Domes.
Main sites of notice here are: St Mark's Basilica and belltower, Doge's Palace, St Marks and St Theodor's columns, Correr Museum, Marciana's Library, National Archeological Museum and Cafe' Florian.
Visit Doge's Palace
The Doge's Palace is one of the most famous Venice attractions and a must-see for most visitors.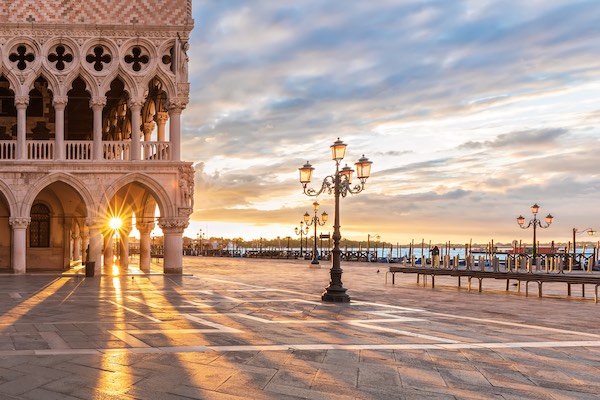 Located on Piazza San Marco, Doge's Palace is the stunning palace that used to be the residence of the Dogi (the rulers of Venice) and the seat of Venice's institution during the Middle Ages and renaissance time until 1797, when the Venetian Republic fell.
The palace is an outstanding and unique example of gothic architecture in Venetian style and it is now a wonderful art museum too.
Inside, you can visit several areas including elegant salons, the Doge's apartment and prisons, connected to the Court of Justice by the famous Bridge of Sights.
Access to the Doge's Palace is ticketed: you must book in advance and select a day/time for your visit among the available ones.
You can book at the following links:
Entry Ticket (sold by GetYourGuide, official Doge's palace booking partner): These are entry-only tickets (no tour); you can select the day/time of your visit at the time of booking.
A generous cancellation policy means you can get a full refund up to 24hours before your visit.
Doge's Palace and St Mark's basilica 3h Tour: These are good tickets if you prefer to navigate the museum and the basilica with an official tour guide.
This tour also includes access to St Mark's Terrace, not included in the standard admission ticket.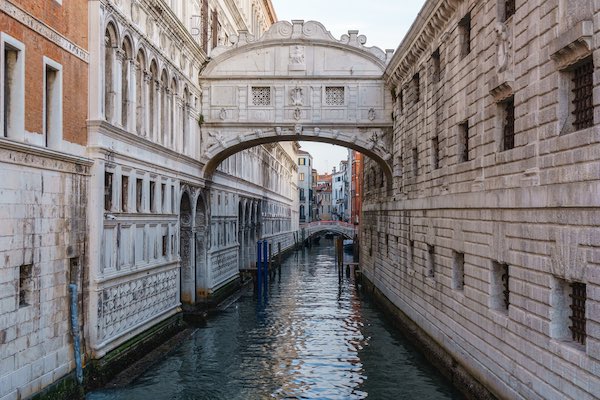 Visit St Marks' Basilica
St Mark's Basilica is a stunning church with outstanding mosaics inside and an out-of-this-world facade.
Built in the byzantine style, the basilica is unique.
Its facade has several archways decorated with elaborately carved details that make it look as if it was covered in lace.
Large, round domes dominate the church, giving it a distinctive eastern look, bearing witness to the cultural influence this cosmopolitan city received from Turkey and the near east.
Blue accents on the top of the facade add to the feeling of exoticism of this unusual church.
Inside, the basilica is a triumph of golden mosaics and hosts some of Italy's most beautiful and impressive Byzantine mosaics.
Every inch of the basilica is a marvel and a visit is a must. I recommend you book a tour visit in conjunction with that of the Doge's Palace here.
As an alternative, you can buy tickets for the basilica only here.
Warm up in one of Venice's historical cafes and bars
If you are in Venice in winter, chances are you will want to rest your feet and defrost in a warm environment regularly.
The best places for such a break are Venices' traditional cafes.
Venetian cafes are elegant, upscale places with elaborate decors and table service.
They tend to be pricey as if you simply walk into one of them for a quick coffee before going sightseeing, you will think they are actually overpriced.
They are not, however, a standard coffee place.
They are an experience in themselves, so what you pay for is the ambiance.
The most famous cafes in Venice are Cafe Florian in Piazza San Marco, Harry's Bar, the place that gave birth to the Bellini Cocktail, Caffe' Quadri, also in Piazza San Marco, and La Calcina in the area of Le Zattere.
Taste Venice's food in a traditional Bacaro
You can find a warm and cozy atmosphere also in Venice's bacari, the city's traditional wine bars /eateries.
Bacari are everywhere in Venice and they are a real treat, especially in winter, when they offer welcome shelter from the cold outside.
Here you can sit with a glass of wine accompanied by small plates of food (cicchetti, in Venetian).
The vibe is usually informal, especially suited for evenings and later hours of the afternoon, when daylight may become scarce and the appeal of fire and nice food strong.
You can read here >>> more about Venice's bacari and Venice food
Taste warming hot chocolate in Vizio Virtu'
If you love chocolate, then you simply must go and taste hot chocolate in Vizio Virtu.
This is a beautiful, elegant chocolate shop in the heart of Venice where you can buy chocolate bonbons and creations as well as taste their delicious hot chocolate, made on the spot for you.
You can choose between several types (dark or less dark, more or less spicey): it is a wonderful treat on a cold winter day in Venice!
Take in the view from stunning Fondaco de' Tedeschi
Fondaco de' Tedeschi is a historical building in Venice overlooking the Grand Canal now home to an elegant shopping mall and stunning rooftop terrace.
The Fondaco is free to visit and a sight to behold.
The shopping space inside is breathtaking: the interior is carefully designed to maintain the historical integrity of the building and the terrace on top offers unrivaled views over Venice.
Access to the terrace is free but you must book in advance. You can do it on the day, on the spot: go up, take your ticket, the come back at the time they give you. It is worth the wait!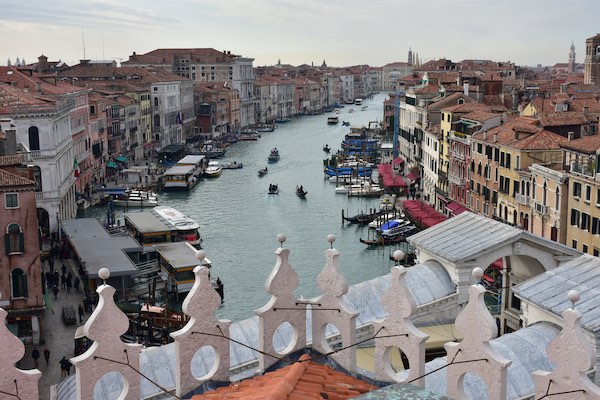 Cross stunning Rialto Bridge and visit Rialto's Market
Rialto Bridge is one of the most famous and iconic bridges of Venice.
It crosses the Grand Canal and the best way to admire it is from the canal's banks, from where you can see its peculiar architecture.
The Rialto Bridge is a footbridge and leads you to the Rialto market.
This is a wonderful semi-covered market under a historic portico overlooking the canal, famous for its fish offering especially.
Visit Venice Christmas Village at Campo Santo Stefano
During the weeks leading up to Christmas Campo Santo Stefano in Venice city center hosts a Christmas Village, a pretty Christmas market with 30 wooden huts and a great festive atmosphere
The market is special as it runs under the auspices of the Artisans' Association of Venice, who come here to showcase and sell their handcrafted creations such as masks, Murano glass creations, marble paper and more.
This is a great place to get authentic souvenirs and gifts if you are in Venice in the winter.
Take the ferry to Burano
Burano is one of the islands in the Venice lagoon and it is a delight to visit It is the Venice island where you find the pretty, colorful houses you probably have admired in many photos and it is famous for its pretty appearance, its lace workshops and its biscuits!
We last visited Burano in January and it was perfect. In winter, I recommend you stay until late afternoon and take one of the last ferries back: even on an overcast day, the sunset on the lagoon from the water is magical.
You can find here >>> my guide to Burano.
See glass workers in Murano
Murano is one of the most famous islands on the Venice lagoon and it is a unique place where to witness the creation of masterpieces made of glass!
Murano has several glass workshops and many open their furnaces to visitors to showcase their art.
You can come to Murano by ferry and you do not need a tour; however, it is a good idea to book the glass-making workshop in advance. This one offers demonstrations in English.
See one of Venice's spectacular museums
Venice has many spectacular museums and the only reason I leave them for the end of this list is that there are so many of them, you could easily spend the whole winter in Venice visiting them and not be done!
Among the most famous and interesting museums in Venice they are:
Galleria dell'Accademia – one of the most important art museums in Italy, with works by Bellini, Veronese, Tiziano and Giorgione, among many others.
Peggy Guggenheim Collection – one of the most important museums of Europe and American art, showcasing works by Masters such as Magritte, Chagall, Pollock, De Chirico and more.
Biblioteca Nazionale Marciana – one of the ms tprestigous historical libraries in Europe
Ca' Rezzonico – stunning museum of the art of the XVI century
Scuola Grande di San Rocco – a beautiful architectural complex with works of art of masters such as Tintoretto and Giorgione
Ca' Pesaro – famous for its modern art pieces including Klimt and Rodin.
Museo Correr: Stunning art museum with masterpieces by artists such as Bellini and Canova (if you are a Canova lover, this museum is a must see!)
La Fenice: not a museum but a theater so spectacular and historical that it feels like one!
Indoor activities in Venice for kids perfect for a winter day
For family-friendly things to do in Venice, I recommend you check our Family Guide to Venice with Kids.
However, a few exceptional winter-friendly activities I recommend are:
What to pack for Venice in winter
You can find here >>> my complete packing list for Venice.
In winter in Venice, I recommend you pack the following essentials:
Good walking, warm shoes: booth with a rubber sole or ankle boots work well
Warm socks
Tights (for skirts/dresses or under jeans/pants: humidity can be ferocious here!)
Woolen dresses
Long pants (woolen or corduroy work great, jeans are also ok)
Long sleeve tops
Woolen sweater war winter jacket, scarf, gloves, hat
warm pajama + slipper or the hotel
Venice in winter: a practical guide for Visitors