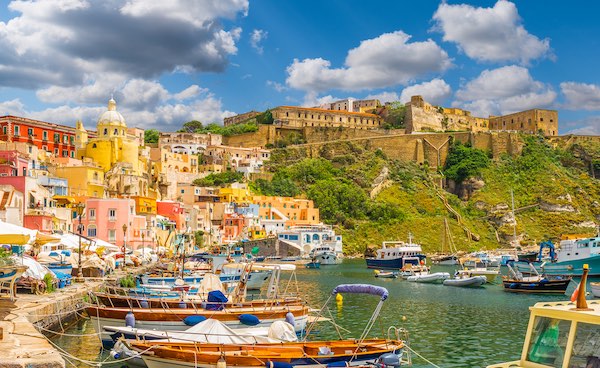 Procida travel guide: how to visit Italy's island capital of culture 2022
All you need to know to visit Procida, pretty Italian island with colorful houses and blue waters close to Naples. Travel guide to the island of Procida, Italy.
Procida is a delightful small island with pastel colored houses, pretty marinas and stunning views over the cobalt waters of the southern Mediterranean.
Located immediately in front of Naples, the island is lesser known to international tourism than nearby Capri or even Ischia however, it is so beautiful and charming, once you have seen it you will find hard to believe this is not a major stop in any Italy itinerary!
Procida is beautiful, laid back and, dare I say, authentic and maybe because of this visitors are torn: you want to shout about it to everyone but also keep it for yourself as a little priceless little gem to cherish!
Visiting Procida is easy. Regular ferries from Naples make it a good destination for the day (even better, for a weekend or even a week) and the beaches, views and towns will give you plenty to do.
These are the best things to do in Procida island and the travel tips you need for visiting.
Please note: this post contains affiliate links. Should you make a purchase, we might make a small commission.
Map of Procida Island, Italy
Why go to Procida?
There are several reasons to go to Procida:
To experience a beautiful Mediterranean island not yet overrun by tourism
To see the pretty, colorful houses of the Procida sea front and Corricella Marina
To take a break from sightseeing on the pretty beaches of the island
To visit the movie locations of Il Postino ('The Postman'), one of the most beloved Italian movies, shot here.
Why not go to Procida: if you prefer manicured, immaculate, glamorous locations, in which case I highly recommend Capri instead.
The best things to do in Procida Italy: what to do in Procida
Procida is a small island and you can see several of these attractions simply taking a stroll around the island.
You don't need a detailed Procida itinerary for your day there as there are good signs however, this list should come in handy to plan your day.
See Marina Grande
Marina Grande is the main arrival port of Procida island, the one you get into as you come on the ferry from Naples.
The first glimpse of Marina Grande is perfect introduction to the island: a row of colorful homes in pretty yellow, orange and even light blue colors welcomes you to the island and the seafront teems with activity.
Cafes, restaurants and artisan shops fill the place and boats coming and out going keep alive the spirit of this ancient and pretty fishing village now turned holiday destination.
Good to know! Marina Grande is not the place you usually see photographed in Procida! While not entirely dissimilar, the scene you most likely have in mind is in Corricella, see below. Don't be surpised if what you see on arrival is not what you expect.
The area of Marina Grande is the commercial heart of Procida and along the seafront and along nearby Via Roma is where you find most shops so if you are on the hunt for souvenirs etc, this is a good place to find them!
Climb up to Terra Murata
Terra Murata is the part of Procida above the port and it is one of the best places to experience ancient Procida and catch views over the island and the sea.
The walk up here is rather steep but it is oh so worth it both for what you see on the way and the view at the end!
As you climb up, you see the small pretty alley and streets that are typical of Procida and you start to familiarize with the peculiar architecture of the island, its houses that seem to develop on tops of each other, its balconies, arches and external staircases, suddenly opening up onto the deep blue sea below!
Here you also find mighty medieval fortifications and cannons dating back from the time of the Neapolitan Republic (1877)
In Terra Murata you will find some of the main cultural attractions in Procida, namely Palazzo d'Avalos and the Abbey of San Michele.
Palazzo d'Avalos is one of the most important buildings in Procida and has a peculiar history. It foundation dates back to the XVI century and for man years it operated as a family residence and then as royal palace for the Borbone family.
In the XIX century, the building was turned into military school and then prison, finally closed in 1988. It is now open to visitors and worth visiting as a peculiar piece of the island history and architecture.
Abbazia di San Michele (Abbey of San Michele)– the Abbey of San Michele is a religious building originally erected by Benedictine friars in the XI century and then destroyed and rebuilt in the 1500s, when it assumed the appearance we see today.
The church is beautiful and has some nice works of art and fantastic view from the terrace!
Enter Casale Vascello
Close to Terra Murata lies the area of the 'casali', housing complexes dating to the XVI centuries and still inhabited today.
The biggest and most famous of all them is Casale Vascello, a place of incredible charm.
Two tiny alleys allow you to enter the complex, which is made of a a large yard overlooked by houses.
The place is wonderful: as you look around, you are surrounded by typical Procida houses painted in pretty pastel colors, balconies, staircases and arches, all made even more charming and real by the laundry during in the sun and the smell of goof coming from the kitchen of the people who still live here!
If you have been to Amalfi town, you may have guessed the use of these small alleys: they were designed as a defense system from potential attacks from the sea shut out and, worse case, slow down invaders.
Visit Marina di Corricella
Corricella is most ancient fishing center in Procida and is the place you see depicted in most Procida photos.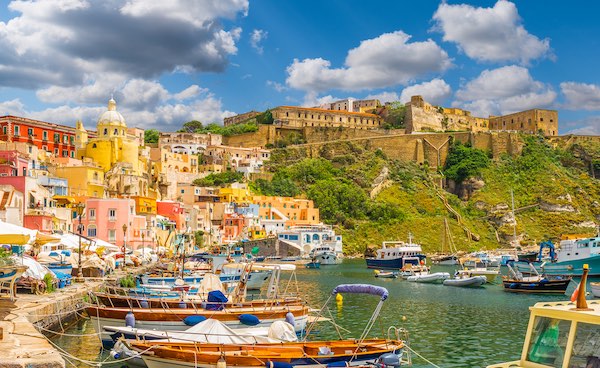 It is an absolute delight to visit!
The small marina is overlooked by colorful houses with arches, domes, staircases and the seafront has pretty boats and fishing nets that give the area a distinct out of time feel.
The streets of this area are tiny and pretty, in typical Procida style and they are a wonderful place for coffee, a meal or, even better, lemon specialties: Procida is famous for its lemons and you cannot come here and not taste them!
Experience the best beaches in Procida
Procida has several beautiful beaches. Unlike Capri, several of them are sandy and you will notice the peculiar dark color of the sand here, given by the volcanic origin of the land.
Some of the best Procida beaches are:
Spiaggia del Pozzo Vecchio aka Spiaggia del Postino: dark, sandy beach now mostly know for its appearance in the movie Il Postino. The beach is mostly free and you reach it via a lovely walk among Procida houses. Very charming!
Ciraccio and Chiaioella beach: these are two beaches one beside the other forming a long stretch of sandy coastline with both free beach and beach clubs. The waters here are shallow and beautiful so they are perfect for a relaxing day on the beach and for kids too.
Spiaggia della Chiaia: this is a long lovely dark beach, vastly free, but with a catch: to get there on foot, you need to tackle over 180 steps!
Spiaggia della Silurenza: close to marina grande, this is the easiest beach to reach if you are in Procida for the day and want to stop on the beach before catching he ferry back.
Take a boat tour
Some of the prettiest views of Procida are from the sea and there are several way to enjoy the island from the water.
You can choose between renting your own boat with or without skipper, join an island tour once on the island or you can opt for a Procida tour from mainland Italy such as this Procida and Ischia Boat Tour from Sorrento, good if you don't feel like negotiating ferry timetables etc!
What to eat in Procida
Procida has the wonderful food of this part of Italy and mixes incredibly well fish and seafood from its waters with local produce such as artichokes and peppers.
Worth trying are totani con i carciofi (squid with artichokes), paccheri totani e peperoni verdi (pasta with squid and green peppers), spaghetti ai ricci di mare (spaghetti with sea urchin), stuffed squid, coniglio alla procidana (rabbit), anything with lemon and of course pizza!
How to get to Procida
You can reach Procida island from Naples and Pozzuoli.
In Naples, ferries and hydrofoils depart both from Calata di Massa and Molo Beverello and reach Procida 1h and in just 45 mins respectively.
From Pozzuoli ferries take a little less to reach Procida and you get there in about 40 minutes.
To reach Procida from Naples Airport, you can get the Alibus to the port (about 20 mins ride, 3 Euro at the time of writing) or you can catch a taxi (a little quicker, about 20 Euro at them time of writing, metered).
To reach procida from Naples station, I recommend you get the taxi to the port (it's a short hop).
Once in Procida, you can walk but you also find small buses and taxis should you need them for longer stretches.
I hope you enjoyed this quick guide to Procida and it helped you plan your stay. Safe travel planning!
Heading to the area? You may also like
Essential guide to help you plan you time on the Amalfi Coast and pick the best towns to visit and stay
Practica guide to what to pack for visiting the Amalfi Coast and islands
Photo Credit: www.learningescapes.net
Essential travel guide to planning one day in Capri, with all you need to know to visit this stunning, glamurous island