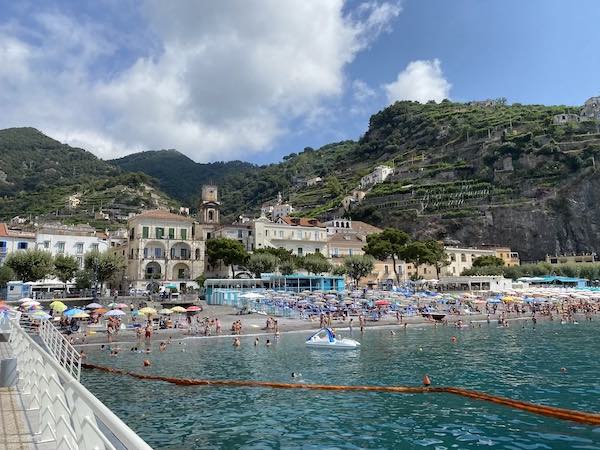 Minori: the small Amalfi Coast town you will love
Minori: travel guide and why you will love this small town on the Amalfi Coast, Italy.
Minori is a beautiful small town on the Amalfi Coast, lesser known than some of its beautiful neighbors such as Positano or Amalfi itself, but very charming and welcoming.
It is a small village, usually mentioned in the same breath as the town nearby Maiori, and has a pretty town center, wonderful scenery and a fantastic hike that makes it stand out from other localities in the area.
I love Minori and highly recommend it as a base to visit the Amalfi Coast. These are the best things to do in Minori.
Please note: this post contains affiliate links. Should you make a purchase, we might make a small commission.
Why visit Minori
The town of Minori is perfect for visitors interested in seeing a slightly lesser visited town of the Amalfi Coast without renouncing the beautiful views and tourism facilities this area is famous for.
The town has the following main points of interest:
A pleasant town center, with tourist facilities yet still maintaining a local, real town feel
An ancient Roman Villa and Museum, interesting for history lovers
A pleasant promenade along the sea
Access to the beautiful path of lemons, a scenic hike connecting Minori to Maiori
A pretty church
A famous patissier, Sal de Riso, originally from Minori and now internationally acclaimed.
Best things to do in Minori
Explore Minori's town center and promenade
Minori develops between the sea and the mountains around a small harbor, now used mostly for local boats and ferry passages to other towns in the area.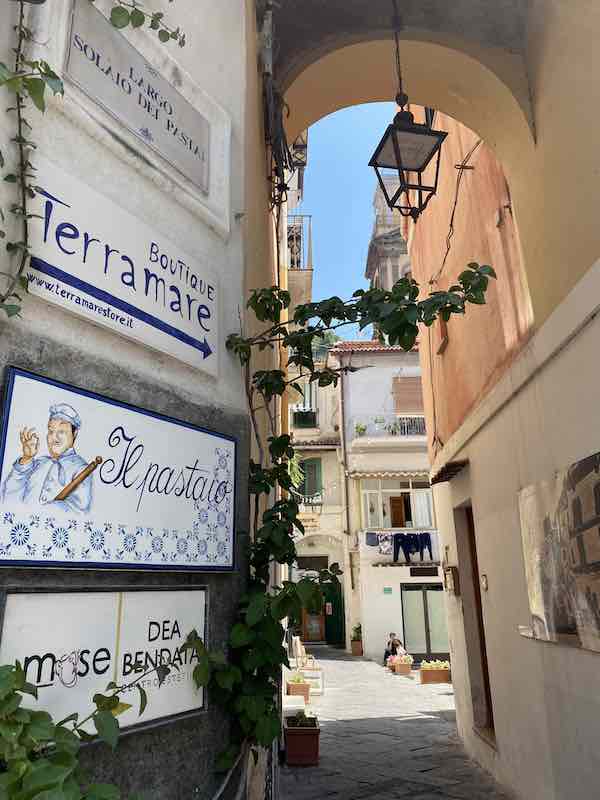 The town center is a delight of small streets and alleys meandering up the mountain: some of the streets are open to cars, to allow ease of movement and trade, however, many are pedestrianized, perfect for a stroll.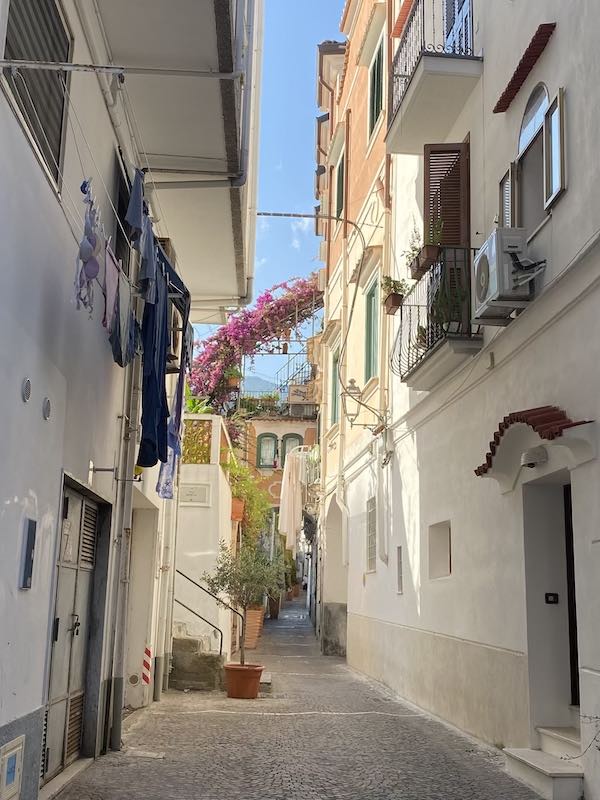 The main streets of Minori have many shops and restaurants while other smaller passageways are residential.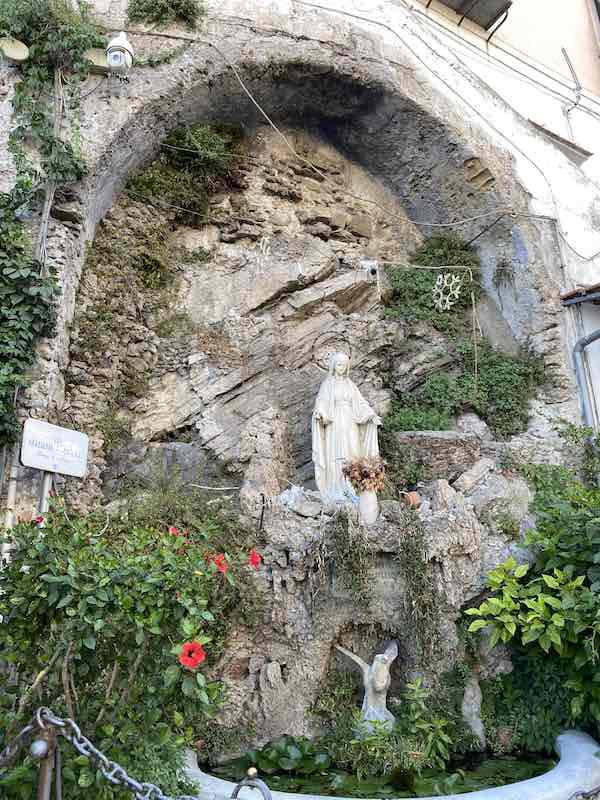 These are the prettiest to see and where you feel at best the spirit of the town. Some of the house have lovely lemon gardens and cascading bouganvillea: this is a place best savored slowly and with curious eyes, the real gem often hidden in a courtyards or unexpected corner!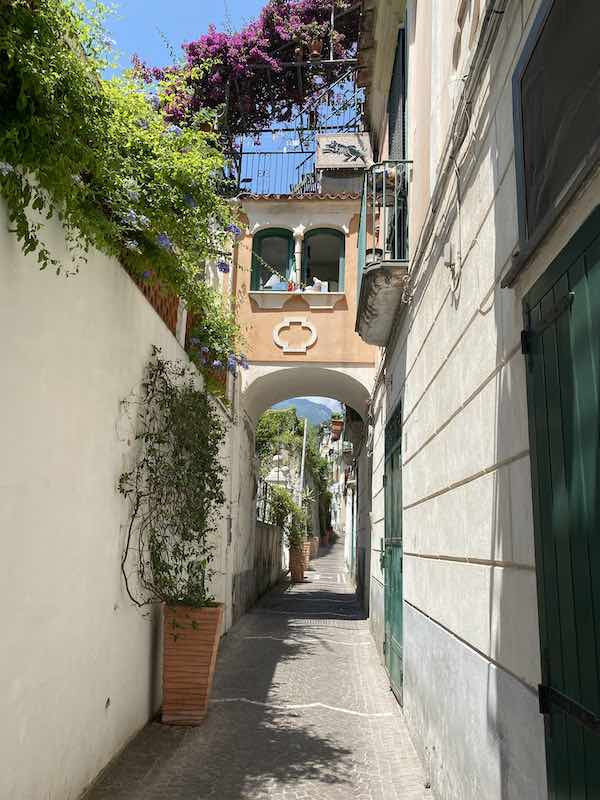 The village has a nice promenade along the seafront, which is a lovely place to stroll and relax.
The pedestrianized part of the street is large and accessible, something that makes Minori stand out from other localities in the area, notoriously steep, and has nice benches to sit and watch life go by.
This is also the place where you find the access to Minori beach and beach clubs and where you find the famous patisserie Sal de Riso.
Admire the church of Santa Trofimena
The small town of Minori has an impressive baroque church with a light yellow façade: Santa Trofimena
The church is dedicated to the town patron saint and it is still in use as parish church, with regular services.
The type of decor and architecture of Santa Trofimena is typical of this area and a good way to familiarize with the Neapolitan baroque, which is unique to this region.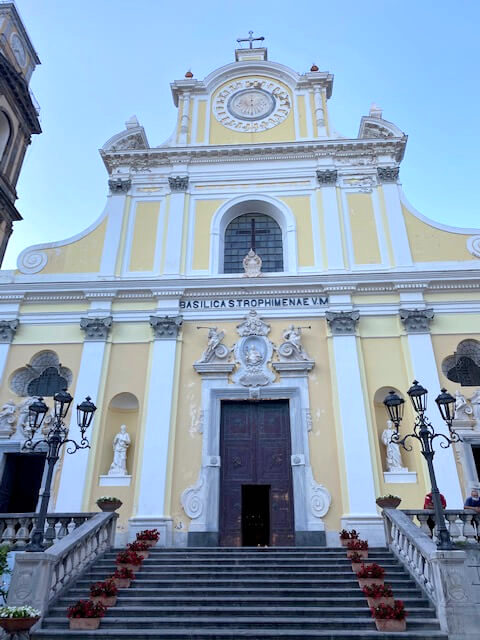 Walk the path of lemons
The town of Minori is overlooked by terraces of lemon groves, producing the amazing lemons this area is famous for.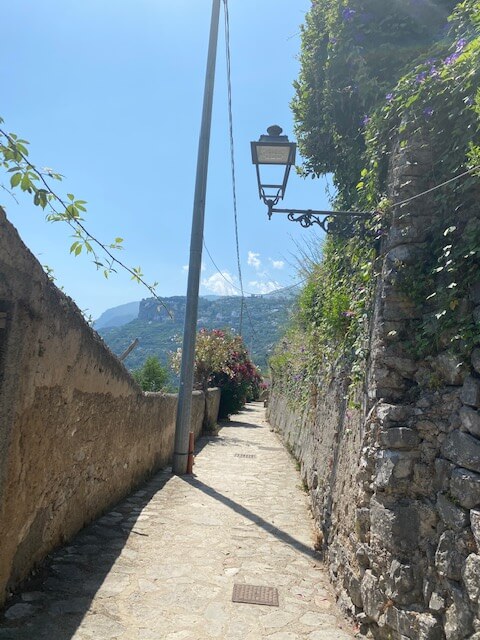 These terraces are linked to each other and to the port by a historical path, the 'path of lemons' which also links Minori with the nearby town of Maiori.
The path of lemons climbs up the terraces and can be walked in about 1 hour or less.
It doesn't pose difficulties but it counts close to 400 steps so it does require some effort.
The views from the path are lovely, with the shining blue sea framed by lemon tree leaves, and the walk is historical.
This is the part lemon growers used to take to carry huge baskets of lemons down to the port so when you walk here, you literally walk in the footsteps of local history!
Visit Minori's Roman Villa
Minori, like nearby Maiori, has ancient Roman origins and vestiges of this can be found at the ancient Roman Villa whose remains can be seen in the center of Minori.
The Villa is interesting for history lovers and has a nice museum but it is not overly scenic: it is, however, easy to visit and can be a nice addition to your time in the area and something a little different too.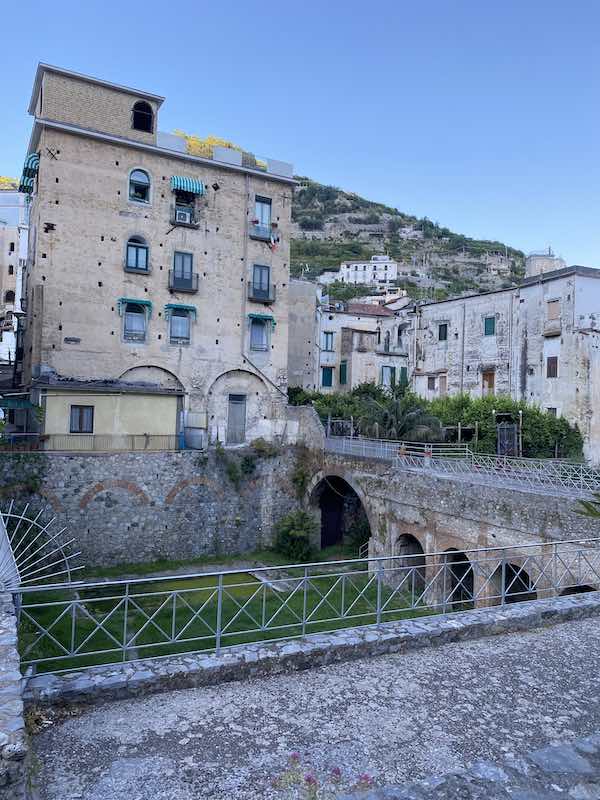 Go to the beach
Minori has a tiny beach with dark sand, just beside the marina and harbor.
The water is clean and several 'stabilimenti' (beach clubs) offer umbrellas and chairs for the day, as well as the option to have lunch in their shaded beach side patios.
The part of the beach closest to the pier is 'free' (spiaggia libera).
Please note: in 2020 for health reasons it is necessary to book a time slot for the free beach at the local info point (just beside the beach itself) so that social distancing rules can be respected on the beach too.
The beach is just beside the main ferry pier: the area for swimming is cordoned off to protect it from the boats, making this beach more suited for sunbathing and splashing than full on swimming
If you prefer to enjoy the sea view without getting your feet sandy, you can have a drink at one of the many beach club terraces or sit in the main square, a favorite local spot for aperitivo.
Rent a boat
The best things to do on the Amalfi Coast is to enjoy the sea and sun from the water, by renting a boat.
You can do so on the day from the kiosk on the lungomare and we noticed both offers for boats with a driver and without, some to enjoy the water and some to explore nearby Capri.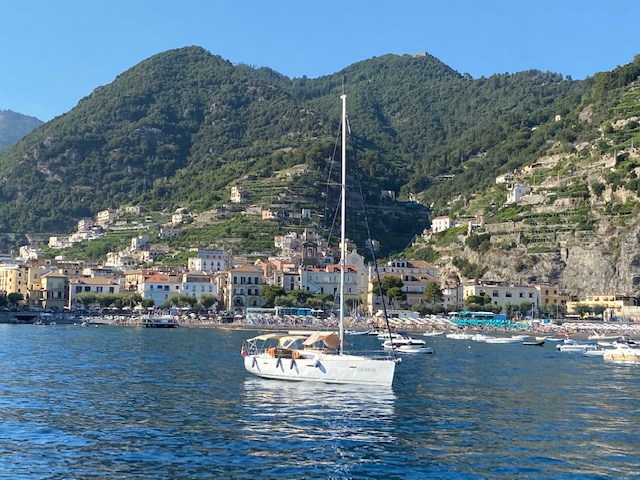 Where to stay in Minori
Despite being a small town Minori has many excellent accommodation options.
Two we feel like recommending are
Hotel And Spa Villa Romana (Luxury), right in the center of town, a Minori institution
Casa Amorino (B&B), a few minutes farther up the road, in a lovely quiet road without cars and with a gorgeous lemon garden where they serve breakfast or you can rest in the afternoon
How to get to Minori
The easiest way to get to Minori is by catching the ferry from Salerno.
The journey only takes about 40 minutes and tickets can be bought on the day, juts before getting on board.
The ticket counter is at the dock and the company is 'TraVelMar ferries'.
The ferry operates in the good season only and has an outer deck as well as indoor area.
Amalfi is 10 minute by ferry farther along the coast.
Please be advised that not all ferry rides stop in Minori: check local schedule or the website travelmar.it, the ferry company.
It is also possible to reach Minori by bus or by car however, parking is hard to come by so I highly recommend you use public transportation if at all possible.
If driving, make sure you arrange parking with your hotel in advance as they will need to arrange a spot for you.
Where to eat in Minori
Minori has many restaurants and cafes serving local specialties (you can learn more about Italian regional food here). Some we can personally recommend are:
Bar Europa – On the main square, perfect for coffee and cornetto breakfast
La Botte – pizzeria and restaurant with a nice patio area perfect for dinner, serving both restaurant type dishes and pizza, in Minori town center
Mordi e Fuggi pizzeria and ristorante with a nice patio and on street tables, serving breakfast, lunch and dinner, in Minori town center
Visiting Minori with kids
We stayed in Minori with our two children and found it to be a great family friendly place. So much so, that we now recommend it as one of the best places to stay to visit the Amalfi Coast with kids.
The town has several car-free streets and areas that are good for kids and a nice small beach that is child-friendly, clearly and safely cordoned off from the marina area.
This is not a place for long swims but great for splashing, great for little kids especially.
The town is well served with shops and family friendly restaurants and, compared with others on this stretch of coast, easier to negotiate with a stroller.
The path of lemons recommended above is family friendly – albeit not stroller friendly. It is a great activity for older kids (7 and up, in my opinion).
If you are planning a trip to Italy with young kids, you may also enjoy our article about traveling to Italy with a baby or toddlers.
I hope you enjoyed this travel guide to Minori and gave you good ideas on what to see on the Amalfi Coast and how to plan your time at best. If this is your first time in Italy, don't forget to also check out our 100+ Italy travel tips for first time visitors. Safe travel planning!