5 days in Sicily itinerary: how to see the best of Sicily in less than a week
5 days in Sicily itinerary ideas: Eastern Sicily and Western Sicily road trip ideas for all types of travelers.
Sicily is a wonderful destination, blessed with beautiful archaeological sites, stunning cities, beautiful sea and some of the best food in Italy.
Visiting Sicily, you are likely to see very beautiful places pretty much no matter where you go however, Sicily is big so some planning is necessary.
In this article, I going to recommend two Sicily itineraries, both for 5 days in Sicily: one focuses on the East side of the island and one focuses on the West, both including Sicily highlights and places I believe a first trip to Sicily should include.
5 days in Sicily itinerary in Eastern Sicily
Eastern Sicily is a wonderful part of the island, with a varies landscapes and avaiable experiences.
Our itinerary started from Taormina, which we reached by train from Rome, but you can easily also explore this area arriving at Catania international airport, Messina, Palermo and even Comiso (small, Ryanair airport in the South of the island).
This itinerary requires a car however, some locations such as Taormina – Catania – Siracusa area connected by good trains.
Day 1 – Taormina
Taormina is one of the most famous destinations in the whole of Sicily, a small town known glamour, views and a stunning ancient theater that is unique in the world.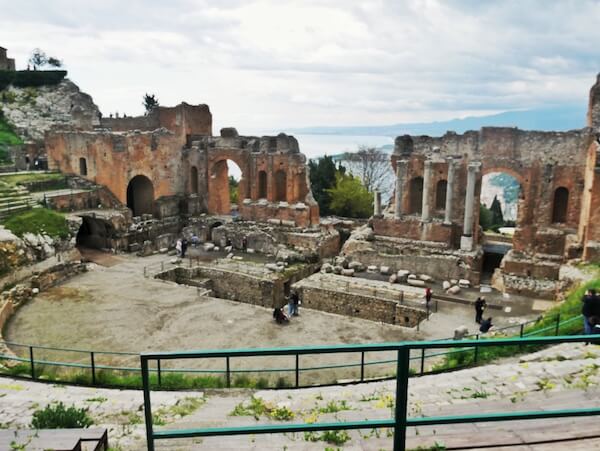 Taormina is a small center and a place you can visit in one day or that you can use as a base to explore the area.
The main things to see and do in Taormina are:
Visit the ancient theater, a stunning archaeological ruins in a scenic location – this is one of the most beautiful historical sites in Italy and, in my opinion, the world.
Visit the pretty city center and notice the small churches, alleys and colorful shops of this manicured town
Admire the view over Mount Etna and the sea from the town's gardens
Take the gondola to small Isola Bella and its pretty beach
You can find our full guide to Taormina here.
Day 2: Siracusa
Siracusa is a beautiful city on the eastern Coast of Sicily, South Catania, famous for a stunning historical city center and one of the most famous archaeological parks in Italy: Parco della Neapolis.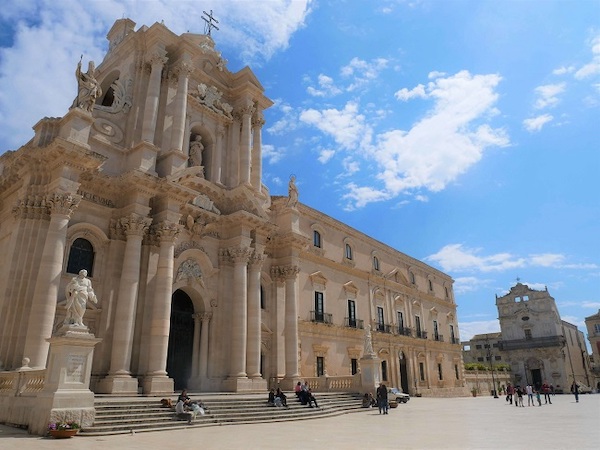 For this Sicily itinerary, I have devoted only one day to Siracusa but you can easily spend at least two days here and not run out of things to do. If you add local excursions, you can actually spend a week here and not run out of things to do!
A day in Siracusa is however very satisfactory and you can see the two most famous parts of town: Ortigia (city center) and archaeological park.
I recommend you start your day in Siracusa in Ortigia, the historical center of town. Ortigia is geographically a small island but it is easy to access via pedestrian bridges that link it to the modern part of town.
Once you are in, you will lovely small alleys, elegant squares, the famous Arethusa Fountain, already in existence at the time of Siracusa's foundation, the remains of the temple of Apollo and one of the most beautiful squares in Italy: Piazza del Duomo.
In the afternoon, i recommend you take e bus shuttle to the archaeological park.
Highlights here are the ancient Greek theater, still now in use for representation of classical Greek theater performances and the latomie.
The Latomie are quarries excavated in tall rock faces: in ancient times, they were used as labor camp for war prisoners and were one of the reasons Siracusa was feared in the antiquity as a powerful and dangerous enemy.
the latomie are impressive and the entrance is reachable by an easy path with luscious vegetation: a must see.
Good to know: this archaeological park is one of the easiest historical sites to visit in Italy with kids, so a perfect stop for families too.
You can find my guide to one day in Siracusa here.
Day 3: Marzamemi and Noto
I recommend you spend you third out of these five days in Sicily exploring two very different and very beautiful towns: Marzamemi and Noto.
Marzamemi is a small fishing village on the South-eastern Coast of Sicily and it is a place you may have sen photos of thanks to its huge Instagram fame.
Indeed, the place is a delight.
The village has a main square now filled with local restaurants with outdoor tables and colorful decor and it is also famous for beautiful tonnara (tuna fishing station), that is now used for special events.
The village is tiny and pretty, and a perfect stop for lunch.
In the afternoon, I recommend you visit Noto, the town giving the name to the UNESCO famous Val di Noto, known for it important and stunning baroque churches and architecture.
Noto is a delight, especially if you see it at sunset, when the sun sets over the cream tones of the elaborate facades of this beautiful town.
This is a wonderful place to sightsee in the afternoon and also a good locality to spend the night.
Day 4: Ragusa Ibla and Modica
Ragusa Ibla and Modica are two beautiful towns in Southern Sicily part of the same UNESCO World heritage area as Noto.
They are both famous for incredible baroque architecture and Montalbano lovers will also recognize this area as the backdrop of the TV series episodes!
Both towns are worth seeing and they are close enough to each other that you can see them both in one day.
Good to know: as well as architecture, Modica is famous for the production of some of the best artisan chocolate in Italy!
Day 5 – Piazza Armerina and Palermo
Day 5, the last day of this 5 day in Sicily itinerary, is a good day to see two more important and beautiful sights in Sicily: Piazza Armerina, a beautiful town with a historical city center and an important Roman Villa, and Palermo.
Pelermo deserves more than one day but this is the case for most of the locations in this itinerary and I think it is good to know you can get a taste of this beautiful city even with only a few hours in the city center.
Piazza Armerina is one the way and you can easily stop for a visit, if you prefer to limit your time in the big city and want to soak up a last afternoon in a typically Sicilian town.
5 days Western Sicily itinerary
If you prefer to explore Western Sicily, then I recommend you follow this 5 day itinerary, perfect if you want to stay West of Palermo and see locations such as Erice and the famous Valley of the temples.
Day 1 – Palermo
Palermo is the capital of Sicily, the island's biggest center as well as one of its most beautiful destinations.
The city is home to several architectural styles ranging from Arab Norman style buildings to Baroque churches and in this sense is a fantastic place to get a sense of the wealth of cultures and nations that called Sicily home over the course of the centuries.
Significant buildings and churches are scattered around the city and have that distinctive character of grandeur mixed with decaying splendor that is so typical and so charming about Sicily.
not to be missed are its cathedral, palazzo dei Normanni and Palermo's market, a wonderful place also to taste authentic and truly delicious Sicilian food.
Day 2 _ Scopello and Zingaro Reserve
Day two of this Sicily itinerary leads you to a stunning area that is very close to Palermo yet feels a million miles away: the area of San Vito lo Capo, the Zingaro Reserve and Scopello.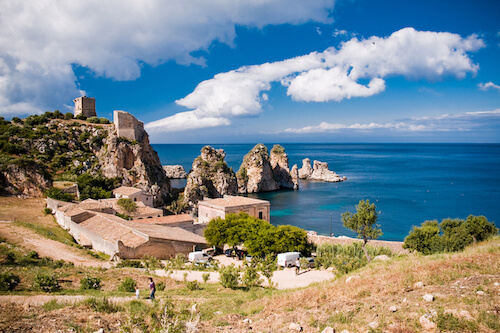 This is a part of Sicily with wonderful nature.
The sea and beaches here are out of this world beautiful and the small towns pleasant and scenic: Castellamare del Golfo is lovely and well served while the small village of Scopello is charming and offers incredible views over the bay below.
Scopello is also home to a stunning Tonnara, film lovers will recognize from Ocean 12!
The Zingaro Reserve is protected and beautiful and near this area you also have the stunning temple of Segesta, one of the most evocative ancient sites in Sicily.
Day 3 – Erice and Marsala
On this day, I recommend you visit Erica and the Marsala salt pans, two location in Sicily that truly showcase how beautiful and varies this island is!
Erice is a small, medieval town perched on a hilltop above Trapani.
Is a place of huge charm and very different from what you imagine a Sicilian town to be as it is often chilly, its high position and vegetation making it home to a peculiar micro-climate.
Erice has a wonderful historical center and stunning views and can be easily visited even in a short time.
Marsala is not far from Erice and Trapani and is famous not only as producers of the sweet Marsala wine but also for its salt pans, wonderful to visit.
The salt pans are large, flat areas where sea salt gets harvested following ancient methods.
They are interesting to visit but even more, they are beautiful.
The low water have pink hues and there are some traditional windmills that make the whole area look out of a storybook!
This is a very special place and unique to this part of Sicily, especially if you come her later in the afternoon when the sun starts to set and the colors warm up
Day 4 – Valley of the Temples and Scala de' Turchi
The Valley of the temples is one of the most famous archaeological sites in Italy and a place like no other.
Here, you can see wonderful Greek temples in various state of conservation, dating back up to the VIII century BC.
The park is stunning and scenic: my recommendation is to visit early in the morning before the sun gets too strong. The valley is dry and sunny so, while wonderful, can be hard in summer or in the hottest hours of the day.
After a visit to the temples, you can spend time visiting another Sicilian marvel: Scala de' Turchi famous for natural steps of white rock sloping into the deepest blue sea.
Day 5 – Cefalu' and Monreale
On the last day of this 5 day Western Sicily itinerary, I recommend you head back north and visit two localities: Cefalu' and Monreale, before heading back to Palermo.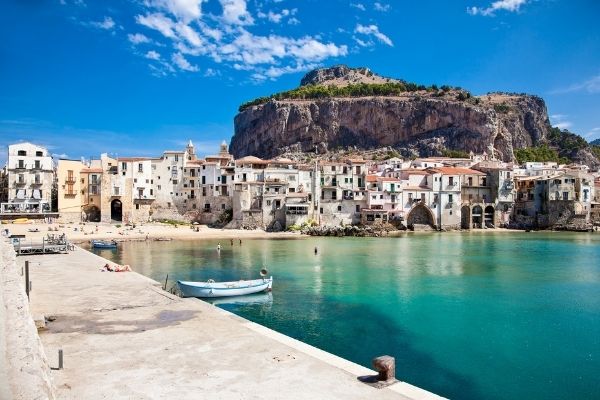 Once again, these two places are very different form each other but both worth seeing.
Cefalu' is a seaside village, with a lovely harbor and a pleasant center, perfect for a last day of sightseeing and sea views.
Good to know: Cefalu' is lovely for families and one of the places we recommend you visit if you are in Sicily with kids.
Monreale on the other hand is famous for a stunning duomo and it a locality art lovers should not miss.
Both these destinations are close to Palermo and they are easy stops before getting back to the city or its airport.
Sicily travel resources
I highly recommend you use the car for these Sicily itineraries: my go-to car rental agency is Avis, although we also had a good experience with Morgan Autonoleggio at Comiso Airport.
The best entry points to Sicily are:
Palermo Punta Raisi Airport
Catania Fontanarossa Airport
Comiso Airport – tiny, this is a budget airline airport
Messina – ferry arrival port from Calabria and mainland Italy
Messina / Taormina / Catania / Siracusa: trains from Rome
My go-to website for accommodation in Sicily is booking.com
My go-to website for excursions and tours is GetYourGuide
id this is your first time planning a trip to Italy, I recommend you check out our 101 travel tips for Italy, while if you are traveling with kids, I suggest you also check our tips for traveling to Italy with a baby or toddler.
I hope you enjoyed our recommended 5 days in Sicily itinerary ideas. Safe travel planning!