Civita di Bagnoregio: all you need to know to plan a visit to Italy's 'dying town'
All you need to know to plan a visit to Civita di Bagnoregio, a stunning hilltop village in Italy known as 'Italy's dying' town.
Civita di Bagnoregio is a one-of-a-kind, stunning hilltop village in Central Italy.
Perched on the top of a steep, crumbling rock formation in the Calanchi Valley, between Rome and Orvieto, Civita is isolated from the surrounding villages and can only be reached via a long bridge connecting it with Bagnoregio, its neighboring town.
The rock that supports the town is subject to intense erosion due to wind and water and this condemns the city to a slow yet seemingly inevitable collapse.
Over time, the inhabitants of Civita left and relocated to more solid grounds and now the town only counts 11 inhabitants!
This peculiar story makes Civita di Bagnoregio unique and is what gained the village the nickname of 'Italy's dying town'.
Despite this worrying premise, Civita di Bagnoregio is a wonderful place to visit and does not feel like a dying place at all!
Visiting now, you don't find yourself in a ghost town but in a pretty town with stunning views, charming restaurants and wine bars bursting with life, yet still oozing historical charm.
In this travel guide to Civita di Bagnoregio, you find all you need to know to plan your trip.
Please note: this post contains affiliate links. Should you make a purchase, we might make a small commission.
What makes Civita di Bagnoregio special?
Civita di Bagnoregio is special for several reasons: its beauty, its peculiar location, its unique story.
First and foremost, Civita di Bagnoregio is very beautiful.
Medieval in aspect, Civita is a dream of flowery alleys, steps and balconies and the quintessential Italian small hilltop village.
While typically Italian, Civita is also unique.
Perched on top of tufa rock, the town is isolated from the surrounding area and visitors can only reach it by walking across a 300 mt suspended bridge over the valley separating it from Bagnoregio town.
The tufa rock supporting the village is subject to intense erosion and this means the town has been declared in danger of collapsing. This is why you often hear Civita di Bagnoregio referred to as 'the dying city'.
The dangers connected to Civita's location brought its inhabitants to leave and relocate on safer grounds however, Civita seemed to have found new life in its abandonment.
While it now only counts 11 inhabitants, Civita di Bagnoregio is a popular tourist spot and regularly features in the list of 'Borghi piu' belli d'Italia' (Italy's most beautiful villages) and it is, indeed, one of the most beautiful places in Italy!
Civita is tiny, it has pretty cobbled alleys opening up onto stunning views over Valle dei Calanchi (Calanchi Valley), charming restaurants with colorful geraniums at the windows and a stunning medieval church.
It is a wonderful place to spend a day and great overnight stop for slow explorations of this beautiful but often overlooked area.
A brief history of Civita di Bagnoregio
The area of Civita di Bagnoregio has been inhabited since Etruscan times but we only have documents talking of a city in this location from the VI century, when the town seems to have been called 'Bagnorea'.
In the Middle Ages, Civita was primarily independent or operating under the power of the mighty city of Orvieto nearby. It then passed under the control of Pope Alexander VI in the XVI century, by the hand of Charles the VIII.
Between the XVII and XVIII centuries, the city was shaken by two powerful earthquakes, which acted as a last straw that made people relocate out of the center.
Nowadays, Civita di Bagnoregio is a popular tourist attraction: people flock here for its pretty streets, stunning church, wonderful views and delicious restaurants.
Civita is also a popular location for art events, due to the special atmosphere of the place.
What to see in Civita di Bagnoregio
The main thing to see in Civita di Bagnoregio is the town of Civita itself.
The village is a delight of medieval stone buildings, pretty balconies with flowers, climbing plants, hidden gardens and restaurants and it has stunning views over the valley around it.
It has all the charm typical of the hilltop villages of central Italy, peppered with something special coming from its unique location and history.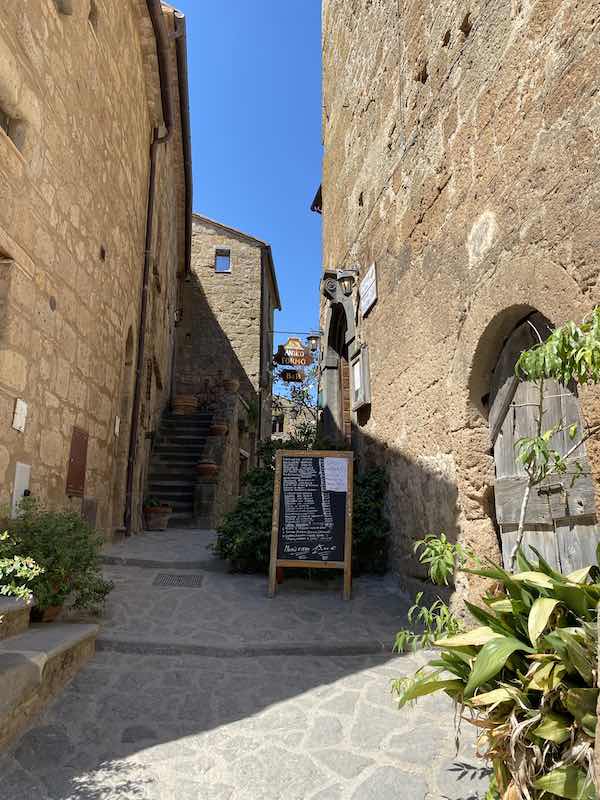 While wandering, keep an eye out for the following:
Civita di Bagnoregio Belvedere
The belvedere is the panoramic terrace from where you catch the iconic view of Civita.
You find it in Bagnoregio, before the start of the bridge, and it is a beautiful, leafy and green area, from where you catch stunning photos of Civita and its location.
If you come early in the morning, in the colder season, you may catch Civita surrounded by fog, slowly revealing the town to early risers.
This is a popular time for photographers: don't be surprised if you catch a few perched at the best spot trying to capture the elusive sight!
The belvedere is a pretty terrace and has some lovely shops and a cafe: this is a lovely place to get Italy souvenirs: the local pottery makes a special gift!
The view from the bridge
The bridge connecting Bagnoregio to Civita offers terrific views over Civita and Valle dei Calanchi, the beautiful valley around it.
This is a rather popular spot with Instagrammers so you may have to wait your turn to take a shot!
Porta Santa Maria
Porta Santa Maria is the only remaining gate into the city and it is beautiful and scenic.
The door seems to date from Etruscan time when it was excavated into tufa rock and for the longest time, it was known as 'Porta Cava' (=excavated gate or hollow gate), in memory of this origin.
Later, a church devoted to Mary was built just beside it and the city gate changed its name into Porta di Santa Maria.
On its walls, worth noticing are carvings of crosses, reminiscent of Golgota's crosses, probably carved by pilgrims returning from the Holy Land or possibly the Templars, and a bas relief of a lion eating a human head, in memory of a historical victory of Civita over Orvieto (1457).
Piazza Colesanti
Piazza Colesanti is the first square you encounter when entering Civita and a perfect introduction to the town.
Surrounded by pretty houses with outdoor staircases, overflowing plants and geraniums, it is a great place to catch some rest after the long bridge!
In summer, a lovely breeze sweeps and makes it a popular spot for a short rest!
The Church of San Donato
The church of San Donato overlooks Civita's main square and it is a beautiful ancient church dating from the V century worth seeing.
Inside, the church hosts an important wooden crucifix and several ornate side altars, particularly beautiful in contrast with the simple, early medieval appearance of the main naves of the church.
Interesting panels inside the church also explain the challenges of keeping this area safe and the effects erosion has on the stability of the building.
Etruscan grottoes 'Antica Civitas'
The area Civita di Bagnoregio has been inhabited since Etruscan times and some Etruscan grottoes are still visible.
Off a small alley, at the back of the church, you can visit some of them now turned into a museum of rural life. Access costs 1 Euro and the visit only takes five minutes, but it is interesting nonetheless.
Top tip! If you are visiting Civita di Bagnoregio with kids, the grottoes are likely to catch their attention. They were also used in the old 'Pinocchio' film and some wooden puppets of Pinocchio are on display.
Museo Geologico delle Frane
On Civita's main square, the museum is interesting to learn the story of Civita and the challenges it faces.
If you are in the area for more than a brief visit, the museum is also where you can get info about excursions and guided visits to Civita and the surrounding area.
You can find their official site here
San Bonaventura's Grotto
At the start of the bridge leading into Civita lies a grotto now called 'Grotta di San Bonaventura'.
The grotto seems to date from Etruscan times however, it is most famous for its religious significance.
Ancient documents tell us that San Francis stayed in this grotto for a few days and that, during that time, he met a sick child who came back to health after the meeting with the Saint.
The child was Bonaventura, who grew up to become an important member of the Francisca order and who was ordered Saint in 1482.
Where is Civita di Bagnoregio?
Civita di Bagnoregio is in central Italy. It is in the region of Lazio, close to the border with Umbria.
Rome is about 1.5hours by car, along the A1 motorway, exit Orvieto
Orvieto is about 20 mins away by car.
Civita is only reachable on foot: the town is connected to the surrounding land by a pedestrian bridge 300mt long and vehicles stop a few minutes up the road from it.
No matter where you park, you should expect to be walking at least 10 minutes to reach Civita.
By car, you need to follow the signs for Bagnoregio / Civita di Bagnoregio and then the local sign for the parking areas. From there, clear signs allow you to reach Civita on foot or by shuttle bus.
I will give details on all these options below.
Need to know: access to the bridge and Civita is ticketed and it costs 5 Euro per person. The ticket booth is at the bridge access point, you can buy tickets on arrival.
How to get to Civita di Bagnoregio?
There are two main ways to get to Civita di Bagnoregio: by private car and by organized bus tour.
Vehicles cannot enter Civita and can only get as far as Bagnoregio, from where the 300mt pedestrian bridge to Civita starts.
Need to know: Civita di Bagnoregio is very difficult to navigate with people with mobility issues due to the long, uphill bridge and the narrow and uneven alleys in town. Services are in place to help to cross the bridge: if you have severe mobility issues, you can arrange transport into Civita for free by getting in touch with local authorities. Info (in Italian) are here
Getting to Civita di Bagnoregio by car + Civita di Bagnoregio Parking
Getting to Civita di Bagnoregio by car is easy.
Civita is along the A1 motorway, Orvieto exit.
As you leave the highway, you will find clear signs to Bagnoregio: please be very careful at the crossroads right off the motorway as it is busy and cars come from all sides – take your time!
From Orvieto, the road to Civita di Bagnoregio is narrow and winding but well kept. The road leads you to the several parking areas available, from where you can reach Civita itself.
Parking in Bagnoregio is pay and display and you can choose between a few areas:
The closest parking to the bridge is the Belevedere parking. This is only a couple of minutes' walk from the bridge and the most convenient, however, it is within the Limites Traffic Access Area in Bagnoregio (ZTL), which closes to visitors on busy days.
If you get to Civita on a weekend of high season (summer), the belvedere parking is likely to be inaccessible but you will be able to choose between several others:
Parcheggio Battaglini is an outdoor parking area, right at the bottom of Bagnoregio, and the place from where you catch the Civita shuttle.
As you enter the town of Bagnoregio, you cannot miss it: spaces are marked by blue lines and there are pay and display machines (bring cash).
From here, you can walk to Civita di Bagnoregio crossing the town (it takes 15-20 mins to the bridge, depending on pace) or you can catch the shuttle: 1 Euro per person, kids go free.
Two additional parking areas are immediately outside of the town, well indicated as you approach piazza Battaglini.
These are outdoor, unsupervised parking areas, pay and display.
They are a short walk from Piazza Battaglini: pay attention when walking on the road to Bagnoregio as part of it has no pavement as therefore can pose danger, especially if you are traveling with children.
Getting to Civita di Bagnoregio without a car
Local buses connect Bagnoregio to Orvieto and Viterbo however, there is no direct line connecting Civita to Rome.
The easiest way to visit Civita without a car is by joining a coach tour. Some to consider are:
Coach tour to Orvieto and Civita di Bagnoregio: an easy way to see these two pretty towns from Rome in one day, without the stress of renting a car.
Day trip to Civita from Civitavecchia, with visit to Bomarzo's Monster Park: a great way to see two of the most peculiar attractions in this part of Italy, straight from Civitavecchia's port.
Walk or shuttle to Civita di Bagnoregio?
A shuttle connects Piazza Battaglini to the belvedere and the start of the bridge into Civita. The cost of the shuttle is 1 Euro per person (Bring cash) and kids go free.
If you want to walk, you can do so in about 15-20 mins: the walk is very pleasant as it crosses the town of Bagnoregio with its pleasant shops and architecture.
However, it can feel rather long as once you are at the bridge you still have that to cross (300 mt, part of them uphill).
I recommend you catch the shuttle on the way to Civita but walk, energy permitting, on the way back.
At the entrance to the bridge, you find a small piazza with a cafe, a fountain and the ticket booth. Tickets into Civita di Bagnoregio are 5 Euro per person.
Walking the bridge into Civita di Bagnoregio: what to expect
The bridge leading into Civita di Bagnoregio was built in 1965 and it is a long, suspended bridge made of concrete.
From the belvedere area, you first need to walk down a set of steps and then follow the tarmac road sloping downhill.
In a matter of minutes, you will find yourself in a small piazza: here, you find a couple of cafes, a water fountain, the ticket booth and access to the bridge, where you need to show your valid ticket.
The first part of the bridge is smooth and flat, while the second one is rather steep.
Take your time to go up especially in hot weather as the sun here gets really strong!
Visiting Civita di Bagnoregio with kids
We visited Civita di Bagnoregio with our two children and we all loved it.
The village is perfect for kids who love to explore and who are happy to take photos, chase cats and hear stories.
There is no playground in Civita so I recommend giving the children something to do (a homemade scavenger hunt, a kiddie camera etc) if you think they may not embrace pure sightseeing.
We got a free map at the entrance of the town and this was enough to keep our two going!
Civita with a toddler
Toddlers can have a lot of fun in Civita running around the car-free village and trying to spot the town's cats however, practical considerations mean parents may like the experience a little less… unless they know what to expect!
In practical terms, Civita di Bagnoregio is not easy to access with a stroller. I highly recommend you bring a carrier instead.
You can find my favorite baby carriers for Italy here.
There is a first easy stretch of road that leads you from the parking to the Belvedere but, from there, there are steps to the road below and then a few minute walk to the bridge.
This is downhill on the way into Civita but gets tiring fast on the way back, especially in the sun. Take your time and factor in a little longer to get back to your car.
The bridge into Civita has a smooth surface but the last part is rather steep and tiring with a pushchair: if you have one, I recommend you get your child to walk for that stretch as it gets pretty intense on your back.
The bridge gets very hot in summer as it is under the sun with no shade. I highly recommend you avoid the hottest hours of the day.
Inside Civita, the town has very bumpy roads with uneven terrain, cobbles and steps however, it is car-free and, in this sense, perfect for exploring.
We found the main square to be amazing for kids and there are several pretty alleys that are safe for toddlers to explore.
Some of the areas closer to the edge of town are more dangerous for kids as they overlook the drop at the sides of Civita. However, overall, we found normal precautions were sufficient to keep the kids safe.
Visiting Civita di Bagnoregio with children of school age
Civita di Bagnoregio is magical for school age kids.
The location of the town is so special, they are sure to get awe-struck by it and the bridge is exciting to cross, thanks to the stunning views.
Inside the town, our kids loved looking for cats and exploring the small alleys of the town.
We also all enjoyed the Etruscan Caves and Geppetto's House: they feel a little adventurous but only take a few minutes of your time, so there is not risk of boredom!
The museum is also a great place for kids.
It is one the main square and it is the place where they can get answers to all their questions about Civita – if your kids are anything like mines, they will have many!
Where to sleep in and near Civita di Bagnoregio?
You can choose between accommodation in Civita itself or in nearby Bagnoregio, which is a lovely historical town with plenty of shops and restaurants.
Both have advantages: a stay in Civita has the flavor of something unique and will mean you find yourself among the few in the village after the day-trippers have gone.
Bagnoregio, on the other hand, has the advantages of easy transport, it is bigger and has a lovely town center with a pleasant evening atmosphere, especially in summer.
Some places to consider are:
Palazzo Contino, 3 bedrooms, self-catering apartment in Civita overlooking the valley
Iroom Civita, lovely holiday rental right in the heart of Civita, perfect for a romantic stay
Case di Civita, family-friendly apartment in Bagnoregio, suitable for up to 4 people
Casa Greco, wonderful apartment with stunning architectural details, in Bagnoregio
Events in Civita di Bagnoregio
Palio della Tonna – this is the main traditional event taking place in Civita and it happens twice a year: the first Sunday in August and the second in September. The event is a palio (run) where donkeys race in Civita's main square.
Civit'Arte, a series of cultural events taking place in August, in Civita's main square
Festa della Castagna, Festival of chestnuts, taking place each October
Presepe Vivente – the Living Crib, a fantastic Christmas event with 50 actors in traditional costumes performing a living Christmas scene on 26 December, 1 and 6 January. Living cribs are an important Italian Christmas tradition: not to be missed if you are in Italy in December!
I hope you enjoyed this travel guide to Civita di Bagnoregio and it helped you plan your visit!