Visiting Capri with kids: all you need to know to plan a family trip to this stunning Italian island
All you need to know to plan a trip to Capri with kids: practical travel tips for families and kid friendly things to do in Capri, Italy.
Capri is one of the most beautiful and popular island destinations in Italy, and a wonderful vacation spot for families with kids.
Perched in the blue waters of the Mediterranean just in front of Naples, the island of Capri has been the destination of choice for honeymooners and glamorous tourists for decades and has developed a fame as playground for the rich and fabulous, rather than a family friendly destination.
However, there is a lot more to Capri than this glamorous veneer and I will go as far as saying that, actually, the glamorous side of Capri is the less appealing and less interesting of all the things Capri has to offer.
What Capri has and why I believe it is worth to plan a visit to Capri with kids, is incredible natural beauty, gorgeous views and some of the most crystal clear waters you can ever see!
I have been lucky enough to go to Capri several times as a child and as an adult thanks to lucky friend who's mom is from there.
These are my tips for visiting Capri with kids.
Please note: this post contains affiliate links and, should you make a purchase through them, we might make a small commission at no extra cost to you.
Capri with kids: challenges and what you need to know
The main thing you need to know when considering a trip to Capri with kids is that Capri is not kid-friendly in the traditional sense of the word.
It is a place that poses some challenges to families however, I believe it is so beautiful and rewarding, it is a place worth visiting with children, no matter what!
In particular, I think it is useful to know that:
Capri is not particularly stroller friendly: the town itself is ok with a pushchair but the busy transport can be challenging, especially the buses who require you to close the stroller when boarding.
My recommendation is to bring a stroller you can easily fold and carry or decide for an itinerary that doesn't involve too frequent bus rides.
As you arrive in Capri, you will need to catch the cable car into town.
While busy, this is actually ok with strollers and is equipped with a lift too.
Capri has mostly rocky beaches.
This is not necessarily a problem for kids however, it is important not to go to Capri expecting large sandy beaches as the island simply does not have them.
What is does have however are gorgeous beached with crystal clear waters perfect for paddling, swimming ans snorkeling
Capri can be expensive.
The glamorous fame of Capri has an immediate impact on prices and shopping options here so make sure you keep an eye on the budget.
It is still possible to find good bargains but do shop around for accommodation, tours and meals and do venture outside the main Capri town streets for the best value for money finds.
The best things to do in Capri with kids
Take a boat tour around the island
The sea and the tall coastline is what makes Capri special and there is no better way to enjoy Capri's wonderful landscapes than taking them in from the water.
Boat tours of the island abound and signs are absolutely everywhere for them!
They come in all shapes an sized, some offering prosecco and limoncello, others the opportunity to swim, and they be a good way to see the island if you have older kids who can swim away from the shore.
Please check details of each to make sure of suitability for your children before committing or check out this one you can book in advance here.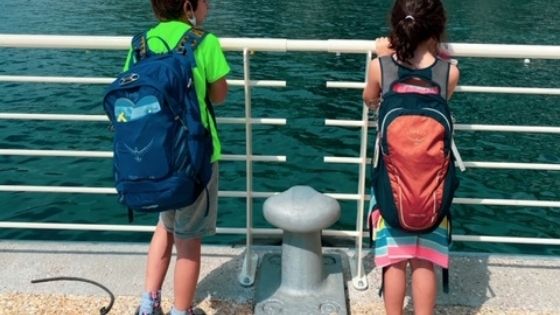 Visit the Blue Grotto
The Blue Grotto is one of the most famous attractions in Capri and it is indeed special.
You can access the grotto by rowing boat only and the experience is exciting for little kids.
The entrance to the grotto is mostly under water so to get inside, you have to lower down below the rim of the boat of you will not fit in! (Don't worry it is not claustrophobic, despite this description).
Inside, the blue grotto is all you imagine it to be and it really feels like a different water world for mermaids: the way the light hits the water makes it shine in a blue light that is out of this world beautiful.
Check prices and suitability for your children here.
Need to know: the Blue Grotto is a crazy busy place and on a normal day you have boats lining up outside, making it feel like a tourist trap. Also, you cannot swim in the grotto and you only have a few minutes inside. All this said, the grotto is wonderful and I believe, especially if you get here on a non overly busy day and you know what to expect, it is one of the most beautiful places to visit in Capri with kids.
Explore family friendly Anacapri
Anacapri is the small town at the top of the Capri island and it is more family friendly than Capri town itself.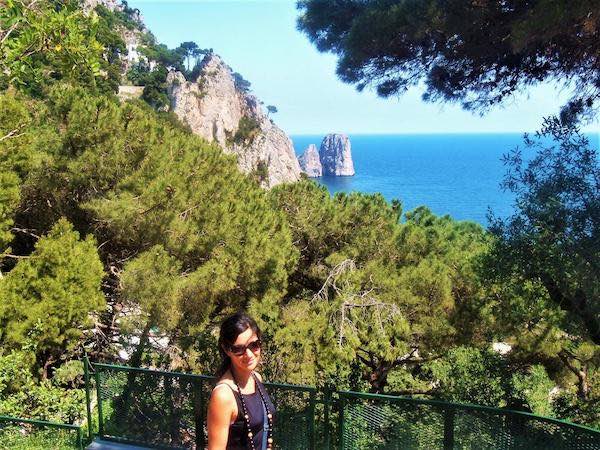 You reach it with an scenic bus drive from Capri and this small village is simply adorable: the center is car free and made of small streets, hidden yards and whitewashed walls that and it is very atmospheric and slow paced.
It is a wold away from Capri center however, it shares with it the stunning views over the sea below.

Anacapri is also home to a couple of important landmarks worth seeing.
One is the church of San Michele, which has a very impressive floor with a representation of the Garden of Eden – it is so special, even little kids will be in awe!
The other one is the House of Axel Munthe aka Villa San Michele and its gardens, delight of plants, paths and views that earned this villa the fame of being one of 'the most beautiful gardens in Italy'.
Hike or take the chairlift to Monte Solaro
If you have adventurous kids who enjoy a hike or a chairlift, then you should also consider going all the way up to the top of Monte Solaro, the highest point in Capri.
We didn't take the chairlift and you can easily see from the videos online it is not the ideal activity if you suffer from fear of heights like we do (also, small kids need to sit on your lap which was a no for me).
However, the view from the top is breathtaking and the hike up from Anacapri ok for kids too.
This is the place all the most incredible photos of Capri are taken from, with the boast so little they look like toys.
If you have kids enough to get up here, this can be a Capri highlight!
Go to Capri's most family friendly beaches
Capri's hasn't got large sandy beaches however, is does have some beaches that are good for kids, even small ones.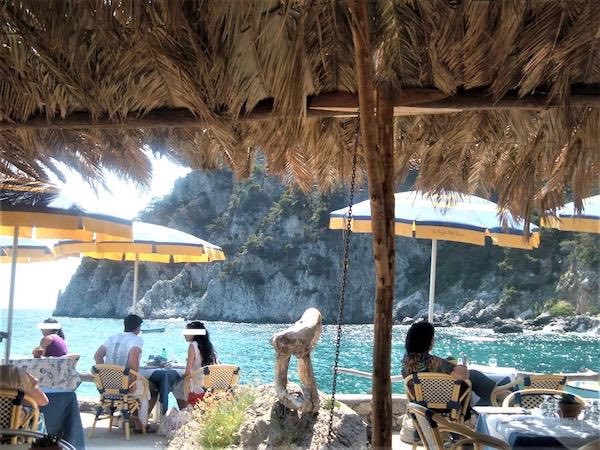 The most family friendly beaches in Capri in our experience are:
Marina Grande: This is the biggest beach in Capri and while not the most scenic, it is an easy one for kids to enjoy. The waters are reasonably protected here and the beach is made of pebbles which are easy enough for kids to negotiate.
this is a favorite beach for families with children who are learning to swim as it is more accessible than others and usually full of other little ones to play with.
Bagni di Tibero: Bagni di Tiberio is my favorite beach in Capri and it is suitable especially for families with slightly older kids who will love the fact that need a boat to reach it!
The boat ride is short and easy and the beach here is fabulous: small but not oppressively so, the beach has a restaurant/cafe and has pebbles that are gentle enough on little feet.
Marina Piccola: Marina Piccola is also a wonderfully family friendly beach in Capri and has the added advantage of having a stunning vista over the famous faraglioni!
Like others, it is a pebble beach with some stunning rock formations too (older kids do crazy jumps form them!) and is has reasonably shallow waters that make it good for beginner swimmers too.
Explore the scenic ruins of Villa Jovis
Villa Jovis was the house of Emperor Tiberius, who elected Capri as is residence of choice.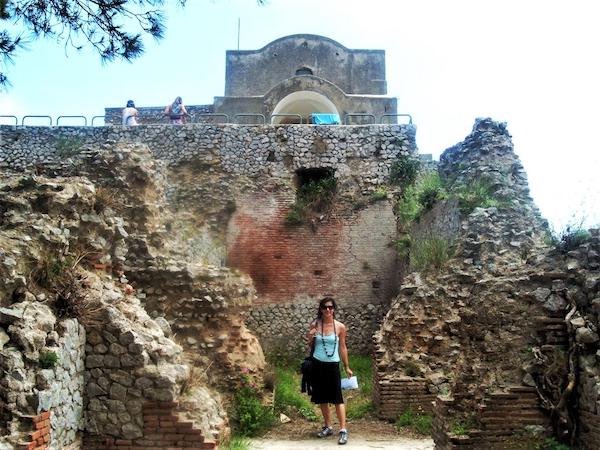 Villa Jovis is a wonderful archaeological ruin and while it is not the most child friendly historical park you can find, can be fun to explore especially with older kids who can walk well and are like to hike.
The villa itself is beautiful and offers incredible views over the gulf below but what I particularly loved about it was the way up.
You walk up a quiet, secluded road with lemon trees and opening up to local homes gardens and yards and it one of the most pleasant, least crowded bits of Capri I have visited.
Playgrounds in Capri and Anacapri
Both Capri and Anacapri have small playgrounds, respectively in the Tiberio area neat the school and along Anacapri's pedestrian road.
Family hotels in Capri and Anacapri
In terms of accessibility, the best areas to stay in Capri with kids are Capri near the famous Piazzetta, which is also close to shops and restaurants, and Anacapri, provided you are in a location not too far from bus stops and connections.
Some family friendly hotels in Capri you may want to consider are:
Hotel Mamela, in Capri center, with beautiful pool and views over the faraglioni, equipped with family rooms, baby sitting (extra charge), restaurants onsite, about 1.1km from Marina Piccola beach.
Hotel La Reginella, Capri, 10 minutes walk from la Piazzetta, affordable, nice hotel with family rooms for up to 5 people and baby sitting service available at an extra charge.
Albergo Gatto Bianco, close to Marina Piccola, a lovely, clean and relaxing hotel with family rooms, baby sitting service (extra charge).
What to pack for visiting Capri with kids
Swimwear and beach ware for summer
An easy to fold stroller (see our tips for using strollers in Italy here)
Trainers / sneakers for villa Jovis and Monte Solaro
Motion sickness tables for the fast boat to/from Capri if needed
I hope you enjoyed this quick overview of how to make the most of your time in Capri with kids. Safe travel planning!