Corniglia: why you will love Cinque Terre's quietest town (travel guide)
Essential travel guide to Corniglia, Cinque Terre. How to get there, the best things to do, where to eat, why you will love this quiet, often overlooked town in Cinque Terre, Italy.
Corniglia is the least known and the least visited of the five towns in Cinque Terre.
Visitors often skip it, discouraged by the lack of a port and rather difficult accessibility; however, those who do come here usually fall in love with this little village and even declare it their favorite terra of all!
Indeed, Corniglia is a delight.
While it is true that the town lacks the easy access to swimming and boating options you find in her coastal neighbors, Corniglia has a special charm and a distinct personality which is at the same time quintessentially Cinque Terre yet unique.
I love Corniglia and I highly recommend you take the time to visit.
Corniglia's small alleys, hidden courtyard and stunning views make it a breathtaking, charming destination and the (relative) lack of crowds make coming here a welcome respite from time in the other villages.
This is our essential travel guide to Corniglia.
What makes Corniglia special
Corniglia is stunning, charming, relaxing and, compared with its closest neighbors, unique from many points of view!
Most of its uniqueness comes down to its position.
Perched on top of a high cliff, Corniglia overlooks the water and offers breathtaking views of the sea and Cinque Terre coast.
However, Corniglia is the only one of the Cinque Terre towns without a port and doesn't feel like a seaside town but has more of a mountain vibe.
Corniglia is popular with hikers and people interested in the trails of Cinque Terre more than in water-based activities and it is not often chosen by families with very young kids, who find accessible Monterosso a more suitable choice.
Good to know: Corniglia used to have a beach or rater, three of them. However, time has not been kind to this stretch of land. The sea reclaimed spiaggione di Corniglia, below the strain station, in 2021 and the famous Spiaggia di Guvano is now only reachable by sea. For a quick dip in the water Marina di Corniglia remains, but don't expect a beach, rather a rocky entrance into the water, suited for snorkeling more than sunbathing.
A corollary to this clifftop position is that Corniglia is slightly less forward to reach than the other towns.
While the other Cinque Terre towns have harbors and train stations in the city center, Corniglia train station is below the town, connected to the town center by a steep road that you can negotiate by claiming almost 400 steps (or by catching a bus!).
Don't worry though! Despite this trickier accessibility, arriving in Corniglia and enjoying it is very easy. This guide will help you do just that!
What to see and do in Corniglia
Corniglia is a tiny village with a medieval center and pretty, charming, atmospheric streets.
The best things to do in Corniglia are:
Climb up Scalinata Lardarina (Corniglia's steps)
If your physical conditions allow you to negotiate the 400 steps connecting Corniglia train station to the village center, I highly recommend you do.
The steps are many but they are not too high, not treacherous nor exposed (they are surprisingly ok even for people with a fear of heights), and they offer stunning views over the coast and the railway line below.
During our last visit, the wind was howling and rain was looming, but even that way, it was magical to catch views over the free Cinque Terre coast and the beautiful sea below!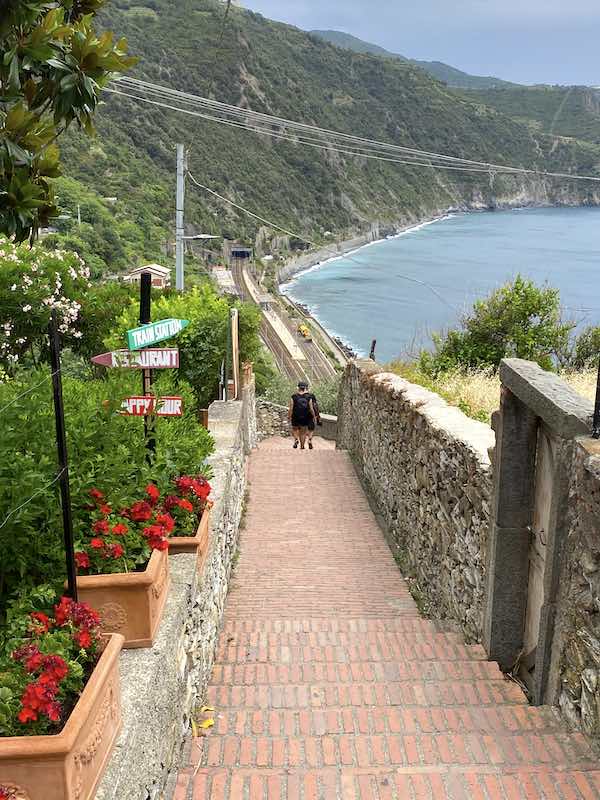 Stroll along Corniglia's alleys (caruggi)
Corniglia is a small mountain town with pretty, narrow lanes and stone buildings and the best way to enjoy it is to allow yourself to walk around and get lost (it is so tiny, you will not stay lost for long!).
As you explore, you will find some lovely streets opening onto private vegetable gardens, tiny patios and terraces, arches, hidden passages and several small piazzas and openings where locals and tourists can relax and watch life pass by.
Visit Corniglia's church and Oratorio
Worth a stop is Chiesa di San Pietro, which you find as you walk from the top of the Corniglia steps into the town center.
The church has a beautiful interior and overlooks a pleasant square offering great views of the village.
If you love architecture, you should also see out oratorio di Santa Caterina, a simple and elegant romanesque church with a beautiful chapel.
Catch a view from Corniglia's View Point
At the end of town, there is a wonderful belvedere, from where you can catch fabulous sea views.
You reach it with a short walk along Corniglia's main road and you find yourself in front of an expansive view over the Mediterranean and, in the distance, Manarola on one side and Vernazza from the other!
Access to the belvedere is free.
Have a quiet meal
Corniglia is my favorite town in Cinque Terre for lunch.
Since it receives a fraction of the visitors than the other towns see, we always find a place to sit here and we noticed the quality of the food to be excellent even in the smaller, more budget-friendly places.
Our favorite in town are Terra Rossa Wine Bar, Bar Pan e Vin and 'Bar da Matteo'.
Rather than a restaurant, da Matteo is a cafe serving a selection of hot dishes, which we found reasonably priced, excellent and more kid-friendly than the other addresses in terms of choice and ambiance.
A great address for a family, if normal lunch before getting back exploring!
Taste vernaccia di Corniglia
Corniglia is surrounded by vineyards and it is famous for the production of Vernaccia!
You can taste Vernaccia d Corniglia in one of the many wine bars and restaurants in town.
Hike
Corniglia is a great access point to several hiking trails.
The most famous of all is Sentiero Azzurro, one of the most beautiful and popular hiking trails in Cinque Terre but there are also several other local trails that can be worth exploring, weather conditions and hiking experience permitting.
Since this area is a national park and subject to access regulations, I highly recommend you visit one of the Cinque Terre info Points before getting on the trail and get, if needed, the relevant permit.
The Corniglia info point is at Corniglia train station.
How to get to Corniglia
The best way to get to Corniglia is by train.
Corniglia train station is served by the excellent Cinque Terre train service, which connects it to the other towns and to La Spezia and Sestri Levante in a quick and comfortable way.
Once you get to Corniglia train station, you are not in the center of the village but rather at its base. To get to the center, you will need to:
Walk up Scalinata Ladarina, a set of 384 steps (yes, my daughter counted them) into the town or
Catch the bus. The bus stops right in front of the station and comes every ten minutes or so.
It is also possible to get to Corniglia by car.
However, I do not recommend it as the drive is long and hard (the roads are bendy, narrow mountain roads) and finding parking in Corniglia very difficult.
Should you need to drive to Corniglia, you can, however, do it by exiting from the A12 motorway and then following the local signs through Vernazza or Manarola.
It is not possible to arrive in Corniglia by boat.
Corniglia with kids
I visited Corniglia with my kids who were 10 and 11 at the time.
They loved the town and found the staircase up adventurous and fun (they spent their way up and down counting the steps to check guidebooks were accurate!).
Once in the town, they enjoyed the small alleys, the local cats and the gelato parlors.
However, they didn't find much to do here as the only playground we found was private (possibly belonging to the school) and the lack of sea access made the town less appealing than Monterosso or even Levanto.
Overall, our feelings about Cnriglia with kids are:
Corniglia is not stroller friendly and can be very hard with babies or toddlers
Older kids will enjoy a stop in Corniglia and I do recommend it for a quiet family lunch.
As a place to stay, I only recommend it to families with older kids who will make the most of the hiking trails of the area.
If you want even more help or you have any questions, please in my FREE Facebook group about traveling to Italy with kids: I will be happy to have you there and the tips from me and the other members are FREE!
I hope this quick travel guide to Corniglia worked as a useful introduction to it and it made you want to go visit. Safe travels!