Tuscany in the fall: all you need to know for a perfect autumn trip
Visitors' guide to Tuscany in the fall: things to do, autumn festivals, accommodations and tips to plan a perfect stay.
Tuscany is beautiful in the fall.
During this season, the famous rolling hills of this picture-perfect region of Italy acquire the golden colors that make them look like a Renaissance painting.
The weather is usually mild and bright, providing perfect conditions for sightseeing and discovering Tuscany's art cities and villages.
The harvest season fills the Tuscany tables with mushrooms, pumpkins and freshly pressed olive oil and the award-winning wineries of this region are busy turning their glorious grapes into delicious wine.
If you are into art, food, or road-tripping, Tuscany in the fall will take your breath away.
In this guide, I am going to share some of the best places to visit in Tuscany in autumn, foods you should try, and some practical travel tips to make the most of your trip.
Please note: this post contains affiliate links. Should you make a purchase, we might make a small commission.
Weather in Tuscany in the Fall: what to expect
The fall season in Italy starts on the 21st of September and ends on the 21st of December when the country enters the astronomical winter.
Between September and December, temperatures will slowly but consistently fall and the hours of daylight will diminish.
| | | |
| --- | --- | --- |
| Name of the month | Max/Min Temp | Average n. of rainy days |
| Late September | 27C/80F – 15C/59F | 6.2 days |
| October | 21C/70F – 11C/52F | 8.5 days |
| November | 15C/59F – 6C/43F | 14 days |
| Early December | 11C/52F – 3C/37F | 10 days |
Late September still largely feels like a summer month, only requiring a light jacket in the coldest hours of the day.
October will make you want to reach for a warmer jacket but will still allow you to enjoy the outdoors.
November is the rainiest month in Tuscany and you will want to have a plan for wet days.
December in Tuscany is a time when you want to be well wrapped up and mix sightseeing with indoor attractions such as museums or restaurants.
December is also the month when Christmas decorations start coming up and when you can see living cribs and Christmas markets, especially after the 8th of December, the start of the Christmas season in Italy.
Rain is possible in this season and having a waterproof layer with your and a travel umbrella is a good idea.
What to pack to visit Tuscany in the fall
Autumn is a season of transition in Tuscany, with summer slowly but surely turning into winter.
Layers are your best friend at this time and you also want to have some proper jackets and scarves for the later part of the season, especially if planning on staying in the countryside.
While the temperatures in Tuscany in autumn are not those of a very rigid winter, the country and even Florence can get very cold because of altitude and humidity.
Things I recommend you pack for Tuscany in the fall are:
Comfortable walking shoes, ideally waterproof. Fashion sneakers/trainers work well and so do ankle boots. You can find here >>> my list of recommended shoes for Italy travel
Long pants/ trousers: you are unlikely to find shorts weather in this season
Short and long sleeve tops, for layering
Cardigan / sweater
Midseason jacket, ideally waterproof
A light scarf
Flip flops/ house socks for the hotel/ agriturismo: those floors get very cold!
Swimsuit + water shoes for Tuscany hot springs, wonderful in this season (see below)
Travel umbrella
If traveling with small kids, I highly recommend a rain cover for the stroller and a good blanket.
All your electronics and travel documents. Please find official info about the required documents for traveling into and around Italy here.
You can find my complete packing list for Italy here.
The best things to do in Tuscany in the Fall
Discover Val D'Orcia by car
Val d'Orcia is the beautiful area in the South of Tuscany famous for rolling hills and cypress trees.
It is the area you most commonly see on travel brochures that want to portray the quintessential Tuscan landscapes and it is as breathtaking as the photos suggest.
The area is blessed with hilltop villages, a historical town, scenic roads and a rolling landscape of vineyards and olive groves.
It is so unique and iconic of the Tuscany Countryside, it is Unesco World Heritage Site.
The best way to explore Val d'Orcia is by car.
You can opt for a road trip, changing accommodation every night, or you can take it easy by picking a place as a base and explore from there.
I highly recommend this last option: Val d'Orcia is one of those places best explored slowly and, if you find a nice agriturismo to call home for a few days, even just sitting and enjoying the views from there will make your trip one to remember.
Find here >>> our complete travel guide to the best places to see in Val d'Orcia.
Enjoy Tuscany's hot springs
Autumn is the best time to enjoy Tuscany's hot spring.
As the weather starts to cool down, the hot waters of Tuscany's spas and free hot springs welcome you like a comforting cocoon and relaxation is guaranteed.
You can choose between organized and elegant thermal baths such as those in Chianciano or Bagno Vignoni or opt for free springs such as those in Saturnia or Bagni San Filippo.
Find here >>> our guide to hot springs in Tuscany.
Explore Tuscany's hilltop villages
The fall is also the perfect season for visiting Tuscany's famous hilltop villages.
At this time, they will offer not just the beautiful alleys, churches and charming corners that make them so famous but also beautiful views over the countryside and its colors.
From their bastions and piazzas, you will be able to spot forests, olive groves and vineyards, painting a picture with hues of gold and dark green.
Find here >>> our favorite hilltop villages in Tuscany
Experience Tuscany's Autumn Festivals and events
Harvest season is fantastic in Tuscany.
The region has a strong rural vocation and several festivals and markets take place in Tuscany in the fall that are an ode to local food and produce!
As well as food, Tuscany in the fall hosts several traditional festivals with vintage markets and games.
Autumn festivals in Tuscany you may want to experience are:
Events are subject to date change and cancellations; always double-check before going!
Food: Festa d'Autunno (Fall festival), Abbadia San Salvatore (SI)- 2nd and 3rd weekend in October
Food (grapes): Festa dell'Uva, Cinigiano (GR), 4-6 October
Food (White truffle): Fiera del tartufo Bianco, Corrazzano (PI) – 1st weekend in October, also in Volterra, 26-27 October and 1-3 November, San Miniato (PI), weekends in November.
Food: Toscanan Gustando, Montepulciano (SI), 9-10 November
Food: Festa del vino doc (wine festival), Montescudaio (PI) – 1st weekend in October
Antiques: Fiera Antiquaria, Arezzo (AR) – 5th and 6th October
Antiques and Vintage: Aprilante, Panzano in Chianti (FI) -1st Sunday in October
Antiques: Mercatino Antiquariato, Barga (LU) – 2nd weekend in October
Food and traditional games: Tiro della Druzzola & Sagra del Galletto, Camigliano (LU) – 1st Sunday in October
Food (chestnuts): La castagna in festa , Arcidosso (GR) – 2nd and last weekend in October ALSO In Monticello Amiata (GR), 2nd weekend in October, Caprese Michelangelo (AR), 3rd and 4th weekend in October, Campiglia d'Orcia (SI), last weekend in October, Bagno Vignoni (SI), 27 October,
Food (cheese): Palio dei Caci, Volterra (PI), a traditional festival with cheese rolling competition!
Market: Mercatino Internazionale, Arezzo (AR), 11-13 October
Food (oil): festa dell'olio nuovo (festival of the new oil)., Traquanda (SI), 20 October
Festa di San Martino, Anghiari (AR), 2nd weekend in November
Food: Gustatus, Orbetello (GR), 30 Oct – 3 November
Food (wine and oil): Santi Vinai, 8-10 November, Pitigliano (GR)
Christmas markets: several Christmas markets take place in Tuscany in December, the latest stretch of Autumns. Florence, Mugello Montepulciano, Lucca and Pisa have nice ones – you can find here >>> our favorite Christmas markets in Italy.
Visit Florence
No visit to Tuscany could be complete without at least a brief stay in Florence.
The city is beautiful at this time but can get busy so advance booking of accommodation and main attractions (mainly: Uffizi and Accademia Gallery) is a must.
Tickets /Tours with good cancellation options are at the following links:
Uffizi Gallery Timed Entrance Tickets
Uffizi Gallery Small Group Tour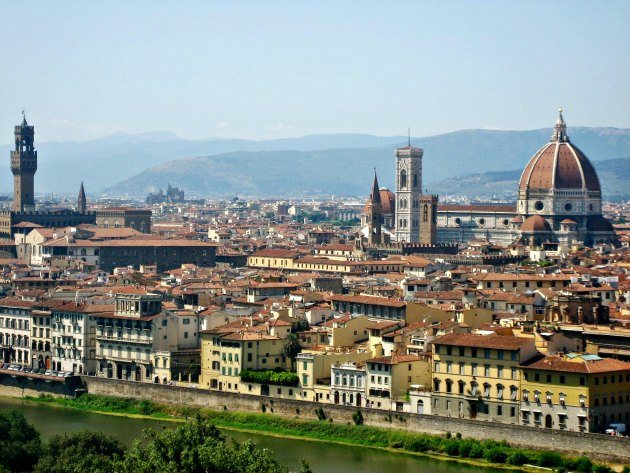 Visit Siena
Siena is a delight in the fall, when the beautiful green surroundings of this hilltop town dress up in golden and green.
This is a fantastic place to visit with the whole family >>> find our guide to a day in Siena here
See the leaning tower of Pisa
Pisa gets very busy but the fall, especially mid-week, is a pleasant time to visit.
You can find here >>> our guide to one day in Pisa.
Cycle around Lucca
Lucca is a delight no matter the season but cycling along its historical walls in the fall is just magical!
Find here >>> our guide to Lucca
Go on a wine tasting tour
Harvest time is a tricky moment to visit wineries as they are busy with agricultural work however, some do offer tours!
The best way is to book via a reliable provider who will be able to bring you where there are spare hands to welcome visitors. Have a look at this one in Chianti to see what they include.
Where to stay in Tuscany in the fall
I love staying in agriturismo when visiting Tuscany.
They are the perfect place to enjoy the scenery, food and wine of the area and they are perfect to wind down.
Some you may enjoy are:
Il Falconiere (Relaix et Chateaux): stunning property offering high-end accommodation and services in Cortona
Fattoria di Maiano, fantastic country accommodation with restaurants in Fiesole, just above Florence
La Lupaia, wonderful country retreat above Montepulciano
Fattoria la Palagina, family-friendly option in
Agriturismo Vernianiello, Poggibonsi, great for families with kids
Agriturismo La Bruciata, nice family-friendly options with services for adults and kids
Tuscany in the fall with kids
The great advantage of visiting Tuscany with kids in the fall is that they will not be melting in the scorching heat that engulfs Tuscany in summer.
The disadvantage is that they are unlikely to be able to enjoy outdoor swimming pools and the seaside, closed / too cold for swimming in this season.
Overall, this is a lovely time for visiting Tuscany: local festivals, garden visits (Giardino dei Tarocchi is magical), cycling paths, hot springs and local playground will keep them busy and you will also be able to get them to enjoy adventure and parks and ziplining courses, excellent in this season.
You can find here >>> our tips for visiting Tuscany with kids
I hope you enjoyed this quick guide to Tuscany in the fall and it helped you plan your visit. Safe travels!