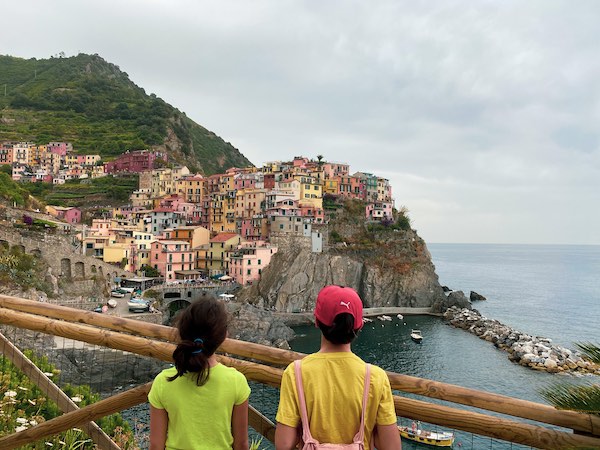 Visiting Manarola with kids: all you need to know to visit one of the prettiest villages in Cinque Terre
All you need to know to visit Manarola with kids: best things to do, what to eat, best things to do, practical tips for visiting Manarola with toddlers and older children
Manarola is one of the best towns in Cinque Terre for scenery and charm.
Built on the slopes of steep, tall cliffs, Manarola is a cluster of beautiful colorful houses that seem to defy gravity as they cling onto the rocky shores of this area.
You know those photos of colorful houses in Italy that seem to paint a rainbow on spectacular cliffs? That is Manarola and it is as wonderful as the photos suggest!
The town is charming, scenic, unique and deservingly popular with tourists, who flock here from all over.
A stop in Manarola is a highlight of a Cinque Terre trip for many.
However, if you are visiting Italy with kids, especially young ones, you may want some travel tips as visiting Manarola with children poses some issues.
Manarola is not stroller friendly and one of those places that make people think they should skip Cinque Terre altogether until the kids are older (I disagree! Find here >>> my family guide to Cinque Terre with kids to see why!)
While older kids will have no problems managing this pretty town's steep and narrow streets, the uneven terrain and the many sheer drops of this town are hard for families with toddlers.
There are, however, ways to enjoy Manarola with kids, even small ones!
In this quick guide, I share what to expect in Manarola, where to find one of the best playgrounds in Cinque Terre, things to do in Manarola with kids and some practical tips for visiting Manarola as a young family.
Why visit Manarola with kids
There are several reasons why I recommend visiting Manarola with kids:
Manarola offers stunning views, among the best in the area
The colorful houses and narrow alleys with cats are great for little kids who will feel like exploring a maze
Manarola has a wonderful kids' playground
Manarola has beautiful hiking paths that are doable with older kids or with a hiking carrier (and a reasonable level of fitness)
Manarola shares with the rest of Italy a family-friendly vibe and people are fabulous and welcoming to children of all ages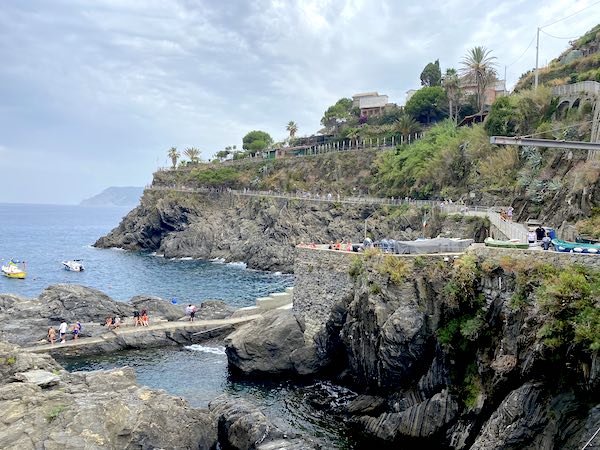 Why not visit Manarola with kids
The main reasons not to visit Manarola with kids have to do with the difficult terrain of the village, most suited to people who are confident walkers.
Manarola is not stroller friendly. While this is not enough to skip it, this means you will have to rely on your kids walking or carrying them in a carrier at all times.
Also, Manarola doesn't have large piazzas or spaces to run around, which can prove frustrating if you have kids who like to tot around, for instance, while you relax with a meal.
Manarola has no beach
Several roads follow the cliffside, so it is paramount to hold hands with little kids in most parts of the town.
The best things to do in Manarola with kids
Manarola is a tiny village and doesn't have a lot on offer for kids if you are looking for standard kid-friendly entertainment.
However, we found ways to keep the kids engaged!
What our kids loved the most about Manarola was:
Manarola playground (newly opened in summer 2022!)
The best highlight for small kids in Manarola is the local playground.
The Manarola playground only opened in 2022 and it is wonderful and scenic.
You find it in the upper part of town, following the signs for Nessun Dorma and the Manarola viewpoint.
It is only a few minutes up the road from the dock: the road is definitely uphill and a little steep but it is easy, and you don't need special shoes as it is still a village road, not a trail.
As you arrive at the start of the hiking path, you take a left, where you find a nice scenic flat path, the viewpoint, restaurant and playground.
The playground has soft ground, climbing frames, swings and several benches for parents to rest under the shade of pretty trees.
The playground has wonderful views of the town on one side and on the rocky coastline on the other.
While safe, due to its location, I highly recommend keeping an extra eye on little ones as it is not fully enclosed.
Supervision is mandatory.
Manarola scenic walk
Just beside the playground, you find the best photo spot in Manarola, that one from where you can take the iconic shot of the town with the colorful houses and the agave plant in the foreground!
The spot is easy to find as you follow the signs for Nessun Dorma: our kids loved it as the view is beautiful and, a little further on, the terrace on the sea very high!
They found it on the safe side of vertigo-inducing and took tons of photos!
Pesto class in Nessun Dorma (Older kids)
Nessun Dorma is a famous restaurant in Manarola with stunning views.
It is just beside the playground and the view (Manarola is tiny, pretty much everything is in the same place!) and it is a popular place to eat but also to take pesto classes.

The class is suitable for older kids and adults due to the location, not toddler-proof.
If you are traveling to Manarola with kids of different ages, it is a good idea to engage the older ones in the class while the other adult minds the toddler in the nearby playground.
Find here >> their website with info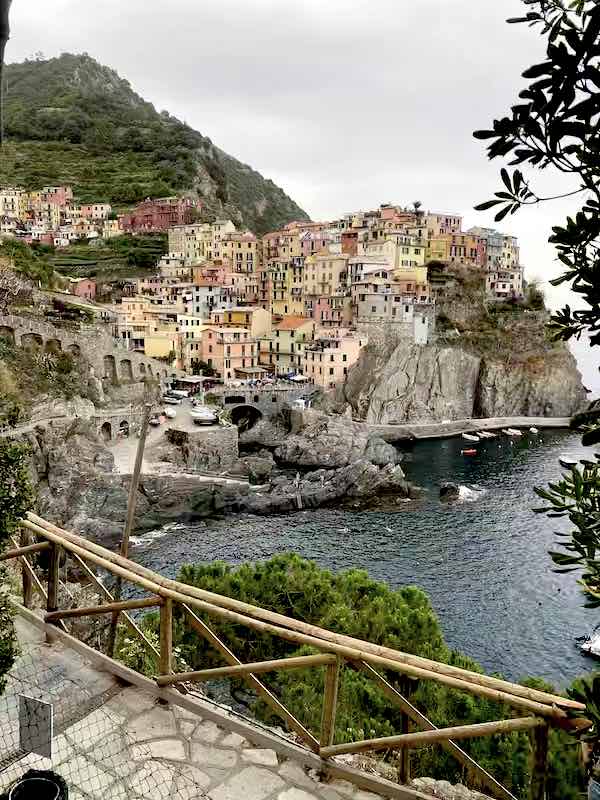 Watch people brave the jump from Manarola rock
Just beside Manarola dock, in front of the town, there is a massive rock popular with locals and even more with tourists for brave jumps into the water below.

The rock is very high and not a place I recommend jumping off from, especially not kids.
However, many young people do it and my kids found watching them mesmerizing!
The rock is just in front of the small Mamarola pier and kept us busy while waiting for the ferry.
Have fried fish and gelato
Manarola has lovely small shops selling cones of fried food and gelato.
We didn't find any outstanding but they are cheap and local, definitely good for a snack!
If you get a 'cono', you will get a paper cone filled to the brim with local friend fish and seafood, which is delicious.
You will also find here delightful focaccia, which is usually a success even with little ones.
Head to the start of the walking paths
Manarola is connected to the other towns by walking paths (check local conditions and opening, as they are subject to closures).
If you have hiking shoes and are up for a trail, you can easily tackle the trails with hiking kids. However, you can also just opt for getting to the start of them and catch a view.
You find signs to the trails everywhere in the village: following them will first lead you thought houses and then will reveal stunning views – well worth the short climb!
Tips for visiting Manarola with toddlers
Manarola is not easy with toddlers.
The town is scenic but it is uphill, with uneven terrain and narrow alleys, which make moving around with strollers hard, albeit not impossible.
My tips for Manarola with toddlers are:
Bring a carrier – if you are not going on the hiking trails, a soft structure carrier is enough.
If you want to go on hikes, then I highly recommend a proper hiking carrier and very good shoes as the paths are proper mountain trails.
Do not bring a stroller – ok, this is similar to the above but really, you will have no use for a stroller here, so if you have one, make sure you can leave it in your accommodation for the day, or you can carry it on your shoulders.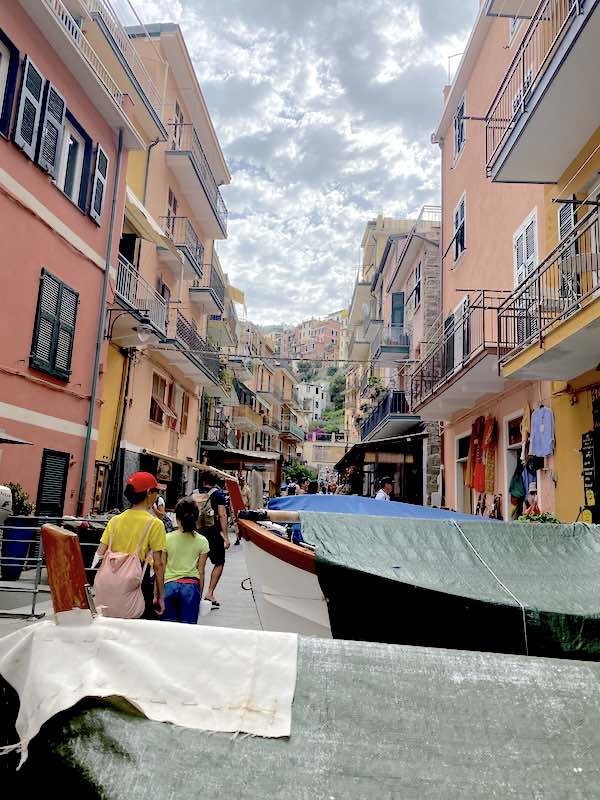 Consider a harness – a harness is not enough to keep children safe on cliffs but it definitely helps in Manarola.
The town has steps and terraces and toddler reins are a good way to give children that tiny little more freedom that may make a difference between frustration and contentment.
Stay in a different town – Manarola is lovely, but I don't find it great as a base with toddlers.
The lack of larger spaces and of a beach means small children have very little independence here – I consider Manarola better for older kids or even better still for couples!
Our favorite town to stay in Cinqu eTerre with kids is Monterosso al Mare.
Come from the water (older kids or a baby carrier)
My favorite wat to get to Manarola is from the water.
The town has a tiny docking port right under the cliff and even just arriving here is exciting for kids.
Due to the natural configuration of the dock, as the boat approaches land, you'll worry you are going to go crash, although of course you won't!

Our kids sat at the front of the ferry mesmerized by the work of the boat workers and loved to see how they safely broght us to land.
It made them feel like they were on a boat adventure and while there was no risk, the impression set the right tone for them to love the town!
How to get to Manarola
The best way to get to Manarola with small kids is by train and ferry.
If you are getting to Manarola by train, it is good to know that Manarola is served by a small but good train station.
The station is equipped with ticket machines and two platforms regularly served by trains of the la Spezia – Genova stretch.
The station is accessible by steps and while there is an elevator, in practice the service is limited. I highly recommend a carrier if you have a baby or toddlers.
Top tip! If you are planning on exploring Cinque Terre by train, ask at the station for the Cinqure Terre Card Family pass.
It is only available at the station and it offers good savings to families with kids!
The ferry docks right in the center of town and the train a few hundred meters above: there is no real difference in picking one over the other: the distances are tiny, and both options leave you in the town center, so you can pick either depending on your preference.
We found the best way to get around CInque Terre by boat was buying a day pass for the ferry.
We were able to get it on the day and we availed of the ferries as we pleased.
No need to prebook ferries (usually) although do expect crowds in high season (August).
Good to know! Due to the docking close to the rocks, sea conditions impact the ability of ferries to dock in Manarola. On one of the days we stayed in Cinque Terre this last time, the dock was closed as boats simply could not guarantee a safe arrival. In that case, ferry companies give refunds and you can make your way by train instead.
I hope you enjoyed this quick overview and tips for visiting Manarola with kids and it have offered some ideas and tips for visiting as a family!
Family guide to Manarola with kids – pin this!