San Candido/Innichen: why you will love this delightful Italian mountain town
All you need to know about San Candido/ Innichen, one of the prettiest towns in the Dolomites, for both summer and winter holidays.
The Dolomites are full of delightful small towns and San Candido is one of the prettiest.
Located in Val Pusteria, one of the most scenic areas of the Dolomites, the town has a nice city center with pretty houses with flowery balconies and pretty shops, wonderful views over Mount Baranci, some nice churches and it is a perfect base for sports in the area, may it be skiing in winter or hiking in summer.
Pretty, family friendly and in enviable location, it is one of the most beautiful places on the Italian Dolomites and one of the most convenient to use as a base to explore the area. This is all you need to know about it.
Please note: this post contains affiliate links. Should you make a purchase, we might make a small commission.
Where is San Candido and how to get there
San Candido is in Val Pusteria, on the road connecting Bolzano with Austria. Bolzano is about 1h45 mins away and Lienz in Austria is only 41 minutes by car.
The town is served by a good train station with local connections to Bolzano and Austria and it is also served by local buses.
In summer, I recommend you come here by car: while the transport here is excellent, a private vehicle is the best way to explore the area.
Why visit San Candido
I recommend you visit San Candido if you want to experience all the Dolomites have to offer. In San Candido you will find:
A pretty mountain town with a distinct fairy tale / Heidi feel, perfect for adults and kids alike
That lovely combination of Italian and Austrian culture that makes this area so special
Lovely Tyrolean style houses and shops
Amazing family friendly slopes and cross-country skiing opportunities in winter
Fabulous hikes in summer suitable for all levels of experience and fitness
The best things to do in San Candido/Innichen
San Candido is a pretty town with a characteristic city center, which is where more of the town attractions reside.
Stroll in San Candido town center
San Candido has a lovely town center that develops around two main squares just beside one another.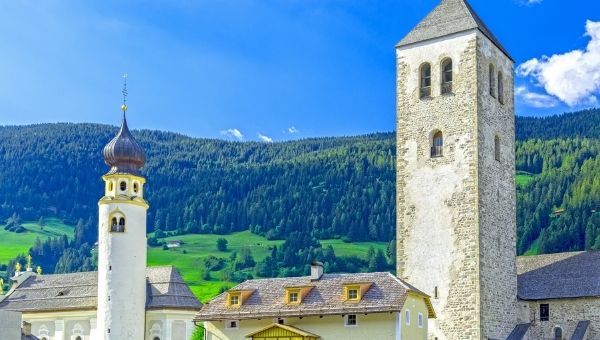 Here is where you find the town Rathouse, the main tourist office, lovely shops and also where you have the main churches of the town, both worth seeing (see below).
These piazzas have a different feel one from the other but both have the typical Tyrolean architecture that is so special about this area: small houses, pointy roofs, pretty balconies and more flowers than you can ever count!
Visit San Candido's churches
San Candido has two lovely churches that are worth visiting at least once: Collegiata and San Michele.
La Collegiata is wonderful the church dates back to 1143 and has a tall bell tower and sober appearance that doesn't fully give justice to its interior.
Inside, the church has maintained the ancient atmosphere of its origins, and has lovely ceiling frescoes and a wonderful wooden crucifix that should not be missed.
This church has an evocative, powerful charm to it and also hides a secret: a wonderful crypt, which you can can access from beside the altar and that seems to porject you back all the way to the time of the church's construction!
The other church you will see in San Candido is San Michele, which overlooks one of the main squares.
The church is in Baroque style and what is most noticeable here is the tower bell, which has the round and pointy top that is so typical of this area (and that give the church a distinct fairy tale look).
The church is worth seeing especially in contrast with the Collegiata: the style of the two couldn't be more different but they are both worth seeing in their own way!
Walk around San Candido's Cemetery
San Candido's Collegiata is surrounded by the beautiful town cemetery, which is worth seeing. The cemetery is a delightful, peaceful place that is immaculately kept and decorated with fantastic frescoes and modern works of art.
Worth seeing are the ancient frescoes on several of the church outside walls and the skillful metal work of some of the crosses and installations, made by local artist Martin Rainer.
Visit San Candido War memorial
Immediately outside of San Candido town center there is an ossary and warm monument worth a visit.
The ossary is one of the main mementos in the area of the heavy fighting this area lived during the first world war and it easy to visit as it is just on the side of the main road leaving the town.
Go shopping for Tyrolean textiles and wooden carvings
Wood carving is one of the local arts and San Candido has many shops when you can get wooden souvenirs to bring home.
As well as wood, the area is famous for textiles and it is perfect if you wan to get table cloths, kitchen utensils and traditional clothes (for kids, they are super cute!)
As well as traditional arts you can, of course, find here athletic wear shops, selling gear for all your skiing and hiking needs.
This area is rather high-end in terms of the tourism it gets so you can expect high-quality shopping but also prices to match.
Enjoy San Candido's traditional architecture
San Candido is a very pretty town with delightful colored houses and flowery balconies. They are everywhere in the city and spotting your favorite ones can keep you busy for hours: almost every house is a small work of art!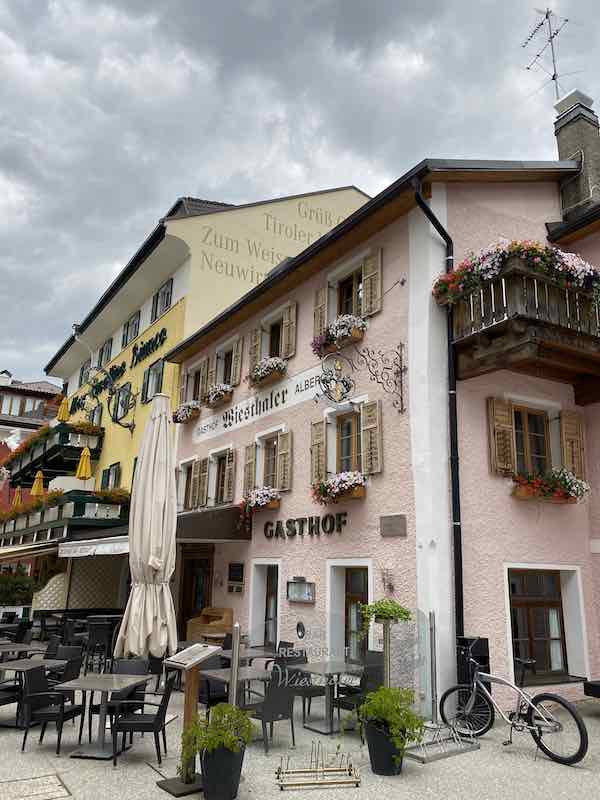 Eat cake at San Candido bakeries
Going to the bakery to eat cake is simply a must do in San Candido!
The town has amazing Austrian style bakeries and sitting in one of their stube, with wooden interiors and the smell of buttery goods filling the air is simply a delight.
The cakes are mostly in the Austrian tradition: make sure you sample apfel studel (apple strudel), lienzer cake (buttery, with jam), ricotta cakes and kaisersmarren, a local type of pancake style sweet served wit jam. Wonderful!
Other things worth ordering are mixed berries (in summer) and anything with whipped cream: the local dairy products here are out of this world delicious!
Go skiing or cross country skiing (winter)
In winter, San Candido is a lovely base to go skiing. the slopes on Mount Baranci are easy to access right from the village center and they are good especially for families with kids.
Several other slopes are within easy distance such as Monte Elmo / Croda Rossa and the area is considered one of best for cross country skiing with 200 km of tracks for all levels of ability (and schools for beginners)
Go hiking in summer
Summer is fabulous in San Candido and if you love hiking, it is hard to find a better place to use as a base!
From here you can easily access hikes in the Val Fiscalina / Croda Rossa /Monte Emo area and you are within easy reach of the Three Peaks of Lavaredo, one of the most iconic in the whole of the Dolomites.
You can find here hikes for all levels of difficulty: our favorite hikes in the Sn Candido/Innichen area are here.
Rent a bike and cycle to Austria
San Candido is connected to Lienz in Austria by a beautiful and easy cycling path, across beautiful pine forests.
The cycle is long but easy, suitable also for kids, and on the way back you can hop on thy train – special wagons for bikes are available.
Bikes can be rented at several locations in town and maps and basic gear provided. This is a super fun day and requires not mountain biking skills since the path is mostly flat and easy (it is not a mountain biking path).
Things to do in San Candido with kids
San Candido is easy to enjoy with kids and one of the places we recommend to people planning a trip to the Dolomites with children.
All the attractions mentioned up to know are kid-friendly and there are a couple of extra locations children are sure to enjoy:
San Candido Crazy golf, an institution for families vacationing in San Candido!
San Candido swimming center, with lovely pools, slides and plenty of opportunities to keep busy whatever the weather
Baranci chairlift and fun bob, a super handy and fun way to get high up on Mount Baranci and enjoy stunning views, then coming down again at full speed, without having to move a step!
San Candido Mountain Playground, a fantastic area for kids on Mount Baranci perfect for kids of all ages and in one of the most beautiful nature playground you can ever ask for!
Easy hikes in and near San Candido
San Candido is a wonderful base for hikes.
You will need to car to reach the starting point of pretty much all of these but they are all short enough drier, allowing for day hikes,
Some of out favorite are:
Chairlift up Mount Baranci, perfect for easy views over the town
Valle Campo di Dentro, lovely easy walk to the Rif. Tre Scarperi Mountain Hut, suitable for young kids too
Monte Elmo hikes, especially those to Rif Larici, Alpe di Nemes, Malga Klambach, Olperl Park for kids
Val Fiscalina forest walk and hikes up to Rif Comici, Carducci, Pian di Cengia, Locatelli (Moderate/ strenuous)
Croda Rossa, easy to reach by chair lift or taking a moderate hike from Val Fiscalina
Three peaks of Lavaredo area
Lake Dobbiaco – lovely place for easy lakeside hike and boating
Lake Braies, picture perfect lake with nice views over the peaks
Where to stay in San Candido
San Candido has many hotels that are perfect to most types of travelers. Some to consider are:
Hotel Cavallino Bianco – lovely, central hotel with restaurants and pool
Sport Hotel Tyrol – elegant hotel with restaurant and spa, in wonderful central location
Park hotel Sole Paradiso – just at the entrance of the town, surrounded by beautiful trees, his is an elegant hotel with nice rooms, restaurants and spa
I hope you enjoyed this quick travel guide to San Candido and helped you plan your visit. Safe travel planning!