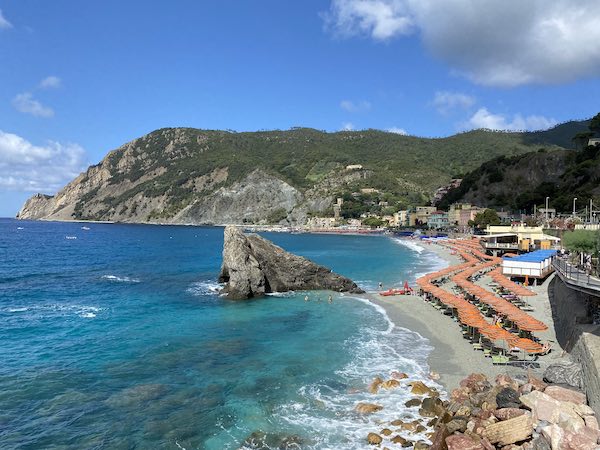 Monterosso with kids: why you'll love the most family-friendly town of Cinque Terre
Essential travelguide to Monterosso al Mare, Cinque Terre. What to see, how to get there, and why it is a favorite for families with kids.
Monterosso al Mare, or just Monterosso, Italy, is the biggest and northernmost of the five towns of Cinque Terre.
Blessed with a pretty beach, a unique feature in the area, and some flat areas, Monterosso is often mentioned as the best town to stay in Cinque Terre with kids.
I agree with Monterosso being very family friendly; I always recommend it as the best town for families.
However, more than convenience makes me recommend staying in Monterosso al Mare.
As well as its beautiful beach, Monterosso has a lovely sea promenade, a lovely old town center, colorful houses, plenty of suitable accommodation and a unique charm that makes it feel a little more local and authentic than its neighbors.
The last time I was in Monterosso with the kids was a couple of weeks ago.

The town is delightful: in this travel guide to Monterosso, we share our impressions and tips to make the most of your stay.
Please note: this post contained affiliate links. Should you make a purchase through them, we might make a small commission at no extra cost to you.
Why visit Monterosso al Mare with children

I recommend you visit Monterosso if:
You want a quintessential Italian riviera experience (think views, colorful houses, aperitivo, boat tours etc.)
You want many options for day tours, including by train and by boat
You wish to mix time at the beach with Cinque Terre sightseeing
You want a town that doesn't pose substantial mobility issues and a stroller-friendly destination in Cinque Terre
You want a family-friendly village in Cinque Terre
You want to stay in a slightly bigger town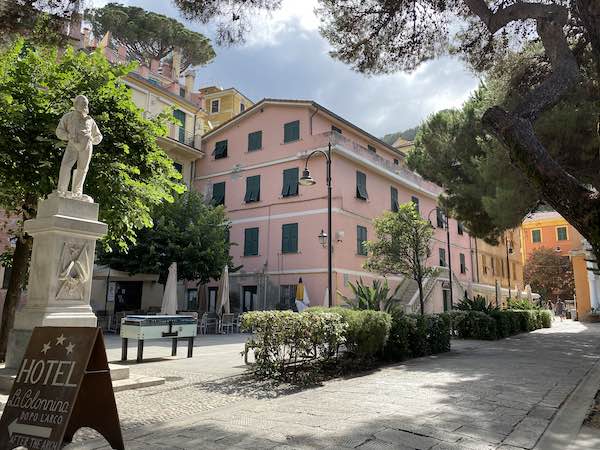 Why not to visit Monterosso
I highly recommend you visit Monterosso with kids.
If, instead, you are visiting Monterosso with adult kids or friends, I think it is useful to consider it in context with the other towns.
It is good to know that the town suits families and older travelers more than a younger crowd of couples.
This has mostly to do with the laid-back vibe of the town and the fact that the town is the only one in Cinque Terre really suitable for small kids, which makes it a favorite with family travelers.

For a romantic stay, Vernazza or Manarola are better-suited thanks to the pretty views and cliffs.
Younger visitors tend to prefer Riomaggiore and its busy main street.
That said, I can't entirely agree with those who say Monterosso lacks the charm of the other towns.
On the contrary, Monterosso's old town is adorable and charming and has an authentic feel that makes it unique.
I may be biased by the fact that last time I was in Cinque Terre with my two children, but Monterosso was our very favorite!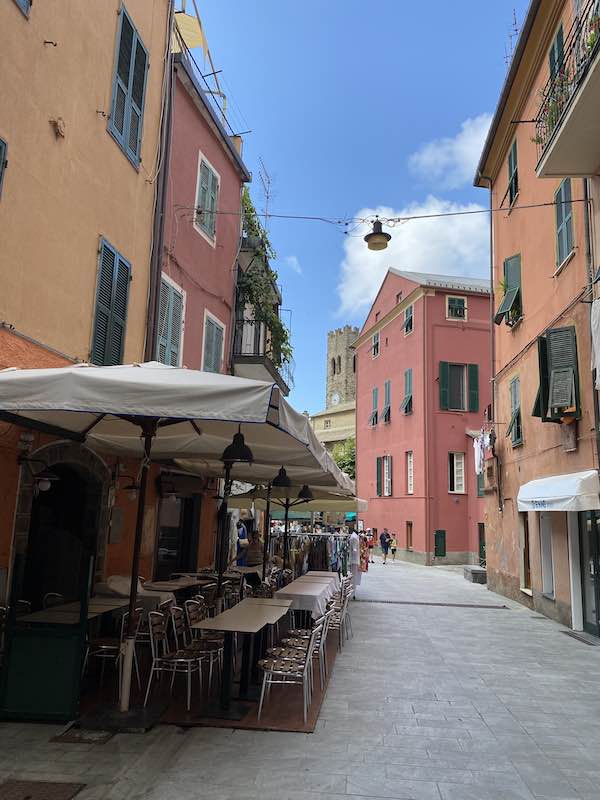 Monterosso travel guide: what you need to know
Monterosso is the northernmost of the five Cinque Terre towns.
It develops on the two sides of a rocky promontory which divides the town into two areas, usually called new and old Monterosso.
The two parts of town are very close, and you can walk from one to the next in a matter of minutes following the coast. The cape is scenic and easy to pass as a short tunnel connects the two parts of town.
The new part of Monterosso is where you find the train station and the largest Monterosso beach, the one you often see photographed with a large rock right in front of the shore.
This part of town has a strong tourism vocation and is primarily a series of hotels, restaurants and shops.

The old part of town is on the opposite side of the promontory; it is where you find the ferry port and the colorful houses typical of the area.
This part of Monterosso also has hotels and restaurants but also private homes, many now rentals but also still inhabited by locals.
The best place to stay in Monterosso: old town or new town?
The two parts of Monterosso are so close to one another that it doesn't make a big difference where you are.
If you want to make the most of the beach and use the train, the newer part of town will be handier as it will put you near both.
If you like old town charm, quiet streets and access to the ferry, then old Monterosso is best.
Both parts of town have a kids' playground, so if you visit Monterosso with kids, you can keep them satisfied wherever your accommodation may be!
My favorite site to book accommodation in Monterosso is booking.com. I like that they have hotels and apartments and also that their prices are transparent and you don't have hidden charges.
The best things to do in Monterosso with kids (and without!)
Take a boat tour
Monterosso is an excellent base for boat tours of the area.
The port is easy to reach and well served and you can choose between several options, including private/ small group/group tours, tours with or without swimming stops, aperitivo and more.
Boat tours from Monterosso you may like are:
Cinque Terre Boat Tour from Monterosso by Cinque Terre Boat (Fish and chill) – they offer day and evening cruises
Cinque Terre Boat Tour with appetizer and lunch – a 4.5 hour tour to see the best of Cinque Terre and the Ligurian Coast from the water.
Need to know! Even in summer, boat trips in the area are subject to cancellations. This is due to the difficult docking conditions in some of the towns. Should tours be canceled, providers usually offer refunds or the ability to reschedule. Should that happen, don't panic! You can anyway visit the towns by train.
Enjoy the beach
Monterosso is the only town in Cinque Terre with a proper beach and a lovely one!
Monterosso's beach is primarily small pebbles but is pretty and with beautiful views.
Some small parts of it are free (Spiaggia Libera) at the two ends of the town; the longest stretch of the coast, however, has beach clubs with colorful umbrellas swaying in the breeze.
The beach clubs offer umbrellas, loungers, and showers.
The bigger ones also have sports pitches and cafes/restaurants.
You can rent umbrellas for the day, the week or more, and prices vary depending on the season, number of umbrellas and chairs and club facilities.
The beach clubs and free beach in Monterosso offer easy access to the water and are great for sunbathing and swimming.
You can read here >>> all you need to know about beach clubs in Italy
The most beautiful beach in Monterosso is Fegina.
Good beach clubs in Monterosso are:
Bagni Gigante
Bagni Fegina
Bagni Stella Marina
Bagni Hotel Baia
Bagni Gabbiano Rosso
Bagni Alba
Bagni Eden
Rent kayaks / pedal boats or go on a kayak tour

If you want to see Monterosso from the water, the town offers the opportunity to rent kayaks, pedal boats and long boats that you can use to experience the sea in your own time.
If you prefer an organized experience, kayak tours depart from Monterosso and are a fun way to discover the area. We found several rental options in the new part of town, bookable on the day.
Bring the kids to the playground.

Monterosso has two playgrounds, one in the new and one in the old part of town.
New Monterosso has some new, pretty children's playground frames along the sea promenade.
They are between the road and the beach clubs on a stretch closed to cars, and they are simple but friendly, perfect for younger kids.
The prettiest children's playground in Monterosso is in the old town.
You find it in the main square of the old town and it is enclosed and therefore safe. The playground is very well kept, looks new and has good climbing frames, slides and soft ground.
I loved this playground as it had some shade and pretty seats just outside where I was able to relax while the children went wild playing.
This is one of our favorite playgrounds in Cinque Terre!
Take the train
Monterosso's new town is where you have the train station.
This means that you can easily hop on the train, visit the other towns in Cinque Terre, Levanto, and even go to La Spezia for the day.

Monterosso train station is well served but crowded: arrive a few minutes early if you need to get tickets (you can also get them online from trenitalia.com, Italy's official train travel website).
Find here >>> all you need to know about train travel in Italy
Walk to Vernazza
Monterosso is connected to other towns in the area by hiking paths.

The most popular one is the walking route to Vernazza, which is beautiful and scenic, offering stunning views over both towns and the coast.
The path requires some effort (as well as good shoes) as it has parts that are rather steep and with steps.
Access is by permit only, which you can get in town: when you do, make sure you ask for trail conditions as paths in the area often close due to weather events and unstable ground.
Explore Monterosso's old town
Monterosso's old town is a maze of delightful small alleys (Caruggi) in typical Ligurian style.
Like all coastal towns exposed to potential attacks, the village is built with narrow streets, sometimes very narrow ones, to confuse the attacker and give the locals a chance.
Nowadays, this peculiar construction makes the old town of Monterosso a treasure trove of tiny alleyways, courtyards and flowery corners that are a visitor's delight.
Take the ferry to the other towns
My favorite way to visit Cinque Terre is by ferry. Monterosso has a well-served ferry port with boats to Levanto. Manarola, Vernazza, Riomaggiore and Porto Venere.
This makes it an ideal base for exploring the area by water.
Have aperitivo
Monterosso is full of lovely cafes serving aperitivo.
Pick any with a pretty view and get a local chilled white wine or a traditional drink such as Aperol Spritz.
They usually come with lovely Ligurian snacks such as focaccia.
Find here >>> all you need to know about Italian Aperitivo
Have focaccia from the local Forno
Focaccia is typical of Liguria and you find it anywhere, including in supermarkets.
However, the best place to get focaccia in Monterosso is the local forno: the one we love is in the old town, only a few meters from the playground (follow the freshly baked bread smell, you cannot miss it!)
Monterosso with toddlers
I love Monterosso with toddlers and young kids.
As mentioned above, Monterosso is the most child friendly of all Cinque Terre towns and a fantastic place for families.
The things that make Monterosso great for kids are:
The beach and the family-friendly beach clubs
A stroller-friendly promenade and town center
Good children's playgrounds in town
Many shops and services for all your needs
Great connections to the other towns by train and boat
Lots of restaurants, hotels and cafes
A family-friendly, relaxed vibe
Going to Itlay with kids? Don't forget you can also join my FREE Facebook Group Travel Italy Italy with kids (click to request to join), where yo you can connect directly with me and many other like-minded parents full of tips and advice for family trips to Italy!
Monterosso with kids – pin this!