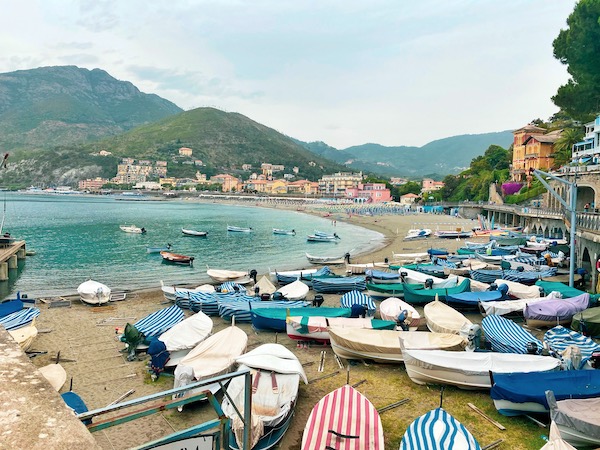 Levanto, Italy: all you need to know about this pretty town on the Italian Riviera
All you need to know about Levanto, Italy: discover the best things to see in Levanto and why it is the perfect base to discover Cinque Terre and the Liguria coast.
Levanto is a very pretty, local, and family-friendly small town in Liguria, the region of Genoa, Portofino and the famous Cinque Terre.
Located on the coast, Levanto has a beautiful town center, a pretty beach and excellent train and boat connections that make it the perfect getaway town to visit Cinque Terre and beyond.
Our family loves Levanto.
It is our base of choice any time we come to visit Cinque Terre with kids and every time we come, we find again all that makes this town special: the local atmosphere, the delicious food, the beach and the playground!
If you are planning a trip to Cinque Terre, I highly recommend you include Levanto in your itinerary or even pick it as your base for a couple of nights.
Compared with the Unesco towns, Levanto is not quite as scenic.
However, it feels more local than the other towns and tends to offer cheaper accommodation as well as better parking!
Based on our experience of the town, this is our guide to Levanto.
Please note: this post contains affiliate links. Should you make a purchase through them, we might make a small commission, at no extra cost to you.
Why visit Levanto
Levanto is a small, pretty town with many things to offer its visitors.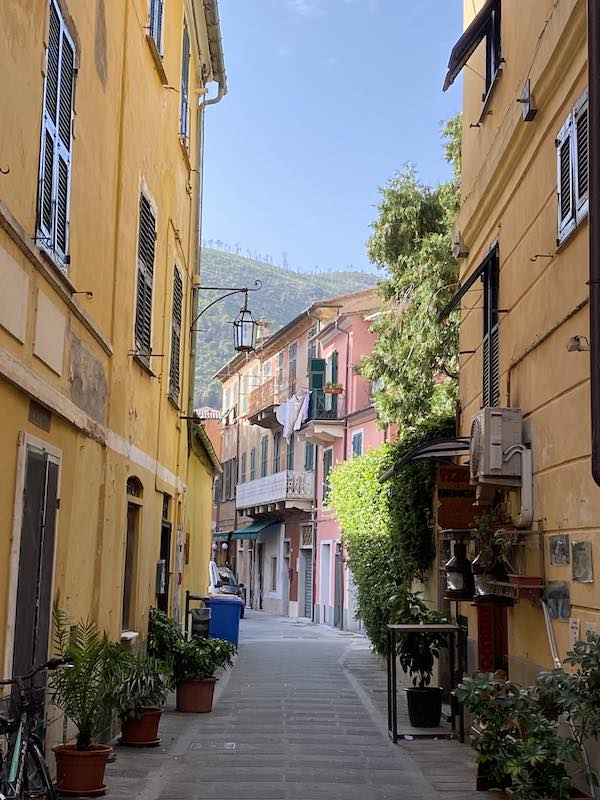 Our main reasons to visit Levanto are:
Levanto has a beautiful beach, much larger than others in the area.
The town has a wonderful relaxed, family friendly vibe
Levanto has many restaurants, cafes and shops that make it excellent for relaxing days and evenings in town.
Levanto has fantastic connections to the rest of Liguria and is an ideal base for day trips.
The prices in Levanto are usually lower than in nearby Cinque Terre, making it one of the most budget-friendly accommodation options in this area.
Last but not least, Levanto has a fantastic local feel.
While well known to tourism, Levanto doesn't get the number of day trippers the towns in Cinque Terre receive and it is much less visited than its famous neighbors.
Because of this, in Levanto you can still enjoy nice apertitivo and hear Italian spoken and get a nice meal surrounded by locals, something increasingly difficult in Cinque Terre.
The best things to do in Levanto
The best things to do in Levanto are a mix of attractions in the village itself and day trips you can take from here.
Relax on the beach
Levanto is on the coast and has a nice, reasonably large pleasant beach, with nice cafes and pretty views.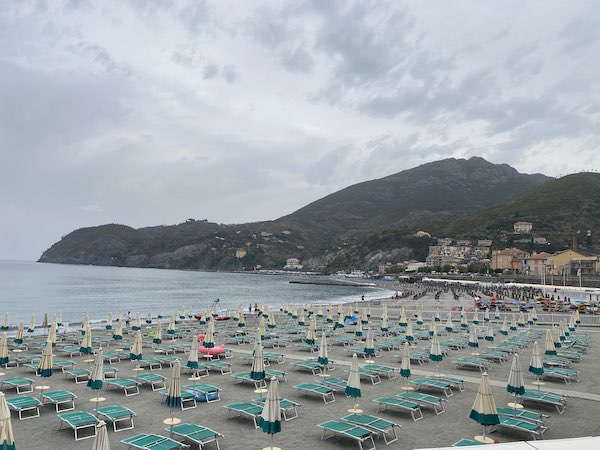 The beach is dark in color and a mix of sand and pebbles, which is typical of this area of Italy, but it is well equipped, popular and very pleasant.
Part of it is free (spiaggia libera) and part has beach clubs, which rent umbrellas, chairs and loungers for the day or the season.
Some also offer kayak and sup rentals, a super fun and active way to explore Levanto Bay.
The cubs also have cafes and restaurants with sea views, also open to the casual visitor.
We have a lovely aperitivo here with spritz and nibbles (focaccia, pizza and meats) for only 6 Euro per person. When I say Levanto is budget-friendly, I really mean it!
If you are not familiar with them, you can find here >>> our guide to Italian beach clubs
Take a stroll in Levanto's pretty center
Levanto has a pretty town center, perfect for a quiet stroll.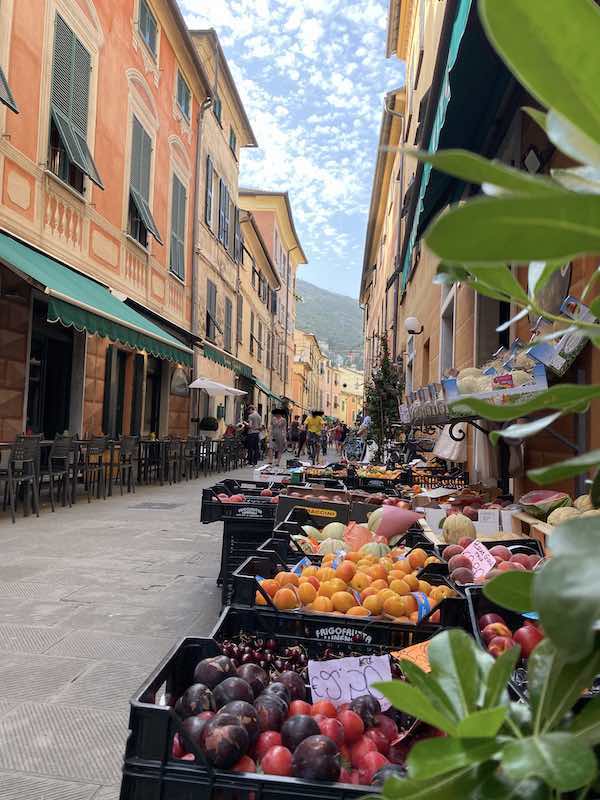 The part of town close to the beach is mostly car free and is blessed with gorgeous small streets with colorful houses, cafes and pretty shops.
Unlike most towns in Cinque Terre, Levanto has a large flat center so you don't find her as many caruggi and meandering alleys as in Vernazza or Manarola.
However, the streets here are cute and pleasant and the fact that the town is (mostly) flat means it is accessible and enjoyable also by people with mobility challenges or families with strollers.
The prettiest part of Levanto is close to the beach: if you arrive by boat, you will find Levanto town center in front of you as you wank down from the port while if you are arriving by train, you will have to negotiate a road down from the train station to the flatter area of the town.
Overall, the walk station to center or port to center won't take more than ten minutes max.
Not ot be missed in Levanto city center are Monastero delle Clarisse, busy Via Garibaldi, Oratorio di San Giacomo and the medieval Loggia, what remains of Levanto's medieval heart.
Get a bike and cycle to Bonassola
A lovely cycling path connects Levanto to Bonassola, the next coastal town.
The path follows a disused railway line and it is easy and scenic: you can rent bikes in town (for kids also) and make your own way.
The path is easy, pleasant and Bonassola at the end is lovely to get a rest after the exercise!
You usually do not need to book bikes in advance. However, if you have children and need extra equipment such as a bike seat or small bike, it can be helpful to make plans in advance so you can be sure they have the right size.
A good place for bikes in Levanto, in our experience, is Cicli Raso on Via Garibaldi, which was recommended to us by our local host.
Relax wine tasting in Levanto town center
Levanto has lovely wine bars which are perfect for a relaxing evening tasting several types of wine from the comfort of a pleasant city center location.
The place I enjoyed the most is Cantina dei Mille, which is located in central Via Garibaldi and offers the option to taste several types of wines accompanied by fresh platters of food and snacks.
They have indoor and outdoor tables: the place is beautiful, yet the vibe stays informal and welcoming.
Take the train to Cinque Terre
Levanto has a well-served train station with several daily trains to the towns of Cinque Terre.
The train journey only takes a few minutes and you can opt for a single ticket or a day pass, which allows for limitless train travel on the Cinque Terre regional train.
The pass is excellent for convenience and value: you can get hold of it in Levanto train station or, should you come here by train, in La Spezia, the bigger gateway city to this area.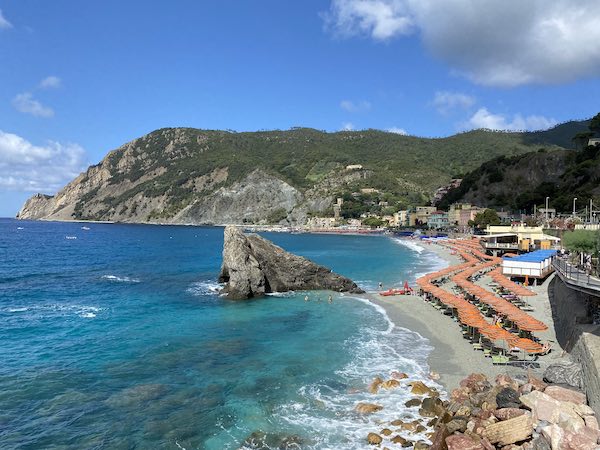 Take the boat to Cinque Terre and Porto Venere
Levanto has a good tourist port from where you can catch private boat tours or the ferry to the other towns in Cinque Terre.
The ferry is a convenient and budget-friendly option: you can get a pass for the day and you can use the boats to reach Monterosso, Vernazza, Manarola, Riomaggiore and, further away, Porto Venere.
In summer, the schedule is studied in such a way that you can see all of the coastal towns of Cinque Terre in a day, leaving Levanto at about 9 in the morning and coming back to the town at about 6pm or so.
Usually, it is not necessary to book in advance and you can get tickets on the day, at the booth at the dock.
Good to know: the ferry service is subject to weather conditions. Due to the rocky and dangerous nature of the docking in Manarola, Vernazza and Riomaggiore, it is possible that stops to these ports are suspended when sea conditions do not allow safe arrival. In that case, the ferry company gives reimbursements and/ or suspends runs until conditions clear. You can find all info and schedule here.
Private and small tour boat tours are also available from Levanto. Check out Levanto based Rosa dei Venti boat tour, departing from beside the ferry stop.
Learn to make pesto
If you love pesto, there is no better way to spend an hour in Levanto than learning the secrets behind this local Ligurian dish.
By taking a pesto class, you and will learn to make your own pesto with fresh ingredients, mortar and pestle!
A great pesto class in Levanto is this one by Arbaspaa
Where to eat in Levanto
Levanto has many restaurants and food shops selling delicacies ranging from cured meats, to focaccia, pesto and seafood.
Places we enjoyed are:
Focacceria Raso, perfect for take-out focaccia and bread
Cantina dei 1000, with nice wine and aperitivo options
La Vineria, lovely for a light meal, aperitivo and wine
Gattabriga, a small, friendly restaurant with a limited yet curated selection of good dishes
Where to stay in Levanto
In Levanto we stayed in a great rental apartment called L'Orto dei Nonni.
Located close to the station and only a few minutes from the city center, the apartment has a double room, a well-appointed bathroom, and a living area with a kitchen and sofa bed.
A lovely terrace makes it perfect for a short stay in Levanto with the option of cooking in / eating out.
Levanto with kids
I love Levanto with kids and regularly choose it for a family stay in the area.
The things that make Levanto family friendly are:
A lovely, flat town center with car-free areas and stroller-friendly roads. Levanto is stroller friendly.
A fantastic playground, one of the best playgrounds in Cinque Terre, complete with a trampoline and merry-go-round!
A lovely beach with local kids and well-priced beach clubs
Supermarkets, pharmacies and all the shops you may need for a family vacation
Excellent connections that make it easy to come back home during the day should the kids need a break
The cycling path to Bonassola is also great for kids as flat, short and easy.
How to get to Levanto
It is easy to get to Levanto by train, boat or car.
Levanto by train
The best way to get to Levanto is by train. Levanto has a good train station with trains connecting it to Sestri Levante, La Spezia and all the towns of Cinque Terre, which means Levanto works well as a gateway town to the area in Liguria in general.
In terms of distances
Levanto – La Spezia: 20 mins
Levanto – Riomaggiore: 18 mins
Levanto – Manarola: 16 mins
Levanto – Corniglia: 14 mins
Levanto – Vernazza: 9 mins
Levanto – Monterosso: 4 mins
Levanto by boat
By boat it is possible to reach Levanto from the coastal towns of Cinque Terre and from Porto Venere, which is also the connecting port for the ferry to La Spezia and Lerici.
Levanto – Monterosso is a 30 mins journey in normal weather conditions.
Levanto by car
Levanto is also easy to reach by car from motorway A12 Genova-Livorno. The motorway exit is a little far from the town and, to get in, you need to follow a local road which is good but bendy.
This, plus the difficulty of finding parking Levanto in the busy season makes the car our least favorite means of transport for this area.
In terms of distances:
La Spezia – Levanto is a little less than an hour (about 50 mins, depending on traffic)
Genoa-Levanto is about 1h20 mins
Pisa-Levanto 1h20 mins
If you are coming to Levanto from abroad, find here >>> our guide to the nearest airports to Cinque Terre.
I hope you enjoyed this quick travel guide to Levanto and our trips for visiting Levanto with kids and it helped you plan a great vacation. Safe travels!
If you want even more help or you have any questions, please in my FREE Facebook group about traveling to Italy with kids: I will be happy to have you there and the tips from me and the other members are FREE!
Travel Guide to Levanto, Italy – pin this!