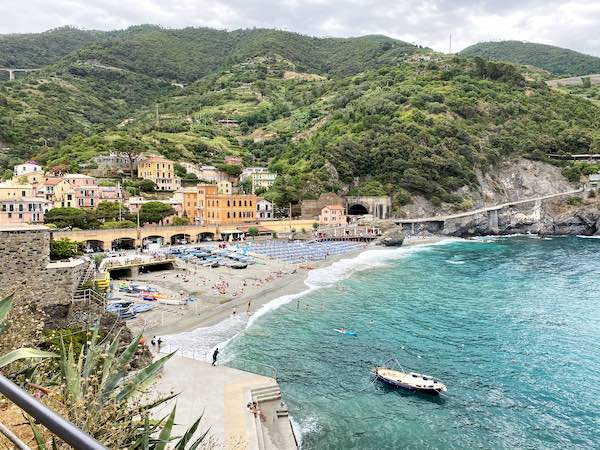 How to get to Cinque Terre from Rome by train, car, plane
Our essential guide to help you get to Cinque Terre from Rome. Travel tips for going from Rome to Cinque Terre by train, car, or plane.
Rome is about 460 Km South of Cinque Terre.
Between the city and the pretty Ligurian coastal towns of Cinque Terre lies part of Lazio and the whole of Tuscany, two of the largest regions in Italy.
However, getting to Cinque Terre from Rome is easy and less tiring or daunting than this long distance may suggest!
Thanks to great train connections and a good system of motorways, it is possible to reach Cinque Terre from Rome in about 4 or 5 hours, depending on the means of transport chosen.
I have traveled from Rome to Cinque Terre several times, the last one just this June just passed, when I went to Cinque Terre with the kids.
We took the train and had a pleasant and stress-free trip.
I share the best way to get from Rome to Cinque Terre in this quick transport guide based on my travel experience along this stretch.
How to get to Cinque Terre from Rome: chart
| | | |
| --- | --- | --- |
| Mean of transport | Duration | Difficulty |
| Rome to Cinque Terre by train RECOMMENDED | 3.5 -4h | Easy |
| Rome to Cinque Terre by car | 4 -5h | Medium |
| Rome to Cinque Terre by plane | 1.5h transport time only* | Hard |
*doesn't include time to reach the airport/ check-in etc
As you can see, the fastest and most comfortable way to get to Cinque Terre from Rome is the train.
Let's look at the different options in more detail.
Getting from Rome to Cinque Terre by train
The best way to get to Cinque Terre from Rome is the train.
Trenitalia has several high-speed trains connecting Rome to La Spezia in less than 4 hours and, from La Spezia, there are trains every few minutes bringing you to the Cinque Terre town of your choice.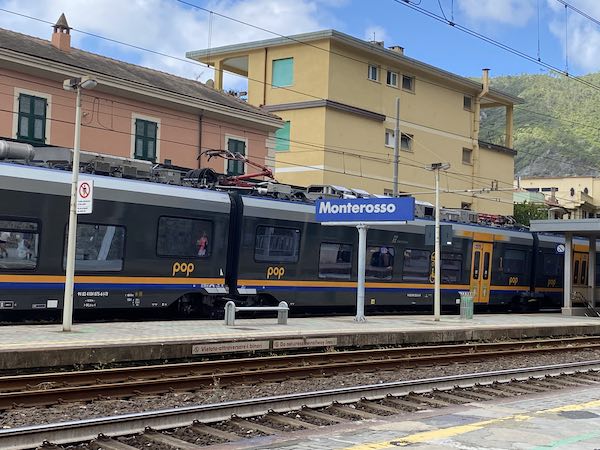 While the train trip from Rome to Cinque Terre is not direct, this change in La Spezia is quick and easy. I have just done with the kids this summer, so I can tell you exactly how to do it.
Start by booking your ticket Rome to La Spezia and La Spezia to your destination online (two separate tickets).
I like booking my Italian train tickets on Trenitalia, the website of the main railway provider in Italy.
By using this site, you deal directly with the train provider, skip intermediaries and potential extra charges and you can be sure you are always looking at the official schedule.
If you are unfamiliar with it, you can read here >>> our complete guide to train travel in Italy.
Top tip: I recommend you book your high-speed train ticket in advance. This usually means you get better prices and a wider selection of seats, important especially if traveling with family or with people you want to sit with.
On the day of departure, you only need to get to the station a few minutes before your departure time: large displays in the station departure hall, on the train platform and on the train carriage itself will help you find your train, carriage and seat.
Enjoy your journey until La Spezia.
Once in La Spezia, you leave the high-speed train and catch the regional train to Cinque Terre for the last leg of your journey.
This was the part of the trip that worried me the most, but it turned out to be very easy!
As we stepped off the train from Rome, we realized that the Cinque Terre train would arrive in less than 5 minutes at the platform right in front of us.
This was well indicated and meant we didn't have to get into the station, negotiate stairs or wander aimlessly in an unfamiliar station: the trains are scheduled to provide a seamless journey and we are happy to report they do!
Since I was so worried about missing the train, I hadn't bought my ticket in advance, so I solved the problem by quickly going online onto the Trenitalia website and buying it there and then.
However, I recommend you don't do like me but, rather, get the regional train ticket as the same time as the high-speed one.
In the unlikely event of you missing your coincidence, you can usually use your local ticket for the train after, up to 4h after the time on the ticket.
Please always check the specific rules of your ticket before availing of this option!
The regional train from La Spezia to Cinque Terre is very different from the high-speed one.
This train is clean and well kept; however, it is more of a commuter train so there is no assigned seating.
We were happy to notice that despite visiting in the high season, we didn't have any issues finding space on this train, we were always able to sit (there were 3 of us) and we highly enjoyed the air conditioning, which was a life saver in the scoring Italian summer heat!
Good to know! If you are traveling with young kids, you may be happy to hear that we found the local train to have sufficient space for strollers. We saw several families able to keep the stroller open with their child napping while getting on and off the Cinque Terre train!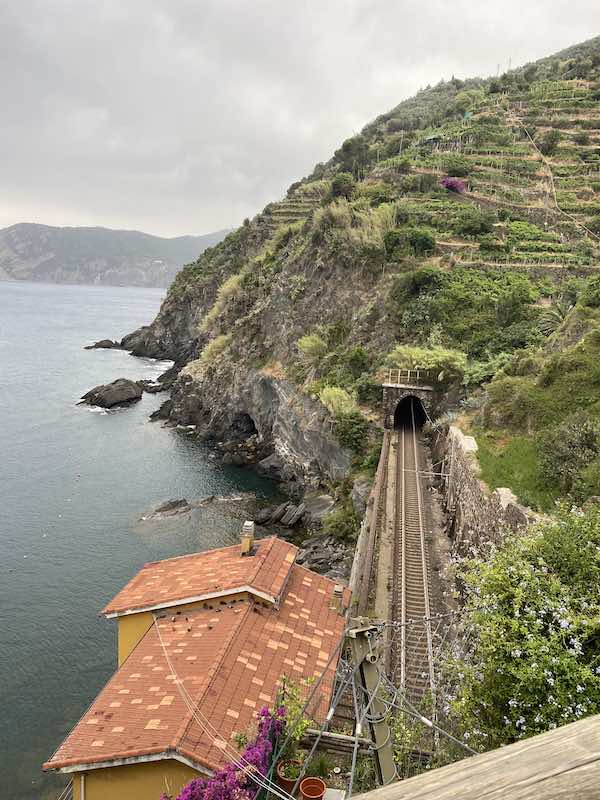 The train from La Spezia to Cinque Terre stops in all the towns and only takes a handful of minutes to get from one to the next.
Most of the journey is in tunnels; however, occasionally the train follows the coast in the open air and, when it does, the views are lovely!
The Cinque Terre train stations are almost all in the town centers. An exception is that in Corniglia, which is at the basis of the town and requires a short bus journey (or negotiating about 400 steps) to get into the village proper.
Getting to Cinque Terre from Rome by car
Getting from Rome to Cinque Terre by car is pretty straightforward.
Most of the driving is along motorways which are wide and well kept. However, we do not recommend driving to this area for a couple of reasons.
The first one is parking: parking in Cinque Terre is hard to find and very expensive. We only recommend you come here by car if you have no alternative or you have accommodation that can offer free parking.
The second reason is the type of local roads in this area.
In many cases, coming into the towns requires driving onto roads that are bendy and narrow.
This can be difficult if you are driving with people who suffer from motion sickness and can prove stressful if you are used to motorway driving or are maneuvering a large vehicle.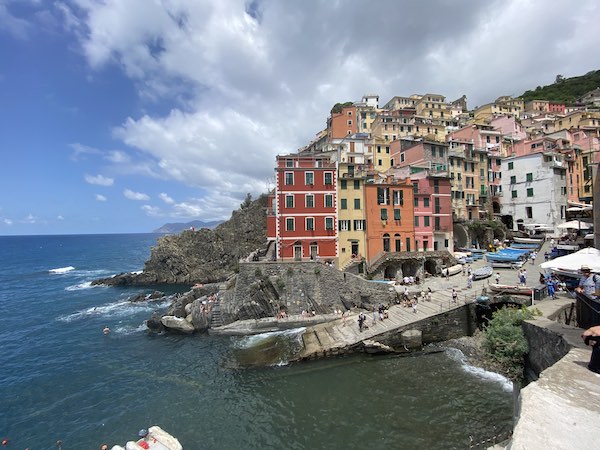 That said, if you have a car, do not despair!
If you arrive equipped with patience and a bit of cash, you can find parking in the towns or in La Spezia.
Parking spaces in Cinque Terre are in:
Monterosso, Parking Fegina: 300 spaces. 2.5€ per hour | 25€ per day.
Monterosso Parking Loreto: 100 spaces. 2.5€ per hour | 25€ per day
Parking Vernassoa (Vernazza): outside of the town but served by a handy shuttle, this parking offers the advantage of an online booking system. Quote on request but filling out the form on their website
Vernazza Parking: 90 spaces, along the state road Prezzo: 2.3€ per hour | 15 € per day
Corniglia parking: 60 spaces. 2.5 € per hour
Manarola Parking: 80 spaces. 2.5€ per hour | 20€ per day
Parcheggio Riomaggiore: 170 spaces. 4€ per hour | 35 € per day
Getting to Cinque Terre from Rome by plane
Getting from Rome to Cinque Terre by plane is possible but time-consuming and uncomfortable due to the many changes of transport required.
The closest airport to Cinque Terre you can reach from Rome is Genoa.
From here, you need to reach Genoa train station (usually Genoa Nervi or genoa Piazza Principe) and then catch the train to Cinque Terre for about 1h.
If you factor in the time it takes to get to Fiumicino airport from Rome, check-in and reach the train station, it is easy to see how much more convenient the train is. So we only recommend flying from Rome to Cinque Terre if there is no other option.
I hope you found this quick guide to getting to Cinque Terre from Rome useful. Safe travels!
Getting from Rome to Cinque Terre – pin this!