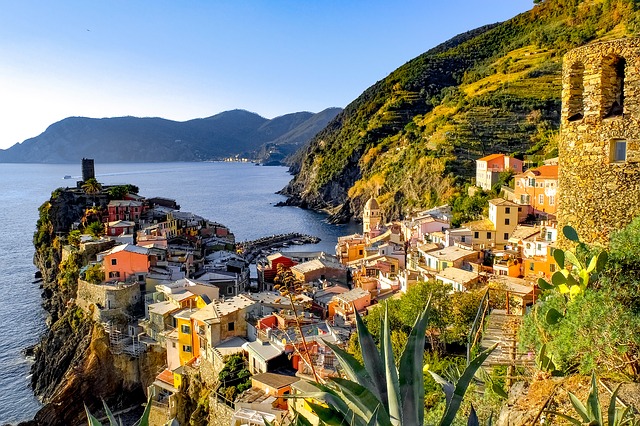 Visiting Cinque Terre with kids: all you need to know (2023/24 update)
All you need to know to visit Cinque Terre with kids in tow. Best Cinque Terre towns for families and practical travel tips for visiting Cinque Terre with a baby, toddler or school age kids. Updated August 2022.
Cinque Terre are a lovely part of Italy.
Famous for colorful houses hanging from vertical cliffs plunging into the ocean, they are at the top of the Italy bucket list of many visitors however, they are not the easiest place to visit if you have very young kids!
While it is totally possible to have a nice family stay in the Cinque Terre, there is not doubt that the nature of the terrain poses some challenges if you are visiting with babies or toddlers in particular.
However, all you need is some tips and you can be sure you will love Cinque Terre no matter what age your kids are.
This is my full practical travel guide to visiting Cinque Terre with kids!
Love Pinterest? Save this for later!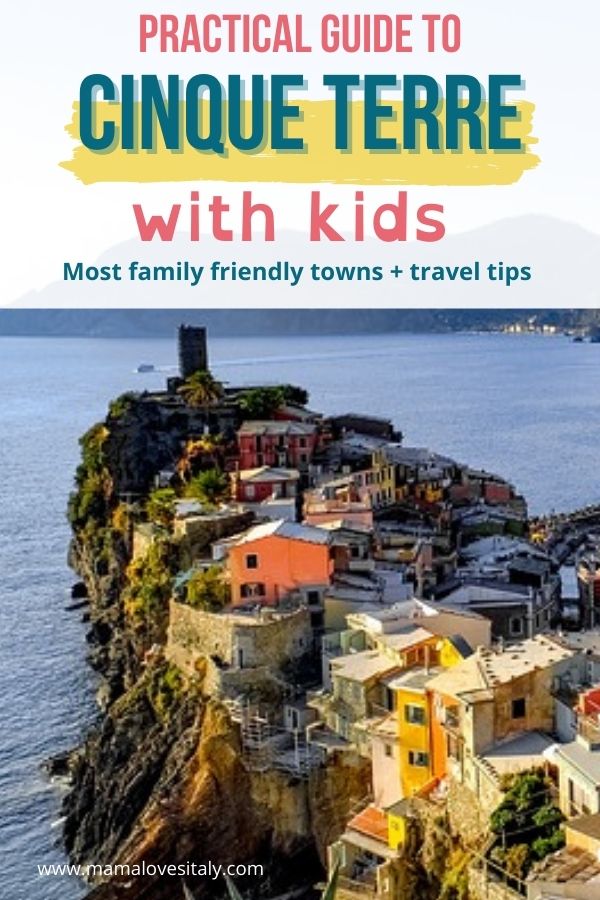 Why visiting Cinque Terre with kids
Cinque Terre are a scenic and charming part of Italy so unique UNESCO included the area in their list of World Heritage Sites.
The beauty of the area alone is a good reason to visit this area at any age and while the practical aspects of the terrain may seem to make this area children-unfriendly, it is all but.
There is plenty kids will like here.
First and foremost, the towns have gorgeous bright colors.
Each house here is a painted into a different shade and the result is a proper rainbow landscape any child will love!
Second, the area has beautiful sea and if you have kids who love to splash about and even better love a boat ride, the place will be the perfect destination for them.
Some of the towns have beautiful playgrounds, perfect for kids to play and parents to relax.
Last but not least, Cinque Terre have many lovely hiking trails suitable for different levels: tiny kids may enjoy a walk in the stroller while older ones are likely to love some of the more challenging hikes.
I have info of suitable paths for families below.
Actually, one more point!
Cinque Terre like the rest of Italy will provide plenty of gelato and pizza plus local specialties such as focaccia that are likely to make kids very happy!
What there is to do in Cinque terre for kids?
Our favorite things to do in Cinque Terre with kids is:
Catch the train to explore each village: the distances are minimal, you hop from one to the other in a matter of minutes!
Hit the trails – find a list of family friendly trails in Cinque Terre below
Play in a scenic playground – playgrounds here are small but usually in very pretty position with stunning views, great for kids and their parents
Go boating – several companies offer day excursions to see Cinque Terre from the sea or kayaking tours
Go to the beach – in Monterosso, you have space to relax and play on the sand
Eat! Focaccia, gelato, pesto, farinata… Ligurian regional food is wonderful!
Meet the cats: small kids won't be able to resist the many cats that roam this area. Give them a camera so they can have a kitty-photo scavenger hunt, it will make sightseeing so much easier!
Pro tip! If you are in this area, consider stretching beyond Cinque terra and discoer more of Liguria, there is so much to do here for families! Find here my travel guide to Liguria with kids.
Cinque Terre with baby or toddlers: challenges
Cinque Terre are easy to visit with kids once they are out of a stroller and enjoy a walk but can be a challenging place to visit with a toddler.
You main enemy here is geography: the town truly are hanging off cliffs and this means many of the roads and steep and with uneven terrain or steps.
They are super fun for older kids but, if you have a stroller, you will have some mobility issues.
My best tip is to come equipped with a good stroller (I recommend super light and foldable for this area) and opt for a baby carrier on most days.
I also recommend you choose carefully the Cinque Terre town to call home and some are much more toddler friendly than others: find below my best tips!
Find in these articles: my tips for using a stroller in Italy and my favorite baby carriers for Italy.
The best Cinque Terre towns for families
Cinque Terre is a stretch of five towns (Cinque=5) on the coast of Liguria, in the North West of Italy.
All five towns can be visited with kids by some are easier than others.
My top pick as most family friendly town in Cinque Terre is Monterosso: this is the flatter or all Cinque Terre towns and the only one with easy access to sandy beaches, which makes it perfect as a base to visit the area.
Monterosso – best Cinque Terre town for kids
Monterosso is the biggest of the 5 villages in Cinque Terre and the most popular with families thanks to its reasonably large beach (bigger than others in the area) a lovely and flat seafront for evening walks and one of the best playgrounds in Cinque Terre.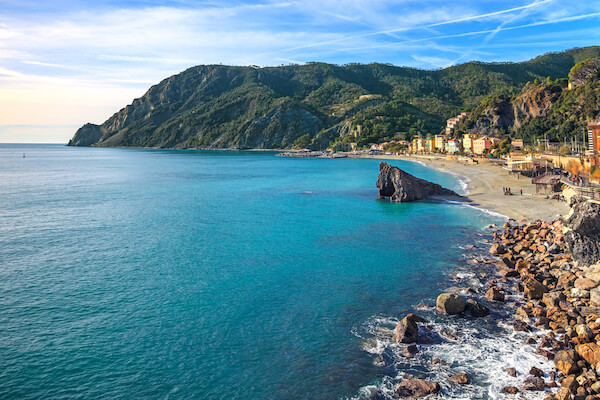 In terms of practicalities, it is the easiest town in Cinque Terre for strollers and it has plenty of kids running around which gives it a nice and family friendly feel.
Compared with other towns on the coast, you may find Monterosso less charming (if I was to biggest a romantic weekend I would probably go Vernazza or Manarola) but for young kids, this is my first choice.
Find here >> our guide to Monterosso with kids
Manarola
Another kid-friendly town in Cinque Terre is lovely Manarola.
The town has all the charms of the typical Cinque Terre town, including colorful houses, gelato, boats and it also has a lovely playground for children, with amazing views!
Unlike Monterosso however, it doesn't have a large sandy beach so it is less suited for days at the beach than for a day sightseeing.
Find here >> our family guide to Manarola and all our tips for visiting!
Riomaggiore
Riomaggiore is another lovely stops for families that mixes the charms of colorful homes and pretty harbors with the fun of a small yet beautifully located playground.
Like the others towns, it has steps so it is more suited to older kids and sightseeing with a baby carrier than for children in strollers.
Vernazza
It is hard to play favorites when it comes to Cinque Terre towns but Vernazza is one of the most scenic of all an unmissable stop when visiting the area.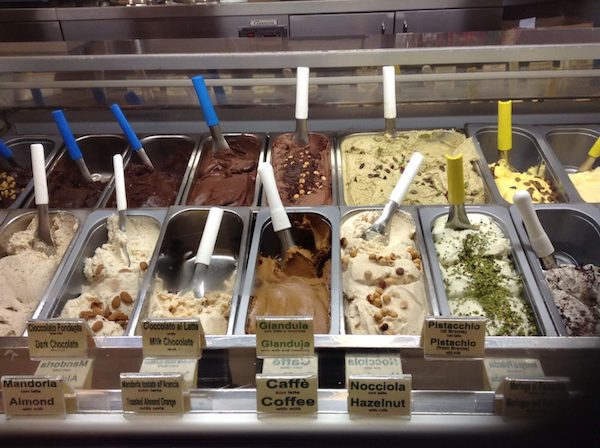 However, it is also one of the least accessible when it comes to young kids and strollers since it is a maze of tiny alleys and steps!
This however doesn't mean it is not possible to enjoy Vernazza with kids.
If you have a stroller and you cannot leave it home for the day, you can still enjoy a lovely morning at the small port, watch the boats and have gelato.
There is a lovely gelato shop right at the harbor!
Find here >> our complete travel guide to visiting Vernazza with kids
Corniglia
Corniglia is very different for the other Cinque Terre towns as it is the only one perched on top of a mountain and away from the sea.
This position means that the town offers stunning views over the Ligurian Coast and also that is see a tiny less tourism than its seaside counterparts.
I like visiting Corniglia and older kids will enjoy the idea of the 400 steps down the hill (there is also a bus, don't worry!).
However, Corniglia is not the most baby friendly town in the area and I recommend it more as a destination for a day hike more than a base to visit Cinque Terre.
Family friendly towns near Cinque Terre
Cinque Terre towns are wonderful but very popular and, as we have seen, not always super child friendly.
If budget or logistics make them out of the question, I highly recommend you also look at making your base in one of the localities nearby: Levanto is our favorite for families as it is flat, charming local, and has a lovely playground.
Family friendly hikes in Cinque Terre
Cinque Terre is a national park crissed-crossed by beautiful hiking paths, some suitable for families with kids.
Please note that even when easy, these are hikes so you should only approach them with suitable shoes and with a baby carrier rather than a stroller.
Some easy Cinque Rerre hikes are Riomaggiore to Manarola and Manarola to Corniglia – please do check with local authorities the conditions of the paths before venturing up as they do often suffer from seasonal rains and are subject to closures.
How to get to Cinque Terre
Cinque Terre are 5 villages in the southernmost part of Liguria, close to the regional border with Tuscany.
The closest international airport to Cinque Terre is Genoa and the main getaway city to the area is La Spezia, which is easy to reach by train from Genoa, Milan and even Florence.
While many visit Cinque Terre as a day trip from Florence, I highly recommend you avoid doing this with kids and stay at least one night: the trip from Florence is very long and that, plus the nature of the terrain, I believe makes fora very tiring day that is possibly ok for adults but too long and not fun enough for kids.
How many days for Cinque Terre?
Techically, you can visit all Cinque Terre villages in one day but two or even better three days are ideal for visiting Cinque Terre with kids.
This will give you the time to see the villages with ease and also tackle some of the trails without having to rush.
Getting around Cinque Terre with kids: car or train?
By far the best way to get around Cinque Terre with kids (and without) is by train.
The towns are all connected by the local train service that connects each of them in a matter of minute.
This is the fast and most sustainable way to get around and it will help you avoid one of the biggest headaches when traveling Cinque Terre: parking!
You can get the Cinque Terre Pass, which gives you access to trains and hikes: find all the info here.
What to pack for Cinque Terre with baby
Packing for Cinque Terre is no different than packing for the rest of Italy so I recommend you find our all season packing list for families with kids here.
However, I recommend you don't forget to include:
A good carrier -if planning on hiking with baby, opt for a good structures hiking one
Sun hat and sun screen for baby in spring / summer
Beach gear including water shoes for toddlers
Proper hiking shoes (for you) – essential in this area!
A good changing bag for baby with portable changing mat
A portable baby bed if not provided by the hotel
As an Amazon Associate I earn from qualifying purchases
I hope you enjoyed this guide to planning a trip to Cinque Terre with kids and it helped you get inspiration about your stay. Safe travel planning!