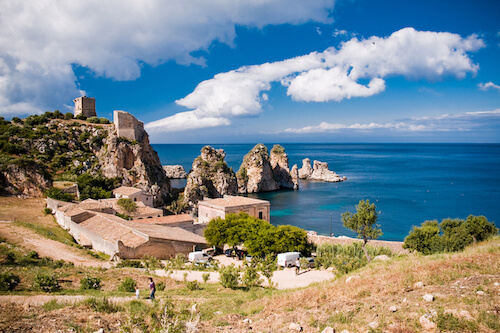 Visiting Scopello Sicily: 5 reasons you will love this picture perfect village
All you need to know about Scopello Sicily and why you should add it to your Sicily itinerary.
Scopello is a tiny village perched on top of a hill in the North West of Italy.
It is known to locals for stunning sea views and gorgeous waters and, in the last decade or so, it has gotten the attention of international tourists thanks to a cameo this village played in Hollywood's Oceans 12.
You know the final scene, where they meet in front of spectacular sea?
That is Scopello and more precisely its tonnara!
Hollywood pedigree aside, there is more to see in Scopello than a filming location.
These are the best things to see and do in the area.
The best things to do in Scopello
Learn about Scopello's baglio
Scopello is a small village that developed around a baglio, a traditional Sicilian country estate.
The baglio is still at the center of the town. You enter via the main gate to the estate and you quickly find yourself inside a walled piazza, now dotted with cafes and souvenir shops.
at the center of it, a large tree provides some shade and gives to this lovely area a distinctive Mediterranean feel!
You can visit the baglio in a matter of minutes but it is a lovely place to sit and rest: the cafes have nice terraces and they are perfect to indulge in a cup of coffee and, why not, a taste of cannoli or arancini!
Visit Scopello's Tonnara
While there is more to Scopello than its tonnara, there is not doubt that this is the jewel in the crown.
A tonnara is a place originally used for fishing tuna and the one is Scopello is in a particularly scenic location.
the sea here is stunning, clean and inviting and its waters are among the best in the area.
there is no beach here as such, it is a rocky spot, but it is beautiful and worth the short trek downhill from the main Scopello square.
The tonnara is now a museum and its old living quarters have been turned into apartments, which can now be rented!
You can read about it here
Enjoy Scopello's best beaches
Scopello is in an area of great natural beauty and while it doesn't have a beach itself, it is withing a short driving distance to many.
The best Scopello beaches are:
Playa at Castellammare del Golfo – Beautiful sandy beach just outside of Scopello.
This is the best Scopello beach if you want a full on beach day and if you are visiting Scopello with children
Zingaro Reserve – A stunning natural reserve with beautiful beaches and crystal clear water
Cala Mazzo di Sciacca – Wonderful, family friendly beach with slowly degrading sea access, option to rent sun loungers and umbrellas and amazing views and water.
Baia di Guidaloca – A wonderful beach with calm, crystal clear waters and rocky areas perfect for snorkeling
Taste the local food
Scopello is a great place for foodies, who can taste many Sicilian specialties here.
Some worth trying are:
Pane Cunzato, a type of local bread with tomato sauce, cheese and anchovies
Sfincione, a type of focaccia with tomatoes, onions and anchovies
Arancini (or arancine, as I have learnt they are called locally), fried rice balls typical of Sicilian cuisine
Fish and seafood, locally fished and cooked
See Scopello's open air church
Scopello develops around its baglio and its most charming streets are between the baglio itself and the tonnara.
However, there is one place that is worth seeing and that you will find right at the entrance of the town: Scopello's open air church!
This is a beautiful open space with seats for the congregation places in such a way that you get a view of the altar against the backdrop of the sea.
It is stunning and worth a stop!
How to get to Scopello from Palermo
Scopello is in between Palermo and Trapani and the best way to get there is by car.
the drive from Palermo to Scopello is easy, the only challenge potentially being Palermo's traffic, and you have good parking options outside of the town.
The town itself is car free: ask your hotel, if staying for the night, about the best parking solution for your needs.
Scopello is small so if you are in the village, you won't have issues moving around.
Hotels also offer pick up service from both Palermo and Trapani.
This can be a good solution for a short stay however, Sicily is easier explored by car so if you plan on a longer trip, renting one will come in handy.
I hope you enjoyed this quick overview and tips on visiting Scopello Sicily and it inspired you to add this small charming village to your Sicily experience. Safe travel planning!