One day in Cortona: best things to see and do
Travel guide to Cortona, beautiful hilltop town in Tuscany. The best things to see and do, what to eat, practical tips for planning one day in Cortona.
If your dream trip to Italy involves sipping aperitivo in a piazza, in a hilltop village with beautiful views over rolling hills, then you should add to your Italian itinerary the town of Cortona.
Perched on top of a hill in Tuscany, Cortona is an ancient walled town with a pretty city center, lovely piazzas, many churches and interesting history and you can visit it for the day or use it as a base to explore the area.
Cortona gained international fame as the set of Under the Tuscan Sun however, the city dates from Etruscan times and has a lot to offer to its visitors.
This is all you can see in Cortona.
What is special about Cortona
Cortona is a walled hilltop town with a beautiful medieval center and important Etruscan museum.
It is one of the prettiest towns in Tuscany if you are looking for beautiful Medieval atmosphere and people love it because of its delicious food and beautiful natural position.
Thanks to its long history, Cortona also has beautiful churches and interesting Etruscan sites that make it a good place to visit for art and history lovers.
The best things to see in Cortona in a day
Cortona is a lovely town that can be easily seen in one day.
If you have longer in the area, I highly recommend you stay in the country near the town and rent a car to explore.
Good places to visit near Cortona are Montepulciano (45 mins by car), Pienza (1 hour by car), Montalcino (1 hour by car), San Quirico d'Orcia Orvieto (1h15mins)
Piazza della Repubblica
Piazza della Repubblica is the main square in Cortona and the first one you encounter when walking up from the city gates.
The piazza is overlooked by the beautiful Palazzo Comunale, easy to recognize by it large staircase and tower, and it is surrounded with cafes and restaurants, perfect to sit and watch life go by.
The piazza is almost entirely surrounded by historical palazzi and while they tend to be private homes now and closed to the public, they are worth admiring even just from the outside for their beauty and historical value.
From the piazza, you can access Via Nazionale which is pleasant (think cafes etc) and pretty much the only street in Cortona not on a slope – a good place for a walk!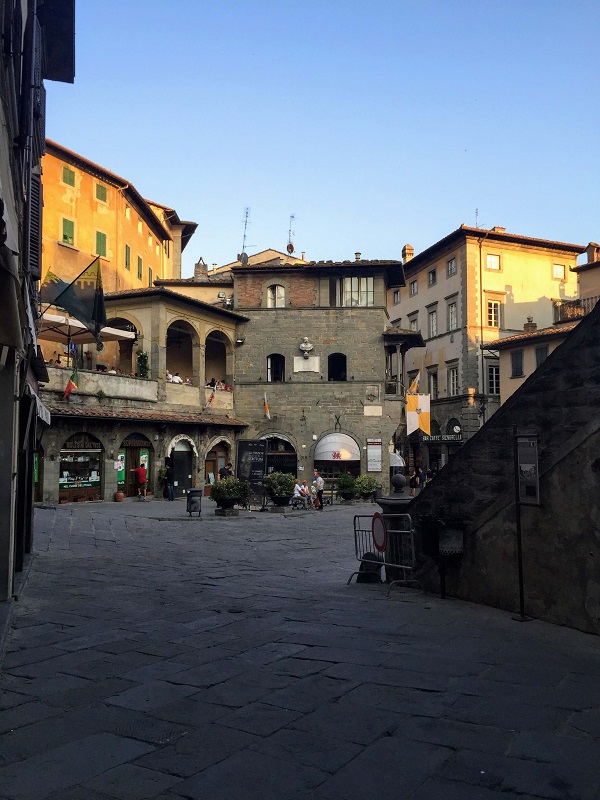 Piazza Signorelli
Piazza Signorelli isaround the corner from Piazza della Repubblica and surprised the visitor as somehow you wouldn't really expect another piazza to be there!
It is a good surprise though as the piazza is beautiful: the main building here is called Teatro Signorelli, which is worth seeing.
The piazza is the meeting point of several streets, a wonderful examples of medieval piazza and it is also home to the MAEC, Cortona's Etruscan museums, a town's gem.
Cortona's Etruscan Museum
Cortona is Etrusan in origin and a great place to learn about this still partially mysterious civilization.
The are has several Etruscan remains and a beautiful museum hosted in Palazzo Casali, a XIII century palazzo itself worth seeing.
The museum has local artifacts from Etruscan time and from Roman times, all coming from the local area, and it is also where you have he Etruscan academy and their wonderful library, worth seeing.
The Diocesam museum
Another important Cortona museum worth seeing is the diocesan museum, hosted in an old church.
The museum has some wonderful art pieces including an annunciazione and a trittico by Beato Angelico
Cortona's medieval streets
While specific attractions in Cortona are worth seeing, Cortona is more than just the sum of its parts and one of the best ways to spend one day in Cortona is just to stroll around its pretty center.
The streets tend to climb up towards the town center and they often offer views over the surrounding countryside that add a special backdrop to this already beautiful town.
Cortona's many churches
Cortona has many churches, more than you would expect considering its size!
some worth seeing are:
The Duomo, with both Romanesque and Renaissance traits
St Francis' church, with some interesting artworks
The church or Santa Margherita dating to the XIII century but vastly rebuilt in the XIX century
Santa Maria delle Grazie al Calcinaio, outside the town center but important for the faithful as a place where Mary is said to have appeared.
Eremo le Celle
Eremo Le Celle hermitage is immediately outside of Cortona town center and it is a wonderful Franciscan hermitage worth seeing.
The hermitage dates from the early XIII century and hosted St Francis himself who wrote here his spiritual testament.
It is wonderful to visit because of the peace it evokes and the harmony between building and nature that was so important to Francis's vision.
If you only have one day in Cortona and want to see the hermitage, I recommend you plan a visit at the beginning or at the end of your day in Cortona so to minimize the need to find parking which, in the high season, can require a bit of patience.
What to buy in Cortona
Cortona is well equipped to welcome tourists and has several shops that are great to buy authentic Italian souvenirs.
Among the best things to buy here there are oil and wine, kitchen utensils (they have lovely utensils in local wood and tea towels for instance) and leather, which is a traditional craft of Tuscany.
What to eat in Cortona
Cortona is a wonderful place to taste traditional Tuscan food. Food from Tuscany is earthy and flavorsome and some of the best things to try are:
Pasta with wild boar ragout (try pici, a type of pasta from Siena, not too far from here)
Ribollita, a typical Tuscan bread soup
Pappa col pomodoro, Tuscan tomato soup, delicious
Cantucci col vin santo (hard almon biscuits with sweet wine, typical from
Tuscan bead (this is made with no salt and it is surprisingly addictive!
How to get to Cortona
Cortona is in the South West of Tuscany and can be reached by car or train.
By car: Cortona is a couple of hours north West of Rome and it can be easily reached by motorway. The town center is closed to traffic but you can leave the car in one of several parking ares immediately outside the city walls (pay and display, bring coins)
If you get to Cortona by train, the station you get to is called Camucia-Cortona. The station is a few KM from the town but a regular bus brings you up
What to pack for one day in Cortona
Cortona is cold in winter and hot in summer so dressing for the weather is important.
The main thing you need here are good shoes both for the town (you will visit on foot) and for the beautiful walks to the churches farther up on the hill and if you want to reach the archaeological park.
You do not need special attire for Cortona but you can do with some good luggage, should you make it your base for your holiday (you don't want to carry bags up this hill!). You can find my recommended luggage for Italy here.
I hope you enjoyed this guide to one day in Cortona and it helped you decide to add this beautiful town to your itinerary. Safe travel planning!
How to spend one day in Cortona image for pinterest