Hot springs in Tuscany and thermal baths in Tuscany you will love
A handpicked selection of the best thermal baths and hot springs in Tuscany, Italy.
Tuscany is famous for many things: art, pretty villages, rolling hills but did you know it also had wonderful thermal baths?
Whether you are looking for a full spa experience or just a dip into natural hot spring, Tuscany delivers.
These are the best thermal baths in Tuscany and the resources you need to plan a trip.
Best Tuscany hot springs chart
| | | |
| --- | --- | --- |
| Name of Thermal Bath area | Type of thermal bath experience | Free |
| Saturnia Thermal Springs | Natural hot spring baths / Full Spa | Y/N |
| Bagno Vignoni | Thermal baths and spa | N |
| Chianciano Terme Thermal baths Tuscany | Thermal baths and spa | N |
| Bagni San Filippo | Natural hot spring | Y |
| Venturina and Sassetta Thermal Baths | Thermal baths and spa | N |
Saturnia hot springs – best free hot springs in Tuscany
Saturnia thermal springs are among the most famous in Tuscany and by far the most photographed!
Located in the South of the region, Saturnia has been a popular destination for hot baths for locals for decades but only came to the world stage in recent years ,when aerial shots of the area showcased how beautiful this area really is.
Indeed, this is a bit of a special place!
In Saturnia, in the area called Cascate del Mulino, the water flows down an incline creating a series of natural, degrading pools of translucent water, slowly cascading towards a small river.
At its top, an old mill still stands, overlooking the water, and around you have the fabulous rolling hills Tuscany is famous for.
The water in Saturnia flows at about 37.5C degrees, just above body temperature, and in winter, you can see the steam raising form the little pools, adding a touch of magic and mystique to the place.
Saturnia's Cascate del Mulino are free to visit: a large car park is located just beside the water and a small cafe serves snacks and provides access to facilities during the busy season.
However, this is a natural place so you should not expect a full thermal station experience: for that, you need to go across the road where the same hot spring flows into the beautiful Saturnia thermal spa, where you can also get treatments and pampering sessions.
You can learn how to visit Saturnia hot spring here.
Bagno Vignoni – thermal baths in Tuscany Val D'Orcia
Bagno Vignoni is a a beautiful, tiny village in scenic Val d'Orcia famous for a wonderful thermal spring that has attracted visitors here since ancient times.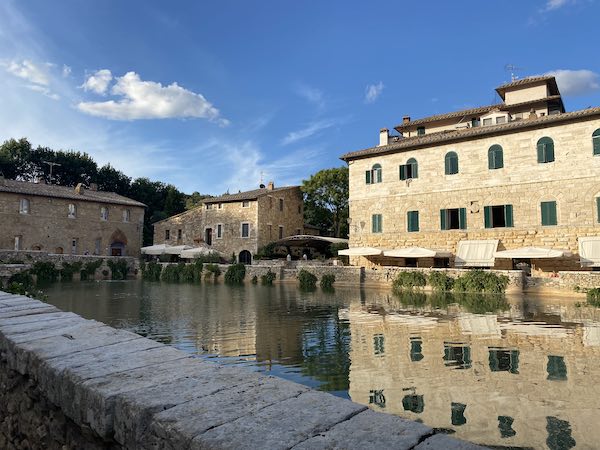 The hot water here flows naturally from underground and feeds not just beautiful spa centers in and around the village but also the stunning center fountain in the main village piazza, which is effectively a large, hot pool!
The presence of the water makes Bagno Vignoni truly special: while the main pool in the piazza is not accessible to bathers, several hotels are equipped with beautiful thermals pools that also offer day passes.
The one I love most of all is called Hotel Posta Marcucci: locate immediately beside the main Bagno Vignoni Piazza, it has stunning outdoor thermal pools where you can relax while taking in the view over the rolling hills that make this part of Tuscany so famous.
You can find my tips on visiting Bagno Vignoni here.
Chianciano Terme – thermal baths and treatments
Chianciano Terme is a modern town in the South of Tuscany famous for hot springs and thermal bath houses offering treatment to aid mental and physical health.
Unlike the other thermal springs in Tuscany mentioned above, this is not a place of great charm but rather a well equipped, functional one perfect for those who want a thermal spa break more than a dip in natural spring water.
There are several establishments offering treatments, some more geared towards health and more towards relaxation. Our favorite is the Theia Thermal Baths.
This is a nice lovely, clean and modern bath house with stunning outdoor pools, a nice lawn area, a restaurants and a nice kids area, perfect for young families who don't want to renounce them baths experience just because they have little ones.
You can get a half day or evening pass and make a day out of it: all information about these baths are here.
We went with the kids this summer and highly recommend going: these are among the best thermal baths in Tuscany and one of the things we recommend trying if visiting Tuscany with kids.
Bagni San Filippo: free, scenic hot springs in Tuscany
if you are looking for free and scenic hot springs in Tuscany then you will love Bagni San Filippo, a place where you can bathe for free in the middle of a forest!
Bagni San Filippo is in Val d'Orcia, a short drive from Montepulciano and Pienza and it is special under a couple of points of view.
First, the hot water here flows as river through a wood, so bathing here means feeling like you are truly one with nature, the large canopy of trees above you as you relax.
Second, the water here is filled with a white sediment that. over time, has created impressive white formation that make the area appear as it made of snow! The most famous of this formation is called 'la balena bianca' aka 'the white whale' as this is exactly what it looks like!
The result is stunning and the place popular. A good car park serves the area and the spring is only a short walk away.
These are the best free hot springs in Tuscany if you are looking to be immersed in nature.
Just be aware that the place can get busy: come during he week or early in the morning for the best experience.
Venturina Thermal Baths
Another fabulous place where to experience the relaxing effects of Tuscany hot springs is the small towns of Venturina and Sassetta, two villages in Maremma, one of the most beautiful areas of Tuscany.
Venturina and Sassetta are in an enviable location, nestled un gorgeous hills but a stone throw from the Etruscan coast one of the most beautiful stretched of coastline in Tuscany, blessed with beautiful beaches.
Venturina is a famous for its hot springs that bring water to a gorgeous spa hotel and bath house, Calidario – Etruscan baths.
The Calidario is a wonderful structure with large outdoor pools, a plethora of spa treatments to choose from and lovely restaurant and lounge.
The spa offers day passes but you can also stay the night in their excellent hotel.
This is one of the best places to experience hot baths in Tuscany in elegant surroundings.
Sassetta nearby has wonderful thermal pools immersed in a large park and it perfect if you want a relaxing experience in natural surroundings without renouncing the advantages of a well appointed thermal institution.

Venturina and Sassetta are close to the lovely town of Bolgheri, which we also highly recommend you visit.
Other hot springs in Tuscany we recommend
I hope you enjoyed this overview of the best hot springs in Tuscany and recommendation on good destinations for thermal baths. Safe travel planning!