Pienza Italy: why you will love Tuscany's 'Ideal town' and the travel tips you need to plan a visit
All you need to know to visit Pienza Italy: what to see in Pienza, what makes it special and the travel tips you need to visit this beautiful Tuscan hilltop town.
Have you ever visited an ideal city? If you find yourself in Tuscany, you can do just that by visiting the wonderful town of Pienza!
Perched on top of a beautiful hill in scenic Val d'Orcia, Pienza is a small town with incredible history.
Originally just a village like many others in the area, Pienza saw his history and fame change in the late 1400s.
At that time, the town gave birth to Enea Silvio Piccolomini, aka Pope Pius II, who decided to honor his town by turning it into an 'ideal city'. A follower of Humanist vision and philosophy, he turned Pienza into an urban utopia and we can still see the result of his vision today.
Today, Pienza is a beautiful hilltop town in Tuscany with a distinct character, stunning location and interesting history.
This is all you need to know to plan a visit.
What is special about Pienza
Pienza is a renaissance town built to embody the Humanist vision of the 'ideal city'.
Such an ambitious design came into existence thanks to Pienza's most famous citizen, Enea Silvio Piccolomini (Pope Pius II).
Born in the town, Enea Silvio Piccolomini decided to redesign his small village and make his beloved hometown the embodiment of humanist architectural harmony and ideas.
He gave the job to architect Bernardo 'il Rossellino' and the great humanist Leon Battista Alberti.
In 3 years they built the stunning Piazza Centrale, Pienza Cathedral, the Papal Residence, and the Municipal palazzo, effectively creating a new town, the city of Pius: 'Pienza'
Happy with the result of his redesign, Pius II made Palazzo Piccolomini his summer residence and if you are lucky enough to come to this part of the world, it is easy to see the reason behind this choice.
Pienza is a gem: the architecture blends into the landscape beautifully and the town offers some of the most beautiful views over the Orcia Valley you can ask for.
This plus pretty alleys, excellent food and a strong tourism vocation make Pienza one of the best towns to visit in the area.
Please note: this post contains affiliate links. Should you make a purchase, we might make a small commission.
Who should visit Pienza
Pienza is suitable to all types of visitors and in particular:
Cultural tourist and lovers of history
Families (Pienza is car free and has a lovely playground)
Foodies – Pienza is famous for its pecorino cheese!
Photographers – for the stunning landsape photo opportunities in and near the town
Movie lovers – the last scene of 'Gladiator' ws film here!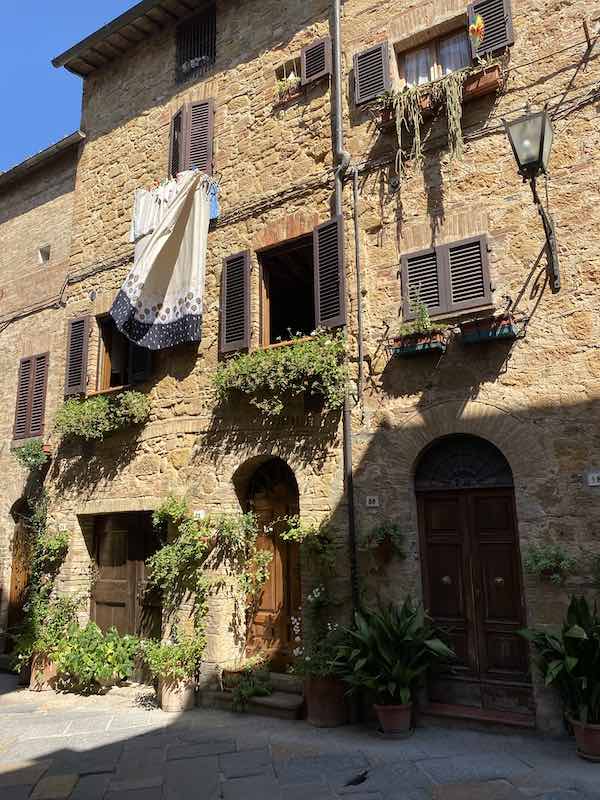 What to see and do in Pienza
Pienza is a small village perched on a hill in Val d'Orcia, the heart of Tuscany.
Like other towns in the area, its charm stands in the ability to immerse yourself in a 360 historical town and feel time stand still however, there are several landmarks in Pienza worth seeking out.
Admire Piazza Pio II
Piazza Pio II, Pienza's central main square, is the heart of the city's Renaissance design.
It has a peculiar trapezoidal shape and is entirely surrounded by buildings in soft and soothing honey colors.
The piazza is overlooked by Pienza's Duomo, the elegant Palazzo Piccolomini, and has a stunning ancient well called 'pozzo dei cani' (dog's well), somewhat reminiscent of others in the area such as that in San Quirico d'Orcia or Montepulciano.
Piazza Pio II is a lovely introduction to Pienza.
The proportions of the square embody that sense of harmony Pius II wanted its town to evoke and the piazza is very much in use today: as well as a pretty place for people to visit, it is also the location of summer concerts and a great spot to sit and watch life pass by.
The square is car free: from here, you can visit the duomo, palazzo Piccolomini and access the town walls, which are scenic and wonderful for a walk, especially at sunset.
Take a guided tour of Palazzo Piccolomini
Palazzo Piccolomini stands beside Pienza's Duomo and and it is worth a visit inside.
Tours start at regular intervals during the day, last 40 minutes and are orgaized with a host and an audioguide: the host leads through a sequence of rooms and explains how to use the audioguide, so you can hear the explanation in your own language and your own time.
The guided tour of the palazzo is interesting and some room, such as the armours room and the Pope's bedroom, are interesting for kids too.
The tour of the building end in the stunning suspended garden: this is a small but stunning outside space that offers sweeping views of the countryside and seems to blend in with the colors of the hills behind it!
The visual connection between the garden and the views is intentional and at the heart of the vision for this 'ideal' town.
Vist Pienza's cathedral: il Duomo
Piazza Pio II is dominated by Pienza's duomo, with a beautiful, white colored stone facade.
Pius II was influenced by several styles and we can still spot some of them: the 3 naves are reminiscent of German churches, many elements of the facade recall the work of Alberti in Florence and the duomo also has unmistakable Gothic elements.
The church is wonderful: large windows flood it with natural light and, on a bright day, make it positively ethereal!
The facade has been restored in 2020/2021 and it is now possible to fully appreciate the harmony of its composition and its delicate carvings.
Take a walk on Pienza's bastions
Pienza was a fortified town and now its bastions offer the opportunity to take a wonderful walk to take in its beautiful surrounding.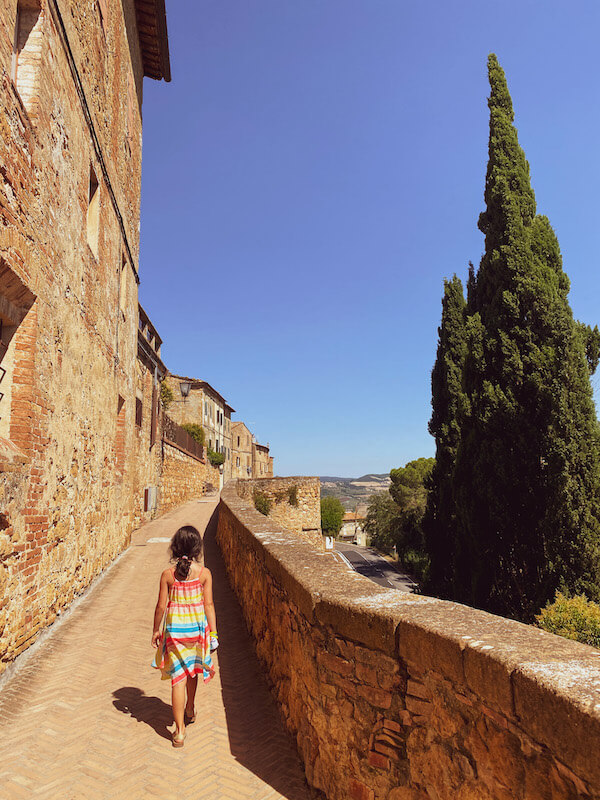 The bastions are distinctive of Pienza and the first thing you notice as you drive towards the town.
From their top, you get sweeping views of Val d'Orcia and you can also enjoy the back of some of the prettiest houses in Pienza and imagine what it must be like to wake up to that view!
Top tip! If you are in Pienza at sunset, you can enjoy the bastions while sipping a drink! To the right of the duomo, a small alley leads you to a scenic bar with delicious cocktails, perfect for aperitivo with a view!
Explore Pienza's small alleys
Pienza develops around a main street and square however, some of the prettiest corners of the town can be found exploring the little alleys on the two sides of it.
Here is where you find small and cute piazzas and cafes, pergolas, arches ,flowery balconies and where you can catch stunning and unexpected views.
Taste Pienza's famous pecorino cheese
Tuscany is famous for the quality of its food but Pienza stands out for the production of one of the most praised products from the area: pecorino cheese!
The cheese is sold everywhere here and also present in all the local menus as part of a platter, as an ingredient for a pasta dish or even cooked as a warming main (cacio cotto).
We had several variations of in a restaurant called "La Chioccola" that has also a nice outside pergola we enjoyed.
Fun fact! In September, Pienza celebrated 'fiera del cacio', a folkloric event with local producers testing their skills at making cacio wheels roll around a wooden pole in Pienza's main square!
Walk to the Gladiator's Cypress trees
A fantastic way to immerse yourself in the magic of Pienza is by taking a walk in the wheat fields that surround the town, from where you get sweeping views of the surrounding countryside and Pienza itself.
You can do this by following a small country road leading you from Pienza's main entrance to a place called Pieve di Corsignano first and then stretching you legs a little farther to the so called 'Gladiator's Cypresses' which are just waht you think they are: the beautifl field and trees appearing in the last scene of the movie 'Gladiator'!
The walk to the cypress trees is easy: from Pienza, follow the signs for 'Pieve di Corsignano': in less than ten minutes, you will find yourself in front of a delightful small church and the start of a trail among olive trees.
Visit the church, then follow the path for about five more minutes: the view you have been looking for is in front of you!
Pienza with kids
Pienza is a family-friendly town which we found excellent for kids.
The town center is compact and car-free, there is a nice playground just outside the city walls and there are several shops and supermarkets for daily groceries should you wish to cook for yourself or get a picnic.
Our children enjoy the freedom to run around Pienza without the fear of getting lost, the love the several gelato shops you find in Pienza and enjoy the walk to the cypresses, even if they are too young to have seen Gladiator!
The walk is a delight and a will tire them just about enough to then be able to sit and have aperitivo without complaints!
We recommend it as one of the best places to visit in Tuscany with kids!
Practical tips for your visit to Pienza
Pienza is best reached by car.
The historical center is for pedestrian traffic only but large, pay and display parking spaces are available just outside the city walls. Bring coins!
Pienza is overall flat and doesn't pose any particular mobility issue. If you are visiting with kids, a stroller here is ok.
You can visit Pienza in half a day or you can spend the night. In that case, check out the scenic Relais il Chiostro, located right in Pienza centro storico, just off the main piazza.
Beautiful towns within easy reach from Pienza are Siena, Montalcino, San Quirico d'Orcia and Montepulciano. Florence is about 2 hours north of Pienza.
I hope you enjoyed this quick guide to Pienza and it inspired you to visit. Safe travel planning!