Italy souvenirs: souvenirs to buy in Italy you will love
Italy souvenirs you will love: learn how to pick good souvenirs to bring home from Italy and what to buy where to bring memories of Italy back home.
Souvenirs are one of the easiest way to bring home a memory from a trip however, choosing one is not always easy.
With souvenir shops selling knick-knacks of various kinds without disclosing where they were made, you may find yourself at a loss when trying to distinguish what is a local craft and what isn't.
While you always need to check with the seller about the individual item, knowing what crafts are local where can come in handy.
In this article we look at the best things to buy in Italy, where to buy what and how to pick the best Italy souvenirs to bring home for yourself or as a gift for Italy lovers!
Please note: this post contains affiliate links. Should you make a purchase, we might make a small commission.
No time to read now? Pin this for later!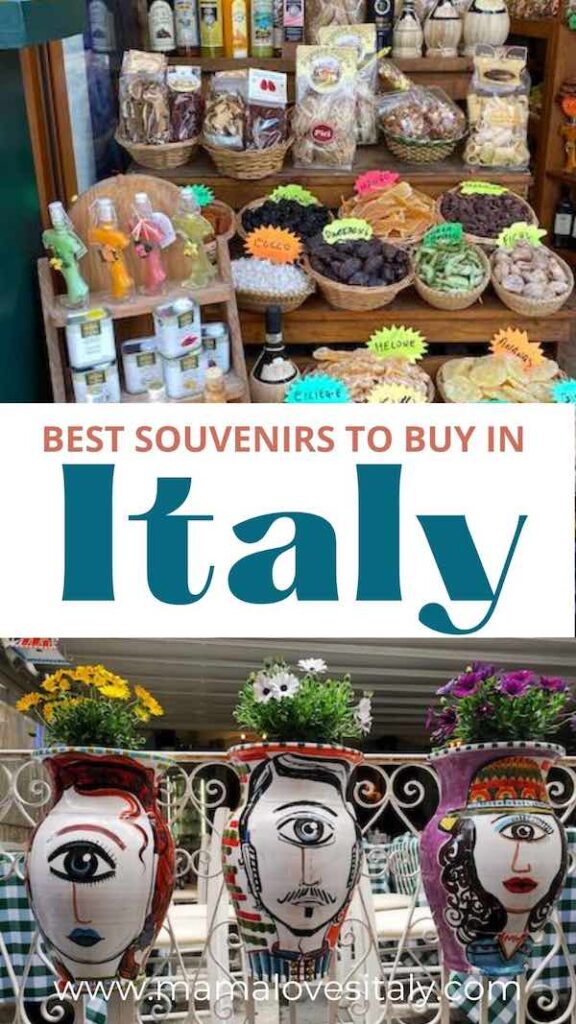 The best edible Italy souvenirs: food from Italy you can bring or ship home
Edible souvenirs are a great thing to bring or ship home from Italy.
Italy is famous for the production of food and many made in Italy foods preserve well, meaning they can easily face even a long overseas trip.
The best food souvenirs from Italy are:
Chocolate
Italy has a strong tradition of chocolate making, both of the artisan and industrial type.
Best places where to get chocolate souvenirs in Italy are:
Torino and Piedmont area, famous especially for the sweet and nutty chocolate confection called 'gianduia'
Cremona – famous for torrone, a chocolate, honey and nuts Christmas confection
Perugia – home of the famous Perugina chocolate house
Modica – famous for artisan chocolate
Many of these chocolate creations are for sale in different parts of Italy so it is possible to find authentic chocolate crafts even a little farther afield form their area of origin.
Check the labels and have a look at our guide to chocolate in Italy so you know what to look for.
Some chocolate shops in Italy we love are Venchi (many shops around the country), Rome chocolate factory (Rome) , Vizio Virtu' (Venice).
Italian biscotti (Italian biscuits)
Biscotti is the generic Italian word for biscuit or cookie and covers a large variety of biscuits and baked goodies.
You can find biscotti anywhere in Italy, even in normal supermarkets in the breakfast isle, however, some are real works of foodie art and are so good and local, they make the perfect Italy souvenir!
Italian biscuits you may want to bring home from Italy are:
Canestrelli – small, butter biscuits in the shape of a flower with a hole in the center and dusted with powdered sugar.
They are exceptionally popular in Liguria and Piedmont but can be found in most parts of Italy wither fresh in bakeries or in supermarkets
Cantucci – Cantucci or Canticcini are biscuits with almonds you usually dunk in Vin Santo.
They are a specialty of Tuscany and they are usually served at the end of the meal with a small glass of dessert wine but they are also popular in other parts of Italy where they are often called 'tozzetti'.
Almond or pistacchio biscuits – from Sicily especially
Baci di Dama – delightful Italian biscuits from Piedmont, with two halves of airy biscuit dough and a thin layer or hazelnut cream in the center
Buranelli – butter biscuits from Burano, perfect for dunking in tea or coffee
Ricciarelli – typical biscuit from Siena made with sugar, almonds and butter
Extra Virgin Olive Oil and balsamic vinegar
Extra Virgin Olive Oil and Balsamic Vinegar preserve well and are among the easiest edible Italy souvenirs to bring home (I should say: ship home, since they can pr pretty heavy!)
Olive Oil is produced in several Italian regions, namely Puglia, Calabria, Sicily (which have the lion share of the production) and the Tuscany, Umbria and Lazio.
The best way to make sure you pick the best extra virgin olive oil is to join an olive oil tour with tasting such as this one, so you know where your oil comes from.
Balsamic vinegar is typical of Modena so if you want to buy the real thing, Emilia Romagna is the area to look for.
Like for olive oil, a fun way to pick the best balsamic to send home is to get a tasting tour first. You can find more info here.
Parma Ham
Parma Ham is one of the most famous Italian foods abroad and one of the country's most successful food exports.
It is a great Italy souvenir to send home as it is easy packaged: make sure you tell the shop keeper you will travel with it and they will take care of the right protective packaging to keep it at its best.
Parma Ham is from the region of Parma in Emilia Romagna although it is a protected brand so if you buy 'Prosciutto di Parma' in other parts of Italy, you know you will get the real thing.
Parmesan Cheese
Parmesan is another famous Italian product you can bring home. Like Parma Ham, it can be easily packages in protective atmosphere and it is a protected DOC food product, so you know you get the real thing even if not in Parma.
Other Italian cheese
if you love cheese then you may also want to stock up on pecorino (from Pienza but also with variations from Lazio and Sardinia), Fontina (val D'Aosta), Caciotta (Marche), Caciocavallo (Abruzzo, Calabria).
Need to know: fresh cheeses can be tricky to bring on a plane. Make sure you ask the seller the best way to bring it/ send it home.
Limoncello, grappa and other Italian digestifs
If you enjoyed the Italian tradition of the digestif, while in Italy, then a bottle of your digestive drink of choice is the perfect Italy souvenir for you!
You can find a list of Italian digestifs here.
Pesto
Pesto, especially in in its green form, is one of the most popular Italian foods abroad but nothing beats the real thing!
The best green pesto in Italy is from Genova and, if well packaged, can last a long time and even be frozen.
Ask carefully how to keep it safe and how long it lasts depends on the packaging: fresh pesto does not keep and pesto, once opened, most be consumed quickly. Make sure you tell the pesto needs to travel!
Specialty Pasta
Pasta in Italy comes in all shapes and sizes, literally!
You can find the most basic and least expensive types in all supermarkets or you can go to specialty shops and get pasta that is typical of a certain region.
Good ones to bring home are orecchiette from Puglia but any dry pasta travels well and lasts long, so you can be sure it will stay as it should be until you open it back home.
Love Italian food? Find more Italian food gift ideas here.
Ceramics – perfect Italy souvenir for craft lovers
Italy has a strong tradition for artisan ceramics and there are several areas in Italy that stand our for the value of their creations:
Deruta, in Umbria
Orvieto, in Umbria
Vietri, on the Amalfi Coast, Campania
Grottaglie, in Puglia
Nove, in Veneto
Caltagirone, Sicily
Leather goods
Italian leather goods are famous for their quality and the best place to get them is Tuscany.
This is the area of Italy with the longest leather tradition and where you can most easily find a good variety of goods ranging from leather shoes, gloves, jackets and the most most popular leather goods of all: bags and wallets.
Glass artifacts
Another wonderful artisan souvenir from Italy are glass creations from Murano.
Murano is a small island in the lagoon of Venice famous for artisan workshops creating precious glass jewelry, vases and artifacts, characterizes by distinctive and wonderful bright colors.
Murano Glass workshops allow visitors and you can take a tour of the glass factory before picking your favorite glass creation.
This is a wonderful thing to do in Venice and a wonderful opportunity to pick up a souvenir from Italy that you know for sure it local and handmade.
Lace
The area of Venice and more precisely the small island of Burano is also known for another artisan creation, that of lace (merletto or pizzo in Italian)
Burano has an interesting lace museum but also very many shops where you can how it is made.
You can learn how to get to Burano from Venice here.
Handmade carnival mask
One more souvenir from Venice, this time one that recalls one of the biggest yearly events in the city: the carnival!
Carnival masks are easy to find in Venice shops and they can be as simple and as elaborate as they want and even work as home decor.
They are a unique and asy to transport souvenir that will last a long time.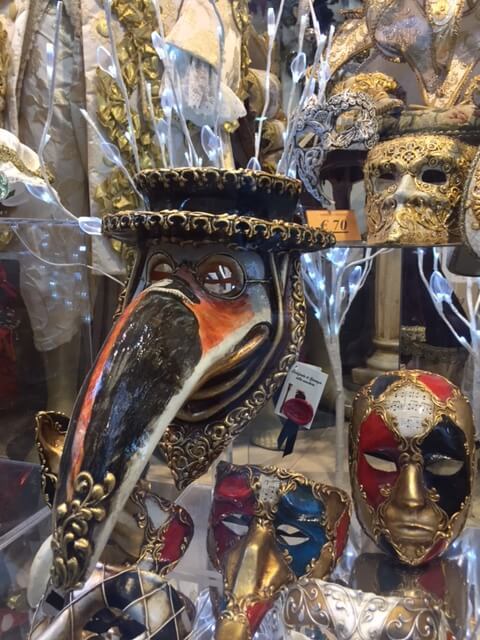 Wood carvings and wooden toys
If you find yourself in Alto Adige and the area of the Dolomites, then you will come across lovely wood carvings.
These are a local art form and can be wonderful, raging from figurines to kitchen ware and garden decor.
A different type of wood artifacts are wooden figurines of Pinocchio: these are very popular in Italy and they make lovely wooden toys for kids too.
You can find them in many 'Pinocchio shops' that are lovely to visit with kids or without!
Marbled paper
If you love beautiful writing gear or know someone who loves stationery, then marble paper and a quill with ink may be the best Italy souvenir of all.
The place to get marbles paper in Italy is Florence and surrounding area.
Table cloths and kitchen utensils
Table cloths, tea towels and kitchen ware can be found n the whole of Italy and are especially popular in central Italy, in the area of Tuscany and Umbria.
Here, you will find many shops selling textiles, usually decorated with olives and leaves or country inspired motifs, and wooden kitchen utensils, carved from local wood.
Gatteria products – best Italy souvenir for cat lovers
This may come across as an unexpected one but Italy is obsessed with cats and you will find cat inspired things everywhere!
A brand that you find in several locations and has pretty much anything cat-inspired you can dream of is Gatteria – you ca check heir style here.
I hope you enjoyed this quick overview of the best souvenirs from Italy and it gave you good ideas on what what to buy in Italy. Safe travel planning!