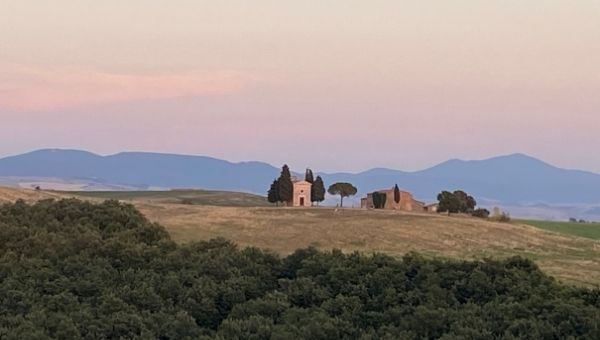 Val d'Orcia: best things to see + how to visit the most iconic part of Tuscany
Travel guide to Val d'Orcia, the iconic part of Tuscany with rolling hills, cypress trees and some of Italy's most beautiful hilltop villages.
Val d'Orcia is a beautiful valley in the heart of Tuscany, Italy.
You may or may not have come across its name.
However, you can be sure you have seen photos of it: you know the quintessential Tuscany landscapes, the one with cypress trees, rolling hills and gorgeous hilltop villas?
That is Val d'Orcia! Pienza, Bagno Vignoni, San Quirico d'Orcia, Radicofani are all here.
I love this part of Tuscany and never tire of vacationing here. These are my tips for planning a visit and the best things to see in Val d'Orcia.
Italian language corner! Orcia is pronounced like in the English 'orchard' so Val d'Or-cha. Orcia is the name of the river here so it is the Valley (Val) of (di) the Orcia. The correct spelling is with an apostrophe between d and O and the O is capitalized: so Val d'Orcia (not val dorcia d orcia or d'orcia, although on the web sometimes different keyboards force incorrect spellings!)
Please note: this post contains affiliate links. Should you make a purchase, we might make a small commission.
Going with children? See also: Our travel guide to Val d'Orcia with kids (includes kid-friendly wineries, activities, family accommodation and more!)
Where is Val d'Orcia: Val d'Orcia map + how to get there
Val d'Orcia is a valley in the province of Siena, Tuscany.
It is an area characterized by a hilly landscape dotted with small medieval villages and Renaissance towns and it is so peculiar in terms of beauty ad significance that UNESCO declared it World Heritage Site in 2004.
The best way to get to Val d'Orcia and to visit the areas is by car as trains do not reach all the towns. To give you an idea of the distances:
Florence to Val d'Orcia: 1h30min (depending on exact destination)
Siena to Val d'Orcia: 1h20min (depending on exact destination)
Rome to Val d'Orcia: 2h30min
The best things to see in Val d'Orcia
Montepulciano
Montepulciano is a stunning medieval town perched on top of a hill between Val d'Orcia and Val di Chiana.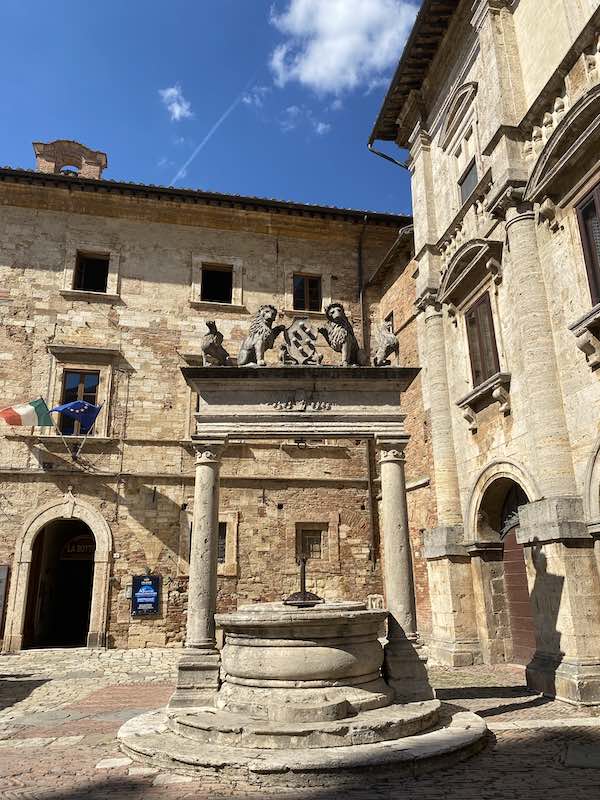 It is the quintessential hilltop village and a place of incredible charm.
In Montepulciano, you find steep medieval streets, fantastic terraces with expansive views over the surrounding countryside, beautiful churches, museums and one of the most beautiful piazzas in Italy, Piazza Grande.
Montepulciano is also a paradise for wine lovers: this is the town that gives birth to Vino Nobile di Montepulciano, a delicious red wine, and both the wine and the food that come with it are among the best in the country.
The town is one of the richest of things to see and do in the area and a great base to explore the countryside and the other villages.
You can find our guide to Montepulciano here.
The scenic drive between Pienza/San Quirico/Chianciano
The most distinctive characteristic of Val d'Orcia is its incredible landscape made of rolling hills in any shape of gold you can imagine!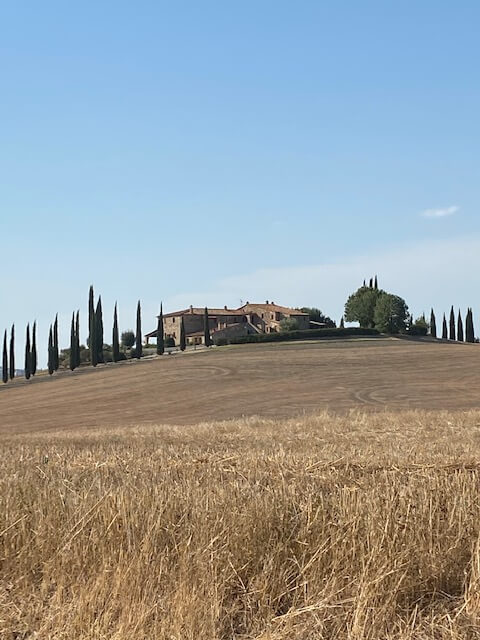 The area seems painted by a watercolor artist with a passion for earth and warm tones and the best way to see the is to drive and enjoy the scenery as it reveals itself to you.
There are three scenic stretches of road here: the drive between San Quirico d'Orcia and Pienza, the drive along SP53 and the bendy drive across the Lucciola Bella Reserve.
The drive along SP146 between Pienza and San Quirico is the most famous of the three.
This is a breathtaking, easy drive that will show you several hilltop villas framed by tall cypress trees and will also offer you a glimpse of the stunning chapels of Vitaleta, a tiny church in the middle of the countryside (see below).
If you are looking for dark green cypress trees shooting toward the sky from golden-colored rolling hills, this is where you will find them!
The drive along SP53 between San Quirico and Chianciano.
This is another wonderful yet bendy road that will bring you across rolling hills.
It is a pleasant drive with several cool stops along it, including the peculiar Quercia delle Checche (a stunning oak tree on the side of the road), and crete senesi, the ocher and golden hills typical of this area.
The drive in la lucciola reserve connects SP53 with Chianciano Terme and is another lovely stretch of road that climbs up a hill covered in beautiful forests.
Along this drive, you find the beautiful estate of La Foce and also the lovely restaurant 'Dopolavoro La Foce', delightful for a culinary stop!
The chapel of Vitaleta
The Chapel of Vitaleta is a small church perched on the hills between San Quirico and Pienza.
The chapel is one of the most photographed spots in this area and it so quintessentially Tuscan to have risen to be almost a symbol of the Tuscan landscape.
You can spot the chapel from the scenic drive along SP146 mentioned above but you can also visit it by taking a short walk along the dirt road leading to it.
There are a couple of ways to get to it, depending on how much you are willing to walk.
You can read here >>> all about the Chapel of Vitaleta and how to get there
Pienza, the 'ideal' town
Pienza is a lovely small town in Val d'Orcia, famous for being a UNESCO World Heritage site and a great producer of a special type of cheese: pecorino di Pienza!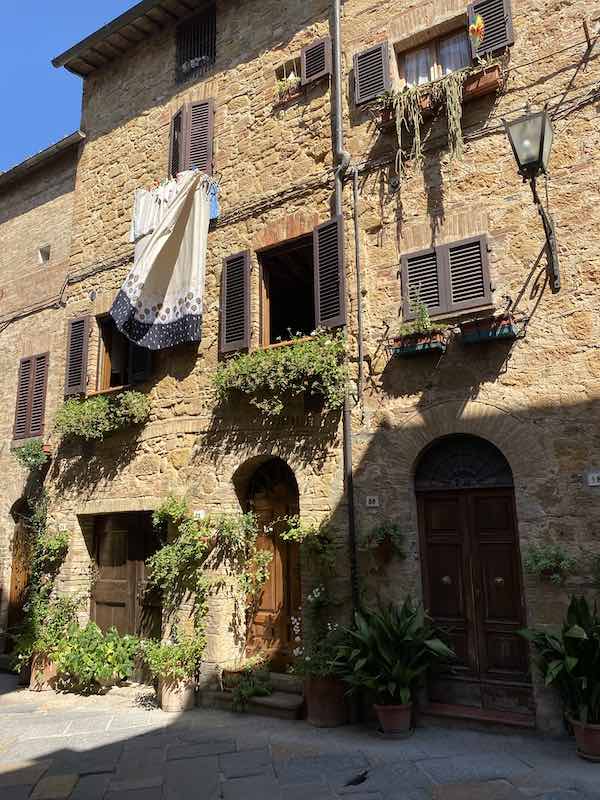 Pienza is beautiful and it has a fascinating history.
Pienza is the place where Enea Silvio Piccolomini, Pope Pius II, was born and during his pontificate, he decided to redesign the city to transform it into the 'ideal city according to Humanist standards'.
To achieve this result, he had artists of the caliber of Leon Battista Alberti working on the new city layout; the result is indeed remarkable.
The town has a delightful historical center with small alleys with houses in the typical local stone, decorated with manicured flower pots, climbers and pretty balconies.
Restaurants and artisan shops are everywhere and the roads are filled by the tempting smells of pecorino di Pienza (cheese) sold in many local delis and handmade soaps, also typical of this area.
Not to be missed in Pienza are:
Its beautiful central square,
the impressive Duomo,
Palazzo Piccolomini and its garden
the walk on the town bastions, offering incredible views over the countryside (there are also nice aperitivo places to admire it while tasting the local specialties, a must!)
Click here for our full guide to Pienza
San Quirico d'Orcia
San Quirico d'Orcia is another lovely town in Val d'Orcia with a fantastic historical center dating back to the Middle Ages.
The town has mighty medieval walls and develops around a main street dotted by Romanesque churches with plain yet enticing facades and interiors.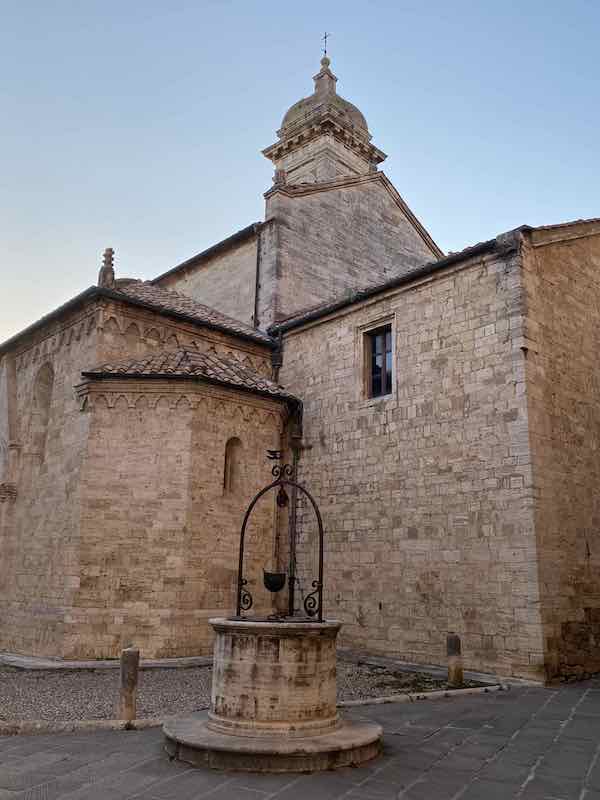 This is one of the prettiest hilltop villages in Tuscany and a delight to visit if you want to immerse yourself in a medieval atmosphere.
The village center is car-free, the churches are lovely and host some impressive art (there is a Della Robbia in the church on the main square, brought here from the Chapel of Vitaleta where it was originally placed).
There are also lovely shops, restaurants, shops and cafe terraces for resting and watching life go by.
Horti Leonini, in the village centers, is a lovely historical garden worth seeing.
Click here for our full guide to San Quirico d'Orcia
Radicofani and its stunning fortress
Val d'Orcia is full of pretty medieval villages perched on top of steep hills but not all of them have imposing castles and fortresses dominating the landscape. Radicofani does!
Radicofani is a tiny medieval village many skip but that has some very special things to see.
First and foremost, it has a tall and impressive fortress now open to the public. The fortress made the town one of the most strategic locations in the ancient wars between Siena and Florence and it is also at the center of the stories about Ghino di Tacco, a sort of local Robin Hood also mentioned by Dante in his Divine Comedy.
As well as the fortress, Radicofani has a delightful ancient Jewish quarter worth seeing.
The quarter is made of a square a few houses but it is so pretty, it is likely to stay as one of the highlights of your trip to this part of Italy!
Come late in the afternoon so you can enjoy a board of local cheese and wine right on the piazza.
Find here >>> our travel guide to Radicofani
Monticchiello, theater town
Monticchiello is a must see place in Val d'Orcia, a medieval village with something special: each summer, the village turns itself into an open air stage with community shows put together by the local inhabitants!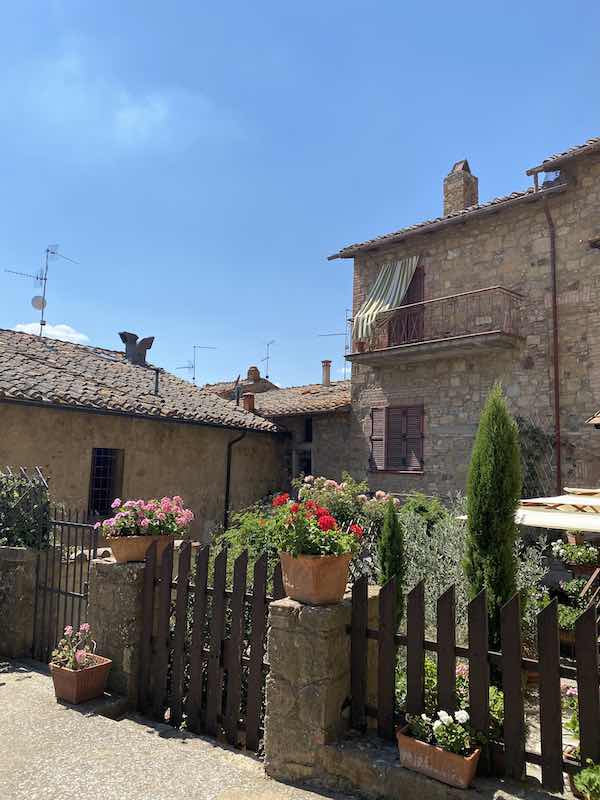 Monticchiello is a small medieval village located in a remote location in the Val d'Orcia hills.
You reach it via a white, beautiful road and it welcomes the visitors with a stunning terrace overlooking the valley and the town of Pienza nearby.
Behind the terrace, tall medieval gates allow you to enter the village and inside you find a maze of pretty streets, flowery balconies, hidden yards and old churches that are a delight to see.
Click here for our full guide to Monticchiello and its theater tradition
Montalcino, town of wine
Montalcino is a hilltop village overlooking Val d'Orcia with something special: vineyards that produce some of the most famous and delicious wines in Italy, Rosso di Montalcino and Brunello di Montalcino!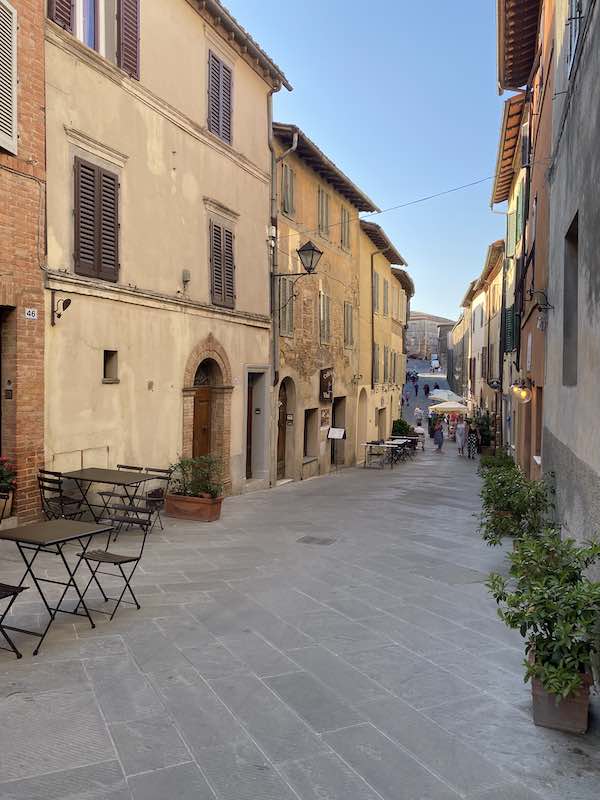 Montalcino is a wonderful place for wine lovers and a real delight for a day or much more in the area.
The village has a pretty, historical city center and the town is literally surrounded by vineyards which are open to visitors for tasting and sales.
In summer, Montalcino hosts a special wine and jazz festival which is wonderful.
The main square becomes an open air theater and live music jazz performances fill with music the summer nights while spectators can eat local food and wine while enjoying the show.
Click here for our full guide to Montalcino
Bagno Vignoni
Bagno Vignoni is a tiny, delightful thermal town in the heart of Val d'Orcia, home to some of the best thermal springs in Tuscany!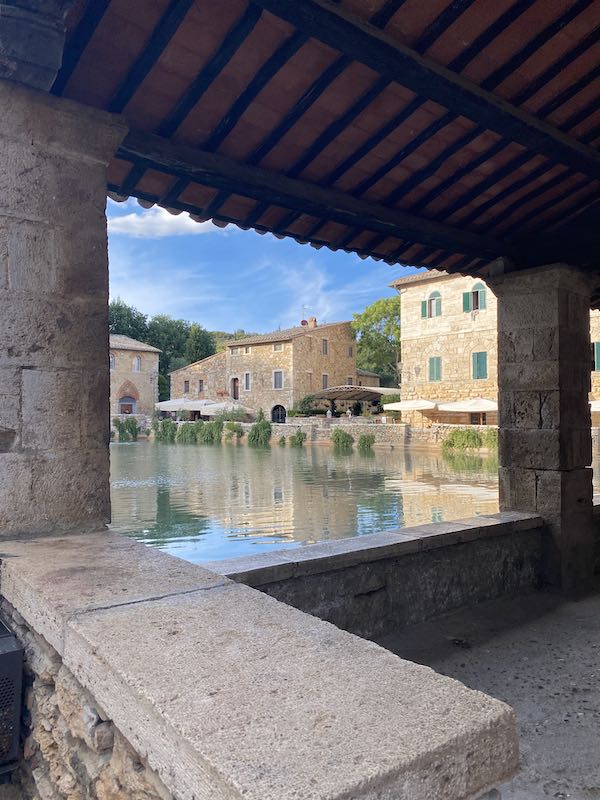 The village develops around a main square with a vast hot water pool (decorative, no swimming allowed) and has been in existence since the middle ages, when it used to be a stop along the Via Francigena, the pilgrimage route to Rome
Nowadays, the village is a delight and the perfect spot for a day or an evening of relaxation. the main square is pretty and unique, there are some nice restaurants where to enjoy local food and wine and of course you can enjoy the local hot springs in one of the hotels.
Click here for our full guide to Bagno Vignoni
Bagni San Filippo
Bagni San Filippo is a small locality in the heart of Val d'Orcia famous for a natural hot spring hidden in a beautiful forest.
The San Filippo spring is born from Monte Amiata and forms a hot river with pleasant pools for splashing and bathing.
The water here is full of calcium and this gives the place two peculiar characteristics: one is that the water itself has a white/blue color that makes you feel like you are bathing in milk!
The other one is that the calcium forms incredible rocky white formations that make you feel like you are bathing under a glacier (albeit a hot one!)
The most famous of these formations is called 'the White Whale' (Balena Bianca, in Italian) and indeed, it is a tall rock formation that does look like a whale towering over you!
The spring is free to access and a fun place to experience Tuscan thermal waters without paying for a full spa experience.
The best things to do in Val d'Orcia
Go wine tasting.
You can taste wine in many of the local wineries, especially in Montepulciano and Montalcino
Val d'Orcia wineries you'll love
Castello Banfi, Montalcino – A stunning vinery and wine estate offering wine tasting, vineyard tours (and luxury on-site accommodation).
Tenuta Carpineto (also in Chianti) Address: Strada Provinciale della Chiana 62, 53042 Montepulciano (SI)
. A beautiful winery offering wine tours and experiences, including special days in the vineyard for families with kids
La Ciarliana (Family friendly)
 – Pretty, family-run winery with special attention to children: this is one of the first places in Tuscany to develop a special welcome for little ones.
Capanna di Montalcino 
- A beautiful estate offering tours of our cellars with a tasting of own products (wines, grappa and extra virgin olive oil). The estate also offers adult-only accommodation in elegant suites.
Col d'Orcia – Beautiful bio winery offering wine tastings with or without lunch (both light and full lunch option available)
San Polo 
A beautiful and innovative estate specializing in the production of limited quantities of high-end Sangiovese grapes and relevant excellent wines.
Icario
 – A beautiful, modern winery offering wine tastings, cellar tours, and lunches. Also a beautiful B&B with swimming pool.
There is plenty to keep you occupied in this area. Among the best things to do in Val d'Orcia I recommend:
Take a local cooking class:
The best ones are usually offered by local agriturismo, where you are usually also shown the farm and vegetable patch.
Have a look at Podere il Casale, Locanda Demetra and Agriturismo La Bruciata, offering classes in beautiful settings.
Rent e-bikes
This is a lovely area to visit by bike but it is hilly so an electric bike is a must! You can rent them in Montepulciano, look up the Urban Bikery close to Piazza Grande
Enjoy the local hot springs
Whether you want free hot springs or a full-on spa day, Val d'Orcia has something for you!
Read above our recommendations for free baths (Bagni San Filippo) or spa day (Bagno Vignoni), they are among the best hot springs and baths in Tuscany!
Enjoy your accommodation
Val d'Orcia is a place for relaxation and slow tourism. Make the most of your stay by booking accommodation with a pool (in summer) so you can cool down and relax!
Castles, abbeys and fortresses
Val d'Orcia is an area with significant medieval history, which left here impressive castles, abbeys and fortresses.
Some not to be missed are:
Radicofani – an ancient fortress with mighty towers, home to the 'Robin Hood of Tuscany' (see above)
Abbazia di Sant'Antimo – a stunning Romanesque Abbey, allegedly founded by Charlemagne in the VIII century AD.
Castello Banfi – now a beautiful wine resort
Castello di Velona – now a luxury hotel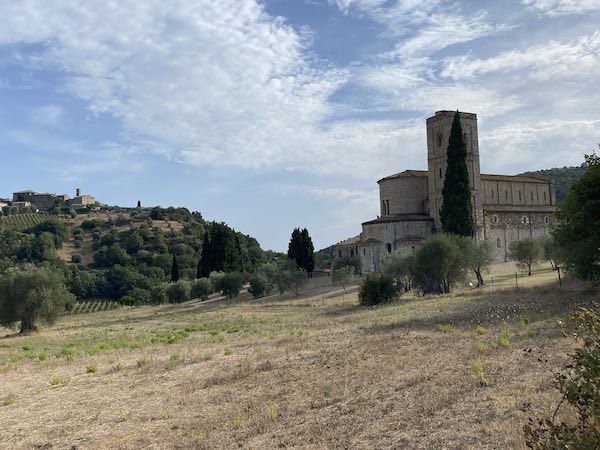 Where to stay in Val D'Orcia

Val d'Orcia is very well equipped to welcome tourists. In the area you can stay in:
Terre di Nano – stunning agriturismo in Monticchiello, surrounded by stunning vineyards. This is a beautiful, upscale property with an elegant feel, a panoramic pool and an excellent restaurant.
The agriturismo is suited especially to couples or groups of travelers; however, the presence of animals on-site, a boules course and the welcoming attitude of the owners make it a good option for families with kids too, especially if passed the toddler years.
The photo of this glorious sunset is from Terre di Nano's restaurant terrace!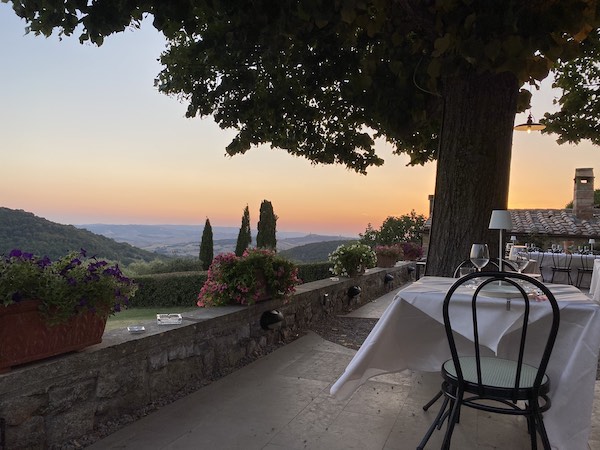 Castello di Spedaletto / Spedaletto Castle – wondrful agriturismo in one of the most scenic Val d'orcia drives.
Castello di Spedaletto offers accommodation in rooms and apartments, has a fantastic garden with and offers cooking courses, tasting, options to go hiking and cycling in the area.
Agriturismo La Provenca, wonderful pet friendly agriturismo on a hilltop between to Chianciano and San Quirico d'Orcia.
The agriturismo offers accommodation in self-catering apartments.
There are no activities on site but the stunning pool, animals and the many town nearby make it perfect for a relaxing stay with or without kids.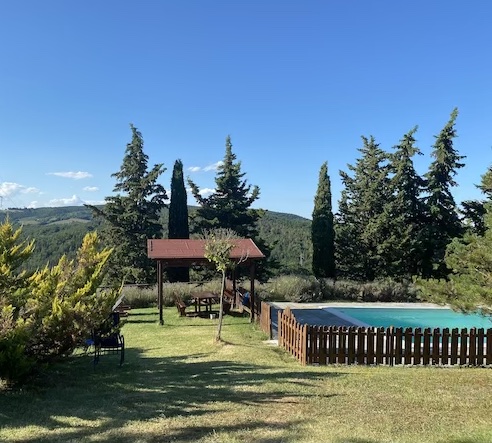 Borgo Tre Rose – this is a beautiful agriturismo near Montepulciano offering accommodation in rooms and self catering apartments.
The agriturismo has a restaurant onsite and a wine cellar offering tasting of the wines produced by the estate.
This fabulous agriturismo has a beautiful pool, tennis court, a kids' play area and offers activities such as cooking courses and the option of booking mountain biking tours and even hot air balloon rides.
Podere il
Hotel Posta Marcucci Bagno Vignoni, lovely hotel with access to thermal pools of Bagno Vignoni.
This hotel is right in Bagno Vignoni village and it is perfect for a couple of nights spent between the beautiful pool and charming restaurants of this small yet delightful town.
Agriturismo La Bruciata, a lovely family-friendly agriturismo with a swimming pool and farm offering cooking classes, in close proximity to many of the most beautiful towns of Val D'Orcia.
La Chiusa Tuscany Relais is a fabulous agriturismo in Montefollonico with plenty of activities on offer. As well as rooms with breakfast service, this agriturismo offers cooking classes, olive oil tasting, cheese tasting, truffle hunting, horseback riding and more. The agriturismo also has a beautiful seasonal outdoor pool.
Sample Val d'Orcia itinerary
Val d'Orcia is a relatively small area and while I recommend spending several days here and embrace slow travel, it is possible to see Val d'Orcia main sites in three or four days.
A good Val d'Orcia itinerary is:
Day 1: Montepulciano
Day 2: San Quirico d'Orcia and Bagno Vignoni
Day 3: Drive from San Quirico to Montalcino (stay the night so you can go go wine tasting without then having to drive)
Day 4: Pienza and Monticchiello
Day 5: Radicofani and Bagni San Filippo
To this, you can easily add one day per activity (cooking class, ebike tour, wine tasting etc).
What to eat in Val d'Orcia
Pane sciocco – Traditional tuscan bread, made with no salt. (You can read how this came to be in our fun facts about Italian food here!)
Panzanella – local bread salad with fresh tomato and basil
Pecorino di Pienza – cheese
Cured meats – lonza, lonzino,
Schiacciata – local focaccia
Pici with Tuscan ragout or wild boar ragout – specialty pasta from Siena
Pappa col pomodoro – tomato and bread based dish (delicious!!)
Cantucci col Vin Santo – hard biscuits to dank into sweet dessert wine
Rosso, Brunello and Morellino di Scansano to wash it all down
I hope you enjoyed this quick overview of the best things to see in Val d'Orcia and it helped you plan your time there. Safe travel planning!
This article was first published in 2021 and has now been fully updated in 2023 based on our most recent travels to the area.