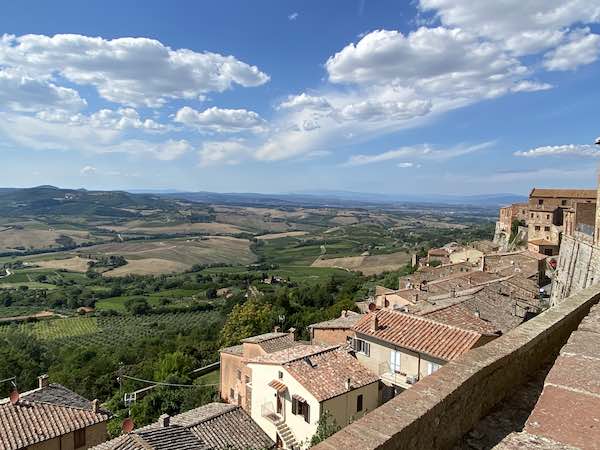 Montepulciano: all you need to know to visit this stunning Tuscan town famous for views and wine
All you need to know to visit Montepulciano, stunning medieval town in Tuscany. Best things to do, what to buy, practical travel tips.
Motepulciano is a beautiful, historical hilltop town in Val d'Orcia, in the heart of Tuscany.
The town is famous for wine, the famous vino nobile di Montepulciano, and a historical town center with beautiful piazzas, churches and breathtaking viewing terraces over the countryside below.
Montepulciano is a wonderful destination for a day trip and also a perfect base to discover Tuscany, if you have your own car.
It is one of the most pleasant and beautiful towns in the whole of Tuscany and one we highly recommend to visit.
Need to know: Montepulciano is very steep! Bring good walking shoes and take your time to go up!
The best things to do in Montepulciano
Montepulciano is a small town with pleasant streets, some important piazzas and monuments and beautiful viewing terraces.
These are the best things to see and do in Montepulciano.
Admire the City Gate and stroll along the corso
Montepulciano is a walled town and to enter the center you pass under the medieval gate still marking its entrance, Porta Prato (the city actually has more than one, but this is the one we used and that leads up the corso, the start of our Montepulciano itinerary).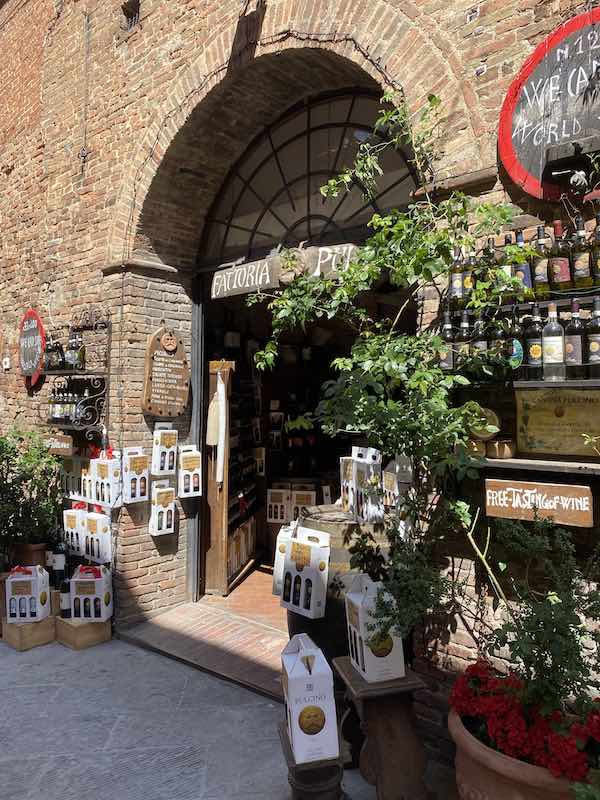 The gate is adorned with flags and opens onto the corso, the main Montepucliano street.
The street is long, meandering and delightful.
It is dotted with cafes, restaurants and shops and it is a great place to buy local souvenirs, from local textile and kitchenware to the excellent produce of this area, especially wine and olive oil.
The corso has many historical palazzi and you will often spot crests and symbols from local families carved on their facades.
Visit the church of Sant'Agostino
Up the road, not too far from the main gate, you will see the wonderful church of Sant'Agostino.
The church is made of the same stone as the rest of the city, cream in color, and it is beautiful and interesting: its design is by Michelozzo and inside, it hods a crucifix attributed to Donatello.
Prosaic but good to know: beside the church you will find public toilets equipped with hand sanitizer.
Spot Pulcinella
Right in front of the church stands a tower and on top of the tower you will see one of the most peculiar sights in Montepulciano: a statue of Pulcinella!
Pulcinella is a traditional character or commedia dell'arte (and ancient form of Italian theater) and it is from Naples, so very much out of context here!
They say it was brought here by a bishop of Neapolitan origins and still now stands tall on top of the tower, marking the passing of the hours on the big clock.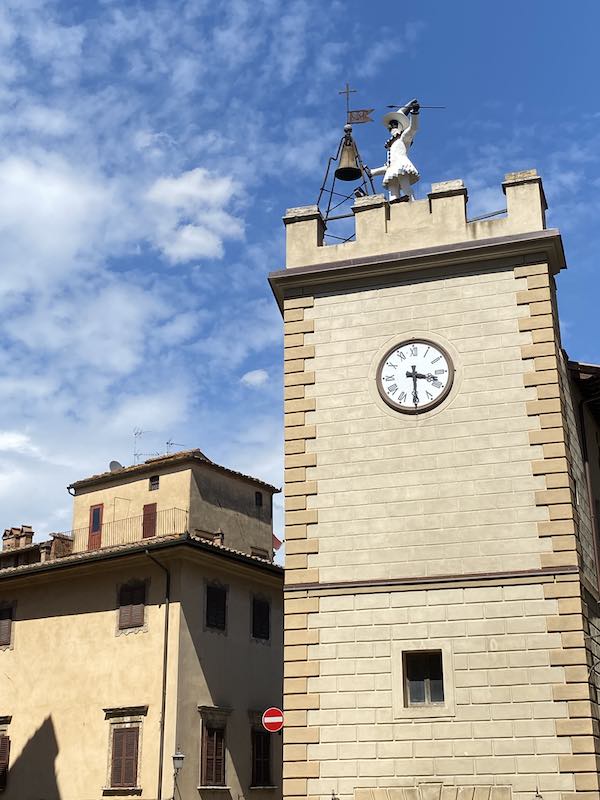 Have lunch at Caffe' Poliziano
Farther up the road you will encounter a fabulous historical cafe', Caffe Poliziano, named after the surname of one of Montepulciano's most notable sons, the poet Agnolo Poliziano (1454-1494).
The cafes is a delight: on the main floor you have a cafe' with pastries and take out options while on the lower floor you have an indoor lunch area and stunning terrace.
Both the food and the location are spectacular, I highly recommend a stop here.
Admire the incredible Piazza Grande
Piazza Grande (big square) is the main square in Montepulciano and is a marvel, one of my favorite squares in Italy.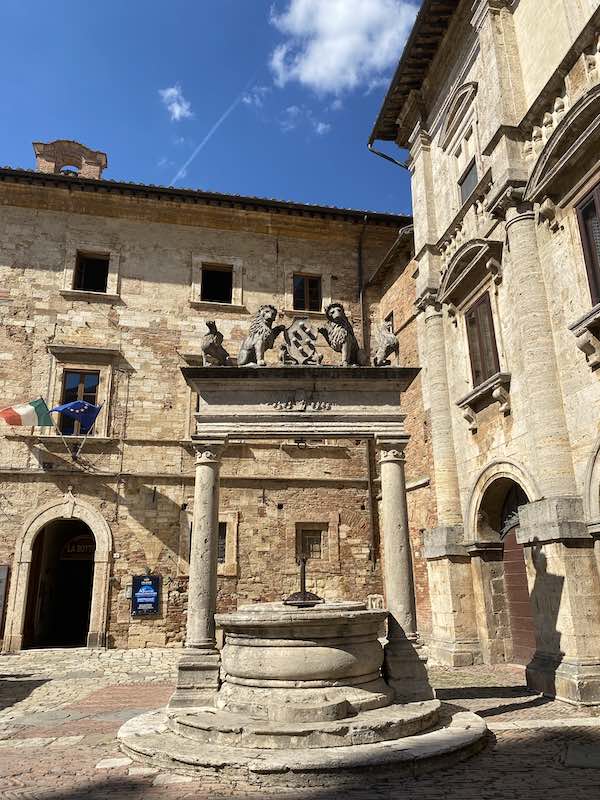 Here you have the Duomo, worth seeing, and maybe the most iconic sights in town, the historical well.
The well is made of stone and has two lions on tops holding the crest of the Medici family.
The piazza is entirely surrounded by stunning historical palazzi including the one hosting the town administrative office, Palazzo Comunale, easily recognizable by its tall tower.
Good to know! The tower is open to the public and you can climb up to catch stunning views over the countryside below!
Catch the views
Montepulciano is on the top of a pretty high hill and has plenty of viewing areas from where you can admire Val d'Orcia.
One of the most beautiful is right off Piazza Grande: just sneak into one of the small alleys and you will soon see stunning terraces opening onto you!
See the fortress and its lovely gardens
A couple of minutes off Piazza Grande lies the beautiful Fortress of Montepulciano, an imposing building now hosting the Consorzio del Vino Nobile di Montepulciano ,the city's mos precious product.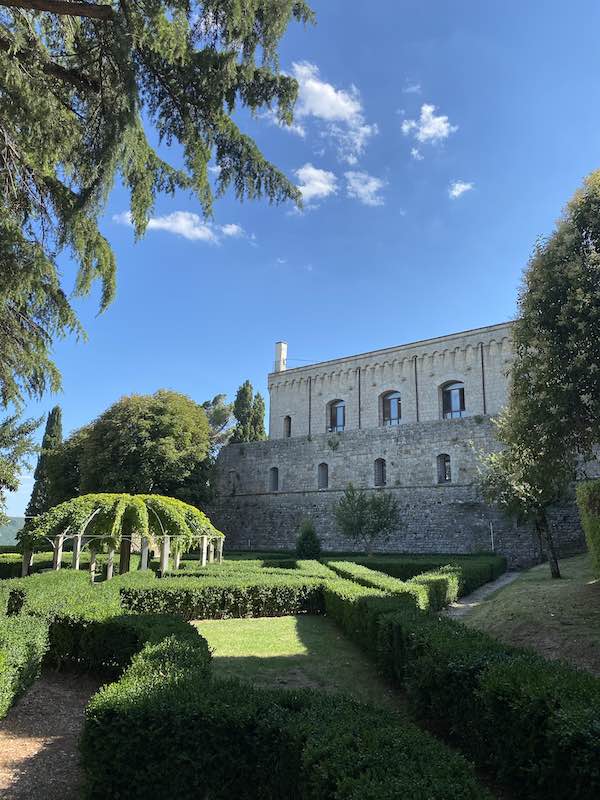 The fortress has a lovely garden and was one of the favorite bits of Montepulciano for our kids!
It is indeed a lovely place for a break and has nice benches and beautiful views.
Buy Vino Nobile
if you like red wine, then you simply have to stop and buy a bottle of the rich and wonderful Vino Nobile di Montepulciano.
Shops offering tasting and bottles abound: make sure you make the most of their expert wine merchants to learn (and taste) to your heart content!
Most shops here are able to ship worldwide. Vino Nobile makes for a great gift for Italian food lovers!
Fun fact! Wine is so important in Montepulciano that the town hosts every year a barrel rolling competition (Bravio delle Botti) between the 8 town district! This is a super fun event and a fantastic way to experience Montepulciano history and wine traditions. Find official info here
Montepulciano with kids
Montepulciano is a lovely city to visit with kids, especially school age ones that do not use a stroller. You really do not want to be pushing a stroller uphill here!
Our two loved Piazza Grande and its carved lions, the lovely garden at the fortress and most of all the small playground just outside the city walls, with simple yet nice climbing frames.
Montepulciano has a large Conad (supermarket) and shopping center with a large parking so if you are in self catering accommodation or need baby supplies while in Italy, this is a good place to be.
We found Montepulciano to be one of the best places in Tuscany for families.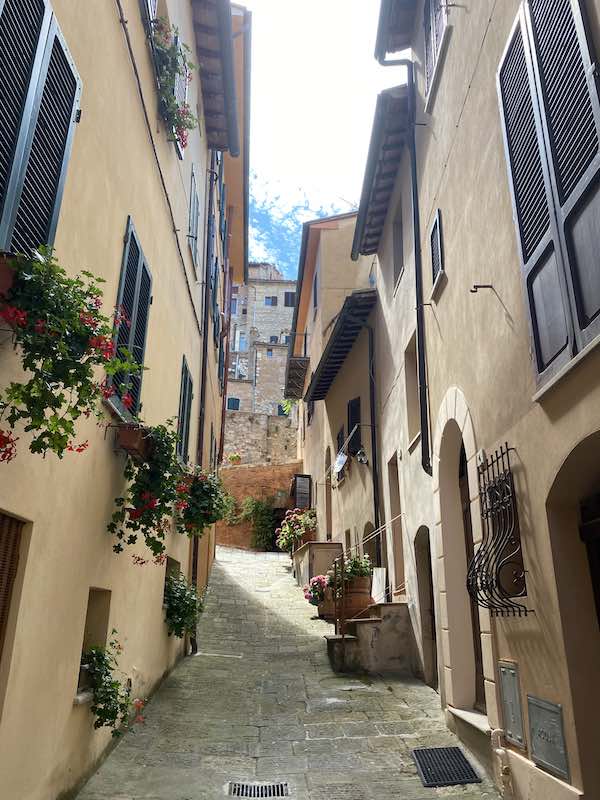 Practical tips for visiting Montepulciano
Montepulciano is a small walled town and it is best discovered on foot.
Parking spaces are available immediately outside the city walls and they operate on a pay and display basis.
Both open air and covered parking places are available. Bring coins.
Some hotels can arrange permit to drive into the walled part of the town but I would cautious you about driving here.
While the road up to the town causes no issues, the roads inside are narrow and very steep and can be uncomfortable for all but experienced drivers and powerful cars.
Montepulciano is best reached by car.
I hope you enjoyed this quick travel guide to Montepulciano and it inspired you to visit. Safe travel planning!
Likes this post? Share it!