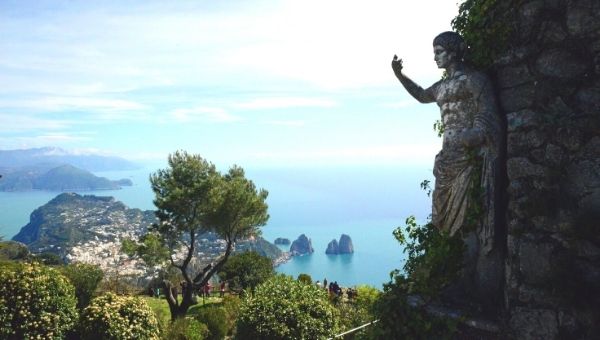 How to visit Capri island: best things to do in Capri + travel tips and map
All you need to know to plan a trip to Capri, Italy: how many days to spend in Capri, how to get there, Capri highlights, island best beaches and more!
The beautiful island of Capri is one of the most famous destinations in Italy and a place that is guaranteed to take your breath away with it beauty, whether you only have time to see Capri highlights or dig deeper into the island's hidden gems.
Located just in front of Naples, it is a rocky island with stunning cliffs plunging into the deepest blue waters you can image.
It offers wonderful boating and swimming spots, pretty roads with cascading flowers and a romantic atmosphere that has made it a popular honeymoon spot for over 5 decades (including my own, this is where we came when we got married!).
Please note: this post contains affiliate links. Should you make a purchase, we might make a small commission.
Why visit Capri Italy
Capri is often mentioned as a glamorous, elegant island and indeed it is.
However, it is also much more than that.
Parts of Capri, such as the famous Piazzetta, are places to see and to be seen, where to show off your best outfits while sipping aperitivo.
Other areas such as Anacapri are quiet, understated and romantic and the other areas again are different again, perfect for kids, history lovers (Emperor Tiberius' Villa is here).
All this makes Capri a wonderful destination and a place worth adding your your Italy itinerary.
These are my best tips for planning a trip to Capri in Italy.
I have been going to Capri consistently for many years thanks to a friend from there (Imagine, a family home in Anacapri! What a dream!) so these tips are based on my own experience and his family knowledge of the island.
Map of Capri highlights
How many days in Capri
The first thing to decide when planning a trip to Capri is how many days to stay.
I believe you need at least 2 days in Capri, so one night on the island. The best amount of time to spend in Capri to see the highlights without rushing is 3 days.
4 days or more of course ideal if you want to rest and relax.
More in detail:
If you only have one day in Capri, including transport from and to the mainland, you will be able to see some of the Capri highlights such as the blue grotto, see the center of Capri town or visit Anacapri.
This will be rather rushed and it likely to only allow you to see the busiest parts of Capri and leave you with a less than satisfactory experience
If you have one full day in Capri (excluding transport), I recommend you follow this one day in Capri itinerary, that will allow you to see as much as possible in a limited time.
If you have two full days in Capri, you can see Capri, Anacapri and take a tour of the island.
If you have 3 days in Capri, you can see Capri town, Anacapri, Tiberius' Villa, take a boat tour of the island and get some time to relax on the beach.
If tou have even more time, you can explore all of the above, experience Capri beaches/ sea access spots and also have time for shopping and relaxation on Capri's many wonderful terraces.
Best time to go to Capri
The best time to go to Capri is between May and September.
Late May, early June and early September are the best time to see the island with somewhat limited crowds while July and August get wonderful weather but high number of visitors (day trippers especially).
The best what to see Capri is to stay at least one night: once the day trippers are gone, the island is more manageable and pleasant.
How to get to Capri
You can get to Capri by catching the ferry or hydrofoil from Sorrento, Naples and, in summer, additional locations on the Amalfi Coast such as Amalfi and Positano.
To get to Capri from Naples, you catch the hydrofoil from Naples Molo Beverello.
The crossing takes between 50min and 1h25mins depending on the boat. Between April and October the service is consistent and frequent.
Outside of the good season, the schedule is more limited.
To reach Capri from Sorrento, you catch the boat from Marina Piccola Sorrento and takes about 30 mins.
During the summer, additional routes are available from Amalfi, Positano, Salerno, Marioi and Ischia.
Schedules along these routes are more limited than from Naples and Sorrento so additional planning may be needed.
You can find all ferry schedules here (use the drop down menu to select departing town).
How to get around Capri
Capri has two main areas: Capri and Anacapri, Anacapri being the town at the top of the Capri Mountain, Capri being the one at the bottom.
As you arrive in Capri port, you will find the beach of Marina Grande and the cable car: this is the main access route to the town of Capri and by far the cheapest.
As an alternative, you can take a taxi to the area of Piazzetta however, please be advised that the cost is steep!
If your hotel is in Anacapri, there are buses that bring you there in a matter of minutes or you can avail of the free transfer shuttle service that many Anacapri hotels offer.
Please note: Capri is best discovered on foot. Vehicles of non residents are not allowed on the island in summer but even in winter, walking around is just easier due to the peculiar geography of the island. Parking is available in both Naples and Sorrento.
The best things to do in Capri – Capri highlights and hidden gems
Explore pretty Anacapri town
Anacapri is the small town at the top of the island and a is a picture perfect place with immense charm.
You reach Anacapri with a bus ride along a vertigo inducing yet very scenic bus ride and as you arrive, you get off in a place that is light years away from the bustling atmosphere of Capri port.
Anacapri is a delight of small streets, pretty piazzas, hidden courtyards and has a relax and slow paced atmosphere.
The center of Anacapri is car free and a lovely place for a stroll.
Here you find several shops where you can buy the typical Capri sandals and you will spot many decorative tiles, which are one of the peculiarities of the island.
They are used for house numbers, local maps and just as decorations and they add to the quintessential Mediterranean charm of the place.
In Anacapri, you find some of the main island attractions. Not to be missed are:
Church of San Michele – this is a baroque church worth visiting for its absolutely incredible flooring.
The floor is entirely covered in tiles with elaborate depictions of the garden of earthly delight by Leonardo Chiaiese.
The church is equipped with wooden boards to allow visiting without stepping onto the floor itself and there is also a small staircase that allows to see it in its entirety from above.
An absolute Capri must see, worth alone the climb up to Anacapri!
The red house – The Casa Rossa (red House) is, as the name suggest, a red house that ewas the home of American colonel John Clay McKowen and now hides a secret: inside, it contains treasures that were found in the Blue Grotto (technically, the Blue Grotto is in Anacapri)!
Villa San Michele – Villa San Michele is one of the most famous Capri attractions and a museum and garden worth seeing.
The Villa was home to Swedish Doctor Axel Munthe who built it so that it would 'open to sun and wind and the voice of the sea, like a Greek temple, and light, light, light everywhere' (quote)
The villa is stunning and has an award winning garden that should not be missed
Here, a long shaded patio covered in flowers leads you to several scenic view points from where you can views of the bay framed by pretty columns and finally opens up on a stunning terrace with views of the Gulf of Naples that are out of this world beautiful!
Marvel at the magical Blue Grotto (Grotta Azzurra)
The blue grotto is maybe the most famous of all attractions on Capri Island and it is well worth a visit.
The grotto is called 'blue' because of a very peculiar light effect that means its water shine in deep blue hues and objects, if submerged, acquire a distinct silver color!
The grotto is very popular and can only be visited joining a blue grotto tour. Private access is forbidden at all times and so is swimming. Some tours to consider are:
Need to know: boat tours of the island usually do not include entrance to the blue grotto, charged separately. Please read carefully what is included and not included in the tour to avoid surprises.
A visit to the blue grotto is a Capri must do however, it is worth knowing that this is one of the busiest attractions in Capri so it may not be as romantic as you are expecting!
On a busy day, you have boats lined up outside of the grotto waiting for their turn to get it and yes, the visit is worth it because the grotto is stunning but if you are looking for a remote grotto experience with only you and nature, this is not it!
Catch the views from Monte Solaro
One of the most beautiful things to do in Capri is to catch views from the high viewpoints in the island and the highest of all is the top of Monte Solaro, which you can reach by chairlift from Anacapri.
The chairlift goes slowly and offers breathtaking views over the island, the famous faraglioni and the sea and the view from the very top is even better.
Capri has lovely nature and from here you see at best the green of the island's beautiful trees, the grey of the rocks, the blue of the seat and the white dots of the boats below, tiny from this height!
This is the best place to take panoramic photos of Capri and, if you have good walking shoes, also a good place to experience Capri's nature.
On the way down, you have the option of walking down a trail rather than catching the chairlift again, which is a fin way to experience a more remote and wild side of Capri (I don't recommend to climb up, but rather to do this downhill. Good walking shoes are a must due to the uneven, rocky terrain).
Rest and enjoy the views from Giardini di Augusto
If views are what you are after but a chairlift is not for you, then I recommend you go to the east to reach Giardini di Augusto (Gardens of Augustus).
Located right at the back of Capri town center, the Giardini are a wonderful viewpoint from where to catch view over the Marina Piccola Bay.
The gardens have several terraces, all overlooking the sea, and they are home to several peculiar plant species that make it a lovely place to rest too.
Access to the garden is free at the time of writing and the views are among the best views in Capri.
Marvel at Via Krupp
Via Krupp is another famous attractions in Capri precisely and incredible winding road climbing all the way down the rocky Capri coastline like a snake meandering down into the sea!
The street is rightly famous and over our many times in Capri we have been able to walk it and enjoy its incredible landscapes however, it has been closed for safety reasons so please do check current conditions to avoid disappointment.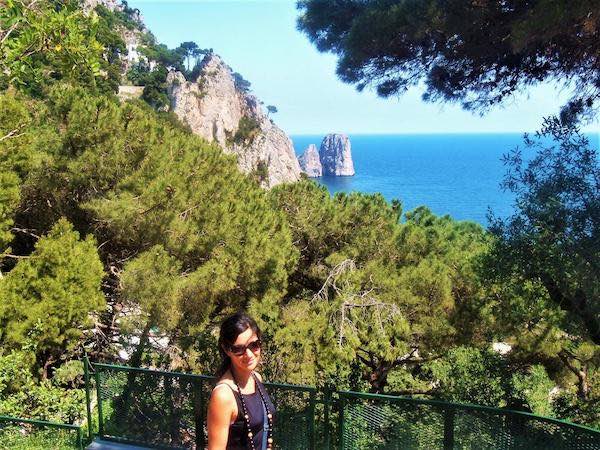 Sip aperitivo in glamorous Piazzetta (Piazza Umberto I)
The heart of glamorous Capri is Piazzetta, the small square at the center of Capri town (its real name is Piazza Umbero I, piazzetta means 'small piazza' and it is how it is most commonly referred to).
Piazzetta is just what you expect a place for glamorous aperitivo in Italy is like.
Outdoor tables, impeccably groomed people, bags of from designer stores beside designer clothes cladded patrons, inviting cocktails and a distinct upscale atmosphere in a pretty island setting.
For better or for worse, a Capri must see!
Catch even more views from Via Tragara and Belvedere
At the back of Capri town center you find stunning Via Tragara, one of the prettiest in Capri.
Via Tragara is flanked by wonderful, elegant villas and open up onto a stunning belvedere with some of the best views over faraglioni.
A Capri highlight!
Walk the Pizzolungo path to the Natural arch
If you feel like stretching your legs and catch more breathtaking views of the faraglioni and Capri, then you want to check out the path of Pizzolungo and the walk to Capri's natural arch.
The path is wonderful (take it from Via Matermania not from Tragara, for easier walking) and leads you close to the natural arch, a natural rock formation in form of an arch that frames some of the best views of Capri you can ask for!
Visit Emperor Tiberius' Villa Jovis
Villa Jovis is the archaeological site with the remains of the Villa of Emperor Tiberius in Capri and truly is a place worth of an emperor.
The villa is perched on high grounds in Capri and has incredibly beautiful views over the island.
You reach following a quiet, well kept path along nice houses and villas and once you are at the site you find a mix of archaeological areas and beautiful nature.
Here, you have what Capri does best: an intoxicating mix of history, green vegetation and blue sea views!
See the sunset at Punta Carena lighthouse
Punta Carena is the south west extremity of Capri island and it is the place where you find Capri's lighthouse (il faro), known for being one of the most powerful in the country after the one in Genoa.
The place is much beloved by locals and it is worth coming here at sunset to have aperitivo in front of stunning views.
See Capri's Faraglioni
I faraglioni are the three tall rocks that define the coastal skyline of Capri, maybe the most distinctive and recognizable landmark in the island.
The faraglioni are in the middle of the sea and the best way to see them is wither from the one of the viewpoints on Capri island or by catching a boat
The best views of faraglioni are from:
Giardini di Augusto
Belvedere di Tragara
Monte solaro
Visit Capri's Certosa
Close to piazzetta, right in the center of Capri, your eye will be caught by the beautiful Certosa di San Giacomo a monastery dating back to the XIV century.
The old monastery is stunning and one of the most important ancient sites in Capri: like other places in the island what is special here is the mix between human presence and nature.
Inside the monastery, you find lovely cloisters and quiet places that near witness to the religious origins of the building but you also catch wonderful views of the sea.
You can find tickets for the certosa here
Tackle the Phenician steps
The Phoenician steps are a staircase connecting Capri to Anacapri.
The climb is rather steep and you need to be steady on your feet however, the views from here are beautiful and well worth the effort!
The views from here are, one again, wonderful and expansive.
Check out Capri beaches
Capri has some wonderful beaches and clean waters and no trip to Capri would be complete without a visit to at least some of them.
Beaches in Capri are not sandy but pebbly and depending on which one you choose, you have easy and gently degrading access to the water or rocky seashore suitable for experience swimmers and divers.
The best beaches in Capri are:
Bagni di Tiberio – my personal favorite, this is a small beach with restaurant and clean waters that you can access by boat only (regular shuttle boats available, the crossing only takes a few minutes).
Marina Piccola, very popular thanks to a pebbly beach gently sloping into the water, one of the most family friendly beaches on the island. If heading to Capri with kids, have a look at our family guide to Capri here.
Marina Grande – the closest beach to the port, this is a nice but very busy beach, suitable especially if you are short on time and need to have easy access to the port and the ferry.
Thanks to the shallow waters, this is a favorite among families so makes up with convenience what lacks in charm.
Faro di Punta Carena – not a beach, you enter the water from the rocky shore with the aid of small steps. One of the best sunset spots in Capri!
Shop for designer clothes in Via Camarelle
At the back of Piazzetta you find Via Vittorio Emanuele, the famous hotels Quisisana and then Via Camarelle, the center of Capri when it comes to designer shopping.
Elegant and clean, this is a place many day trippers to Capri come to so expect great upscale shopping but also a touristy atmosphere.
Take a boat tour around the island
After having seen the sea from Capri, I recommend you see Capri form the sea, taking a boat tour around the island!
Tours are available from many different providers and come in all shapes and sizes: some offer prosecco, some limoncello, some are family friendly, some allow you to stop and swim etc.
You can book a tour in here or you can pick one one the day: the place is full of boat companies offering them so you will find one!
Tours you can book in advance (with free cancellation) are:
Eat traditional Capri food
Capri has wonderful food and some is typical of the island.
Among the specialties not to miss are:
Torta caprese (almond flour and chocolate),
Limoncello (this is a specialty for the whole Amalfi coast area),
Caprese salad (fresh tomatoes and mozzarella),
Ravioli capresi (filled pasta with marjoram and cheese),
Pesce all'acqua pazza (fish cooked with fresh diced tomatoes, water and white wine)
What to buy in Capri
Capri is a lovely place for shopping. Here you are going to find:
Capri sandals – one of the most typical artisan creations from the island, they are flat, have minimal designs and can be embellished with jewels and straps.
Perfumes and fragrances – as you walk around Capri, the beautiful perfumes of Capri nature mix with those recreated by the island fragrance makers.
Perfume shops here make wonderful concoction with local ingredients that allow you to bottle a piece of Capri and bring it home with you!
Capri's campanella – as you walk around Capri you will see a small bell or campanella pretty much anywhere.
This is a special Capri souvenir that it is said should be given to someone special as every time the bell rings, wishes of its owner come true!
Designer clothes – not from the island as such however, the amount of designer shops is a big attractions and makes Capri a sought after destination for bags and clothing by internationally known fashion houses.
Food souvenirs – some of the most delicious food souvenirs form Italy can be found in Capri, especially limoncello, made with the wonderful lemons from the area.
Where to stay in Capri
In Capri there is no shortage of accommodations. Capri hotels and Anacapri hotels and B&Bs you may like are:
Hotel Mamela Capri, beautiful 4 star hotel in Capri with a stunning panoramic pool and terrace. Close to Capri shops and town center, the hotel has beautiful rooms some suitable for families with kids.
Hotel Tragara, elegant 5 star hotel in one of the most scenic locations in Capri with large windows and terraces making the most of the views. Restaurant, pools and spa onsite make this a wonderful hotel for a special stay.
Capri Wine Hotel, lovely 3 star hotel close to Capri town city center with a pretty pergola with vines and lemons opening onto stunning island views.
Il Giardino dell'Arte, pretty Anacapri hotel with a Mediterranean feel and wonderful terraces with views over Capri and the Bay of Naples. Quiet and tranquil setting, nice rooms perfect for couples and families alike.
Hotel La Reginella, Capri, 10 minutes walk from la Piazzetta, affordable, nice hotel with family rooms for up to 5 people and baby sitting service available at an extra charge.
Albergo Gatto Bianco, close to Marina Piccola, a lovely, clean and relaxing hotel with family rooms, baby sitting service (extra charge).
What to see near Capri
Capri is near many other destinations worth seeing. In this area you can see:
Sorrento
Ischia
Naples
Pompeii
I hope you enjoyed this travel guide to Capri Italy and it helped you plan your trip. Safe travel planning!