10 day Italy itinerary ideas: how to see Italy in 10 days
10 day Italy itinerary for first-time visitors and 3 more recommended itineraries for 10 days in Italy for returning travelers.
10 days in Italy are a lovely length of time to discover the country however, they will require some planning and prioritizing.
Even if you are willing and ready to move around a lot, a 1 day Italy trip will inevitably leave large parts of the country out so you want to make sure those you do see truly count!
Out of the many ways to spend 10 days in Italy, I have selected four.
The first is a classic Italy itinerary that will have you see many of the most famous Italian landmarks.
It is a pretty intense itinerary with a lot of travel but I have also included downtime so you can feel on vacation.
The other two are alternative ideas if you want to limit the amount of traveling you do every day and prefer to explore in depth one area.
Going with kids? Read here >>> Itinerary ideas for 10 days in Italy with kids instead!
Please note: this post contains affiliate links and, should you make a purchase, we might make a small commission at no extra cost to you.
10 day Italy itinerary: classic Italy trip itinerary
This first itinerary idea is for first time visitors who have limited time but want to see all the most popular area of Italy and many of Italy's main landmarks.
It is a fast trip, one that will have you move most of the time however, I have created in in such as way that you have reasonable transport times each day and can take your time or shopping and relaxing.
This itinerary foresees getting around by train and local tours (bus).
| | | | |
| --- | --- | --- | --- |
| Day | Place | Type of attraction | Transport time |
| 1 | Venice | Venice city, | N/A |
| 2 | Venice and Burano | Venice city/ Burano island | 45min ferry to Burano each way |
| 3 | Florence | Florence city | 2h15mins (train) |
| 4 | Florence and Tuscany | Florence City, Lunch in Chianti Countryside | Depend on exact tour |
| 5 | Cinque Terre | Cinque Terre villages, coastal landscapes | Long day tour |
| 6 | Rome | Transport to Rome and rome city center | 1h train |
| 7 | Rome | City center and Vatican | N/A |
| 8 | Sorrento | Sorrento Coastal town | About 3h train |
| 9 | Amalfi coast tour | local ferry | Several short ferry rides between the different cities (10 o 30 mins each) |
| 10 | Pompeii/Rome | Train | 3h Train |
Please note: transport times are approximate
I recommend you start your trip to Italy from Venice and consider two different airports for arrival/departure.
If this is not possible, you could rearrange the itinerary to include train time back to Rome as follows: Rome-Amalfi Coast-Florence-Tuscany-Cinque Terre-Venice-Rome.
Day 1-2 Venice and Burano
The first two days on this itinerary will allow you to see Venice and its lagoon. Two days in Venice will allow you to:
See St Mark's, Doge's Palace, Bridge of Sights
Admire Rialto and Rialto market
Take a Gondola ride
Visit Venice's Ghetto
Enjoy Venice's food in the city's bacari
See the lovely island of Burano, a short ferry ride away from the city (45 mins) and one of the prettiest small towns in Italy.
You can find our recommended Venice itinerary here. Accommodation recommendations:
3 – Florence
On day three, I recommend you get up bright and early and head to Florence by train.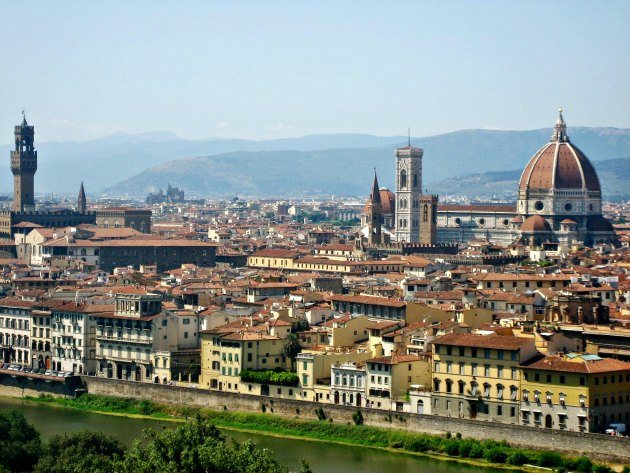 The high speed Freccia Rossa train connects the two cities and the trip is easy and pleasant, lasting about 2 hours.
On arrival, you find yourself in Florence city center and you can easily get to your hotel and have a first walking exploration of Florence.
After leaving tour bags, you can easily:
See Florence Piazza Duomo,
Admire Piazza della Signoria
Walk Ponte Vecchio
Before having dinner in Santa Croce
You can find our recommended Florence itinerary here.
Accommodation recommendations:
Day 4 – Tuscany excursion
Florence is surrounded by gorgeous hills and a lovely way to spend this day is to take a day tour there.
This would allow you to get a taste of the Tuscan countryside, relax while someone else drives you, and you will still have time to enjoy Florence in the late afternoon.
Beautiful day trips from Florence to consider are:
Day 5 – Cinque Terre Tour
Cinque Terre are a lovely part of Italy and can be included in this 1 day Italy itinerary taking an organized tour or, if you prefer, negotiating train journeys to the area.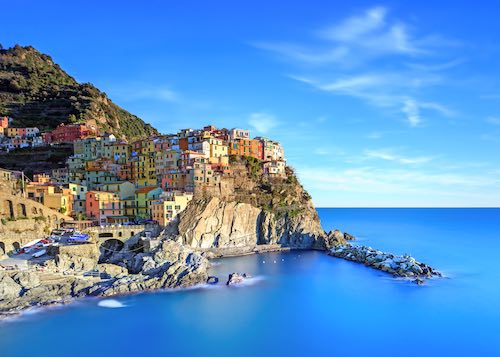 Both solution can work well and largely depend on how comfortable you are with independent travel.
To go on your own, you catch the train from Florence to La Spezia and then the local Cinque Terre train from one town to the other. This is not hard but can be tiring as it will have you on your feet most of the day.
A bus tour will give you less freedom however, it will allow you not to have to worry about transport which can be ideal for more nervous travelers.
Good day tours to consider are:
Day 6 – Florence and Rome
After the long journey the day before, i recommend you spend this day relaxing between Florence and Rome.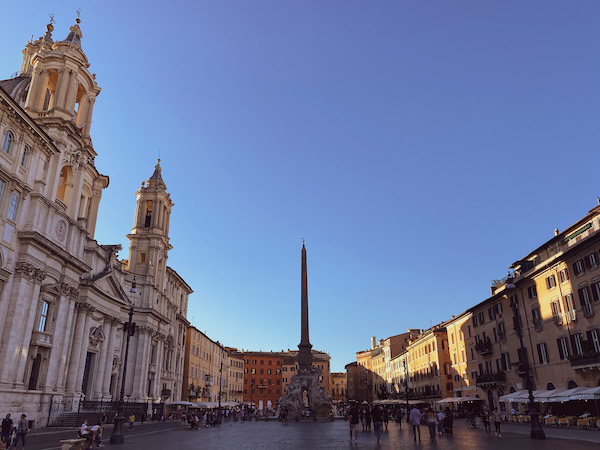 The train ride between the two is quick and easy and you can spend the day, for instance, shopping in Florence and then settling in Rome.
I recommend you stay in the city center and have dinner at the center and wonderful 'La Ciambella' restaurant for a first stunning impression of the eternal city.
Accommodation recommendations:
Day 7- Rome
Fay 7 is your day in Rome and there are several ways to spend it. You can find my comprehensive Rome in one day itinerary here.
If you prefer guided tour of the city, you can check out this one by LivItalty, one of my favorite tour providers in Italy.
8-9 Amalfi coast
The Amalfi coast is to the south of Rome and requires a little bit of transport time, which is why I have dedicated a total of three days to the area.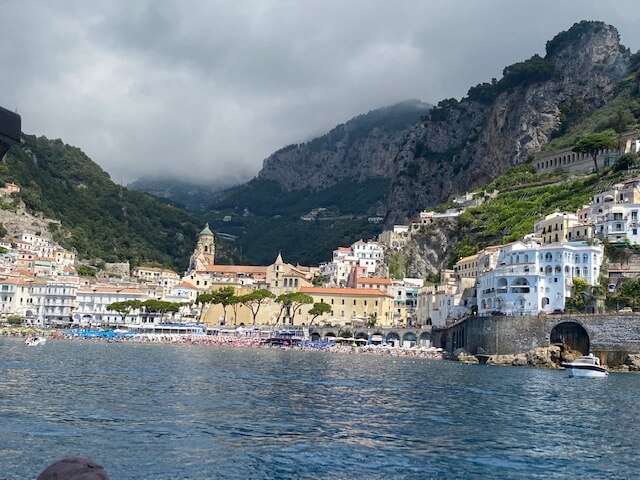 This basically allow you to have one day where you are not catching trains or lugging luggage around!
A great place to base yourself in the Amalfi coast is Sorrento, which is pretty, easy to reach from Rome by train and the perfect jump off point to see Capri.
With this time, you can leisurely see the main Amalfi Coast towns and maybe even have the time to explore Minori and Maiori, two delightful towns connected by a scenic path!
Accommodation recommendations:
Day 10 – Return to Rome via Pompei
On this last day, you can make your way back Rome stopping in Pompeii. Pompeii is unique in the world and a place like not other if you love Roman history.
You can easily reach it by train from Sorrento, leave the luggage at the local baggage deposit at the station, visit the site and get the train back to Rome.
Audio tours and fully guided tours are available: I recommend you book a guide in advance (the place gets very busy).
Tickets and Guided tours you can book in advance:
Once you are back in Rome, you can go back to the same hotel as before or, if you want to treat yourself to an unforgettable meal and night, you could splash out and stay at the wonderful Palazzo Manfredi Hotel.
In front of the Colosseum, it has stunning rooms and a fantastic rooftop terrace with breathtaking views. A treat and totally worth it!
10 days to see Rome, Tuscany and Cinque Terre – 10 day Italy road trip idea.
Another lovely way to spend 10 days in Italy is to focus on the Rome – Tuscany and Cinque Terre area.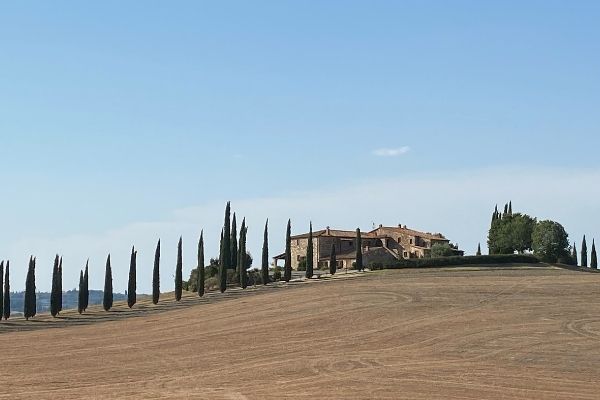 The best way to tackle this itinerary is by car, with the exception of Cinque Terre that are better explored by train.
This is my recommended 10 day Italy itinerary for people who want to stay in a relatively contained area yet still be able to see many famous places and a variety of landscapes.
This itinerary would foresee:
Day 1-3: Rome – you can read what to see in Rome in three days here
Day 4 – 5: Florence – you can find how to plan your time in Florence here
Day 6: Siena – Unesco world heritage site and universally recognized as one of the most beautiful towns in Tuscany, Siena is a delight and should not be missed. Find our recommended itinerary for Siena here.
Day 7 – 8: Cinque Terre – Many operators offer day tours to Cinque Terre however, if you ca, spending at least two days here is necessary to start feeling the spirit of the place. I recommend you stay in Monterosso if you have kids or in Vernazza/Manarola for a romantic stay.
Day 9-10: Pienza/ Saturnia/ Orvieto/ Rome – On this day you could simply get the train back to Rome but I recommend you drive and use this opportunity to explore a little more.
Places you can easily visit on this day are:
Pienza – lovely Renaissance town, UNESCO World heritage site
Orvieto – wonderful hilltop village with a stunning Duomo.
10 days to see Rome and the South – 10 day Italy road trip idea
Another fabulous way to spend 10 days in Italy is to get a car and explore the South.
This is an area I adore and allows you to see quite a variety of landscapes and town, with relatively little driving.
Day 1-3 Rome – This itinerary is easily done starting from Rome, where I recommend you spend 3 days. Find my 3 days in Rome itinerary here.
Day 4 – This is a driving day that will bring you to see the lovely town of Trani and the incredible Castel del Monte, UNESCO World heritage site nearby.
Find our guide to Trani and recommended accommodation here.
Day 5: Alberobello. Alberobello is the town with trulli, the delightful and hobbit-like houses with round shape, whitewashed walls and pointy grey roofs.
You can find our guide to Alberobello here
Day 6: Locorotondo and Martina Franca. Lorotondo and Martina Franca are two delightful towns in Puglia with something special: they are entirely white!
You can find our guide to Locorotondo here and our guide to Martina Franca here.
Day 7-9 Matera. Matera is unique in the world and a town that needs 3 full day to be explored as it defeats imagination.
Entirely carved in the flank of a mountain, it is one of the most ancient cities in the world and has incredible cave dwellings and rupestrian churches as well as a wonderfully pleasant atmosphere
You can find our guide to Matera here.
Day 10: Rome via Paestum: on this last day of this itinerary, I recommend you make your way back to Rome but stop in Paestum, one of the most beautiful archaeological sites in Italy.
You can see info and photos of Paestum here: I am sure you will agree it is worth seeing!
10 days to see Venice and the North
The last 10 day Italy itinerary I am going to recommend is in the north of the country.
You can d find my recommended Northern Italy itinerary here however, at a glance, it will allow you to see:
Venice and its lagoon
The Dolomites – stunning mountain landscapes, perfect for hikers
Verona – with its famous arena and Juliet's house
Lake Garda – wonderful for scenery, small towns and cycling opportunities
Milan – with its duomo, Galleria and Last Supper
Lake Como – and its pleasant lake views
Cinque Terre – pretty coastal towns in Liguria
Additional resources to plan this 10 day Italy trip