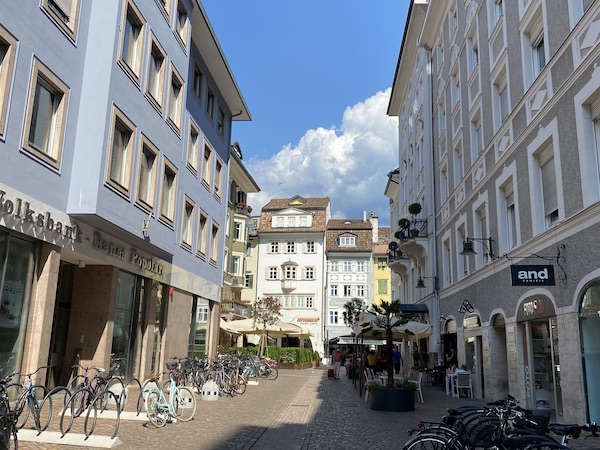 Bolzano travel guide: all you need to know to visit this pretty mountain town in Alto Adige Italy
All you need to know to visit Bolzano, Italy. Discover the best things to see, the best food, cultural curiosities and practical tips to enjoy this fairytale town.
Bolzano is a delightful city on the foothills of the Dolomites, in Northern Italy.
Nestles among beautiful mountains, Bolzano is small town like few others in Italy.
Alto Adige only became part of Italy after the First World War, and this means that Bolzano now has a culture and architeture that mixes Italian and Austrian culture.
It is a perfect place to taste the South Tyrol atmosphere and traditions that are peculiar to this part of the world.
I am fond of Bolzano.
I have been spending all my childhood summers on the Dolomites and now that I have kids myself, I love bringing them to this part of Italy and make memories with them.
Bolzano is the getaway to the area and arriving here always has that very special taste of the first day of vacation.
The city's pretty center, the delicious bakeries and the stunning views are a treat, no matter the season.
The fact that the city is bilingual German Italian adds to the special atmsphere of the place.
In this travel guide, you find all our tips to visit Bolzano, the best things to do, food recommendations and practical advice to see Bolzano with kids.
Please note: this post contains affiliate links. Should you make a purchase, we might make a small commission.
Where is Bolzano and how to get there
Bolzano is a small city in the Northwest of Italy.
It is the provincial capital of the region of Alto Adige and is well connected to the rest of Italy by motorways and rail connections.
By car, you find Bolzano on the main motorway to the Brenner Pass A22.
The nearest airports to Bolzano are Verona, Treviso and Venice in Italy and Innsbruck in Austria.
Verona – Bolzano: 1h55mins
Venice Airport – Bolzano: 3h
Treviso Airport – Bolzano: 2h40 mins
Innsbruck Airport (Austria) – Bolzano: 1h40 mins
Bolzano has a good train station served by high speed trains, local trains and cross border trains.
Rome – Bolzano by high speed train (Freccie or Itato): about 5 hours, depending on the exact train
Verona – Bolzano: 1h30 mins
The best time to visit Bolzano
My favorite times to visit Bolzano are Christmas and the summer.
In December, Bolzano hosts one of the best Christmas markets in Italy.
True to the German tradition that makes up such a large part of its history, the main piazza in Bolzano dresses up with beautiful decorations and lovely stalls over the Christmas weeks.
The welcoming stube and bakeries of the city offer the perfect refuge for the freezing temperarures of this time of the year and become a heaven oh hot chocolate moments and crackling fire atmpsheres.
If you are looking for the quintessential Christmas atmosphere and possibly a white Christmas, Bolzano and its immediately surrounding area are the place for you!
In summer, Bolzano is fantastic for sightseeing and a getaway to walks and hikes in the area.
Located at sea level, but surrounded by mountains, it is an excellent introduction to the area and has a mix of outdoor attractions and museums that make it suitable for all types of visitors.
The best things to do in Bolzano
Bolzano proper is a small town with compact city center but it has a lot to offer.
Depending on the time you have, you can join a guided tour of the city center or explore at your own pace.
Things to do in Bolzano I recommend are:
Explore Piazza delle Erbe and its pretty market
Bolzano town center is all very pretty, but no place is prettier in my opinion than Piazza delle Erbe, a small piazza in the heart of Bolzano.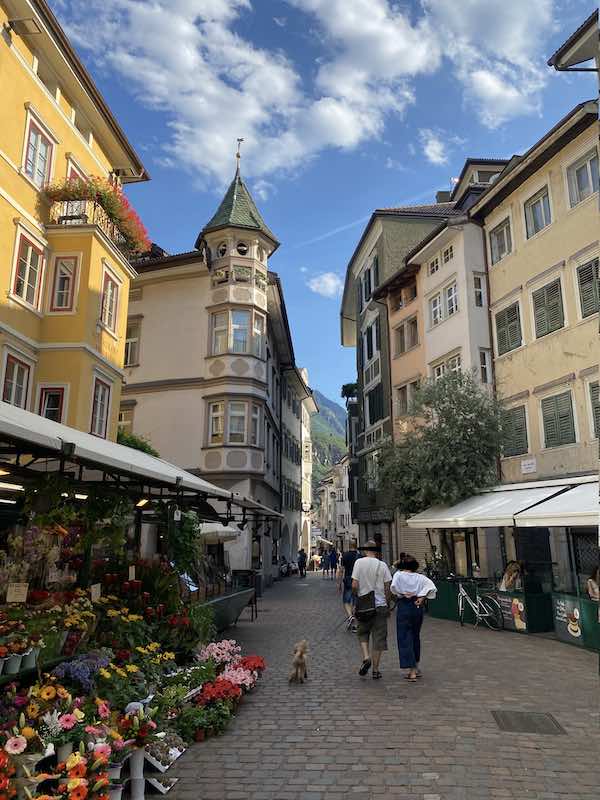 The piazza and the roads immediately surrounded it boast fantastic Austrian style architecture and they embody that fairytale town look Bolzano does so well.
Tuttets, baywindows, painted house facades, flowers: walking here is a little bit like stepping into the town of Beauty and the Beast, complete with market stalls with locals doing their grocery shop!
The area around Piazza delle Erbe is my favorite in Bolzano: you find it quickly just strolling around the city – I recommend you take your time to look up at the different buildings here.
Each is unique and the detailing of their facades are stunning.
Relax in Piazza Walther
Another beautiful piazza in Bolzano is Piazza Walther, possibly the mosy famous in the city and, under many respects, the most important.
The square dates from 1808, it is stunning and and serves many purposes.
As the largest city center square, this is where the Bolzano Christmas market takes place, a location for city gathering and also a beautiful area for a drink in the sun.
In summer, the piazza hosts by many cafes and bars that offer Italian and Austrian inspired dishes that you can much on while admirign the beautiful duomo of Bolzano and the green montains that surround the city.
The piazza is large and while it feels much less intimate than small and encolosed Piazza dele Erbe, it is a Bolzano must see.
The piazza also doubles up as one of the central transport hubs in the city: undergound parkings are here and many buses stop nearby, which means the piazza is likely to be the first place you encounter when entering the city.
Admire Bolzano's Duomo
Piazza Walther is overlooked by the beautiful church of Santa Maria Assunta, Bolzano's Duomo.
The Duomo is a gem or Romanesque – Baroque architecture and it is the most distincive landmark in Bolzano.
The church has a multicolored roof made of green and yellow that is reminiscent of that of St Stephen's in Vienna and it has a wonderful gothic tower with beautiful carvings.
Inside, the church its work seeeing for its frescoes and the so called 'treasure of the Duomo', the most extensive collection of Tyrolean sacred art in the area.
Address:
Chesa dei Domenicani (Dominicans' church)
If you love churches and sightseeing, then you shouldn't miss the DOminican's church of Bolzano.
Located only a short walk from the duomo, the church deserves a visit especially for its chapel which boasts frescoes of Giottos' shool, representing story of the Baptist and the Virgin.
Address:
Meet Oetzi the Ice Man
If you are looking for something unique to do in Bolzano, then you cannot skip a visit to Oetzi and his museum.
Oetzi is a man who lived in the Copper Age (5300 years ago) and whose remains have been found in an incredibly good state of conservations in Val Senales, in the Bolzano Province.
Brought to Bolzano to be studied and showcases, Oetzi is a unique find that has allowed historians and archaeologists to undesrand elements of that ancient age that were simply beyong our grasp before this discovery.
Visiting Oetzi is easy and rewarding.
The mussum is in Bozlano city center and you can get tickets in advance or on the spot. Find them here.
The musuem has a glass chamber with Oetzi himself and many exhibits and info panels thayt tell us about his life and his time.
This is a fantastic musuem in Bolzano wirht seeing at any age (I believe it si one of the best things to do in Bolzano with kids, below). Photos inside the museums are not allowed.
Address: Via Museo/Museumstraße 43, 39100 Bolzano/Bozen, South Tyrol – Italy
Go shopping under Bolzano's porticoes
One of Bolzano's architecture characteristic is its pretty porticoes, which you find in Bolzano city center and especilly in the aptly called Via dei Portici.
The proticoes are covered passages with shops and restaurants and they are lovely to see and also a bit of a lifesaver in winter, when the cold gets intense!
Bolzano's porticoes are lovely to see and also a great place for shopping too.
Have a Tyrolean aperitivo
The food of Alto Adige is very different from that of other parts of italy so aperituvo here looks a little different from what you may be used further South however, it by all means as delicious!
My favourite way to tap into the traditional food of this area is to sit at one of the pretty city terraces, order a Hugo, tyrolean platter and watch life goes by.
The perfect activty for a late afternoon in Bolzano!
Have cake in one of Bolzano's delicious bakeries
Bolzano is a corner of heaven if you love cake and baked goods.
The city has many Austrian Style cafes and thet are an aboslute dlieghtL here, you can grab a table and lesirely savor the many sweets on offer, pretty much any time of day.
For breakfast, you can enjoy coffee and krapfen or jam buscuits, as well as traditional Italian staoles such as cornetto.
In the afternoon, you can have tea or hot chocholate, tuck into an apfel strudel, lienzer torte or a local torta di ricotta, made with the luscious dairy products of this area.
Have dinner in a traditional restaurant
Bolzano has lovely restautrants that offer authentich south Tyrol fare in traditional surrondings.
Traditional Alto Adige food to try includes tagliatelle with game ragout, schlutskrapfen (tyrolean Ravioli), spaetzli (tyrolean gnocchi), game and trout.
Wash everything down with local wines such as those from Novacella Abbey, nearby, reds from Caldaro's Lake or a nice Marzemino, from Trentino.
A restaurant we enjoyed is the Franziskaner Stuben in the city center.
Top tip. If you love food, you may enjoy joining a food tour like this one. Food tours are a fantastic way to learn about the peculiar traditions of this area and taste the best of the best Bolzano's food with the aid of a local!
Get the cable car to Soprabolzano and visit Renon
One of the best things about Bolzano is its location and there is not better way to appreciate its natural surrounding than by taking the cable car to Soprabolzano and renon.
The Renon is a plateou just above the city of Bolzano with stunning towns vineyards and views.
The cable car quickly brings up to the plateu and from here, you can explore at leisure using the little local train: Trenino del Renon has a mix of ancient and new carriages and it is a narrow gauge train that allows to explore the area with ease.
Worth seeing here are also the 'earth pyramids', a peculair natural monument that formed 25000 years ago!
Go cycling
Bolzano is a very bike friendly city with excellent cycling paths (piste ciclabili).
If you rent a bike and helmet, you can cycle along the Talvera River or tackle the cying route between Bolzano and Merano, fantastic for views, picnic spots and picninc spots.
When the apple trees are in blooms in spring , the area is excptionally lovely and one of the best places to see flowers in Italy!
Experience Bolzano's Christmas market
As mentioned above, Bolzano hosts one of the best and most atmospheric Christmas markets in Italy.
The market is wonderful and attracts large numbers of visitors so I recommend to book accommodation well in advance to avoid disappointment or crazy high prices (Bolzano is never cheap!)
In 2021, the Bolzano Christmas market is planned for 26th November 2021 until 6th January 2022 – you can find opening days and hours here.
The best thigns to do in Bolzano with kids
Bolzano is a family friendly city with several kid-friendly attractions.
Things we love with our kids are:
A huge attraction in Bolzano for my kids are the town's many bakeries. This is the only place in Italy when they don't as for gelato!
The idea of meeting an ice cave is pretty irresistible for children and we found that the Oetzi Museum didn't disappint.
Oetzi himself is only part of the experience.
The museum has many interactive exhibits that allow kids to learn and experiment what life must have been like in the bronze age and it also has a large family room (upstatirs) where kids can play and let out steam.
This is our favorite plce for kids in Bolznao and perfect expecially on a cold or rainy day.
Have a picnic and play on the Talvera river
Bolzano has a lovely green area for kids along the Talvera river. Here, you find expansive lawns, playgrounds, picnic areas and you also have cycling paths, safe for all ages.
Visit the Museum of Nature of Alto Adige
If your kids are new to this area, it is worth going to the local Natural Museum. The museum is devoted to the peculiar natural landscape of this area and has interactive echibits and events for kids of all ages.
Cool down in Lido di Bolzano in summer
Despite the presence of the mountains, Bolzano is at sea level which means that in summer it gets hot!
If you need to cool down, a fun place for kids in Bolzano is Bolzano Lido, an area equipped with kids friendly pools,sun iumnrellas and outdoors spaces to play and escape the most torrid hours of the day.
One of the easiest ways to experience the mountains from Bolzano with kids is to use of the local cable cars.
There are three of them: the Renon cable car, Colle Cable Car and San Genesio.
The Renon cable car allows to then explore the Renon area using local narrow gauge engine 'Trenino del Renon', great for adults (for the views) and guaranteed fun for the kids.
Our suggestion to get a bike and explore the Bolzan area cylcing stands also if you have kids! There are several cycling routes in the area and you an easily rent a bike and helmet in Bolzano and set your kids on the way.
Where to stay in Bolzano
Bolzano has many hotels and apartments to suit all types of travelers.
The town is best discoered on foot so, especially for short stays, I recommend you stay in the citu center: this way, you are walkind distance from the train station and all main attracrions and you can sightsee as leisure.
Hotels / apartments you may want to consider are:
Parkotel Laurin – a Bolzano institution, this an excellent elegant hotel in the heart of Bolzano set in a beautiful Art Nouveau style dating from the early 1900s. The perfect palce for an elegant stay in traditional surroundings.
Hotel Greif – Right on Piazza Walther, in Bolzano city center, this is a family friendly hotel with excelent facilities inlcuding a swimming pool and fitness center.
Laubenhouse – lovely apartment for up to 4 people, in a central location close to Piazza Walther and the Bolzano Christmas market. You can choose etwee different layout options depending on your party: all apartment are nicely decorated and mix modern comfrot with traditional touches that root them in the city.
Il Battente 1862 – wonderfl two bedroom suite in the heart of Bolzano set in an 18th-century building. The apartment has tradiitonal elegant decor but all the modern comfrots inlcuding wifi. Family friendly.
What to pack for Bolzano
What to pack for Bolzano depends on trh season of your visit.
In winter, Bolzano can get very cold so it you want to pack a warm coat, scarf, hat and winter shoes.
In summer, you are likley to find hot days that will call for short sleeves and summer dresses however, temperatures drop at higher altitudes so you want want o come equipped with a light sweater.
If Bolzano is your jump off point for a holiday hiking on the Dolomites, then I recommend you check out here >>> our guide to what to pack for the Dolmmites in summer.
I hope you enjoyed this quick guide to the best things to do in Bolzano and it helped you plan your trip. Safe travels!
More resources for a trip to the Bolzano Region
Find here >>> Our guide to the best places to visit on the Dolomites with kids
Find here >>> Our list of the most beautiful places on the Dolomites