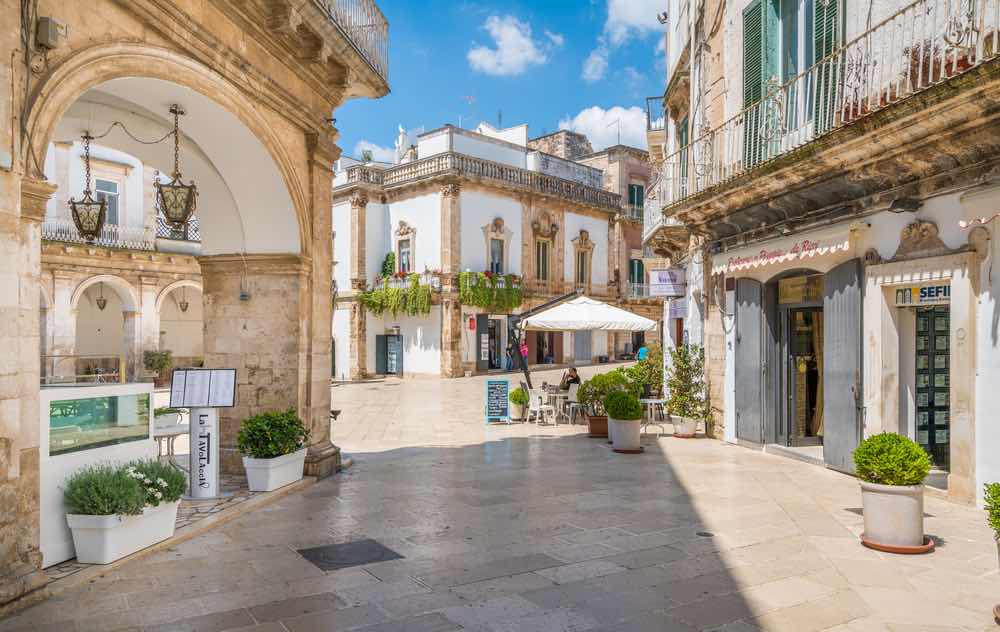 Martina Franca Italy: all you need to know to visit one of Puglia's prettiest towns
All you need to know to visit Martina Franca, one of the prettiest towns in Italy's Puglia region. Learn what Makes Martina Franca special, how to visit Martina Franca with kids, and what to see in Martina Franca, in this Martina Franca Puglia travel guide.
Martina Franca is a delightful small town in Puglia (Apulia), the Italian region forming the heel of the Italian boot.
The village is all you expect from a pretty, southern Italian heaven, plus some particular extra elements that make it unique in the area.
In Martina Franca, you find whitewashed alleys, laundry drying in the breeze, cats napping in sun-drenched streets and the chatter of TVs and families reaching you from the open windows of the local homes.
In Martina, however, you also find outstanding Baroque Architecture (Barocco Martinese) and lovely restaurants and wine bars, making Martina Franca perfect for a family vacation as much as for a couple's weekend getaway or a solo adventure.
Among the most beautiful places in Puglia, Martina Franca is popular with toutists but still feels local, especially if you go out of season (the high season is Easter and July-August).
This is our travel guide to Martina Franca.
You can learn here >>> how to include Martina Franca in your Puglia itinerary <<<
Please note: this post contains affiliate links and should you make a purchase through them, we might make a small commission at no extra cost to you.
Where is Martina Franca and what is nearby
Martina Franca is perched on a hilltop in Val D'Itria, a beautiful valley in Puglia famous for olive oil production and trulli.
In the same area, you have famous Alberobello and its trulli, lesser-known yet stunning Locorotondo, Instagram famous Polignano al Mare.
You are also writhing easy reach of Bari, Brindisi, Taranto and Matera, which you can easily visit from there.
The easiest way to get there is by private car; however, local tours often include it and there are also local buses that offer connections with larger centers such as Bari. See below for transport options.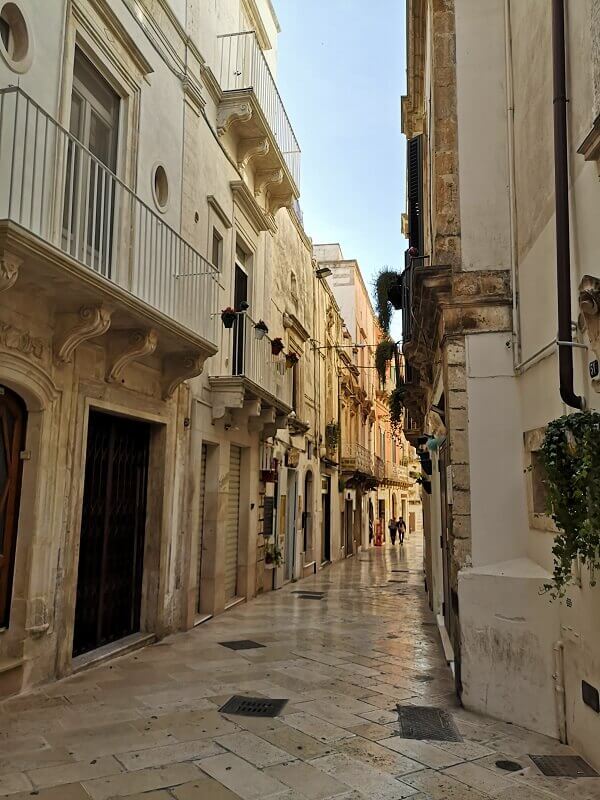 What makes Martina Franca special
As you first drive into Martina Franca, you get the impression of entering a town like many others, but appearances are deceiving!
While Martina Franca spreads out with modern suburbs, as soon as you leave the car and venture inside the city center, you will discover a different side of town, one full of charm and beauty: Martina Franca's old town.
Martina Franca used to have city walls, which in part you can see around the main piazzas, and now develops into two main areas.
Pretty cobbled streets and beautiful piazzas characterize the first part of town you see.

Making the most of the glorious Apulian weather, the piazzas host cafes and outdoor terraces and are overlooked by one of the things that make Martina Franca special: baroque churches!
Despite being a tiny town, Martina Franca has outstanding churches in a particular type of style called Barocco Martuinese (Matinese' Baroque).
This style is somewhat reminiscent of the baroque of Val di Noto in Sicily and has elaborate church facades in light-coloured stone.
The second part of town, which you reach with a short stroll from the city gate, is very different and equally charming, completely whitewashed!
This white neighborhood is typical of this part of Puglia and makes Martina Franca one of the so-called 'Citta' Bianche' (white cities).
In this area, you find primarily private homes: walking here is a delight as you have the quintessential Italian experience of a local village, with the smells of cooking and the chatter of locals in the air.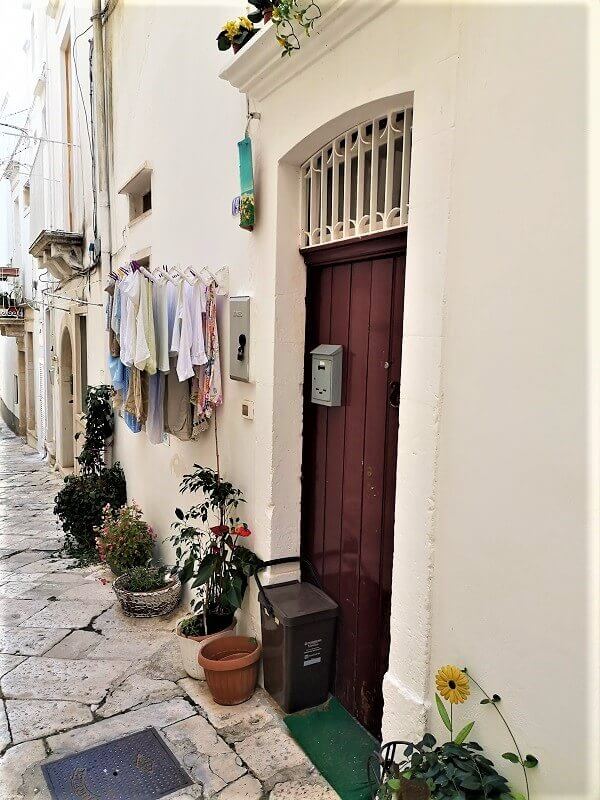 What there is to see in Martina Franca?
This is what I recommend you see in Martina Franca more in detail.
Martina Franca city walls and gates
Martina Franca was founded in 1310 by prince Filippo D'Angio and still maintains many traces of its medieval past.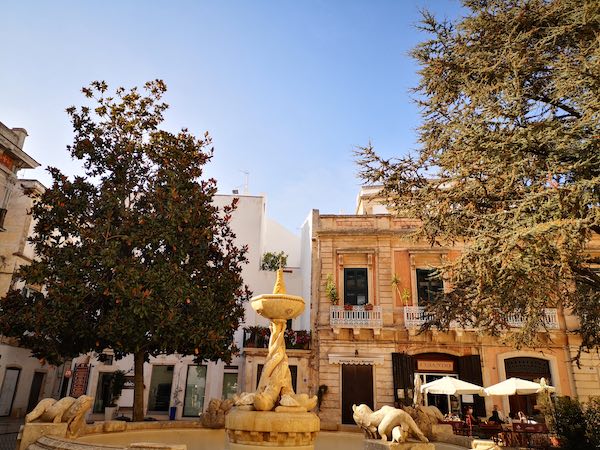 Perched on top of a hill for defensive reasons, it was surrounded by protective city walls 24 watch-towers overlooking the surrounding countryside and 4 city gates.
The walls and gates are still partially visible, although recent times have brought significant changes to their appearance and use.
The gates of Martina Franca are names after Saints: Porta Santo Stefano, Porta San Nicola, Porta San Pietro and Porta Santa Maria).
The most impressive and easier to find is Porta Santo Stefano which leads you into the old town center.
Santo Stefano Gate dates to the XV century, but it was destroyed and rebuilt in the XVIII century. Now, it has a distinctive Baroque appearance that is peculiar to this town and it is, therefore, a great introduction to what the city is about.
Palazzo Ducale
As you enter Martina Franca's old town, one of the first buildings you'll encounter is Palazzo Ducale, which overlooks the beautiful piazza Roma.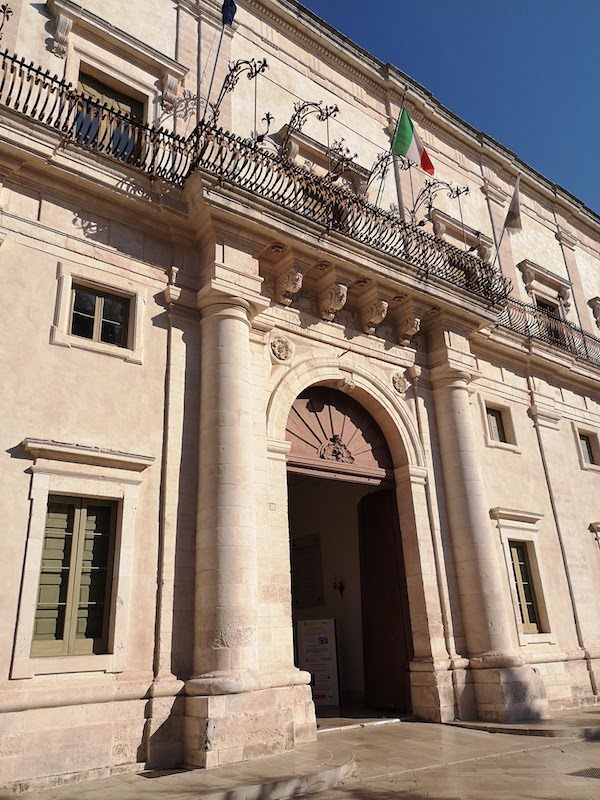 The palazzo is now part home to Martina Franca's city hall and part museum and it is a grand, interesting sight.
The Caracciolo family built it to resemble a royal residence and its original plans wanted it to have 365 rooms!
While this ambitious plan never came to fruition, the palace is still genuinely magnificent and a fantastic example of the Barocco Martinese this town is famous for.
Other impressive buildings and palazzi worth seeing in Martina Franca are:
Palazzo dell'Università and city tower
Palazzo Martucci
Palazzo Ancona
Palazzo Blasi
All easy to spot while strolling around Martina Franca.
Basilica di San Martino
One of the best places in Martina Franca to admire the local Baroque style is the Basilica of San Martino, the city's Patron saint.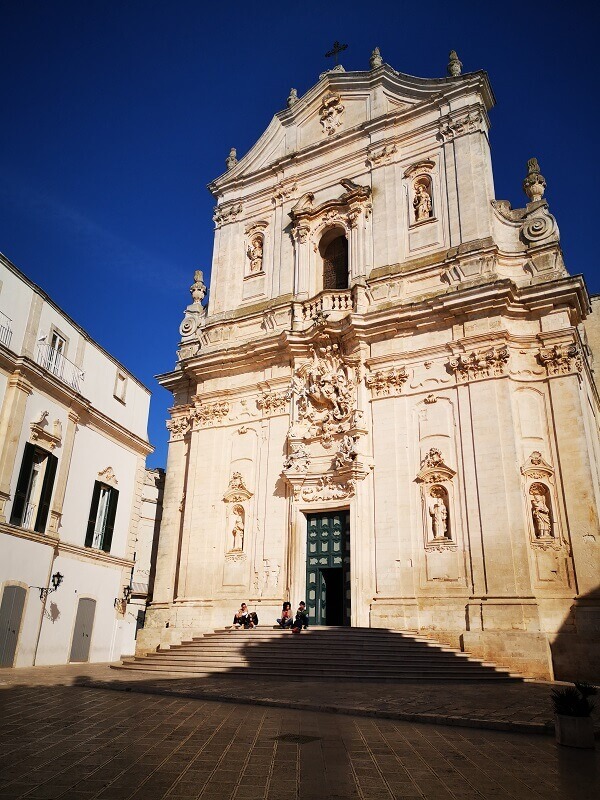 The basilica is worth visiting inside, but even just admiring the outside will leave a lasting impression.
Inside, you can admire its elaborate architecture and significant artworks from local painters; outside, the facade is a triumph of intricate carvings, made even more impressive by the ever-changing combination of light and shaded area, moving with the sun.
Piazza Maria Immacolata
Martina Franca has many beautiful piazzas but maybe the most beautiful and the most famous of all is Piazza Maria Immacolata.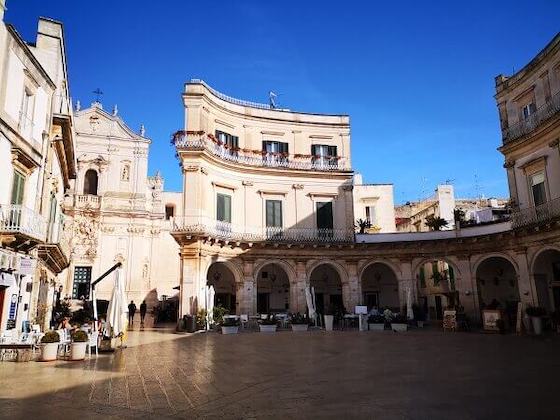 This piazza is a grand square framed by semi-circular buildings in the same elaborate style as Martina Franca's churches.
Under the shaded porticoes of these winged constructions, you have cafes and restaurants where you can sit and relax for a meal while watching life pass by. On certain occasions and weekends, the square also hosts performances and local parade, which are fun to watch for adults and kids alike.
If you have children, they'll love the gelato shop here too!
Martina Franca's whitewashed streets and La Lama
Martina Franca is one of the so-called citta' bianche (white towns) of Puglia. It owes its name to a beautiful whitewashed neighborhood that develops immediately below the main square.
This part of town is called La Lama and is a delight to visit: there are no main sights as such, but every corner offers a cute view of a surprise.
This can be an inner courtyard with laundry drying in the sun, a pretty balcony with flowers, and a hidden staircase to a small door.
The place feels a little like a maze, and you may temporarily feel you are getting lost in its cut de sac alleys but fear not!
The whole area is small enough you will always find your way out!
This part of Martina Franca has a history reminiscent of that of many other towns in the South of Italy, including Matera.
Initially, this was the poorest part of the city: its location lower down the valley would get little sunlight and would therefore have the coldest and dampest dwellings.
Nowadays, it is an architectural gem!
Here, houses of all shapes and sizes seem to overlap in an extravaganza of white walls and pointy roofs (tetti a pignone, in Italian), following the peculiar shape of the terrain.
This is a lovely district worth exploring, very different from the grander part of town you encounter when you first walk in from the main gate.
Visiting Martina Franca with kids
We visited Martina Franca with our two young kids and we all loved it.
Martina Franca old town is closed to traffic and easy and safe to enjoy with kids: the main roads and squares are perfect for them to run around and the top part of town close to the gates and piazza Immacolata is stroller friendly.
The whitewashed part of town is also great for kids as it feels like a fairytale land. You can leave even little ones to trot ahead of you safely however, this part of town is harder with a stroller since you never have terrain and it is one a slope.
In terms of things to do for kids in Martina Franca, you don't have many activities as such, but the town is full of pretty streets, cars, gelato places and shops children will enjoy.
Nice places to visit in Martina Franca with kids are also:
If you use Martina Franca as a base, there are also nice things to do for kids in Martina Franca area, such as:
Riserva Bosco Delle Pianelle – once a hiding place for bandings, this is now a nature reserve with walking paths, cycling paths and picnic areas.
The best time to visit Martina Franca: special events and local traditions
You can visit Martina Franca all year round but some times are better than others.
Spring and autumn are the nicest time to visit Martina Franca: the weather is usually mild and the crowds thin.
On the 11 November in particular the city celebrates San Martino Delle Sementi, which is a harvest festival that celebrates the local produce and community,
Summer is the busiest time of the year and the most popular with tourists. However, around the 4th of July, Martina Franca celebrates San Martino dell'Aia e Santa Comasia, a 4 day festival with street performances, food and outstanding light display that lights up the town.
This is a fantastic event if you are in Martina Franca with kids!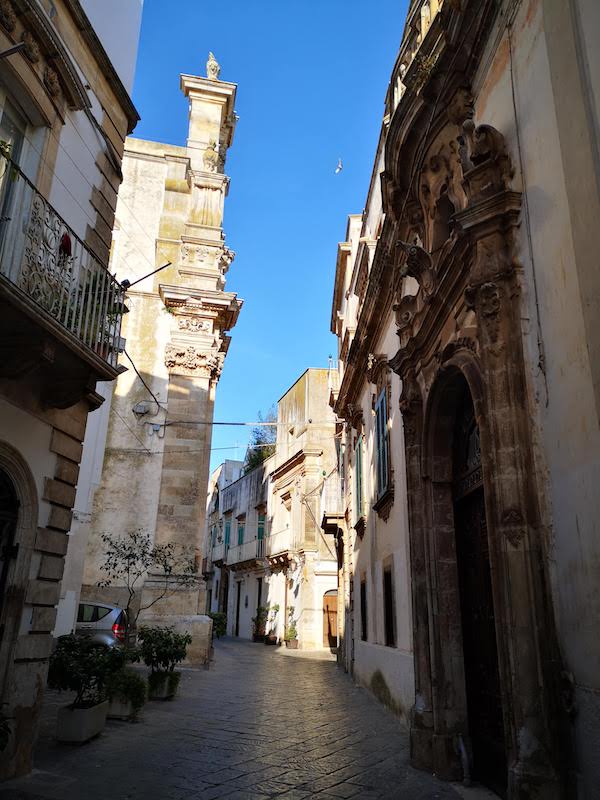 Where to eat in Martina Franca
Martina Franca has many bistros and restaurants where you can try local specialties such as orecchiette con le Cime di papa (pasta), capocollo (pork), Ceci e fave (chickpeas and broad beans) and more.
Places you may enjoy are:
Caffe' Tripoli for coffee and pastry
Garibaldi Bistrot
Dal Brigante
Caseificio gentile (cheesemonger, sandwiches)
Macelleria Braceria Granaldi (butcher and restaurant)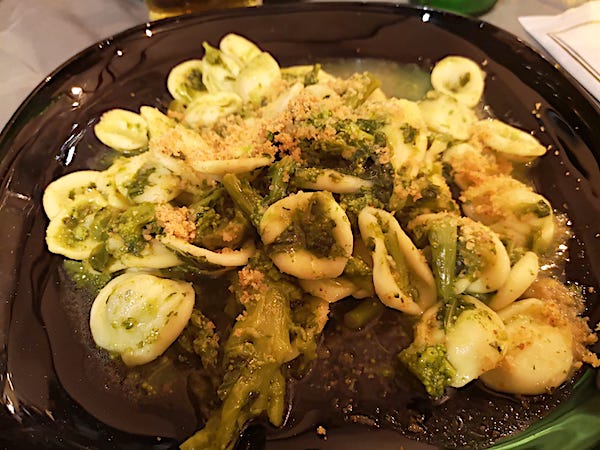 Good to know! If you love food and wine, you can take a tour near Martina Franca to taste local produce and wine in a local winery. Find info and prices here.
Where to stay in Martina Franca
Masseria San Michele – stunning traditional country stay (4 stars) with a pool, also offering cooking classes, wine and olive oil tasting, yoga classes and more. They also have family suites for families with kids.
Trulli D'Autore – a lovely country stay with pool and trulli style accommodation – transfer and taxi service available at an extra fee
Masseria Trulli e Vigne resort and winery, an upscale property with also a pool, restaurant and wellness offerings
How to get to Martina Franca?
Martina Franca is in the South East of Italy, in the region of Puglia.
The closest big cities are Bari, also the nearest international airport, Brindisi, also served by an airport and a busy port, and Taranto.
The easiest way to get to Martina Franca is by car: the roads in this part of Puglia are well signposted and well kept and pay and display parking are easily available just outside the city walls (pay and display).
Martina Franca is about 1.5h from Bari and only a 15-minute drive between Locorotondo and the famous Alberobello.
Once parked, you can visit Martina Franca's historical center on foot.
You can also reach Martina Franca by train from Bari or Taranto via Ferrovie Sud and Sud East, bringing you to Martina Franca railway station.
Please note that the railway station is about 1 km on foot to the town center so if you are traveling with large bags, you may want to consider a taxi to leave you closer to your city center accommodation.
Main Railway Service (http://www.trenitalia.it/)
Local railway and bus service Ferrovie del Sud Est (http://www.fseonline.it/)
You can also reach Martina Franca by bus:
Autolinee Marozzi (http://www.marozzivt.it/)
FlixBus (https://www.flixbus.it/orari-fermate-autobus/brindisi)
Local railway and bus service (http://www.fseonline.it/)
Or by ferry + local transport:
Porto di Bari (Bari Port) – Autorità Portuale di Bari – Toll Free Phone: 800-573738 – http://www.porto.bari.it/
Porto di Brindisi (Brindisi Port) – Autorità Portuale di Brindisi http://www.porto.br.it/
Autorità Portuale di Taranto (Taranto Port) http://www.port.taranto.it/
Martina Franca Local Tours
If you wish to have a guide to explore Martina Franca and the surrounding area, these are some tours you may like:
Itria Valley Guided Tour (also includes Locorotondo and Cisternino)
Martina Franca Baroque tour with tasting
Martina Franca architecture walking tour
I hope you enjoyed this quick travel guide to Martina Franca and it helped you plan your stay. Safe travels!