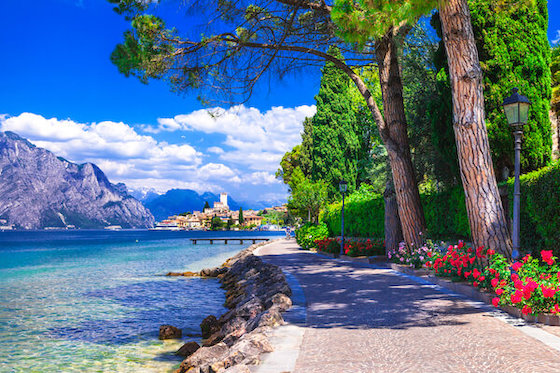 Lake Garda with kids: why you will love this family friendly corner of Italy
All you need to know to plan a visit to Lake Garda with kids: best things to see, main family attractions, practical tips for visiting.
Lake Garda is one of the most popular destinations in Italy for families with kids.
Beautiful and well served, it has lovely opportunities for swimming, pretty towns, amusement parks for children and teenagers and a plethora of accommodation options ranging from local B&Bs to family hotels and family friendly campsites.
Lake Garda stretches across three regions: Veneto, Trentino Alto Adige and Lombardia/Lombardy and can be easily reached from Verona, Venice and Milan.
Find a good map of Lake Garda here (opens in new tab so you can easily visualize it while reading this post!)
These are the best things to do in Lake Garda with kids.
Please note: this post contains affiliate links and, should you make a purchase, we might make a small commission at no extra cost to you.
Lado di Garda with kids: quick tips!
Lake Garda/ Lago di Garda is stunning and all the towns on this list (and many more!) are worth visiting.
Our favorite places on Lake Garda for families who want to have a longer family holiday on the lake are Riva del Garda and Bardolino
Riva del Garda is perfect for families with kids of all ages who want access to the water but also hikes and outdoor pursuits on the nearby mountains
Bardolino is the best base for families who want to enjoy the lake shore, have easy access to the nearby parks and easy access by car from Verona.
Peschiera del Garda is the best place for visiting the theme parks of the area.
Good to know: The best way to explore Lake Garda is by car / ferry and most locations are stroller friendly. The lake can be visited all year round and, especially the Northern part, summers tend to see slightly lower temperatures than other parts of Italy, making it appealing especially if you don't love very hot weather.
The best places on Lake Garda for families
Based on out experience, these are the places we recommend
Riva del Garda – the best place on Lake Garda for outdoorsy families
Riva del Garda is a lovely town on the North Western shore of Lake Garda, where the lake meets the mountains.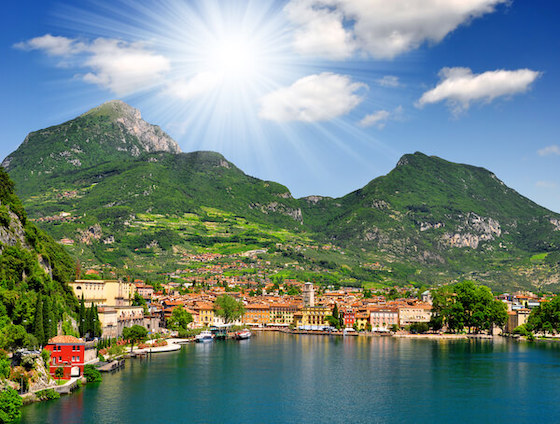 It is in a scenic location, with tall peaks plunging into the water, and it is lovely for families as it offers the option to lounge along the lake as well as easy access to outdoor activities.
The town has a pretty town center, a nice playground for younger kids, easy access to the water, ducks and swans to feed and an all round chilled out atmosphere.
In terms of outdoor pursuits there is Parco delle Cascate del Varone (Varone waterfall), lots of easy hikes and plenty of of splashing, boating and cycling opportunities.
The town is well served and despite the proximity to the mountains it is mostly flat, very easy to handle even with strollers.
We visited with a one year old and me pregnant so when I say it is family friendly, I really mean it!
Family friendly hotels in Riva and surrounding area you may like are:
Active and Family Hotel Gioiosa – large garden with pool and play area, option to book baby/Toddler gear such as strollers
Family Hotel Savoy – Family rooms, pool, large garden, restaurant on site
Astoria Park hotel – family rooms, indoor and outdoor pool, stroller rental option, outside play area, baby sitting option (extra fee)
Du Lac et Du Park Grand resort – with larger rooms and bungalows for families, pool, large garden
Bardolino – the best place for families who want to enjoy the lakes shores
Bardolino is a popular tourist town on the Eastern shore of lake Garda, perched on the stretch of coast where the lake goes from wide to narrow ('Can you spot the other side today' is a firm family favorite game for us here!)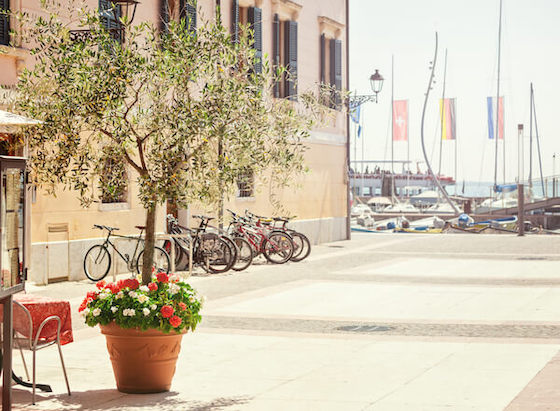 Bardolino is very family friendly and it is one of the best places for families who want to enjoy the lake as a place to swim and play on the shore.
The atmosphere especially in summer is that of a typical lakeside town buzzing with shops, kids and outdoor restaurants
Things to do in Bardolino with kids include an easy, panoramic walk along the lake (also suitable for scooters and strollers), the option of renting a boat for the day and of course spending long afternoons at the town playground!
Bardolino is easy to reach and very well served and one of the best places to use as a base for a family holiday on Lake Garda.
In Bardolino, you find the good Sisan Family Resort with rooms and apartments for families, pool with water slides and indoor and outdoor play areas.
Peschiera del Garda – best place on Lake Garda for kids who love theme parks
Peschiera del Garda is a very special town as, unlike others in the area, it has very many canals that you can explore by boat!
The town has a lovely city center full of shops and restaurants and has a beautiful playground with views over the lake that is fun for kids and beautiful for parents.
What stands out about Peschiera for most families with kids however, is the proximity to the theme parks in the area: Gardaland, Movieland and Canevaworld Aqua park are all here!
Verona, Mantova and the beautiful Parco Giaridno Sigurta', considered one of the most beautiful gardens in Italy ad the world, is also easy to teach,
Peschiera is a popular destination and several boat companies offer lake cruises that can be fun for the day.
Family friendly accommodation in Peschiera includes Hotel Bella Italia, with pools (with slides!), play areas and family rooms and Camping Bella Italia, very popular with families for the water park with no less than 5 pools and the family friendly facilities,
Other pretty towns to visit on Lake Garda with kids
Sirmione
Sirmione is one of the most photographed places on lake Garda as its castle (Rocca Scaligera) raising up from the lake waters is just unbelievably beautiful!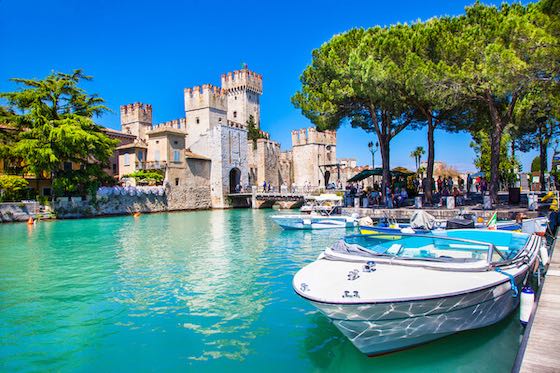 The Rocca is unforgettable: little kids will love the ducks and swans in the moat and more adventurous ones can climb all the way up for incredible views!
Other fund things to do in Sirmione with kids are the thermal baths (perfect in winter or on a rainy day) and Grotte di Catullo (Catullo's grottos) that, despite the name, are not caves but a beautiful ancient Roman villa.
Close to Sirmione there is also the stunning Parco Giardino Sigurta', which is a wonderful garden that won awards as one of the top 5 gardens in the world and is, indeed, special!
Torbole
Along the Northern shores of Lake Garda lies the small town of Torbole, a lovely one to visit with kids.
Like Riva, the town is close to beautiful mountains and has something special for kids: the Busatte Adveture Park!
Malcesine
Malcesine is another small town on Lake Garda nestled between the mountains and the lake.
The town is dominated by the castle, which is open to visitors, and it is pretty for families as it has a quiet pace, nice playgrounds for younger kids and the cable car that goes up Monte Baldo.
A cool thing to do in Malcesine is to catch the boat to Limone, just in front, and the the two sides of the lakes!
This is a lovely town for a visit or to call home for a relaxing stay on the lake.
Limone sul Garda
Limone lies on the Western shore of Lake Garda, in Lombardy, and it is connected to Malcesine by boat, which makes them perfect for a combined day trip to the two sides of the lake!
Limone is tiny and pretty and it is not a place with 'things to do' but a place of atmospheres to enjoy.
The city center with the pretty shops and the harbor are delightful for adults and kids and the olive groves that give the name to the town very cool to see.
Lazise
Lazise is another small and pretty town on the western shore of lake Garda, easy to reach from Bardolino especially.
The two are connected by a nice lakeside promenade and once you arrive in Lazise you will notice the beautiful castle that dominates the town, Lazise's most distinctive trait!
The town is pleasant with kids and once again a lovely place for a day out on the water.
The best things to do on Lake Garda with kids
In terms of things to do for kids, Lake Garda has a lot to offer! Some kid-friendly activities your family may enjoy are:
Enjoy Lake Garda beaches
The lake has some lovely beaches perfect for splashing, swimming and sunbathing. The area of Desenzano has lovely access to water and so does Riva del Garda (nice lawn with cafe too), Lazise and Garda.
Go to a theme park
Lake Garda is the perfect destination if your kids enjoy theme parks!
Gardaland is a favorite, with plenty of rides, 'worlds' and the Legoland theme park and Caneva World is also popular thanks to its water park and Hollywood Cinema theme amusement park.
Go on a treetop and ziplining adventure
The wonderful forests around Lake Garda are perfect for a treetop adventure and there are some parks devoted to offering guest big and small just that!
Have a look at Jungle Adventure Park, Parco Avventura la Quiete and Rimbalzello Adventure Park, Adventure Park Busatte, all in the area.
Go cycling
Lake Garda has some lovely cycling lanes that are perfect also for families with kids. Flat and car free, you can find in the area Lazise-Garda and departing from Limone.
Take a boat tour
There are several ways to enjoy Lake Garda from the water: you can take the ferry to one town to the other, you can get a cruise or rent a boat!
Some fun tours to consider are:
Go hiking
Hiking families can make the most of the family friendly trails near Lake Garda to get the kids moving. Some kid-friendly trails are Rocca di Garda, Monte Baldo (with cable car) and Manerba.
Go on a safari
Lake Garda may not come to mind as a place to go on a safari however, Parco Natura Vivia is a zoo and Safari park that can be great for a day out for the kids. The park has animals from all over the world and declares to follow a conservation mission: like with all animal attractions, I recommend you do your research before visiting.
Visit a Castle
On the shores of Lake Garda there are several beautiful castles, some open to visitors. One that is fun for kids is the castle in Malcesine, which is an incredible position and offers stunning views of the lake.
I hope you enjoyed this quick overview of the best places to visit on Lake Garda with kids. Safe travel planning!