Chiavari with kids: the wonderful Italian coastal town you'll love
Travel guide to visit Chiavari with kids: discover the best things to do in Chiavari, child-friendly accommodation and why we recommend this town for a family stay in Liguria.
Chiavari is a beautiful, child-friendly coastal town in Liguria, in the north of Italy and one of my favorite places for families in Italy!
Located on the stunning Ligurian coast, Chiavari has excellent connections with Genoa, Milan, and Rome, and it is close to breathtaking Cinque Terre and Portofino, sought-after destinations by locals and foreigners alike due to their unique beauty.
Chiavari is perfect for families looking for a local, mellow Italian coastal town to call home for a while, close yet not quite in the center of the international tourism flow.
In Chiavari, families find a child-friendly atmosphere, beaches, a flat and stroller-friendly promenade with kids' games, tons of restaurants and cafes.
There are also all the shops and utilities you may need for kids, including supermarkets and local shops.
In Chiavari, you also have ferries and trains, which means you can easily use it as a base to explore the area!
If I sound enthusiastic about Chiavari as a family destination, it is because I love it here!
On this page, you will find all my tips for visiting Chiavari with kids, thoughts and finds based on our experience of the Chiavari with my children, and inspiration to plan your own trip! All the photos are my own.
Not familiar with Liguria? Find here >>> our guide to Liguria with kids
Please note: this post contains affiliate links. Should you make a purchase through them, we might make a small commission.
Why visit Chiavari with kids
I recommend you come to Chiavari with your family if:
You are looking for a coastal town in Italy with a local feel yet good tourism services
You want a city with a flat and stroller-friendly promenade and kids' games for long summer evenings
You want a town where young kids have a chance to meet local children in the parks and playgrounds of the city
Your family is looking for an easy base from there to explore Portofino and Cinque Terre by ferry (Spring to early autumn only)
You are happy to explore by train and ferry
You want to experience Liguria and its food (pesto is just the start!)
Why not visit Chiavari with kids
You may want to consider different solutions if:
You want to drive around. While possible, traffic and parking are problematic in this area, especially in the busy season, and a car is more a hindrance than a help.
You are looking for vast expanses of soft sandy beaches: Chiavari is more pebbly than sand!
You are looking for a place with a lot of nature and wild beaches. While on a beautiful stretch of coast, Chiavari is in a built-up area, and it is very much a town on the sea, not a beach resort with few buildings or a 'wild' feel. Hopefully, the photos and info on this page give a good sense of what the town is like!
You want a city with many classes and activities for kids in English. Chiavari sees more local than international tourism and more European than American visitors; therefore, activities such as cooking classes etc., especially popular with US travelers, are less common than in other destinations. 
How long to stay in Chiavari with kids
How long do you have? Jokes aside, Chiavari is a local town so you can easily spend here a whole summer and have a great time!
If, however, you want to add it to an Italy itinerary, my recommendation is to stay in Chiavari two – to – four nights.
I recommend you stay in Chiavari with kids for two nights if you are using it as a base to see Portofino OR Cinque Terre.
With two nights in Chiavari, you can enjoy the town, take the ferry to either Portofino or Cinque Terre, and potentially visit a nearby center such as Sestri Levante or Santa Margherita.
With three nights in Chiavari, you can take both a day trip to Portofino and a day trip to Cinque Terre and enjoy Chiavari town.
With more than three nights, you can truly experience the city and, by train, explore many more local towns and even Genoa!
Where to stay in Chiavari with kids
The best place to stay in Chiavari with kids is the city center, close to the promenade and the sea.
We stayed in a clean and lovely hotel, Hotel Santa Maria, a clean and nice 3-star hotel perfect for our family.
We had a nice and spacious room with a sea view, enjoyed the strong air conditioning (we got to Chiavari in a heat wave) and loved the breakfast, which had local specialties such as focaccia and Italian breakfast staples.
The hotel is a short walk from the station and the center, about 7 to 10 minutes on foot.
Even closer to the center, other lovely hotels are:
Hotel Stella del Mare is a lovely family hotel in a great position in Chiavari town center, with special pieces and attention for small kids, including kid-friendly meals, high chairs etc.
Hotel Monte Rosa – 4-star hotel with family rooms, a restaurant and a pool. The hotel can also help arrange a cooking class in nearby Sestri Levante.
Hotel dell'Orto, a pleasant 3-star hotel close to the station, the beach and Chiavari's promenade, with clean and pleasant family rooms
The best things to do in Chiavari with kids
I will start this list of the best things to do in Chiavari with kids with the most popular day trips, then look at the best things to do in the city itself!
Take the ferry to San Fruttuoso
San Fruttioso is a stunning abbey perched onto a rocky cove about 1-hour ferry ride from Chiavari. The monastery is beautiful, but people flock here in summer to swim in the crystal-clear waters of its bay.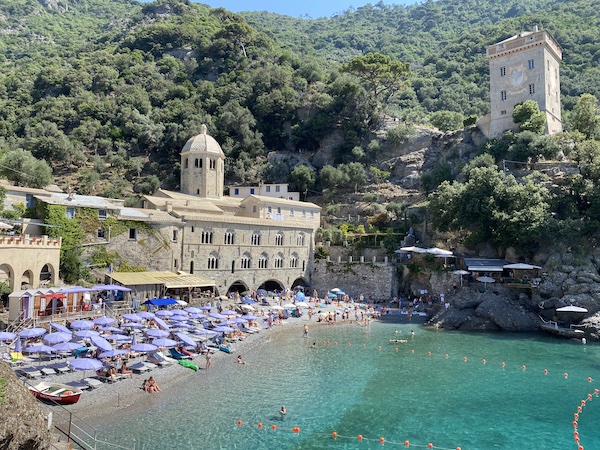 There are two main swimming spots in San Fruttuoso:
Right in front of the Abbey, which is also where you find most people
About 5 minute's walk from the abbey, in a small cove with another small pebbly beach (it's an uneven, climbing path, not the easiest with a toddler – best for older kids)
In both cases, the water is crystal clear and perfect for snorkeling. The beach is pebbles, so you'll want sandals, water shoes and snorkel gear, as the beauty here is how transparent the water is!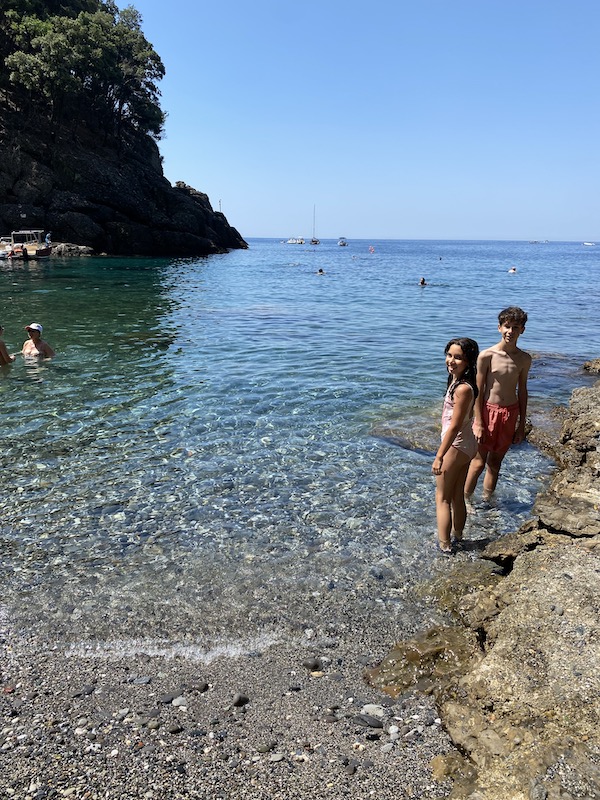 There are limited facilities in San Fruttioso ( a small restaurant, a cafe, and a place renting beach chairs), so I recommend it especially to families with older children who are happy to come here for a few hours and enjoy the water.
If coming with a toddler, leave the stroller at home for the day as the whole area is unaccessible with wheels.
Good to know: the ferry stops very close to the abbey and the beaches, you can reach them on foot. Bring all your beach gear, and ensure you have water shoes, as it's all rocks and large stones! San Fruttioso gets very busy so it is ideal to come here with the first ferry of the day to beat the crowds. You can combine a trip here with a stop in Portofino (see below)
Check the ferry schedule on the official ferry website >>> https://traghettiportofino.it/linee-gite/gita-2/#ad-image-0
Take the ferry to Portofino.
Portofino is a gem, a place so beautiful it delivers every ounce of its (huge) notoriety.
Located in a scenic cove, Portofino is a tiny town developing around a marina and overlooked by a stunning ancient castle.
Portofino is a luxury destination with yachts, restaurants, and private villas, so there is little to do here for kids.
However, it is so beautiful it is definitely worth a stop. I personally find Portofino one of the most beautiful places in Italy, it's jaw-droppingly stunning!
With the kids, we took the ferry from Chiavari to San Fruttuoso, went swimming, got the ferry to Portofino, climbed to the castle, had lunch and returned to Chiavari.
It was a fabulous day and one I highly recommend to everyone.
Need to know: Portofino doesn't have attractions for kids or even a playground. If coming with little kids, take this as a day for them to explore with you rather than a day for them. The walk up the castle is doable on foot (no stroller). Hold hands if you have little ones as you enter the castle grounds, as some drops are not a problem for older kids but tricky for toddlers.
If coming by ferry, it is nicer to know that they make families get to the top of the line so you can board first. If they don't see you, show them the kids, and they'll bring you forward. See the end of this post for additional info on visiting Portofino from Chiavari by ferry.
Check the ferry schedule on the official ferry website >>> https://traghettiportofino.it/linee-gite/gita-2/#ad-image-0
Take the ferry to Cinque Terre Monterosso.
The best way to visit Cinque Terre by boat is by staying in the Cinque Terre towns or Levanto, which are closer to the famous five towns than Chiavari.
However, departing from Chiavari is also a good option!
From Chiavari, the ferry brings you to Monterosso, and from there, you can visit the town or use the local ferries and train to hop back onto the ferry to Chiavari. (See the end of this post for additional info on this option)
Link https://traghettiportofino.it/linee-gite/gita-3/#ad-image-0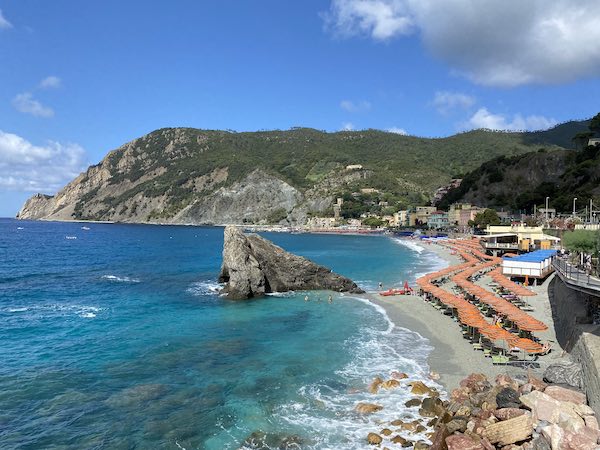 Go to the beach.
Chiavari is a seaside town with a long stretch of beach clubs all along its waterfront. Going to the beach is, therefore, one of the things you'll want to do in Chiavari with kids!
The water here is lovely and clean, with wave breakers on some stretches that make it even safer for children.
The beach is a mix of dark sand and pebbles, typical of most of this area of Liguria (bring water shoes if used to very soft sand!)
Beach clubs in Chiavari you may enjoy are:
Il Gabbiano (bookable online!) Via Preli, 19, 16043 Chiavari GE, Italy
Bagni Ciccio, Corso Valparaiso, 16043 Chiavari GE, Italy
Bagni Giardini Viale Tito Groppo, 2, 16043 Chiavari GE, Italy Located a little further from the center (it happened to be in front of our hotel!) this place seemed very popular with families has sports pitches and fussball table as well as beach chairs and umbrellas. This is a dog-friendly beach.
Despite Google Maps suggesting there is a free beach beside Bagni Giardini, we didn't find any free beach worth mentioning in July, only a tiny and frankly unappealing corner of the coast with tricky access to the water overlooked by a disused water park. Yup, you can tell we were disappointed! But the beach clubs are great.
The best months to go to the beach in Chiavari are June to September.
Go to the beach playground
Chiavari has a basic but nice beach playground close to the pier.
The playground has climbing frames and a tall rope tower for kids. You must be careful with the sun as summer can get scorching, but it is a fantastic space with many local kids!
Enjoy the Chiavari promenade
Chiavari has a lovely promenade with beach clubs on one side and restaurants, cafes, hotels etc. on the other.
In some parts, adorable kids' toys, such as a trampoline and carousel-style entertainment, come to life in summer evenings.
On the Chiavari waterfront there is also a cool fountain that has light games after dark, fun to see!
Good to know: on the Chiavari promenade there is a plane! It belongs to the Coast Guard and it Really cool for little kids to see.
Go to the playgrounds in Chiavari
Chiavari has several nice playgrounds in town.
As well as the above-mentioned beach playground, there is a fab playground in Viale Enrico Millo, 16043 Chiavari GE, Italy , which is packed with local kids and even has a small zipline spot;
A playground in Piazza Roma
and another in along the promenade, Corso Valparaiso (Via dei Velieri area).
Where to eat in Chiavari with kids
This list is based on my experience of the places but I need to thank lovely Jordan Marie, a Chiavari loving mama, for putting some of these places on my radar!
Lunch and dinner:
Vino e Cucina dal 1999: This is a delicious restaurant. They may not strike you as immediate family-friendly due to the many wine bottles and decore, but they are lovely with kids!
On the nicer end of the spectrum in terms of food presentation (my kids stated it was 'very fancy'! It isn't very fancy but the food truly is well presented), it makes lovely fish and seafood options and samples for the area, such as trofie al pesto.
Boccono Divino for fish, Via Bighetti, 107, 16043 Chiavari GE, Italy
Enoteca Defilla – great for Ligurian cuisine and a bit of a Chiavari institution, Corso Giuseppe Garibaldi, 4, 16043 Chiavari,
Pizzeria M'ama for pizz, Corso Valparaiso, 150, 16043 Chiavari GE, Italy
Snacks and take-out food:
Best focaccia in Chiavari:
Panificio Luca, Corso Montevideo, 21, 16043 Chiavari GE, Italy
Best gelato: Cremeria Spinola, Corso Valparaiso, 118
Deli shop and Take-out meals: Gastronomia Garibaldi, Via Mongiardini, 6/10, 16043 Chiavari GE, Italy
Best Aperitivo in Chiavari:
Casa Gotuzzo, Piazza Davide Gagliardo, 20, 16043 Chiavari GE, Italy
Nadu for chicken nuggets! This is a simple, super kid-friendly place with chicken nuggets on their aperitivo menu!
How to visit Portofino from Chiavari with kids in tow
As I mentioned above, visiting Portofino from Chiavari with kids is easy. However, a few things are helpful to keep in mind:
The ferry doesn't always go daily. Depending on the season you an have a direct ferry most days or on selected ones only.
If you are in Chiavari on a day with no ferry, you must get it from Rapallo, which is a short train ride from Chiavari (literally minutes, we've done it and it is not a problem at all). The dates are on the ferry website >> https://traghettiportofino.it/linee-gite/
Portofino is not a place for kids as such. It is beautiful, and it has fantastic views and restaurants; however, it is best suited to older kids who can enjoy people-watching on the fancy yacht than young ones who may need a playground or entertainment.
With little ones, you may want to pair it up with a more child-friendly place such as nearby Santa Margherita (which has a beach) or time on the beach back in Chiavari.
The lines for the ferry can be intimidating, but we found they move very fast. Also, they got us to the top of the lines because of the kids, which was a nice touch!
How to visit Cinque Terre from Chiavari with kids
Chiavari is north of Cinque Terre and the 'Golfo del Tigullio' ferry service connects it to the area with regular routes.
Due to regulations about access to the Cinque Terre Gulf, however,ferries from Chiavari can only dock in Monterosso. Monterosso is the most kid-friendly town in Cinque Terre, but I feel it is important to know the options, especially if you plan on potentially hiking.
You can:
Go on the cruise as offered by the ferry line, which shows you the Cinque Terre areas from the water and allows for 4 hours in Monterosso
Join the cruise, spend the 4 hours in Monterosso (the kids will love the playgrounds and the beach) or use Monterosso to get the train to another one of the towns, to explore more.
The train between Cinque Terre town only takes few minutes so while it can sound tight for time, this is definitely a viable option.
Fine cruise info here >> https://traghettiportofino.it/linee-gite/
Other towns you may enjoy visiting from Chiavari
Chiavari is close to many other wonderful towns I recommend visiting. Our favorite are:
Rapallo (guide to come soon)
Santa Margherita Ligure (guide to come soon)
How to get to Chiavari
Chiavari is best reached by train.
We got to Chiavari by direct train from Rome (super handy!) or you can easily reach it from Milan, La Spezia and Genoa. See here >>> how to use trains in Italy.
I hope you enjoyed this guide to Chiavari with kids and it inspired you to visit!