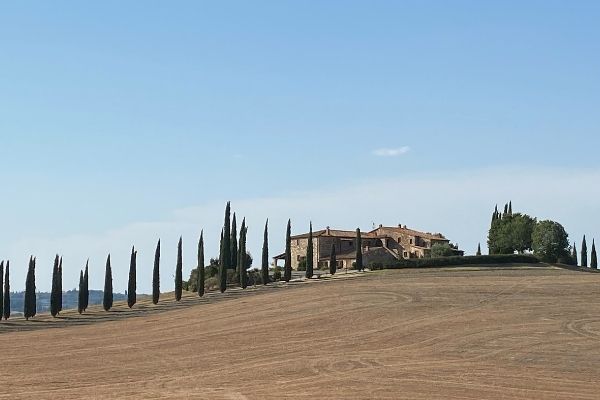 5 days in Tuscany: beautiful Tuscany road trip itinerary + map
5 days in Tuscany road trip: an easy to follow itinerary to see the most beautiful destinations in Tuscany and travel tips for each.
Tuscany is one of the most beautiful regions in Italy and a destinations many have on their Italy bucket list, and rightly so!
The areas is blessed with pretty much anything a visitor can ask for.
Beautiful countryside, historical hilltop villages, the art powerhouse of Florence, thermal baths, wonderful food: this and much more you can experience in Tuscany.
But with so much to see, how can you make sure you pick the best destinations ans truly see the best of Tuscany?
I recommend you follow this itinerary!
We visit Tuscany very often and have overtime refined an itinerary for 5 days in Tuscany that I believe is perfect for a first visit and will allow you to see the best scenery and villages in Tuscany at a reasonable pace.
This is a Tuscany road trip itinerary so you will need a car. however, we have kept the driving time to a minimum for each day so you can spend the time exploring and not behind the wheel!
5 days in Tuscany itinerary at a glance
When planning your 5 days in Tuscany, the main thing you need to decide is if you want to include Florence in your itinerary or leave it for a different trip.
For this itinerary, I am leaving it out however, it is possible to replace any of these days with one in Florence.
If you do so, my recommendation is to start your holiday in Florence and finish in San Quirico d'Orcia.
Day 1: San Gimignano and Monteriggioni
Day 2: Siena and Bagno Vignoni
Day 3: Pienza and Monticchiello
Day 4: Montepulciano and San Quirico
Day 5: Pitigliano and Saturnia
Tuscany road trip itinerary map
Our 5 days in Tuscany road trip recommended itinerary
Day 1: Monteriggioni and San Gimignano
Tuscany is famous for wonderful hilltop villages so what better way to start a road trip in this wonderful region that with two of the most scenic of all?
The two villages for this first day are Monteriggioni and San Gimignano, both located in the countryside between Florence and Siena and easily reached by car from either city.
San Gimignano is a wonderful hilltop town, enlisted as UNESCO World heritage Site for its beautify and peculiar history.
The town thrived during the Middle Ages and the Renaissance and the wealth and power of its most important families gave the town the characteristic that still makes is stand out from the rest: an incredibly high number of towers!
San Gimignano can be visited in a matter of hours and it is a wonderful day for a morning and early afternoon.
Find our guide with what to see and travel tips for San Gimignano here.
After what I am sure will be a delightful lunch in San Gimignano, I recommend you make your way to Siena and stop in Monteriggioni for a couple of hours.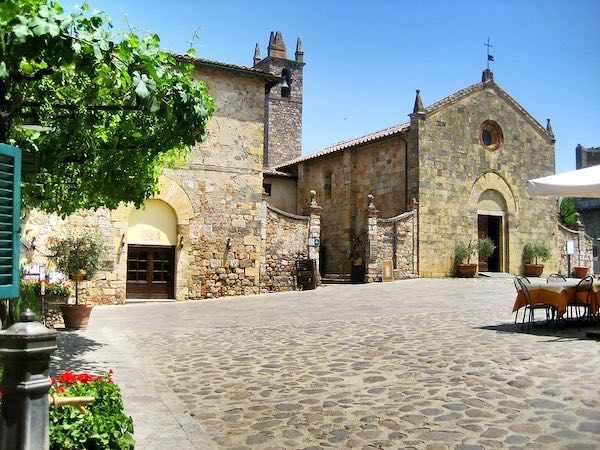 Monteriggioni is a tiny hilltop village still entirely surrounded by medieval walls and offering sweeping views over the countryside below.
The village is tiny and I should probably call it a 'castle', rather than a town however, the word castle can evoke elegant interiors and regal chambers, which is not what Monteriggioni is about
Monteriggioni is a castle in the sense that it is a fortified village with a central piazza still entirely surrounded by mighty walls.
Entering the village is like stepping back in time to the Middle Ages.
Take your time to have a snack in the piazza and explore its picturesque alleys and take in its small yet perfectly formed beauty: even better, spend the night so you can truly enjoy the slow pace and views of this gorgeous town.
You can find our guide to Monteriggioni here
Day 2: Siena and Bagno Vignoni
I recommend you spend your second day road tripping in Tuscany visiting Siena and then relaxing in the nearby thermal village of Bagno Vignoni,
Siena is one of the mos beautiful small towns in Tuscany and Italy in general and has such impressive vestiges of its important history it entered the list of UNESCO world heritage sites in the mid 1990s.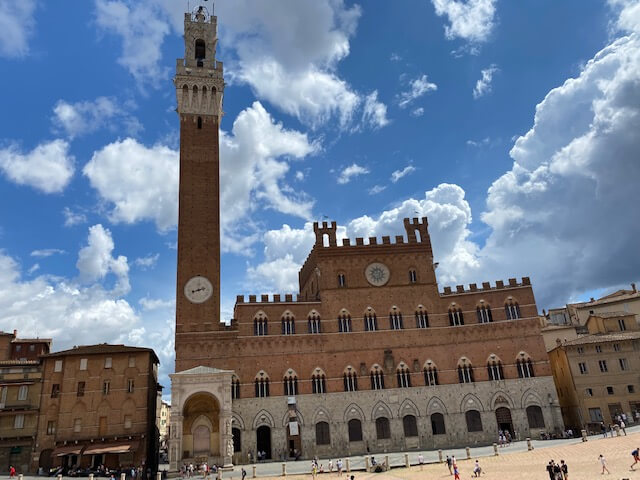 You can visit Siena in a day or a little less: Piazza del Campo and the Duomo will be unforgettable!
You can find our guide to a day in Siena here.
After the beautiful yet busy town of Siena i recommend you take the short dive to nearby Bagno Vignoni.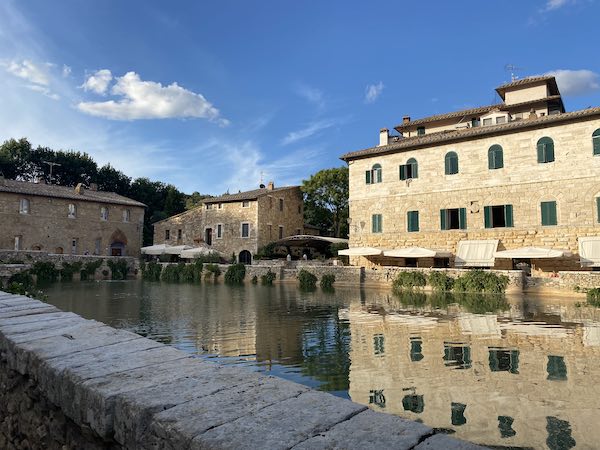 Bagno Vignoni is a tiny, delightful village famous for natural hot springs and a central town square with a hot pool!
The town is a little more than a congregation of houses but it is a perfect place for an afternoon and a nigh under many accounts
Here you have lovely thermal resorts (some budget friendly), a picturesque central square and also the chance to taste the food and wine of this area, famous for world renowned wines such as Rosso, Brunello di Montalcino and Morellino di Scanasano
Staying in the village for the night it a great way to experience this slow pace village and to go wine tasting without having to drive.
You can find our guide to Bagno Vignoni and recommended hotels here.
If you prefer a bigger center and do not care for thermal baths, then Montalcino can be a great option too, also perfect for wine lovers.
Day 3 Val d'Orcia: Pienza and Monticchiello
On this day, you get into the heart of Val d'Orcia, one of the most scenic areas of Tuscany.
I recommend you start your thirds day in Tuscany visiting Pienza, a stunning hilltop village often refereed to as the 'ideal city'.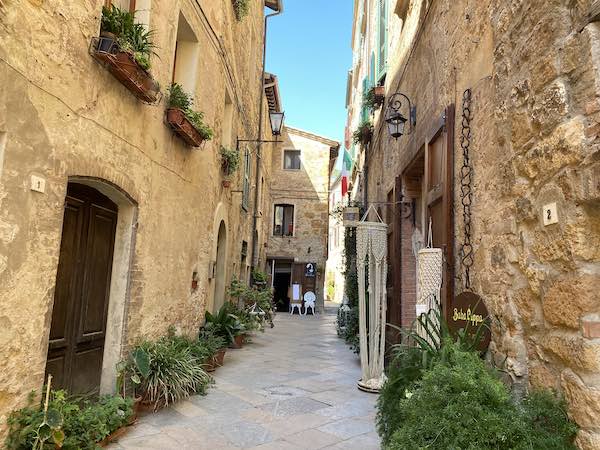 The nickname is not a modern marketing hack but rather taps into the peculiar history of Pienza.
Originally a village like many others in the vicinity, in the XVI century the town as entirely redesigned by will of Pius II, who decided to turn his native town into the perfect example of the 'Humanistic ideal town'
The result is wonderful!
Pienza is a delight and a beautiful place to explore for one morning.
You can find our guide to Pienza here
After Pienza, I recommend you take the short drive to Monticchiello, an off the beaten path, beautiful village in the middle of the Tuscan countryside.
Monticchielllo is a small gem of a place and a beautiful preserved medieval village with something special: in simmer, the town turns itself into a stage and host theater performances widely acclaimed n the arts world!
Monticchiello is along a dust road yet well kept road and the drive and village are north worth the effort.
I recommend you stop here in the afternoon and either spend the night in the village (find our guide to Monticchiello here) or, before dark, head to a nearby Terre di Nano and spend the night there: this is an agriturismo and winery so beautiful, it is a destination in itself and easily will stay as a highlight of your Tuscany road trip!
Day 4: Montepulciano and San Quirico d'Orcia
A short drive from Monticchiello lies the wonderful hilltop town of Montepulciano, maybe my most favorite of all!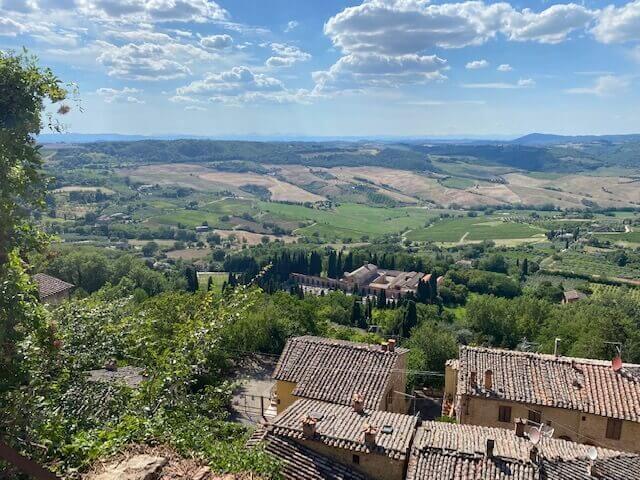 Montepulciano is a historical medieval and renaissance town perched on top of a hill in between two of the most beautiful areas in Tuscany: Val D'Orcia and Val di Chiana.
The town develops vertically and it crowned by a stunning piazza, Piazza Grande, with beautiful palazzi and an unforgettable historical well.
The town is a delight to visit for a day and has some lovely food and wine worth trying.
I recommend you have lunch at Cafe Poliziano before heading to our next stop: San Quirico d'Orcia.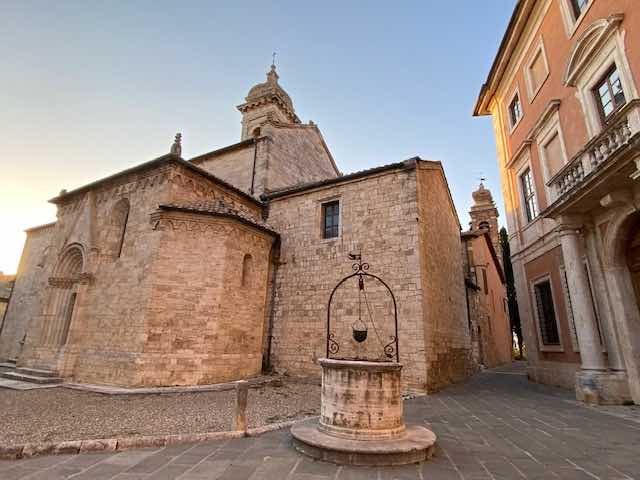 San Quirico d'Orcia is a tiny village with wonderful Romanesque churches and a delightful central piazza.
Small and scenic, this is a lovely town to spend a couple of hours and a great place to call home for the night while tasting the delicacies of the area.
You can find our guide to San Quirico d'Orcia here.
Day 5: Pitigliano and Saturnia
If you have not included Florence in your itinerary, then I recommend you spend this last day heading a little farther South and exploring the stunning area of Maremma, in the south of Tuscany.
The first place I recommend you to see here is Pitigliano.
This is a wonderful hilltop village very different from the others in this list and possibly form anywhere else you have seen in Italy.
The town is perched on top of rock of tufo (a local stone) and blends in with the scenery so well, it looks as if it emerges from the ground itself!
The first glimpse of Pitigliano from the road is unforgettable however, the town itself is also worth exploring.
Home for centuries to the local Jewish community, it has a fabulous Jewish Quarter and Synagogue that is now open to the public and very interesting to visit and is a pretty village with scenic views, worth of your time.
Find our guide to Pitigliano here.
After Pitigliano, I recommend you go visit one of the most photographed places in the whole of Tuscany: Saturnia!
Satrunia is a locality known for thermal waters and while this has been a popular destination for decades, it seems to have only lately gotten international acclaim thanks to aerial shots of its wonderful Cascate del Mulino, a free thermal bathing area.
Indeed, the cascate are wonderful and one of the best thermal spring destinations in Tuscany.
They are a stretch of land where the hot water of the spring creates small waterfall and bathing pools with a white pearly color, where people can bathe for free.
They are a busy yet beautiful place to visit and a great locality to relax for awhile before saying good bye to Tuscany on your way back to Florence or nearby Rome.
You can find our guide to Saturnia hot springs here.
Tips for a Tuscany road trip
No matter what season you are planning this road trip for, I highly recommend you book your rental car and accommodation in advance.
If renting a car, remember that in Italy we drive on the right and that car seats for children are compulsory.
Please find our tips for traveling in Italy safely here.
Remember that motorways in Italy are tolled. This itinerary keep you on non-paying roads most of the time however, you are likely to be on the motorway when close to Siena.
Always be prepared for tool booths with cash and cards.
Do not drink and drive: if planning wine tasting, make sure you select a place that allows you to stay the night, walk home or that can arrange a driver for you.
Do not drive at night: while the roads are well kept, many of the roads on this itinerary are country roads and can be dangerous in the dark
I hope you enjoyed this recommended itinerary for 5 days in Tuscany and that you will have a wonderful time. Safe travel planning!