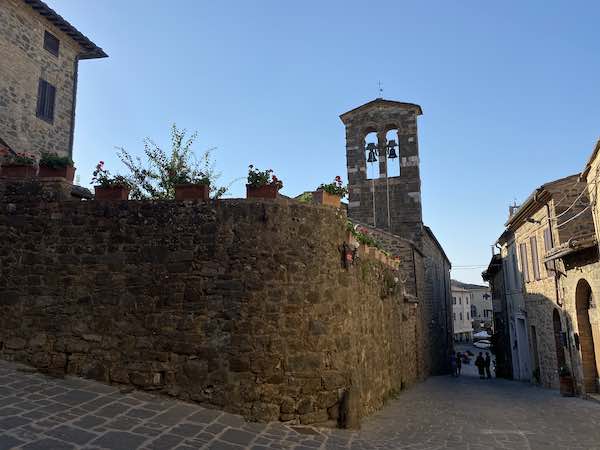 Montalcino: why you will love this stunning Tuscany hilltop town(2022 edition)
All you need to know to plan a visit to Montalcino, historical town in Tuscany famous for medieval charm, stunning views and world famous wine.
Montalcino is a beautiful historical town perched in a hilltop in Tuscany, Italy.
The town is known for the production of delicious wine, the famous Rosso and Brunello di Montalcino, and is a lovely destination for a day out in Tuscany.
Montalcino has much to offer its visitors: a beautiful medieval center, stunning views over the surrounding countryside and wonderful food and wine are just the start of it.
This is our guide to the best things to do in Montalcino, Tuscany.
Please note: this post contains affiliate links. Should you make a purchase, we might make a small commission.
Why visit Montalcino
Montalcino is a small hilltop village known around the world for the production of two very famous wines: Rosso di Montalcino (Montalcino red) and Brunello di Montalcino, both made in the area.
This wine vocation means Montalcino is a must-see destination for wine lovers however, there is more to the town than wine and a visit to this lovely village is a bit of a treat also for alcohol-free visitors and families.
Montalcino has a lovely historical center and beautiful views and makes for a lovely town to visit for a day or also as a base for exploring the area.
Good to know: Montalcino is pretty steep! Good walking shoes are a must.
The best things to do in Montalcino, Tuscany
Admire Montalcino's Rocca (the Fortress)
Montalcino's skyline is dominated by the village's fortress, perched at the very top of the hill hosting the town.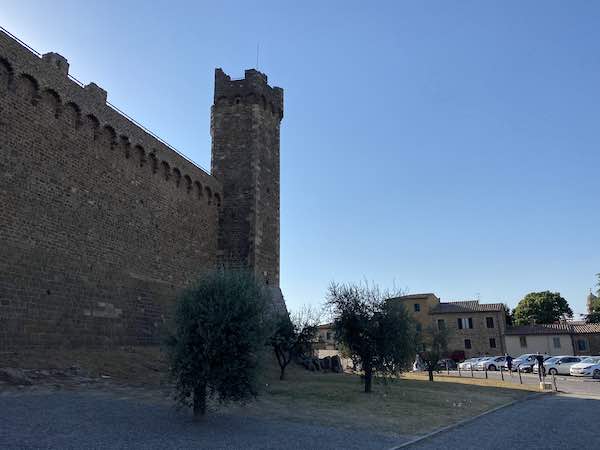 The fortress was built in 1361, when Montalcino passed under the domination of nearby Siena and still is a powerful sight.
Tall walls and turrets are still standing and largely retain the appearance they had at the time of their construction.
When we visited last, the fortress was under repair however, in normal times the fortress is one of the locations of the Montalcino wine and jazz festival that happens in the town every summer.
Even without events, do walk in if you can: the structure is powerful and there is a wine shop inside too!
Soak in the atmosphere of Montalcino's main piazza
Downhill from the fortress you will find one of the most beautiful spots in Montalcino, the main square.
The piazza has all a Medieval / Renaissance piazza has to offer: large spaces for crowds to gather and trade deals to be agreed, a wonderful palazzo with a tower reminiscent of that of Palazzo Vecchio in Siena and a plethora of cafes and shops selling from souvenirs, to snacks and wine.
In summer, the piazza becomes a wonderful open air space for jazz concerts and wine sipping: magical!
Get lost in Montalcino's narrow alleys
Montalcino develops on the slope of a steep hill criss-crossed by meandering alleys, streets and stair passageways.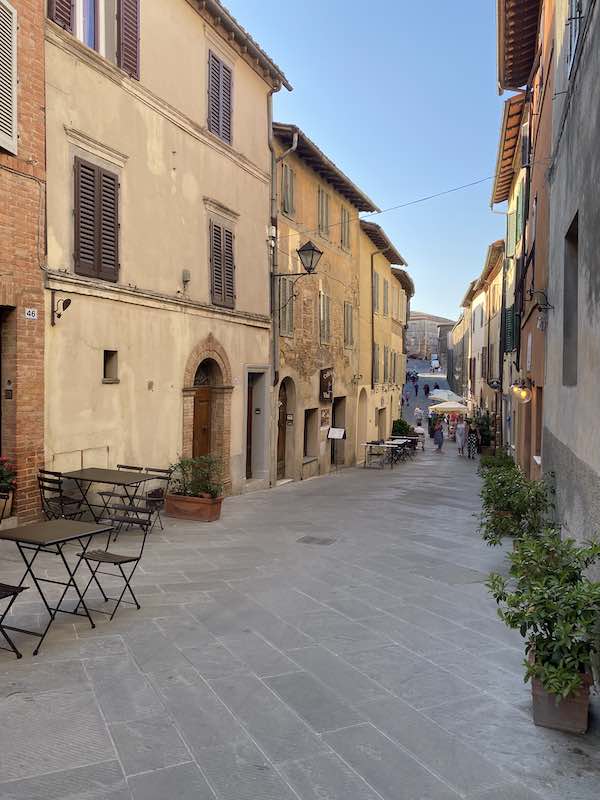 The streets here are gorgeous.
Mostly closed to car traffic, they are an extravaganza of flowery balconies, patios and small yards and they more than occasionally open up offering sweeping views of Val d'Orcia and the many Montalcino wineries below.
There is no right or wrong way to visit Montalcino: following your instinct is all you need to do, you will not be disappointed!
Walk to Montalcino's Duomo
In a privileged location in the higher part of the city stands Montalcino's duomo.
Built between 1818 and 1832, it is rather recent however, it is made in the same type of stone as the rest of the city and it is a pleasant site.
It faces a lovely small green area with fantastic panoramic views and mostly because of this location, it makes our list of the best things to see in Montalcino.
See Montalcino's churches
As well as the duomo, Montalcino is home to several ancient churches, some in beautiful Romanesque style, reminiscent of churches found in delightful San Quirico, nearby.
Some worth a mention are Sant'Egidio, San Francesco and Sant'Agostino.
Buy wine
Montalcino is famous for its world-praised red wines: Rosso di Montalcino and Brunello (learn the difference here).
The city is full of wine shops and opportunities for winery visits abound.
If you love wine, this is a special place to be as the level of wine knowledge, passion and quality is exceptional but even if you don't drink, you may find the sheer pride and interest in winemaking will make you love this town.
Also, Montalcino wine makes a lovely present for Italian food lovers!
Take part in the Montalcino wine and jazz festival
Every July, the town of Montalcino hosts the Wine and Jazz Festival, a wonderful series of events mixing local wine culture and jazz performances.
The festival is popular and wonderful.
At the time of the festival, the main square in Montalcino transforms itself into a performance space with live music and outdoor chairs and tables where you could listen to music performances while savoring local delicacies in the delightful Tuscan summer nights.
The event is a delight and very easy to attend, even if you just happen to be passing by.
If you are in the area for several days, you can get tickets for several performances, picking from the beautiful program of events available >> find the program for Montalcino Jazz and Wine Festival 2022 here.
The Montalcino Jazz and Wine Festival usually takes place the last week in July. 2022 dates yet to be released/
If you are in town for and afternoon, you can still make the most of your time during the Montalcino wine festival.
During the afternoon, you will find the main stage to host singers testing the sound and set up for the evening event and while it is not the same as a full-on concert, sitting and listening to them against the backdrop of Montalcinos' medieval architecture is magical!
Not to be missed!
If you are coming to Montalcino for the festival, I highly recommend you get accommodation in town so you don't have to worry about the drive back home.
Drogheria e Locanda Franci and Albergo il Giglio are two good addresses.
Visiting Montalcino with kids: what you need to know
We visited Montalcino several times with our two kids and while we loved it, I believe it is useful to share some practical tips to help you plan your family visit as seamlessly as possible.
Montalcino is not stroller friendly. While the main two streets in the town are mostly flat, very many parts of town are steep and not manageable with a stroller.
The best parking spot in Montalcino for families is at the fortress. This is at the very top of the hill and saves you from the steepest climbs!
The fortress inside is flat and safe: this is a good place to go wine tasting in Montalcino with kids and you can sip your wine while they happily run around the fortress floor
The Montalcino Jazz and Wine festival is family-friendly
Wine tasting with kids in Montalcino is easy and fun. Many local Bistrots offer tasting options from local wineries and the kids can simply sit with you and have a snack or a meal like they would in any restaurant or cafe.
Wine shops also offer tasting options and you do not need to book them in advance: these are the town shops of wineries nearby and a great way to taste and buy wine without having to make your way through country roads.
If you prefer to visit an actual vineyard, I recommend you book in advance and tell them about the kids so they will be ready to offer them an alternative drink and, possibly, coloring books and similar.
Where to go wine tasting in Montalcino
Wine tasting in Montalcino is so popular and easy that you will be hard-pressed not to find a place of your liking!
In town, the main streets are dotted with wine shops, restaurants and wine bars offering all types of experiences.
You can have a glass with your meal, have a tasting session with different types of wines, or you can walk into a wine shop from a local winery, have a taste and even get bottles sent back to your house.
Great wine tasting places in Montalcino we liked are:
Enoteca La Fortezza – inside the Fortress
Grotta del Brunello – Address: costa di Piazza Garibaldi 3, 53024 Montalcino
Enoteca Pierangioli – Address: Piazza del Popolo 16, 53024 Montalcino
Padelletti Wine shop – Address: Via Giuseppe Mazzini 36, 53024 Montalcino. Here, we had a lovely chat with the owner who told us loads about the local wine, all for free, while directing us to the best bottle for us (decent prices too!)
Caffe' La Fortezza – lovely cafe' with platters and wine tasting menu – Address: Viale della Liberta' 6, 53024 Montalcino
Outside of the town, fantastic wine bars and wineries in Montalcino are Castello Banfi and Poggio Antico Vineyards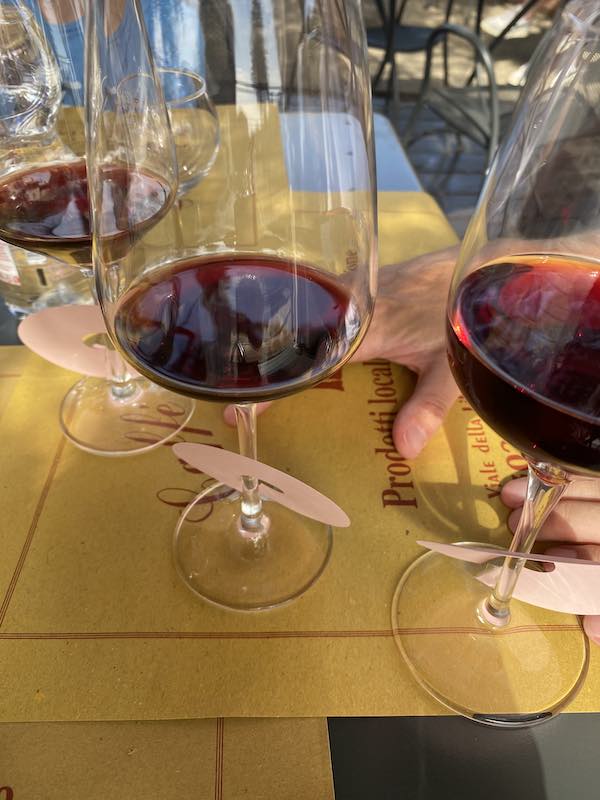 Practical tips for visiting Montalcino
Montalcino is a hilltop town still surrounded by its medieval walls and as such it is best reached by car and then discovered on foot.
Parking is available in several locations outside the walls, some pay and display, some free.
Please be advised that some parking places are pretty steep to reach: make sure your car is up for it, if going for one of those!
We found the parking at the fortress to be the easiest to access and also the best in terms of access to the rest of the city.
In terms of mobility, Montalcino is one of the steepest towns in the area and I highly recommend you bring good walking shoes.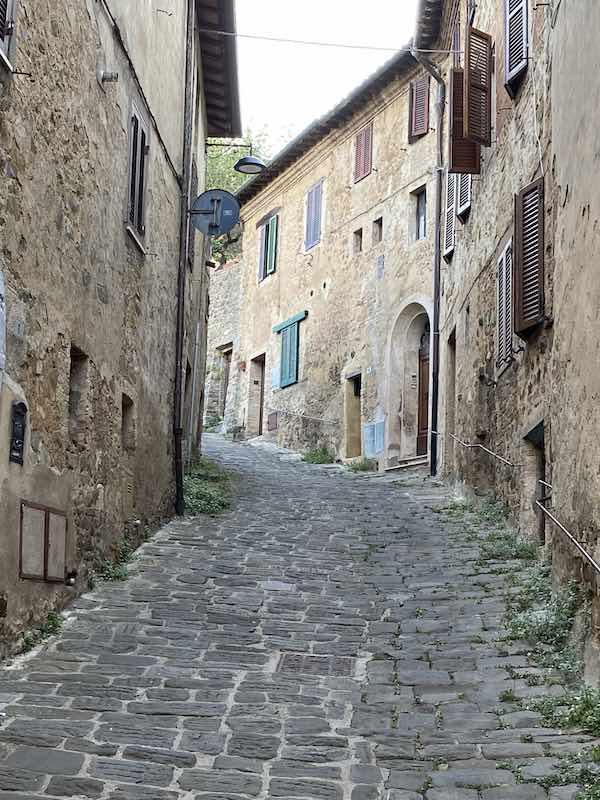 The main part of the town around the piazza posed little to no issues to any sort of walkers however, you may want to avoid bringing a stroller if you are coming to Montalcino with kids and cobbles and steps are frequent.
We visited Montalcino with our kids and they liked it however, we couldn't find a good playground for them so while we do recommend visiting, this wouldn't be our first choice as a base to visit Tuscany with kids.
Best day tours to Montalcino
Several nice day trips are available in the area of Montalcino. here are some to consider
Brunello di Montalcino wine tasting and lunch in Tuscan castle
Brunello di Montalcino day tour from Siena by Mini Van
If you have your own car, you can easily plan a day in Montalcino and also visit some of the pretty towns in the area such as Montepulciano, San Quirico or Pienza.
I hope you enjoyed this quick guide to Montalcino, Tuscany, and it inspired you to go!