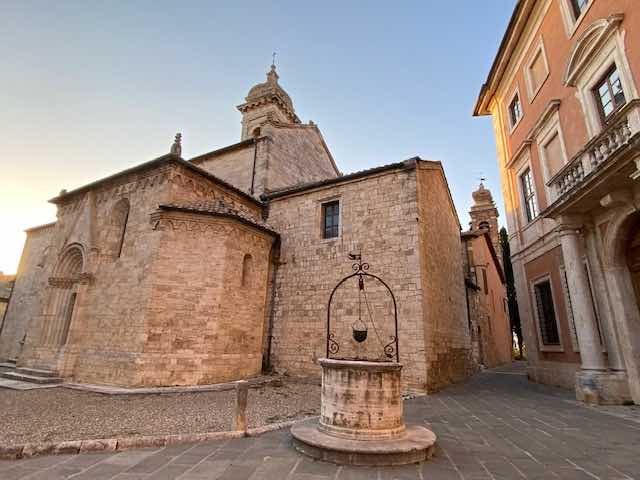 San Quirico d'Orcia: why you will love this stunning hilltop gem in Tuscany
All you need to know to plan a visit to San Quirico d'Orcia, a stunning medieval village in the heart of Tuscany, Italy.
San Quirico d'Orcia is a small, charming, historical medieval village perched on top of a hill in Val d'Orcia, in Tuscany.
It is a tiny and delightful place with tall medieval walls, ancient streets, lovely restaurants and it is the perfect embodiment of the quintessential Tuscan town, medieval gate and churches included!
You can visit San Quirico d'Orcia in a handful of hours or stay the night.
Whatever, you decide to do, I highly recommend you come here at sunset: when the sun starts to set, its rays paint the Tuscan stone of this city with pink and orange tones that seem out of painting!
The best things to see in San Quirico d'Orcia
San Quirico d'Orcia develops along one main road that connects the two Romanesque churches at the two ends of the town.
You can walk to one end of the town to the other in a matter of minutes and most of the attractions are along and beside this street.
These are our favorites.
Chiesa di Santa Maria Assunta
Chiesa di Santa Maria Assunta (church) is the start of our San Quirico itinerary, Via Dante Alighieri.
This is a tiny Romanesque church with simple yer very evocative interiors.
The church is made in the traditional local stone both inside and out and has delicate, minimal and ancient carvings that make you feel like you stepped right back to the Middle Ages, when the church was built (it dates back to the XII century).
The inside is small and cozy and photographs are forbidden, which makes the atmosphere intimate and cozy.
The church was along the Francigena Road and you can still see the gate onto it.
This is a lovely church and you will easily recognize it thanks to the peculiar bell tower, with a narrow column dividing the two sets of bells.
Ospedale della Scala
Just in front of the church, it is worth entering the old 'Ospedale della Scala' a hospital (as in 'place of Hospitality) for the pilgrims on the via Francigena.
As you enter, you will find a delightful internal yard with staircases, balconies, flowers and a gorgeous well dating back to the XVI century.
San Quirico main road
San Quirico develops along one main road which is now full of lovely little restaurants, shops and cafes.
Despite being San Quirico's thoroughfare, the road is pleasant and easy to enjoy: closed to cars, it is a perfect place for a passeggiata and has some nice cafes, restaurants, gelato shops, a nice bookshops and many hidden secrets to try and spot.
We loved finding the little wall plaques marking the Via Francigena or the medieval hooks to secure the horses in particular.
Piazza della liberta'
As you keep walking down San Quirico main street you find yourself in Piazza della Liberta', the town's main piazza.
This is a lovely medieval piazza with plenty of space and now surrounded by cafe terraces and has some of the most interesting attractions in San Quirico d'Orcia.
Here you will find the old city gate (go outside: you will find a wonderful medieval catapult!) and the interesting church of San Francesco, known especially for the presence of a beautiful Madonna di Vitaleta by Della Robbia (XVI century).
Horti Leonini
On the main square you will also find the entrance to San Quirico's most famous attractions, the gardens known as 'Horti Leonini'
These gardens are a historical green space dating back to 1581 and owe their name to Diomede Leoni who, at the time, received the land as a present from Francesco I de' Medici.
They are a wonderful example of Italian style garden and while they have been expanded over the course of time, they have largely stayed the same, with a more manicured part and a more 'natural' one.
They are a wonderful place for a walk and also a great oasis if you are visiting San Quirico d'Orcia on a scorching summer day.
Good to know! On one of the evenings, we came across a wine tasting event in the Horti. It was a lovely setting and if you are staying the night, this is a great way to go wine tasting without having to drive! you can check events in San Quirico here
Pieve dei Santi Quirico e Giuditta (Collegiata)
A little farther ahead in San Quirico you find another stunning Romanesque church, the Collegiata.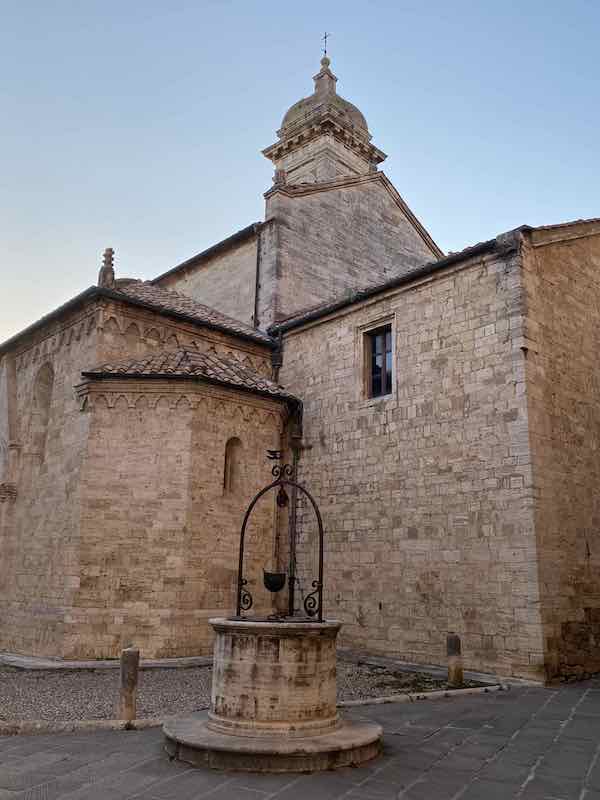 The Collegiata overlooks the Via Francigena and is entirely built in cream colored stone, which makes a strong visual effect, especially on a bright, sunny day.
It has three doorways and an ancient well, just outside, made of the same stone.
The church is right in front of Palazzo Chigi, a historical palazzo now hosting San Quirico's administrative offices and the two building contribute to building an unforgettable evocative space.
San Quirico d'Orcia with kids
We visited San Quirico with two small children and they hugely enjoyed the place (it is one of our favorite places to visit in Tuscany with kids)
The historical center of the town is closed to traffic, so they were able to safely walk around and explore the main streets and the little alleys nearby and the Horti Leonini made for a nice place for a break.
Not to be missed if visiting San Quirico with children is the small playground just outside the city walls (off the main piazza) and the gorgeous medieval catapult just in front!
We had spent the summer talking to the kids about the cities in the Middle Ages, the walls for protection and the gates and this was the best way to make it all come to life!
Our kids also noticed a lovely space for children called "orto dei bambini" (children orchard).
This is a lovely vegetable patch for kids and while we found it closed, it piqued our attention as a family friendly place – it is just outside the walls of the city, above the main car park. If you pass by, have a look, you cannot miss it!
Practical tips for visiting San Quirico d'Orcia
San Quirico d'Orcia is a hilltop town and the best way to reach it is by private car.
Parking is available (pay and display, blue lines) just outside the walls and steps bring you up into the town.
Unlike Siena, where the climb is much steeper and long, San Quirico is not equipped with escalators but access to the city is not as hard and the several access points make it easy to enter the town no matter your level of fitness.
When to go do San Quirico d'Orcia
You can visit San Quirico d'Orcia any time of the year however, be prepared for very hot summers!
Despite its hilltop position, the town gets very hot so if visiting in July or August, I recommend you come in the late afternoon to avoid the hottest hours of the day.
I hope you enjoyed this quick guide to San Quirico d'Orcia and it inspired you to visit what I consider one of the most beautiful villages in Tuscany!