The best things to do in Genoa Italy + one day Genoa itinerary
A local's guide to the best things to do in Genoa Italy and recommended one day in Genoa itinerary for first time visitors.
Genoa is a beautiful coastal city in the north of Italy, famous for a historical city center and an important and interesting port area.
Most visitors think of Genoa as a cruise port and get a wonderful surprise when thy discover how beautiful the city actually is.
It is most definitely not just a handy cruise stop but also a fantastic place to visit in its own right!
One of my closest friends is from Genoa and I have had the opportunity to visit it with her and see Genoa's highlights and some hidden place with here.
This article is written with her expertise.
It shows the best things to see in Genoa, cool restaurants and hotel recommendations and a handy one day itinerary with all the best things to do in Genoa in one day, should you be visiting Genoa during trip to the area.
Please note: this post contains affiliate links. Should you make a purchase, we might make a small commission.
The best things to do in Genoa Italy
Visit Genoa's Royal Palace
Genoa was never capital of Italy however, the Savoia family has a residence here and therefore Genoa has a royal palace, now open to visitors.
The palace dates back to the XVII century (1643-1650) and originally belonged to the Balbi family, to then pass into the hands of the Savoia is 1824.
It is an elegant building inside and out and is one of the best places to visit in Genoa if you love art and elegant interiors (think chandeliers, brocades, frescoes etc).
The works of important European artists such as Van Dyck, Tintoretto and Guercino are here and some of the salons such as the Mirror Hall will be a treat for castle and palace lovers, with its incredible mirrors and lights.
Entrance to the palace is ticketed, you can book your slot here.
Marvel at the Church of Annunziata
Genoa has several beautiful churches and maybe the most impressive of all is the Church of Annunziata, in Genoa city center.
The church dates from the XVI century and has a rather plain facade but breathtaking interior.
Tall, spiral columns frame a wonderful central nave, with an elaborate vaulted ceiling decorated with frescoes and gold!
The gold and the light it reflects leaves a first strong visual impact and was noted and admired by several personalities in the past including Montesquieu, who said the church was 'all golden'. Indeed, it is!
As well as impressive at first sight, the church is also worth exploring for its frescoes they include wonderful examples of the Manierism/Baroque style typical of Genoa.
Discover Via Garibaldi and the System of Rolli's Palaces
During the Renaissance, Genoa went though a time of great economic prosperity and this lead to big redesign of the city that gave it beautiful streets and buildings we can still admire today.
The best area to immerse yourself in Renaissance Genoa is the city center and in particular Via Garibaldi and the so called 'strade nuove' (new streets).
The streets are flanked by beautiful palazzi that were the pride of Genoa's wealthiest families and they are so beautiful and significant, they are listed as UNESCO World Heritage Site.
Their official, collective name is Palazzi dei Rolli and they are a Genoa must see.
Palazzi dei Rolli Fun Fact!
Palazzi dei Rolli were part of a special public lodging system that required the palace owners to host notaries visiting the city on demand.
The system worked on a lottery basis and the info about the palaces was kept on paper rolls (rolli) that gave them their name!
Top tip: Palazzo Rosso has a lovely terrace from where you can catch lovely views over Genoa, make sure you go up!
Check out Piazza de Ferrari
Another Genoa must see in Piazza de Ferrari.
This is a large, elegant Piazza with beautiful buildings and large fountains and it is considered the heart of Genoa's financial life as it has many of the city banks and financial institutions.
It is interesting to see especially in conjunction with Genoa's caruggi (see below) as the contrast is truly impressive!
Discover the Church of San Lorenzo
The church of San Lorenzo is Genoa's cathedral and is a beautiful church with an interesting story.
Originally built in 1098, the church has gone through several upgrades now combines several influences including gothic and mannerism elements.
Interesting architectural styles such as gothic (1300 restoration) and mannerism (1500).
Inside, there are two main area of interest.
The first is the Chapel of San Giovanni, which is said to contain the ashes of St John the Baptist.
The second is a replica of a bomb that fell on the church in 1941 but did not explore, sparking talks of a miracle by the Virgin Mary, now celebrated with a plaque reciting 'with gratitude, from Genoa, 'Mary's City'
Get lost in Genoa's Caruggi
Caruggi is the local term used in Genoa to indicate the small alleys that connect Genoa old city center to the old port.
The caruggi are one of the most charming areas of Genoa and while they are medieval in origin, they still retain a lot of the character typical of a port city, characterized as they are by their small width, old shops and multicultural atmosphere.
The caruggi are a bit of a maze (like Amalfi town, they were built to slow down possible invaders) and are the place where historically local artisans would have had their workshops.
The street names of may of them still bear witness to it: Via degli Orefici (Goldsmith road) of Vico del Ferro (Iron road) recall the original vocation of this area and the corporation that called this area home.
Visit the Old Port (Porto Antico)
The Old Port is, like the name suggests, Genoa's old port however, nowadays it is one of the most modern parts of the city and a great cultural hub.
This is a Genoa must see for all visitors however, I recommend it even more strongly to families as one of the best places to visit in Genoa with kids.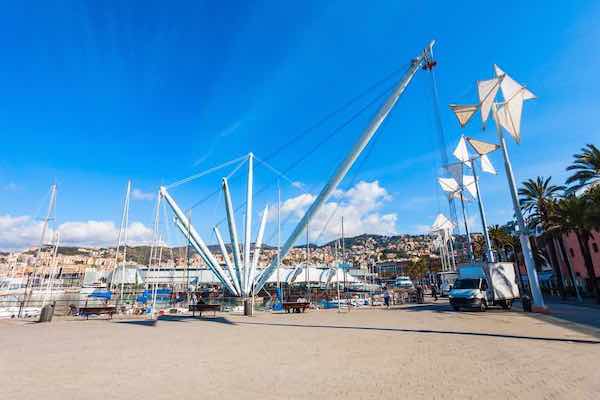 In the last decade or so, the port has been fully revamped and now it is a dynamic, interesting area with:
Museums (the Maritime Museum is one of the most important in Europe of its kind),
Several important architectural works by Renzo Piano such as the Biosphere (Spherical building with a tropical rain forest), Bigo Panoramic lift, Isola delle Chiatte (lovely walking area with great views), Genoa's old cotton wear houses, now the city's congress center
Citta' dei Bambini (kids' city) a wonderful kids play area/children museum
The submarine Nazario Sauro, now open to the public
Galeone Neptune, a tall ship that is guaranteed to catch the attention of kids and adults alike
Eat Genoa's food specialties
A list of the best things to do in Genoa would not be complete without a mention of Genoa's food: Genoa has some of the best regional specialties in Italy!
The city has a strong maritime vocation so fish and seafood are not to be missed but make sure you also taste:
Pesto (Green Pesto is Genovese, from Genoa),
Focaccia (super soft, nothing like what you may have experienced elsewhere)
Farinata di ceci (chickpeas)
Canestrelli, one of the most famous types of Italian biscuits, originally from here!
A fun way to to discover Genoa's food is with a food tour like this one
Watch the sunset in Boccadasse
Boccadasse is a delightful corner of the city and it is characterized by small, colorful houses perched on a cliff overlooking the sea, very reminiscent of the Cinque Terre towns.
This is a lovely place to visit if you are looking for a romantic place to watch the sunset or if you want to get a taste of Cinque Terre but cannot make it to be area.
Boccadasse is a small place perfect to see right before sunset or where to have dinner before heading back to the city center.
See Genoa from above
Genoa's has very many panoramic terraces and viewpoints offering stunning views of the city. Some I recommend are:
Spianata Castelletto – panoramic viewpoint over the city center and the sea
Palazzo Rosso terrace – already mentioned above
Righi viewpoint, the tallest viewpoint in Genoa, accessible via cable car from the city center.
Bigo – the already mentioned panoramic lift at the old port. Address:
La Lanterna – the tall Genoa lighthouse at the old port
How to see Genoa in one day: One day itinerary
If you only have one day in Genoa, you may be happy to hear it is possible to see many of these attractions following a simple walking itinerary.
My recommended Genoa itinerary is:
Morning in Genoa: you can visit, in this order: Genoa Royal palace, Annunziata Church, Via Garibaldi and Palazzi dei Rolli, Church of San Lorenzo
Lunch: have lunch at Osteria Vico Palla at the Old Port
Afternoon in Genoa: discover the Old port
Evening: head to Boccadasse for sunset (this will require cathing a bus or taxi, see below)
Staying in Genoa for the night? I recommend you stay at the NH Collection Genoa Marina Hotel at the port, which is handy and beautiful.
How to get around Genoa
You can visit Genoa city center and the old port on foot.
Public transport tickets are available at Tabaccai shops. A single ticket costs 1.50Euro at the time of writing and it is valid for 100 minutes from first validation.
The app AMT Genova offers the option of buying some tickets directly on your phone: the ticketing system includes buses but also Genoa's cable cars.
I hope you enjoyed this overview of the best things to see in Genoa and our recommended Genoa itinerary. Safe travel planning!