Italy in December: all you need to know to plan the perfect trip
Italy in December: all you need to know to plan the perfect trip. What to expect from the weather, crowds, what to book in advance and the best places to visit in December in Italy with kids (and without!) – Updated Oct. 2023.
A December trip to Italy can be a wonderful way to spend the holiday season.
Traveling to Italy at this time, you should expect cold weather, the occasional rainy day and even snow, in parts of Italy (The Alps).
However, you will also find beautiful Christmas traditions, great opportunities for sightseeing and plenty of chances to warm up in cozy interiors with delicious food and wine!
December in Italy however looks very different depending on where you go.
I am from Rome and always try and make the most of the winter festivities to explore my beautiful country with my children.
This is my guide to visiting Italy in December and my best tips for Christmas in Italy with kids (and without!).
In this article you will find:
December in Italy weather overview
Festivities and celebrations in Italy in December you need to know about
The best places to visit in Italy in December
Italy in December with kids
What to book in advance for December in Italy
Please note: this is a seasonal travel guide about Italy in November, meant to help you decide the best time of the year for your visit. For official information and travel advisory that may affect your trip, please refer to your Government travel advisory. Check here for official info if traveling from US, Canada, UK, Ireland, Australia, New Zealand.
Please note: this post contains affiliate links. Should you make a purchase, we might make a small commission.
December in Italy: weather overview
December is winter in Italy.
Despite differences in regions and areas, when traveling to Italy in December you should expect cold weather, short daylight hours and the occasional rainy day.
In terms of clothing, you can expect to wear warm coats, scarves, hats and boots. Unless you are going to the mountains, usually you do not need thermal layers.
In several parts of the country and at higher altitudes, snow is also possible.
To give you an idea of the average temperatures, this is a historical overview of localities in different parts of Italy:
Milan: Max 7C Min 2C Rain: 5 days
Bolzano (Dolomites): Max 7C Min -3C (snow possible)
Rome: Max 13C Min 4C Rain: 8 days
Palermo: Max 16C Min 11C Rain: 9 days
Good to know: while we have indoor heating, indoor temperatures are never as warm to allow being in t-shirt in the middle of winter. While you won't be cold inside, do expect to be wearing your seater even when the heating is on and to want to wear warm socks and slippers when at your accommodation.
December in Italy: important celebrations and festivities
Several important festivities happen during this month in Italy and they will impact your plans both in terms of closures of museums and attractions, crowds and transport.
The main festivities in Italy in December are:
8 December: immaculate conception, National Holiday. On this day, people are off and this means you may find restaurants and museums busier than usual.
24 December: Christmas Eve. While not a National Holiday, shops close early to allow people to get ready for the traditional Italian Christmas Eve dinner. If eating out at dinner on this day, I recommend you book as not everywhere will be open and places may only offer set menus rather than full a-la-carte options.
25 December: Christmas Day, a National Holiday, many attractions and restaurants close, pre-booking a meal out is essential. Do expect some restaurants to only operate on a set-menu offering on this day, especially outside of bigger cities.
26 December, St Stephen's Day, some attractions stay closed on this day. Not all attractions close: check individual websites before making plans.
31 December, New Years' Eve: not a National Holiday but a day that impacts on dinners out. Restaurants tend to close for the night or offer special New Year's Eve packages: booking highly recommended.
The best places to visit in Italy in December
Our favorite places to visit in Italy at Christmas are:
Bolzano, Merano and their Christmas markets
If you love Christmas markets, then the best places to experience them are the towns of Merano, Bolzano and, more in general, the cities on the slopes of the Dolomites.
This part of Italy has a strong Germanic influence and is the one with the best and most authentic Christmas markets.
Wrap up well as this area is pretty cold at this time!
If you like skiing, this is a great time to experience the Dolomites, which offer wonderful slopes. As a family, we adore the area of San Candido for a longer stay.
For a special treat close to Bolzano, the family hotel Cavallino Bianco in Val Gardena is special for kids!
Find my selection of the best Christmas markets in Italy here
Rome and the Vatican in December
It is hard to beat the impression Rome in December leaves on the visitor.
When the Colosseum and the Vatican don their Christmas trees, they are even more magical and considering how beautiful they are in normal times, you can imagine how special they truly are at this time!
Rome is cold in December however, don't expect it to be a quiet time.
The weekend close to the 8th of December and the full Christmas week are high tourism season and pre-booking of accommodation and attractions is mandatory.
As well as the traditional sightseeing places, Rome in December is an extravaganza of shops, lights and even Christmas markets: while they cannot compete with those in Germany, the backdrop of Baroque Rome makes the simple markets we have here rather unique!
Kids will love the many indoor attractions (Children Museum, Ikono Rome, Museum of Illusions etc) that help break up sightseeing and offer refuge in case of rain!
You can find my full guide to Rome in December here
And here >>> my complete guide to Rome with kids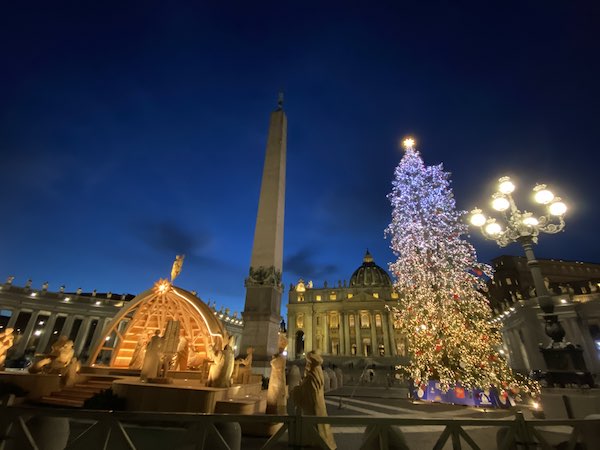 Venice in December
Venice is cold and grey in December but it is also charming, romantic and atmospheric.
In this season, you can enjoy all of Venice's beautiful museums, you can make the most of the cozy atmosphere of Venice's bacari (wine bars) and you can still enjoy the lagoon, taking trips to the islands of Burano and Murano.
Kids will love the ice rinks that pop up in the city and the fairytale atmosphere of this city on water, with the lights twinkling on the canals.
Your main issue in Venice in December is humidity: make sure you plan indoor activities to regularly take a break from the weather.
You can find here >>> my guide to Venice in winter.
And here >>> our guide to Venice with kids
Milan in December
If you are looking for shopping opportunities and elegant atmospheres, then Milan at Christmas is the place for you!
The festive decorations in Piazza Duomo and Galleria and the stunning windows at Quadrilatero della Moda are a treat for the eye and a fantastic place to get a special present for someone you love (or, why not, yourself!).
Close to Milan you also find Lake Como: while December is not a great time on the lake, due to cold and limited access to water, the town of Como is wonderful at Christmas and offers a lovely day trip option to get a taste for this famous lake.
You can find our travel guide to Milan here.
Naples
Naples is one of the cities in Italy if not THE city with the strongest Christmas tradition, especially when it comes to Nativity Scenes and figurines.
The city is famous for them and there is no better time to experience what this tradition is all about than going during the holidays.
The place to go for figurines is Via Gregorio Armeno but do take the opportunity to also visit all the other marvels this city has to offer and do indulge in the local food.
In Naples in December you simply cannot miss struffoli, roccocò, cuoppo and mostaccioli as well as, of course, Naples' all seasons staple: pizza!
Pompeii and Sorrento (side trips from Naples)
Both Pompeii and Sorrento are lovely side trips from Naples you can take in December.
Pompeii is rather cold in winter, as the archaeological site is quite exposed to wind and rain: however, it can be quiet and lovely at this time, something that can make up for the less-than-ideal weather!
Herculaneum is a little more protected and also works very well at this time.
If thinking of bringing children to Pompeii, I recommend you read hear >>> our guide to visiting Pompeii with kids.
Sorrento goes all out for Christmas with wonderful Christmas decorations and a festive atmosphere.
While I don't recommend visiting the Amalfi coast at this time (see below), Sorrento is a bit of an exception: if you are in the Naples area, a Christmas day trip here can be lovely – I recommend you consider a food tour with the Gourmet Girls Sorrento as a way to see the town and tap into the local wonderful food tradition (a great way to warm up too!)
Bologna and the Motor Valley
A beautiful part of Italy I love visiting in December is Bologna and the nearby Modena area.
This part of Italy is famous for its glorious food, especially of the warming kind (Tortellini in bone broth! Lasagna!) and also offers wonderful indoor attractions that can help fill colder days.
Among my favorites for kids and adults, are the Ferrari Museum in Maranello, Fico Food Park, The Gelato Museum and, of course, the wonderful Bologna museums such as the Archiginnasio.
Florence and Tuscany in December
It is always a good time to visit Florence and Tuscany and December is no exception.
At this time, you won't be able to enjoy much of the Tuscan countryside (it is not al fresco dining time) however, you can visit all the beautiful small towns of Tuscany, admire their holiday decorations and of course make the most of Florence museums and shopping opportunities.
Many Tuscany towns light up at Christmas with wonderful small markets and nativity scenes: Arezzo, Siena, Lucca and Montepulciano are among the best known.
If planning on visiting Tuscany with kids in December, I recommend you plan most of the time in Florence, that can offer entertainment in case of bad weather.
Read here >>> how to plan a trip to Tuscany with kids in winter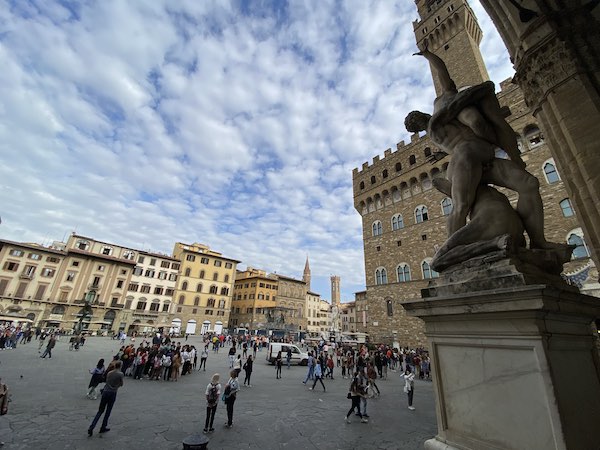 Other destinations in Italy in December
Manarola (Cinque Terre)
December is not a great time to visit Cinque Terre as the weather makes hard the main activities the area is known for: hiking and swimming.
However, Manarola at Christmas is special as it lights up to be a living nativity scene!
The living crib lights up on the 8th of December. You can find our guide to visiting Cinque Terre with kids here.
Amalfi Coast in December: what to expect
The Amalfi Coast is beautiful no matter the time of the year and December is no exception.
However, it is important to know that it is low season at this time and visiting the Amalfi Coast in December will be more about sipping coffee watching the sea than going anywhere near it.
If you don't mind or even like the atmosphere of the coast in winter, this can be a good time to visit.
You can expect lovely food as always and, overall, lower prices, crowds and traffic and you may be lucky with the weather and get lovely sunny days too!
I do not recommend visiting this area in December with small kids as they may find it rather limiting in terms of available entertainment. If visiting with little ones, I recommend Sorrento or Naples.
You can find our travel guide to the Amalfi Coast here: Amalfi Coast towns | Amalfi town | Guide to Maiori | Guide to Minori | How to visit the Amalfi Coast with kids | Capri with kids
Southern Italy in December
Southern Italy can be a real treat in December.
The weather tends to be milder here than in other parts of the country (with exceptions, don't expect it to be beach weather!) and the small towns of this part of Italy dress up becoming picture perfect holiday landscapes.
Places I love at this time are:
December in Italy with kids
December can be a special time for kids in Italy however, very little ones may find the bad weather frustrating.
In December, you will still be able to have time in the park on dry days but they will be limited in their outdoor pursuits by the frequent rain and the short hours of daylight. Setting expectations is key!
Good places to visit in Italy with kids in December are:
The Dolomites – with the lovely Christmas markets and the ski slopes, many suitable for families and newbie skiers. You can find our guide to the best places in the Dolomites with kids here.
Florence – full of lovely child-friendly museums perfect to escape the rain, should it strike. You can find our guide to visiting Florence with kids here.
Rome – and its large piazzas, stunning Christmas trees, parks and child-friendly museums. You can find our guide to Rome with kids here.
Bologna – with its gelato museum (yes, it's ok in winter too!), FICO food theme park and hte Ferrari Museums, the area of Bologna is lovely for kids. Read here >>> our guide to Bologna with kids
What to book in advance to visit Italy in December
December is busy in Italy, especially around the 8th of December and during Christmas week.
It is paramount to book in advance:
My go-to website for booking are:
GetYourGuide, excellent ticket provider for attractions and tours, with very flexible cancellation options (many up to 24hour before the tour)
Booking.com for both hotels and apartments
Trenitalia.com for train travel (it is the official railway system site and has the best prices, despite a rather annoying interface)
If you are planning to visit Italy in December, make sure you also familiarize yourself first with the most common Italian Christmas traditions and Italy Christmas foods.
I hope you enjoyed this quick overview of Italy in December and gave you good ideas for your trip. Safe travel planning!