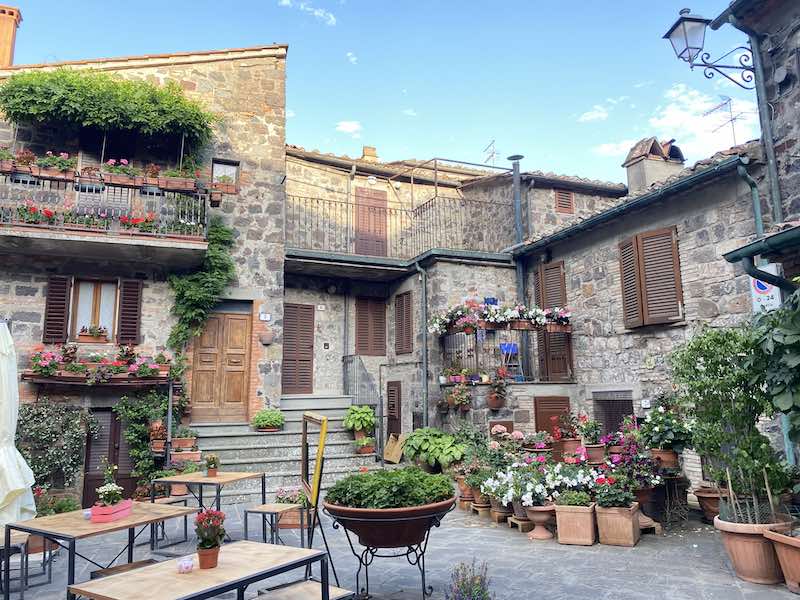 Italy in September: all you need to know to plan a perfect trip
Visiting Italy in September: all you need to know to plan a trip! The best places to visit in September in Italy, when to book what, what to expect from the weather.
September in Italy is the last month of the summer and a fantastic time to visit.
The scorching temperatures of July and August start to subside, but the weather is still beautiful enough to allow for long days out, excellent sightseeing and outdoor pursuits.
Since September in Italy is a transition month between the summer and the fall, you can expect the weather to slowly get chillier and wetter as the month progresses; however, you are still likely to get many beautiful days.
Locals start to return to work in September and this means holiday destinations tend to be less crowded, especially in the second part of the month, when schools resume.
You will also see the number of tourists getting lower as time goes.
However, September is still a very popular month for tourism – especially if visiting Italy during the first two weekends in September, book all you can in advance, especially accommodation.
I adore spending September in Italy. It offers all the beauty of the summer without the oppressive heat and I love that you can visit pretty much everywhere at this time without having to worry too much about the weather.
This is our guide to help you plan your trip to Italy in September.
Please note: Please note: this is a seasonal travel guide about Italy in September, meant to help you decide the best time of the year for your visit. For official information and travel advisory that may affect your trip, please refer to your Government travel advisory. Links to official info if traveling from: the US, Canada, UK, Ireland, Australia, New Zealand.
Please note: this post contains affiliate links and, should you make a purchase, we might make a small commission at no extra cost to you.
Italy in September: what you will find in this article

• Overview of weather in September in Italy
• Recommended places to visit in Italy in September
• September in Italy with kids
• What to book in advance for September in Italy
The weather in Italy in September: what to expect

September in Italy is the month when summer starts turning into fall.
Overall, September tends to see beautiful, sunny weather in most of the Italian peninsula, mixed with rainy days and a slow yet steady lowering of the temperatures, especially in the north and the mountains.

The first two weeks in September tend to be summery, while the second half of the month is likely to bring chillier days that may require an extra layer, albeit a light one.
Light summer clothing, sunscreen, sunglasses are a must, and so are sandals, especially in the South and the first part of the month.
A light cardigan, summer sneakers for walking are recommended, and a light jacket and warmer layer are a must for the mountains.
You can find my complete packing list for Italy here.
At a glance, the weather in Italy in September is:

| | | |
| --- | --- | --- |
| Name of the place | Temperature Low/High | Rainy days (average) |
| Milan, Lombardy | 16C – 24C | 5 days |
| Venice, Veneto | 14C – 25C | 5 days |
| Florence, Tuscany | 15C – 27C | 5 days |
| Rome, Lazio | 15C – 27C | 5 days |
| Amalfi, Campania | 20C – 26C | 9 days |
| Palermo, Sicily | 21C – 28C | 4 days |
| Cagliari, Sardinia | 17C – 28C | 4 days |
| San Candido/Innichen, Dolomites | 7C – 17C | 6 days |
Can I swim in Italy in September?
You can swim in Italy in early September, especially in the South and the islands.
The latter part of the month is more hit and miss, not just in terms of weather but also water conditions.
If planning on swimming in the open sea, make sure you abide by local signs about currents and weather events.
The best places to visit in Italy in September

September is a wonderful month in most of Italy, so if you are lucky enough to visit Italy at this time, you can pretty much have your pick and go wherever takes your fancy!

Some of the best places to visit in September in Italy are:
Italy's Main cities
September is a fantastic time to visit Italy's main cities.
Milder temperatures mean you can easily enjoy urban areas, often too oppressive during July and August and you can easily mix and match time in museums with al fresco dining, which is delightful at this time.
You can find our city travel guides below:

Rome – September is one of the best months to visit Rome.
The city is perfect at this time: summer events are still in full swing, mild temperatures allow for great sightseeing and local and tourism services are all fully operational after the summer break.
You can find here >>> overview of the best things to do in Rome to get inspired or you can learn more specifically what to expect in Rome in September in our >>> our guide to Rome in September here.

Florence – find our guide to the best things to do in Florence here
Venice – Find our recommended Venice itinerary here.
Milan – Find our guide to a perfect day in Milan here.
Genova – a fantastic city stop to add to your Cinque Terre itinerary (see below)
Palermo – gem of Sicily, one of the most beautiful cities in Italy
Naples – often overlooked yet a beautiful, interesting and fascinating city
The Italian lakes
September is also a great month to visit the Italian lakes.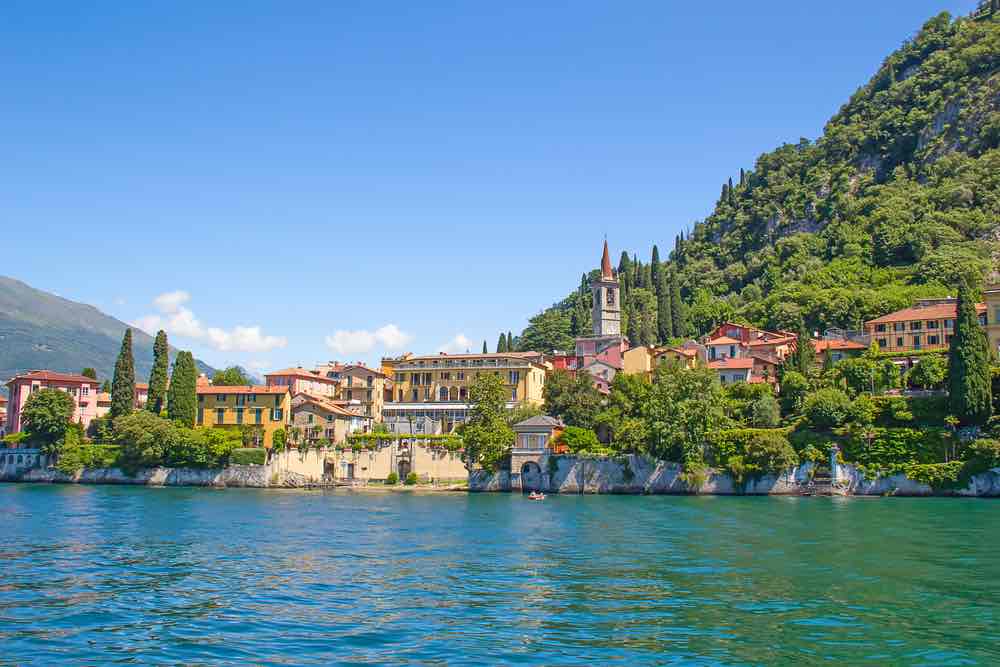 Lake Garda and Lake Como are lovely at this time and they offer respite from the city heat and they are just the two most famous!

Visiting lakes in September means being able to go boating, sunbathing, possibly swimming (it depends where you go).
Just be careful if visiting at weekends as they are popular day trips from cities and tend to get very busy.

Find here >> our guide to lakes in Northern Italy we believe you will love

Sorrento and the Amalfi Coast in September
September is a lovely time to visit the Amalfi Coast however, rain is frequent so you want to plan for the occasional wet day.
Still very much a summer month, especially during the first half, September on the Amalfi Coast and Sorrento is still busy but not quite as crowded as during July and August and not as unbearably hot.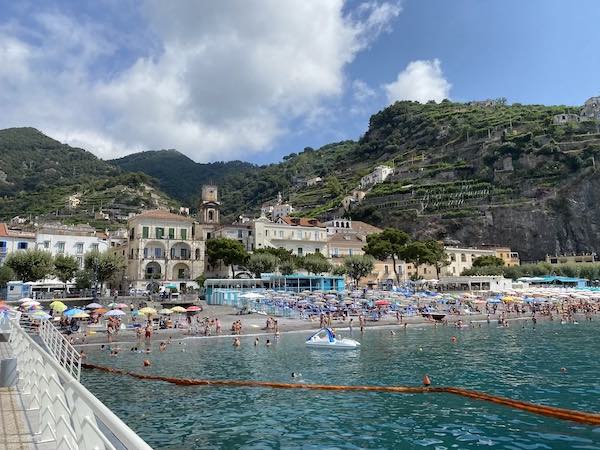 During the first part of the month, you can easily enjoy boat trips and cruises to the nearby islands and all of September is great for sightseeing and day trips to historical sites such as Pompeii and Herculaneum, too hot in the height of summer.
The second part of September is when things start to wind down in this area: you will still have hotels and restaurants open however, the number of ferries to the islands starts to drop, making connections less flexible.
If visiting the Amalfi Coast in September, Sorrento is a great choice as your base: the town has plenty to offer in its own right so even if you get a rainy day or end up not being able to go to the islands, you can have a wonderful time.

This is our guide to planning a stay on the Amalfi Coast.
Fun things to do on the Amalfi Coast in September include:
Cinque Terre in September
September is a good month to visit Cinque Terre.
However, rain is frequent and, at this time, it can be torrential, so it is essential to keep an eye on the weather forecast and make alternative plans, should hiking and the beach not be an option.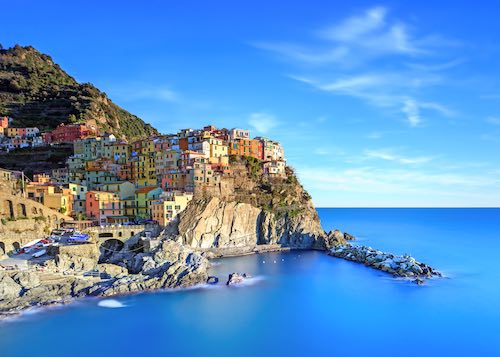 When planning your September trip to Cinque Terre, I recommend you look at hiking trails, ferries and cruises to see the coastline from the water.
I also recommend looking at Genoa as a good location for rainy days.
Make sure you book in advance as there is no such a thing as a quiet time here, and September tends to be busy!
Find our Cinque Terre guides at the following links:
Tuscany in September
Tuscany is terrific in September.
The early part of the month is still good for some time on Tuscany beaches and the mild temperatures mean sightseeing in cities and town is a delight.

As harvest season approaches, the Tuscany countryside comes into its own. Read here >>> why I love Tuscany in the fall.
September is a perfect time to spend a weekend in agriturismo, cycle around and taste the local produce, plentiful at this time.
September is also a lovely time to experience the wonderful hot springs of Tuscany, famous for their properties and their fabulous settings.
We adore Tuscany and have many travel guides for you:

• Tuscany villages – an overview of our favorite places in Tuscany and tips for visiting
• Florence – fantastic at this time, when the weather is still pleasant, and museums can offer refuge from the occasional bout of rain
• Val d'Orcia – an area of Tuscany of natural beauty so unique, it is now Unesco World Heritage Site
• San Gimignano – delightful medieval town and Unesco World Heritage Site
• Siena – One of the most beautiful small towns in Italy, with a breathtaking historical town center
• Lucca – a pretty town with a lovely center and the option to cycle along its medieval walls

Northern Lazio and Umbria

September is also a fantastic time to visit Northern Lazio and Umbria, areas often overlooked by international tourism but rich in culture and beautiful natural landscapes.
Places that are worth a visit are the wonderful Umbrian town of Spello, Gubbio and Citta di Castello and Orvieto, just to name some of the best known.
In Lazio, not to be missed is Tuscania and a special mention goes to Civita di Bagnoregio, which at this time hosts the traditional 'Palio della Tonna', a wonderful occasion to experience an already unique town!
September is also a wonderful time for weekends on the beach or the lake: Lake Bracciano and Lake Martignano are wonderful and easy excursions from Rome and Sperlonga and Gaeta are perfect for a September swim!
Sardinia in September
Early September is a good time to enjoy a last weekend on the beach and also an excellent time to see Sardinia's most beautiful towns.
As the month progresses, you will see a decline in the number of services available, especially buses: having your own car is recommended.
Some fun things to do in Sardinia in September are:
Sicily in September
Sicily is perfect in September if you want to have a sea and sun vacation with also lots of sightseeing.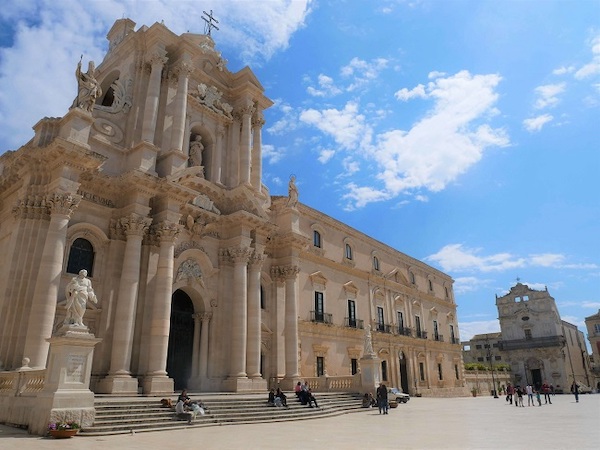 Sicily in September is still hot, so you want to make sure you protect yourself from the sun while sightseeing; however, it is a good idea to keep close to the beach to cool down!

Some fun things to do in Sicily in September include:

You can find here >> our travel guide to Sicily
Puglia in September

Puglia is one of my favorite destinations in Italy in September.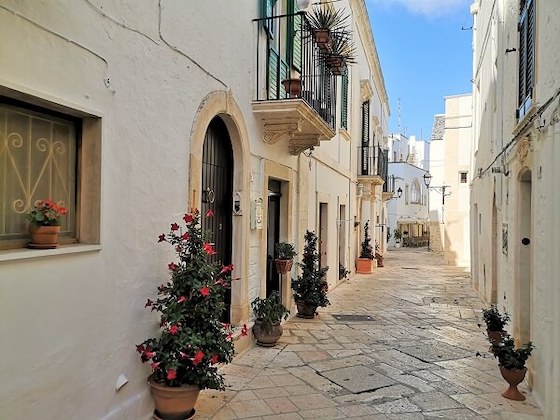 Blessed with a stunning coastline and some of the prettiest towns in Italy, Puglia is a great place for mixing lazy summer sightseeing and time on the beach.
Wonderful places to visit in Puglia at this time are

• Trani – a pretty, small village with a stunning church overlooking the sea (a vision!)
• Martina Franca – a lovely, whitewashed town with beautiful churches in a unique Baroque style called 'Barocco Martinese.'
• Alberobello – the famous town of Trulli, UNESCO World Heritage Site
• Locorotondo – a delightful small town with whitewashed houses and pretty balconies everywhere (they win an annual prize for them, they are so special!)
The whole coastal area is wonderful for time on the beach and Lecce and Bari are also worth a visit for their beautiful architecture and unique spirit.

You can see them all with a short road trip: you can find our three-day Puglia itinerary here.
The Dolomites in September
September is the beginning of the low season in the Dolomites.
As temperatures drop and tourists leave, hotels and tourist facilities start to wind down however, the lower number of visitors also means you get the mountains for yourself, something the over-tourism of some areas has made impossible during the summer.
To visit the Dolomites in September, I recommend booking a comfortable hotel with an onsite restaurant, so you can lounge there in case of bad weather, and equip yourself with a good jacket.
On dry days, you can still hit the trails especially in the first part of the month but watch the weather as the month progresses and it can get bad fast.
You can find a list of our favorite places on the Dolomites here.
September in Italy with kids

Kids tend to love Italy in September as they can be in full summer mode without melting in the sun!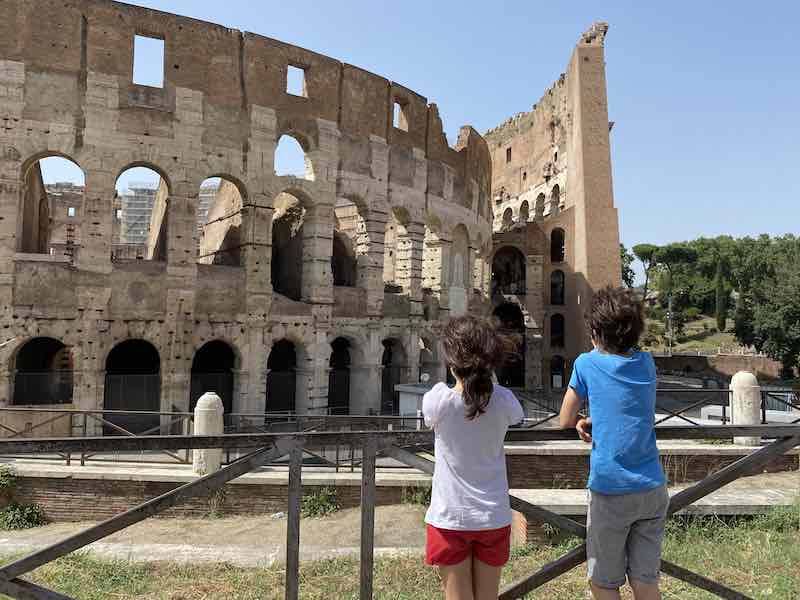 You can find something fun for them anywhere – below you will find our travel guides to visit Italy with kids.

Travel guides to help you plan your trip to Italy with kids are:
Our selection of the best family-friendly beaches in Italy – perfect for early September
Our guide Florence with kids – always lovely with children and not too hot at this time, allowing for plenty of time int the park and nearby farms

Venice with kids – nice if you also want to head to the beaches in the area

Tuscany with kids – September has the perfect temperature for hilltop town hopping

Rome with kids – full of indoor and outdoor attractions for all ages, including some summer-friendly sightseeing options such as the catacombs or the Circo Massimo experience

Sicily with kids – mild and beautiful perfect for family sightseeing and days on the beach

Amalfi Coast with kids – perfect for mixing sightseeing, time on the beach and exciting kid-friendly destinations such as Pompeii and Mount Vesuvius

Cinque Terre with kids – lovely for hiking and enjoying the small villages and close to Genova, which has plenty of activities for kids.
Lake Garda with kids – this is a good time for short hikes and afternoons on the lakeshore
Dolomites with kids – while September is not the best time for this area weather-wise, in the first part of the month it is still possible to enjoy easy hikes and the many pretty villages of this area
Looking for family destination ideas in Italy? Find my selection of the best places to visit in Italy with kids here.

What to book in advance for spending September in Italy.

September can be busy in Italy but advance booking for all main attractions is a must.

This is also the case in 2021 when crowds are lower but advance booking is compulsory to ensure compliance with current regulations.

You can book entrance tickets and tours to Italy's most famous attractions following the links below:


Trains do not usually need to be booked in advance; however, high-speed trains on popular routes such as Rome to Florence do tend to book out or only have costly tickets available.

I always recommend booking accommodation in advance and my favorite booking engine is booking.com.

They have a large selection of accommodation options and excellent free cancellation opportunities too. Click on the following links to:

I hope you enjoyed this quick guide to Italy in September. Don't forget to also check out our 101 travel tips for Italy for extra info. Safe travel planning!

Tips for visiting Italy in September – pin this!