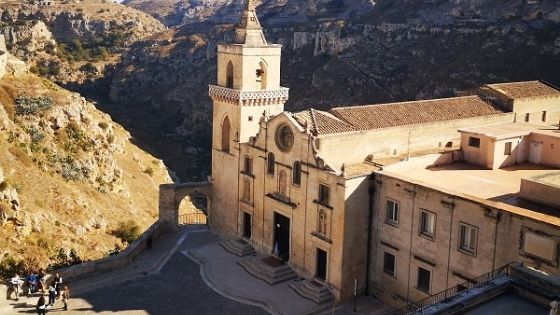 Visiting Italy in October: all you need to know (2022 update)
Visiting Italy in October: all you need to know to plan a trip! The best places to visit in October in Italy, when to book what, what to expect from the weather.
October is one of the most beautiful times of the year to visit Italy.
A month of transition, October looks very different in the north of Italy and the South and the type of experience you are going to have will depend largely on your exact destination.
However, in most cases, in October Italy will treat you to fall atmospheres made of mild temperatures, beautiful foliage and earthy foods from harvest festivals.
Please note: this is a seasonal travel guide about Italy in October, meant to help you decide the best time of the year for your visit. For official information and travel advisory that may affect your trip, please refer to your Government travel advisory. Check here for official info if traveling from US, Canada, UK, Ireland, Australia, New Zealand.
Please note: this post contains affiliate links. Should you make a purchase, we might make a small commission.
Italy in October: what you will find in this article
Overview of weather in October in Italy
October festivities and events in Italy
Recommended places to visit in Italy in October
October in Italy with kids
What to book in advance for October in Italy
The weather in Italy in October: what to expect
October is the heart of autumn in Italy.
It is a time when trees don their autumnal colors and the temperature starts to drop, significantly in the North and on the mountains and more subtly in the Central and Southern Regions of Italy.
Overall, temperatures in Italy in October are mild and you can expect a mix of sunny and rainy days.
In terms of clothing, October is a time for long pants, long sleeve shirts and light jackets although in the central hours of the day, especially in the South, you may get temperatures so mild to allow for short sleeves.
Overall, October in Italy is not a time for swimming in the sea although, in the South, it is not unheard of to have nice beach days at the beginning of this month!
To give you an idea of temperature, historically the temperatures for October in Italy were:
Milan: Max 18C Min 11C Rain: 6 days
Bolzano (Dolomites): Max 18C Min 7C
Rome: Max 22C Min 12C Rain: 7 days
Palermo: Max24C Min 18C Rain: 6 days
October festivities in Italy you need to know about
4 October: San Francesco – marked especially in Assisi, where several religious ceremonies in honor of the city's most beloved sun take place on the night of the 3rd and the day of the 4th of October each year.
This is usually not a day off for offices and it should not affect your ability to visit museums and attractions.
Small centers with a strong Franciscan vocation are likely to have special festivals or markets to mark the occasion.
31 October – Halloween.
While not traditionally an Italian holiday, Halloween has well and truly arrived as a festivity, especially for kids. Some themed events are organized in city museums and parks and costumes (any theme, not just scary ones) are encouraged.
The best places to visit in Italy in October
Rome in October
October in Rome is famous for crisp, bright days and wonderful fall colors.
We locals even have a name for the glorious days of autumn in Rome: 'Ottobrate Romane'.
This term historically indicated the day trips wealthy Roman families would take in October, making the most of the last bright days of the season to enjoy a day on the lake or in the country and nowadays simply indicated the stunning weather the city usually experiences at this time.
I adore Rome in October: my hometown turns wonderful at this time!
If going to Italy in October, you can easily enjoy Rome at its best.
The Colosseum, Roman Forum, Palatine Hill, Vatican Museums, all of Rome's beautiful piazzas will be easy to visit and the crowds will be large but not as overwhelming as at other times.
You can learn what makes October in Rome special here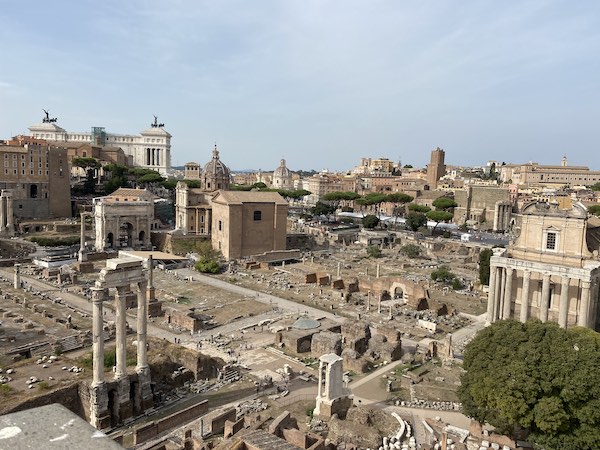 Venice in October
October is a lovely time in Venice, a moment when the city has a more intimate feel than at many other times.
The weather is hit and miss and you will have less daylight hours than if you came in the spring.
However, the city at this time tends to see fewer crowds and overall has a more pleasant feel than during humid and busy summer times.
Wonderful things to do in Venice in October include:
See all Venice must-see sites, making the most of the slightly smaller crowds.
Take a class with Row Venice to experience an ancient art and get up close and personal wit Venice canals
A visit to the beautiful glass workshops in Murano, where you can learn how glass is made and buy gorgeous glass jewelry or home decor for yourself or a loved one (they make fantastic traditionally Italian souvenirs!)
A visit to Burano and its delightful colorful houses: don't forget to check out the local lace museum and taste Burano's local biscuits buranelli – they are perfect with coffee or tea!
Gorge on Venice chicchetti: chiccetti is the name venice people give to small bites of food served in local establishments (bacari).
They come in several forms, with meat/fish/seafood/vegetables and they are a wonderful excuse to sit indoors and have a rest when the sun starts to go down or rain threatens to ruin your plans.
You can find here >>> our recommended itinerary for Venice
Tuscany in October
Tuscany and its rolling hills go through a magical time in the fall.
The mild weather is perfect for sightseeing and the bright sky of this season, with the occasional cloud coverage, always strikes me as the perfect backdrop for Tuscany's Medieval and Renaissance gems.
This is the time to enjoy the stunning foliage of the Tuscan forests and to taste the warming food of this amazing terroir.
October in Tuscany evokes long walks in hilltop towns followed by dinners in local restaurants indulging in local wine and a platter of cheese.
The best places to visit in Tuscany in October are:
Find here >>> our complete guide to Tuscany in the fall
Emilia Romagna in October
The land of Parma ham and Parmigiano is wonderful to visit at this time of the year, after the oppressive summer is gone and before the cold and foggy months begin.
The best places to visit in Emilia Romagna in October are:
The cities of Emilia Romagna offer endless opportunities for sightseeing and the area is a foodie paradise: this is the part of Italy that gave to the world tortellini, ragu' alla bolognese, prosciutto di Parma and Parmesan, just to name its most famous creations!
If you are into food, this will be your personal corner of paradise.
Umbria in October
Umbria is a wonderful part of Italy to visit in October.
The region has beautiful medieval towns and stunning forests which, in October, gifs locals and visitors with an amazing harvest of olives, truffles, hazelnuts and more!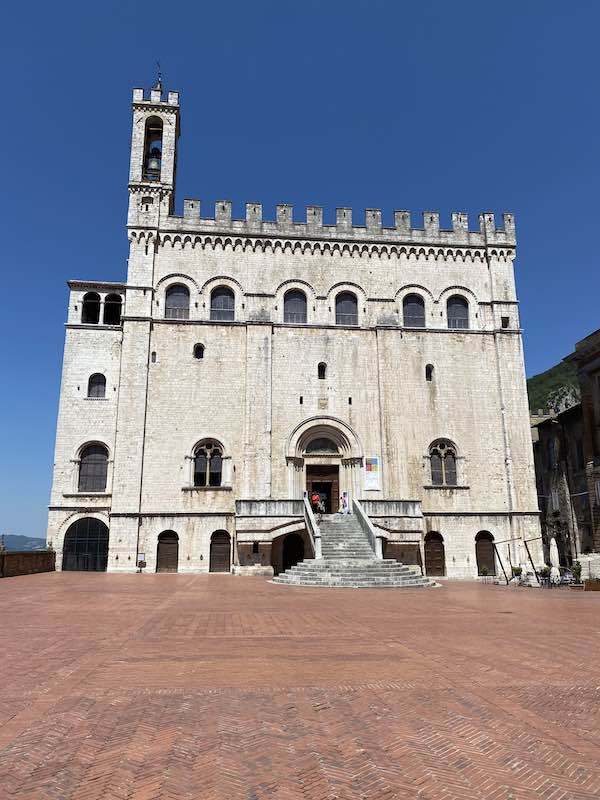 A visit to Umbria in October is ideal if you like sightseeing and can offer great opportunities for fun activities such as olive harvest and truffle hunting.
In October, Umbria celebrates its most famous saint, St Francis and especially the city of Assisi hosts large festivals in his honor at the time of his death, the 4th of October.
Places not to miss in Umbria in October are:
Puglia in October
Puglia, the heel of Italy, is often blessed with amazing weather in October.
On a good year, you will be able to enjoy long days out and still wear summer clothing here, without the scorching heat of the summer.
The photos you see on this page from Puglia are taken at the end of October!
Wonderful places to visit in Puglia at this time are
Trani – with its wonderful seasise cathedral
Martina Franca – stunning whitewashed town with impressive baroque architecture
Alberobello – the town with UNESCO famous trulli
Locorotondo – a tiny gem of a place with whitewashed houses and pretty balconies
Castel del Monte – UNESCO castle with a unique structure and history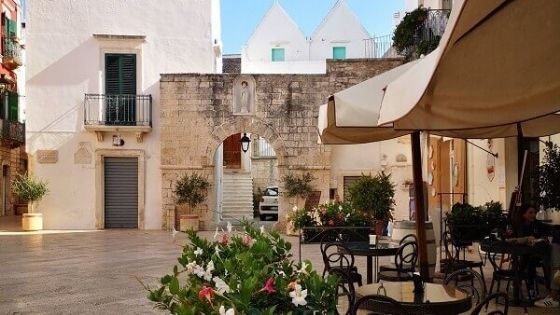 Matera in October
Matera is unique in Italy but has fickle weather.
Hot in summer and cold in winter, it is perfect in October, when you can sightsee in mild temperatures and make the most of its crisp bright sky.
Matera has a unique history and it is visually stunning. I highly recommend you spend at least two full days here: the evenings in Matera especially, as the sun starts to go down on its cave dwellings and the city's wine bars come to life is a delight.
You can find here >>> my travel guide to Matera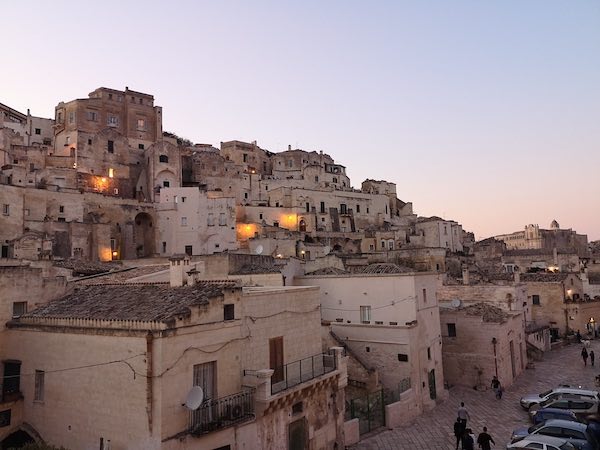 Sicily in October
October is one of the best months to visit Sicily. Outside of the busy summer time, in October you will be able to visit Sicily's stunning archaeological sites without melting in its torrid sun and you will still be able to enjoy beautiful sea views.
This is a good time for cultural tourism in Sicily rather than and sea and sun vacation since high temperatures, especially towards the end of the month, are not always guaranteed.
Places we love in Sicily are:
if you can rent a car, October is a fantastic time for a mini road trip in Sicily, away from the scorching temperatures of summer!
Other places you may want to visit in Italy in October
Dolomites – October is not a great time to visit the Dolomites.
At this time, the season is too advanced for most hiking, especially at high altitudes and not quite advanced enough for skiing.
However, you can still get lovely sights of the beautiful landscape changing its colors from green to golden, making an autumn trip here worth it.
At this time, I love to base myself in Bolzano and explore locally.
You can find here >>> my guide to my favorite places on the Dolomites.
Amalfi Coast – the Amalfi Coast is wonderful any time of the year and October is a lovely time to visit.
At this time, the temperatures are usually much milder than in summer and, by the end of the month, tourism services tend to wind down; however, you will still be well able to enjoy all this wonderful area has to offer: food, coastal views and history being only the beginning!
Especially if going towards the end of the month, double-check the schedule for ferries if you are counting on going to the islands and be prepared for the occasional rainy day.
Cinque Terre – Cinque Terre is a wondwrful part of Italy however, it is not always at its best in October, especially towards the end of the month.
The weather is usually too cold for swimming and rains are frequent.
If coming at this time, check the conditions of the paths carefully before venturing up.
The villages and their wonderful food will be, however, well able to keep you busy in October too!
October in Italy with kids
October is a popular time to visit Italy for families with kids as it coincided with the midterms break of many schools.
While the weather is never guaranteed in October in Italy, this is a reasonably good time to visit with kids.
In particular, we recommend you visit:
Rome with kids – magical in October, when the city usually gets crisp sky and mild temperatures. The Colosseum the city's parks are perfect for sunny days and the many family-friendly museums in the city offer refuge for the wet days.
Florence with kids – always lovely with children but way too hot in summer.
Venice with kids – blissfully devoid of mosquitoes, hungry and annoying in summer
Verona with kids – Verona is one of my favorite cities to visit in Italy with kids, well able to keep them busy even on a rainy day!
Tuscany with kids – October has the perfect temperature for hilltop town hopping with kids.
This is also the time when wineries open their doors to visitors and this includes children!
The 'open cellars' initiative involves wineries all over the region and is a great opportunity to go wine tasting in Tuscany with kids. Some even offer the chance to take part in the harvest!
Puglia, Matera and Paestum – one of the most successful October trips we have taken in Italy has led us to Puglia, Matera and Paestum: the wonderful photo below with my daughter and a temple is from there!
Just for fun! In the last couple of years Italy has embraced the tradition of days at the pumpkin patch! These can be great fun for kids – find here >>> a list of kid-friendly pumpkin patches in Italy.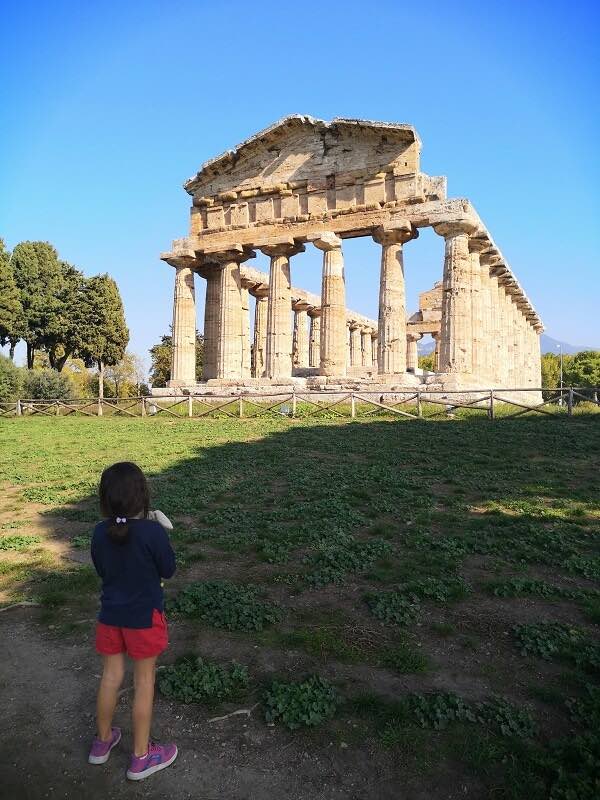 What to book in advance for spending October in Italy
October is surprisingly busy in Italy and advance booking for all main attractions is recommended.
Attractions that need advance booking are:
Last Supper (Milan) – The Last Supper tends to book out quickly. I highly recommend you secure a ticket as soon as you have your dates set. The one at the provided link has a good cancellation policy, for peace of mind.
Uffizi Gallery (Florence) – always very busy, it is worth securing a guided tour in advance
Vatican Museums (Vatican City, Rome) – The Vatican Museums are vast and wonderful and this can result into the experience of your visit being overwhelming. Unless you know already what parts of the museums interest you, I highly recommend you get a guide and join a tour (either small group tour or private).
Good tickets/ Vatican Tour options (they all include the Sistine chapel) are:
Colosseum (Rome)
The Colosseum and the nearby Roman Forum and Palatine Hill are stunning in October but advance booking is a must.
You can choose between several types of tickets:
Standard entry ticket, with a guided tour of the Colosseum and self-guided tour of the Forum by Coopculture: this is the official OClosseum concession and has good value tickets but offers no flexibility on your booking time/date
Trains do not usually need to be booked in advance however, high-speed trains on popular routes such as Rome to Florence do tend to book out or only have very expensive tickets available.
I recommend you use the website trenitalia.it or italo.it: these are the ones that allow buying tickets directly, without additional agency gees.
The last week of October is usually one of the busiest due to the proximity of the National Holiday on 1st of November, All Saints, a traditional long weekend for Italians. Book in advance if planning on traveling at that time.
I hope you enjoyed this quick guide to Italy in October. Safe travel planning!