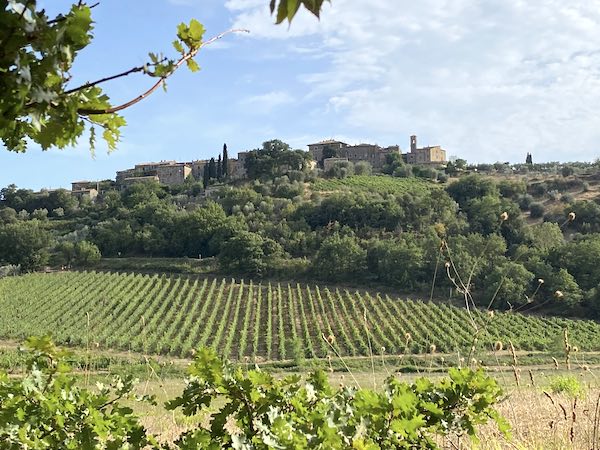 Wine tasting in Tuscany with kids: all you need to know + how to go about it
All you need to know to go wine tasting in Tuscany with kids in tow: what to expect, best areas, need to know.
Tuscany is home to some of the best wine regions in Italy.
Wine lovers come from all over the world to taste its famous reds against the backdrop of Tuscany's rolling hills and the experience is often a highlight on an Italy trip.
Wine tasting activities are for an adult audience; however, you don't have to skip the experience because you are in Tuscany with kids.
Enjoying wine estates in Tuscany with children in tow is possible; however, depending on where you are from, you may find wine tasting in Italy is a little different from abroad.
You know those fantastic kid-friendly wineries in Sonoma or Margaret River? Those estates where you can spend the day tasting wine, while the kids play and enjoy farm animals?
In Italy, you don't find this as such.
While family-friendly wineries exist, they are usually more sales-oriented and, in most cases, they welcome kids but don't offer much to them.
Wine tours are also not quite as extensive as you may have experienced elsewhere and are not often suited to small children.
However, there are ways to go wine tasting in Tuscany with kids and they can be lots of fun for everyone.
We do it often and we have family wine tasting down to an art!
Wine tasting in Italy with kids may not be like back home, but it is a great thing to do while visiting one of Italy's best wine regions.
You just need to know what to expect.
Today, I look at the options available.
If you want even more help or you have any questions, please in my FREE Facebook group about traveling to Italy with kids: I will be happy to have you there and the tips from me and the other members are FREE!
Please note: this post contains affiliate links. Should you make a purchase, we might make a small commission.
The best Tuscany wine regions for families
There are two main areas of Tuscany for family-friendly wine tasting I recommend: Chianti and Val D'Orcia/Val di Chiana.
Chianti is an area in the northeast of Tuscany famous all over the world for its bold reds.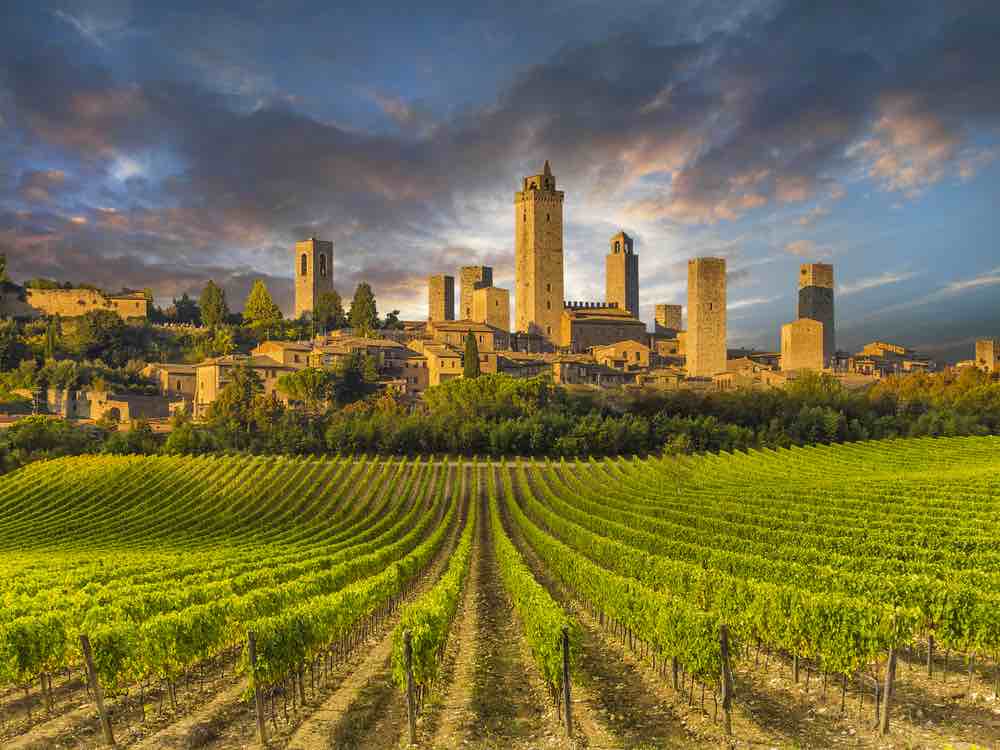 Located in close proximity to Florence, this is a stunning area with wineries over rolling hills, pretty towns and some of the best food in the world.
The area is close to family-friendly places such as Florence (north) and Siena (south): it is a good place to rent a villa for a week or stay in an agriturismo and embrace slow travel.
Chianti is famous for Chianti wine, which is a DOCG product and an Italian excellent exported all over the world.
The main localities you may want to visit in Chianti are Greve in Chianti, Barberino Val d'Elsa,Tavarnelle Val di Pesa, San Casciano in Val di Pesa, Castellina in Chianti, Gaiole, Radda, Castelnuovo Berardenga and part of the area of Poggibonsi.
Val d'Orcia / Val di Chiana are neighboring areas in the South of Tuscany, in the province of Siena.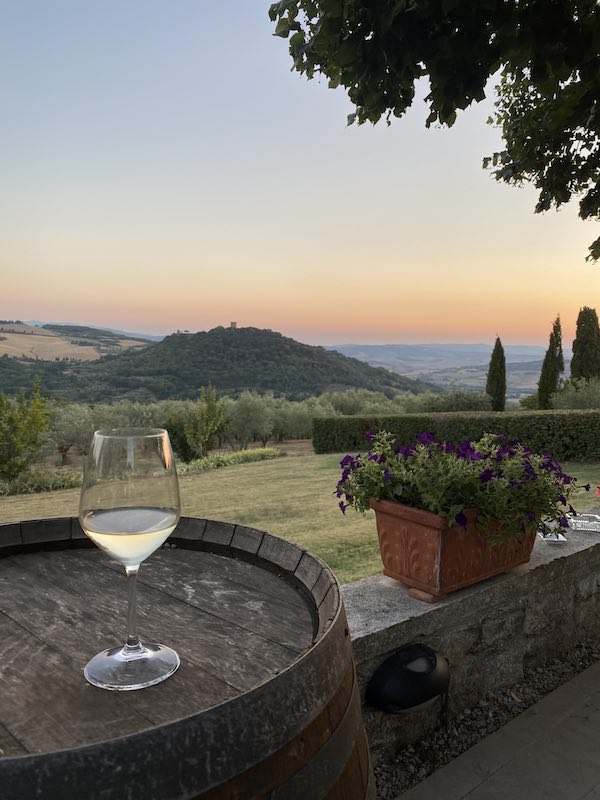 They are famous for the production of famous red wines such as Vino Nobile di Montepulciano, Rosso and Brunello di Montalcino and the dlicious Morellino di Scansano.
This is an area of stunning natural beauty and one of the most pleasant to visit as a family: here is where you find the rolling hills and the cypresses that grace so many Tuscany photos!
This is a lovely area for families to rent a villa or stay in agriturismo: the best localities are Piensa, Montepulciano and Chianciano Terme, all surrounded by stunning wineries and some of the best landscapes in Tuscany.
You can read more about Val d'Orcia in our Val d'Orcia visitors' guide.
Wine tasting with kids in Tuscany: what to expect
How to go wine tasting in Tuscany is something we discuss often in my Italy group and the wishes for such experience fall within two main categories:
A family-friendly wine tour in Chianti – a half-day or full-day experience with a driver who can bring you to different wineries welcoming children
A family-friendly winery that offers family tours and where you can spend the day relaxing while the kids play.
I also dream of these experiences.
I have put a lot of time and effort into looking for the perfect offer, but I have never found providers who offer what I was looking for.
At best I have found are tours that allow kids to tag along and wineries that offer wine tasting and lunch kids can join.
After long research, however, I have found alternative ideas that I believe can deliver a great wine tasting experience in a family key!
Family-friendly wine tasting experiences in Tuscany
Stay in a family-friendly wine resort or wine producing agriturismo
To easiest way to enjoy wine during a family vacation in Tuscany is by staying in a family-friendly wine resort.
By staying even just a couple of nights in a vineyard, you will be able to arrange wine tasting around the needs of your kids and you won't have the problem of having to drive/find a driver.
Wine resorts in Tuscany tend to be on the upscale end of the spectrum and are often locations for weddings and events.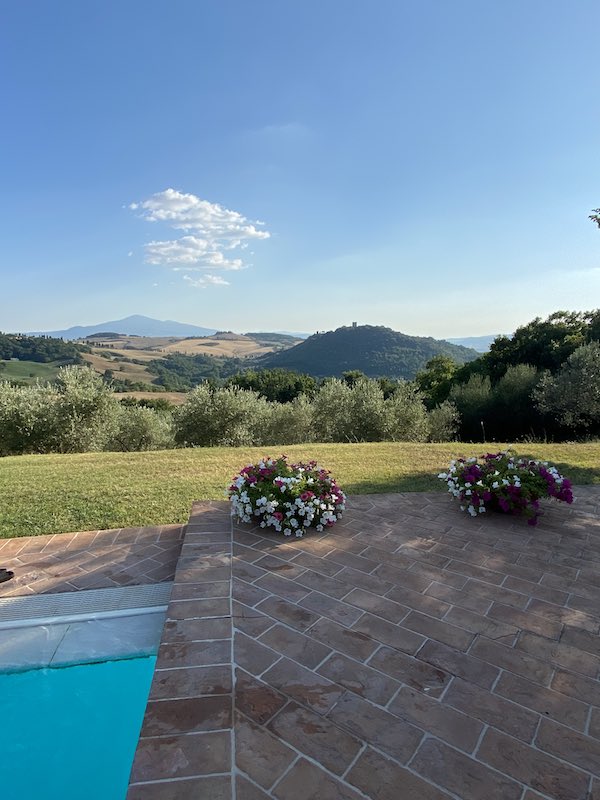 Wine-producing agriturismo are more varied in terms of style and cost.
Some you may want to consider are:
Al Gelso Bianco: stunning family-friendly wine resort in Chianti close to Florence, in Barberino Tavarnelle.
This is a stunning property with absolutely everything you may dream of in a Tuscan haven: stunning, atmospheric, rooms, cypress trees, views, a beautiful restaurant, swimming pool, kids playground, of course, the vineyard and lots of activities for all ages, including wine tasting for adults and cooking classes for the whole family.
Click here for photos and info
Il Borro Relais at Chateaux: this is a luxury, family-friendly wine resort in the province of Arezzo, in southern Tuscany, offering wine tasting and a plethora of family activities.
As well as wine tasting experiences such as picnic and dinner, they offer arts and crafts workshops, horseriding for kids, golf and tennis events and family-friendly cooking classes.
With notice, the estate is also able to arrange baby-sitting for the day.
You can find info and photos here.
Fattoria La Palagina: if you are looking for a family-friendly farm with animals for the kids and tons of activities, then La Palagina is for you!
Located in Figline Valdarno, in the heart of Chianti, La Palagina offers family accommodation and activities for overnight guests and visitors (advance booking essential), including kid-friendly wine tasting: the adults go for the taste while the kids draw their very own wine label!
Child-friendly activities include a visit to the animals of the farm (they can feed the calves and the donkey!), they will learn and pick the vegetables from the vegetable patch, and the whole family can have a picnic in the farm with local products.
You can find info and photos here.
Terre di Nano Wine Resort: Terre di Nano is a stunning wine resort in Monticchiello, in the heart of Val d'Orcia.
The resort is surrounded by stunning vineyards and olive groves and has stunning apartments for families, a lovely restaurant on site, a beautiful pool and cute animals the children can visit.
While there is no playground for kids as such, the pools, boules run and the animals will keep tweens well entertained in summer.
In addition, the estate produced its own oil and wines and can organize wine tasting, cooking classes and local excursions.
You can find info and prices here.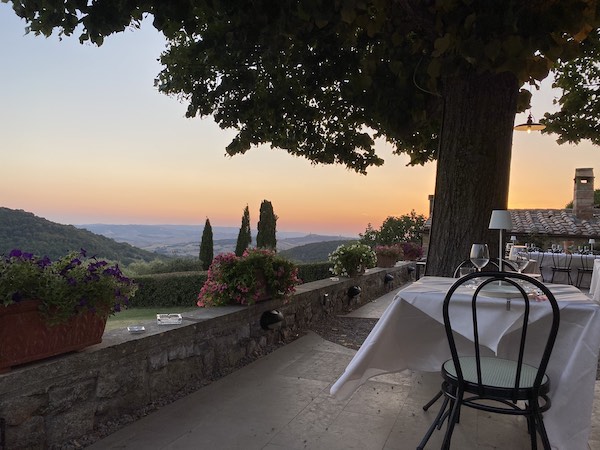 Villa Pia: I am cheating a little with this one as Villa Pia is technically in Umbria, on the border with Tuscany, but it is such a perfect place for families, it well deserves a space here!
Villa Pia is a delightful country property offering all-inclusive family vacations with communal dining and many kids' activities.
Here, you find family rooms, adult and kids pools, sandpit, trampoline, soft play room, all-weather tennis court, ping pong tables, and an outdoor playground.
Local wine is served at main meals and wine tasting is one of the many activities on the menu.
Others include cooking classes, Italian classes, wine tasting, yoga and Pilates (for adults), and horse riding, hiking, cycling, and visits to local farms for kids and grown-ups.
This is a very popular choice for the families in our Italy group!
You can find more info and photos here
Book a picnic in a family-friendly vineyard
Another fun way to enjoy wine tasting in Tuscany with kids in tow is by booking a picnic in a wine-producing agriturismo that also offers kids activities.
A little bit like with the wine resort, this way you do not get to tour different wineries but you can spend a nice day in Tuscany's stunning countryside, admiring the vines, tasting amazing foods and sipping wine right where it is produced.
Some agriturismo also have a pool however, they are not often open to day visitors but only overnight ones.
If you see one you like, it is worth enquiring in advance what day guests have access to.
Picnics are not necessarily geared towards family but if you contact the estate in advance, they will be able to adjust their picnic offer to suit the smaller guests.
Vineyards that offer family picnics in Tuscany you may like are:
Dievole – in Castelnuovo Berardenga, they offer family picnics with a special offering for children under 12. Click here for info.
Salvadonica – located in San Casciano Val Pesa, near Florence, this is a family-friendly estate that offers picnics in the vineyard for the whole family. They also have family suites, should you want to spend the night. Find info and prices here.
Il Borro – already mentioned above, il Borro offers private tours of the vineyard with a picnic.
Visit a wine town
A visit to a wine town is not quite the same as a day out in the countryside but it is one of the easiest ways to go wine tasting in Tuscany with kids.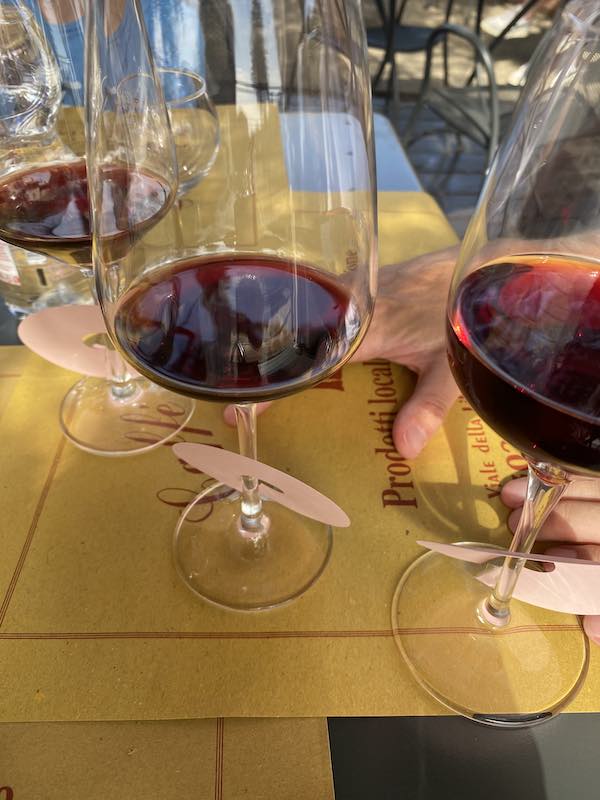 It is also one of the best ways to taste wines from several cellars, something that you do not get if you visit just one producer.
Towns such as Montalcino and Montepulciano have a plethora of local cellars offering wine tasting menus.
We love to sit and taste the wine over a Tuscan platter while the kids have a juice or a soda, then walk it off sightseeing and the kids can go wild in the town playground.
It is one of the reasons why Tuscany is one of our favorite family destinations in Italy!
Take a wine tour
Wine tours in Chianti and other wine areas in Tuscany are widely available and kids usually are welcome to join them.
You can book a tour with a driver, which is also an easy and fun way to see the countryside or just book a winery tour, doing the driving yourself (this would mean one of you cannot drink though!)
While not a kids activity as such, kids of school age and up are likely to enjoy these tours as wine is only part of the experience, not the sole focus.
My favorite way to tour Chianti with kids is by a private tour that mixes wine stops and sightseeing such as this one, which offers private and group experiences.
If you opt for a private driver, you will be able to stop whenever you may need a break, which I believe will be essential with toddlers and younger kids.
If you prefer to just visit a winery, then you can look at:
La Ciarliana is the only family-friendly winery in Tuscany with tours specifically for families.
This is a winery near Montepulciano and, rather than just being child friendly, it specifically caters to families with family tours, flashcards for kids, coloring pages, and juice tasting. You can find the full description of their offering on their website here
Podere Franco Pacenti, a family-run winery that organizes child-friendly vineyard walks and wine tasting, complete with juice tasting sessions for the kids (and coloring gear to keep them busy while sipping!
Participate in 'Cantine Aperte' (Open Cellars)
During harvest season, in late September/ October many Italian cellars participate in the initiative Open Cellars.
At this time, on specific dates, vineyards open their doors to visitors and families and kids can even participate in the wine harvest!
These activities are organized around harvest needs so they only happen on selected dates and booking is essentials.
For 2021, participating wineries include:
Buccia Nera Winery, Arezzo – Family wine harvest and picnic. Dates: 1, 12, 18 September 2021, h 10.30 – 14.00. Find info and address here.
Fattoria La Maliosa, Grosseto: harvest, and family picnic. Click here for dates and info.
You can find the web portal with all the info about this initiative here.
I hope you enjoyed this quick overview and tips to go wine tasting in Tuscany with kids and it helped you plan your trip. Safe travel planning!