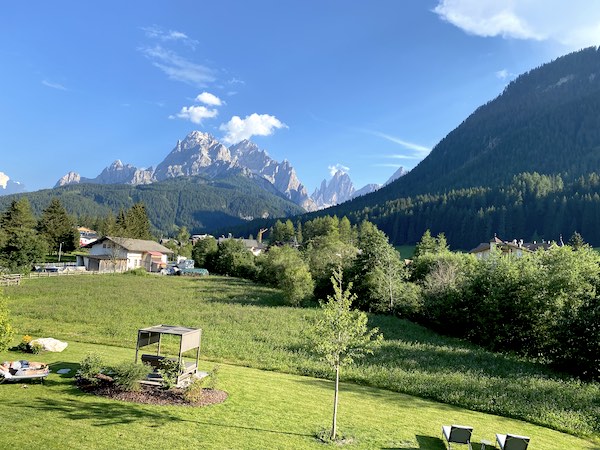 Sesto-Sexten Italy with kids: why you'll love it for your next vacation on the Dolomites with family
All you need to know about Sesto-Sexten Italy. Learn what makes Sesto our favorite family destination on the Dolomites, the best things to do in Sesto with kids, where to stay and practical tips from a mom.
If you were to ask me to name the best place to stay in the Dolomites with kids, I'd have no doubts: Sesto-Sexten!
Sesto Pusteria, or just Sesto or Sexten as it is called in German (this area is bilingual), is a delightful small village in Alta Val Pusteria, in the Drei Zinner Dolomites.
Blessed with a stunning position in a green valley at the footsteps of breathtaking peaks, Sesto is all you can dream of in a family mountain resort.
It has traditional, pretty houses with colorful flowers, beautiful views, a plethora of hotels and restaurants to choose from; it also has playgrounds for the kids, cable cars and tons of beautiful and easy hikes you can take with kids of all ages, plus some glorious spas perfect for a relaxing afternoon for parents!
I have been coming to Sesto all my life.
I started visiting in the summer when I was a kid, and now I have included my children and husband in the tradition.
We have been here in Sesto so long, and so regularly, our hotel has given us the badge as loyal guests so you can see: when I say I love Sesto, I really mean it, and I also clearly know the place very well!
My favorite time of the year to come to Sesto is the summer, so lots of my tips and recommendations are for that time.
However, Sesto is also fantastic in winter when it becomes a snowy playground for skiers big and small.
This is my essential travel guide to Sesto-Sexten and my tips for visiting.
Please note: this post contains affiliate links. Should you make a purchase through them, we might make a small commission at no extra cost to you.
Why visit Sesto with kids: best family-friendly activities in Sesto-Sexten
Sesto-Sexten has a very family-friendly vibe and plenty to offer to families with kids.
Among our favorite activities in Sesto Pusteria there are:
Explore stunning Olperl park for kids
A list of the best thing to do in Sesto with kids can only start with Olperl park, a fantastic high mountains playground and a family park just above the town.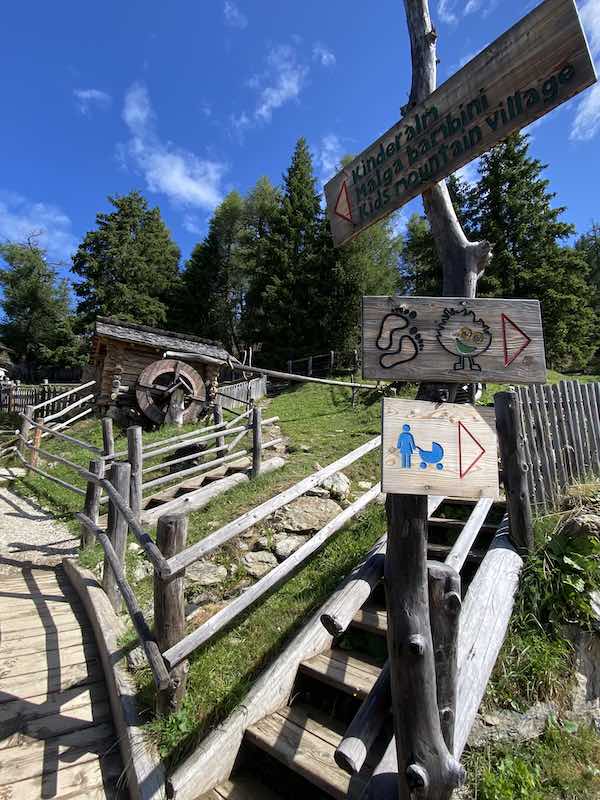 You can reach Olperl park quickly and easily by taking the Sexten HelmJet Cable Car and what you find at the top is nothing short of magical!
In front of stunning views of the dolomites, you find a beautiful playground for kids with swings, a small mountain farm with goats and mountain farm animals for children to see, a cute wooden watermill and a fantastic sensory path to walk barefoot.
The whole area is for kids and a lot of fun.
You can spend hours here with the kids playing n total safety, and you can also refresh yourself with drinks and ice cream from the café or a full meal from the restaurant.
Read here >>> our complete review of Olperl Park Family Park Sesto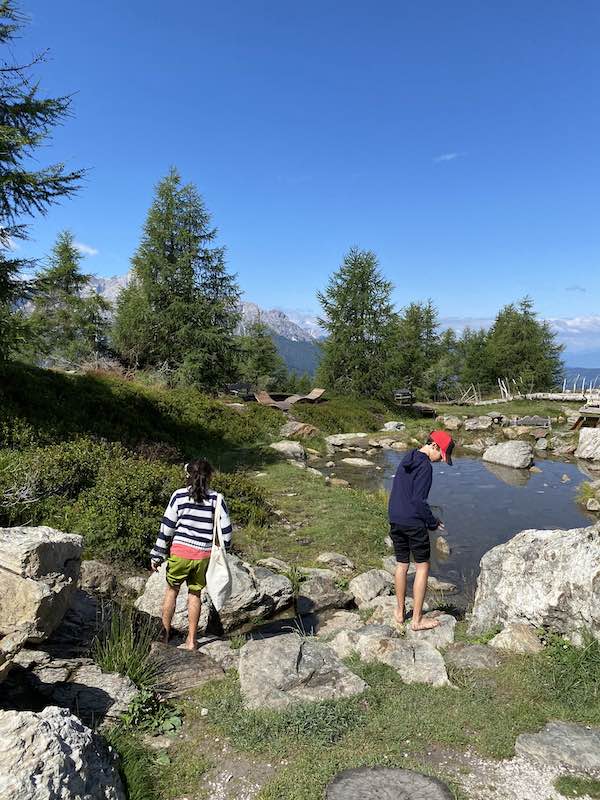 Enjoy beautiful Rotwandwiese, Croda Rossa family park and its reindeer
Another fantastic place for kids in Sesto is the Croda Rossa family park, perched at the arrival station of the Croda Rossa cable car.
This family park is equipped with two beautiful huts operating as cafes and restaurants, a sand pit, swings and play areas, and it is home to a flock of reindeer, unique to this area!
The place is a paradise for kids who can run and play in complete freedom on these large and stunning loans and is also fantastic for parents: as well as sitting enjoying the view; a circular family path allows to get some hiking done in a family-friendly way.
You can reach this beautiful park by cable car (no hiking required at all) or with an easy hike (1.5h walk)
Complete guide to getting to Croda Rossa family park coming soon!
Get active in Sport Sexten Sport center
Sesto has a beautiful sports center which is perfect for post-hike afternoons in summer, rainy days and long winter afternoons apres-ski.
In the sports center, adults and kids can have fun at:
The indoor climbing wall (lesson available),
Parkour area
Mini golf
Ping Pong (table tennis)
in summer, you can also splash in the outdoor pool
in winter, you can enjoy the seasonal ice skating rink!
The sport center is right in the village and very popular with children from the area and teens: a fantastic place for tweens and teens in Sesto-Sextent to get active and make friends!
Hike to Val Fiscalina
Val Fiscalina is one of the most beautiful small valleys in the world, and Sesto is ideally located for you to explore it.

From the village you can take a bus or reach it on foot: the hike is easy, doesn't take more than about 1h, leads you through a beautiful conifer forest, and offers a stunning view of the mountains.
On arrival, you find two cafes/restaurants for refreshments and the most beautiful views you can ever dream of!
This is a simple hike, perfect for children and one of our favorite easy family hikes in Val Pusteria.
Bring the kids to the playground.
Sesto has two pretty playgrounds; a tiny one close to the main square and a bigger, nicer one along the river.
The second playground is shaded and always full of kids, which makes it a favorite family hangout for after-hike afternoons.
See the town's peculiar church grounds
Sesto has a lovely church with a pretty mountain cemetery and a very peculiar fresco: the triumph of death.
As odd and morbid as it may seem, the fresco is worth seeing: you find it inside the patio leading into the cemetery, and it represents the grim reaper with people of all ages and walks of life.
It is cemeterial art, but it is powerful and peculiar: most suitable for older kids and adults but culturally interesting at any age.
Go horse riding

If your kids love horseriding, Sesto is also a great place for them as they can try their hand at riding horses and take walks with them at the local riding school Tschurschenthaler.
You can find info and contact them directly here
Go mountain biking
Sesto has several trails for mountain bike lovers, and the local Bike Academy is the place to rent bikes should you want to tackle them.
You can find info and prices here
Go to the weekly market
Sesto hosts a small yet nice flea market, pleasant with kids. The market usually takes place in front ot House Sexten which is the main event hall of the town.
Listen to the brass band
One of my favorite things, when I was a kid in Sesto and something my children love too is to go, listen to a concert by the local brass band!
Concerts happen in summer on specific dates advertised in town and they are a wonderful family event as well as a fabulous opportunity to listen to classical and local music!
Go hiking
Sesto is a fantastic base to take easy hikes with the kids.
With or without the use of the local cable cars, you can:
Hike to Rifuglio Gallo cedrone and Sillianer huttte on the top of Monte Elmo (easy / moderate)
Hike to Malga Klambach Alm from Passo di Montecroce via Alpe di Nemes (moderate)
Take the cable car to Prati di Croda Rossa and hike back down to Sesto (easy/moderate)
Hike to Val Fiscalina (easy)
Hike from Val Fiscalina to Rif Locatelli Hutte (strenuous)
Hike from Val Fiscalina to Rif Comici Hutte (strenuous)
Day trips from Sesto-Sexten
Sesto is perfectly located to explore other parts of the Drei Zinnen Dolomites. Amazing day trips you can take from Sesto are:
Where to stay in Sesto-Sexten
Sesto has an endless choice of hotels, apartments and campsites to suit most budgets.
Places we recommend are:
Caravan Park Sexten – a luxury campsite on the way to Passo di Montecroce / Kreutzberg Pass with great family facilities, including an indoor pool
Gamz apartments – amazing apartments with bunk beds for kids and unbeatable views
Hotel DolomitenHof – maybe the most beautifully located hotel in the world (stay in the chalet, if budget allows)
Family Resort Rainer – equipped with a stunning kids playground and views
Where to eat in Sesto with kids
Sesto is exceptionally family-friendly. All restaurants have kids menu and offer, as well as traditional food from Alto Adige, staples such as pasta al sugo, sausages and fried chicken.
Among our favorite places there are:
Lanterna Verde, perfect for dinner
Bistror Bergsteiger, perfect for lunch with a view
Ristoro Froneben, home to some of the best cakes you can ever taste!
I hope you enjoyed this quick overview of Sesto-Sexten and we showed our infinite love for this beautiful and family-friendly haven in the Dolomites.
What to pack for visiting Sesto-Sexten with kids
Sesto is a mountain village and you need to pack all your essentials for a mountain vacation, may it be winter or summer.
As well as all your staples, to enjoy visiting Sesto with kids, it is essential to come equipped with a hiking baby carrier for babies/toddlers, a mountain buggy ( a serious one that can take proper off road terrain!) and excellent hiking shoes for you and the kids.
In summer, it is also essential to come prepared for all weather as you can easily go from shorts and t-shirt weather to raincoat and long pants weather!
While there are many beautiful shops here, it is a good idea to come prepared as prices tend to reflect the high quality of the technical garments sold here and are rather steep.
Safe travels!