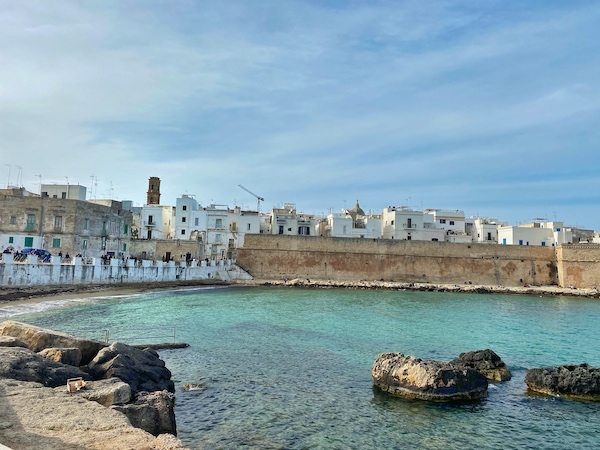 Monopoli with kids: why you'll love this stunning village for your family vacation in Puglia
Travel guide to Monopoli with kids, Puglia: best things to see, where to eat, suggested accommodation and travel tips. Learn why we love Monopoli for a family vacation in Puglia.
Whenever I get a question about where to go in Puglia with kids, I quickly answer: Monopoli!
I love Puglia as a family destination in general: I love that it is beautiful, unique and welcoming.
I love its food and people.
I love how easy it is to enjoy it with kids and how you have towns, coast, history, beaches and coves all close to one another.
But out of all of Puglia, I love Monopoli the most.
I first went to Monopoli on a trip alone with my two children.
Visiting a new place with two kids and no other adult to share responsibility and plans can be daunting.
So, it was important for me to find a town that was safe, easy, had enough to offer should we feel like staying put yet was close enough to nice areas should we feel like going on day trips.
I am happy to report that Monopoli is all this and more!
Today, I share all my tips about Monopoli with kids in this guide. I hope you find it useful!
Safe travels!
Please note: this post contains affiliate links. Should you make a purchase, we might make a small commission.
This post is written on the basis of my personal experience of Monopoli and this area. All the photos in this article are my own and the kids are my children. All rights (text and photos) reserved.
Why go to Monopoli with kids
Monopoli is a small, child-friendly town with a fabulous and car-free center. Perfect for kids to run around safely!
Monopoli has a family-friendly vibe, with plenty of restaurants and eateries welcoming to kids
Monopoli has a nice town beach for splashing around and fabulous sports pitched just in front; a great spot to meet other children.
You can reach Monopoli by train
Monopoli is well-placed to take day trips to the surrounding area
Monopoli is stroller friendly and a lovely place to visit in Puglia with a toddler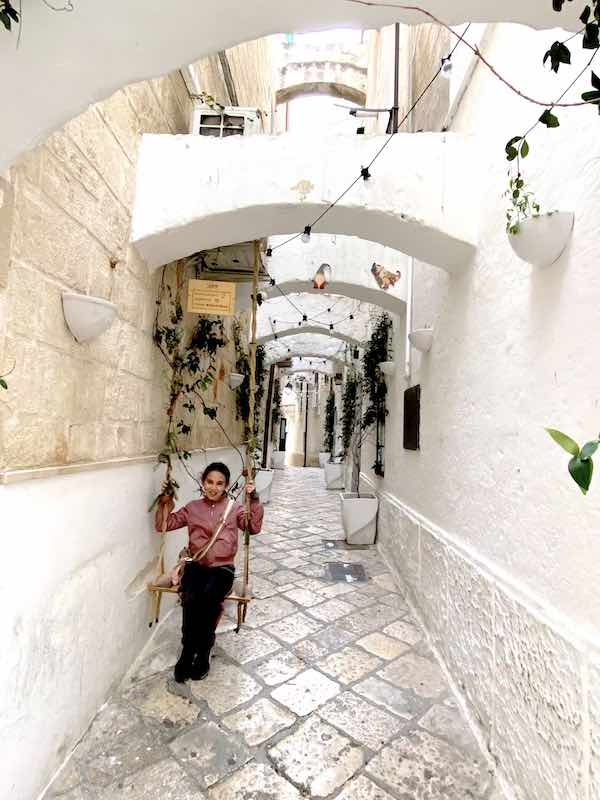 Why not go to Monopoli with kids
Monopoli is very much a good weather place.
If you go here in the middle of winter, you will be able to enjoy the playgrounds and local life but the town hasn't got big indoor attractions or activities for kids (I know this as we had three heavy rain days in Monopoli, so we explored indoor options extensively!
May-September is the best time to come with children if you want to enjoy the nice weather and find most things open. The full tourism season is in full swing, June-August especially.
Monopoli old town, the prettiest part of Monopoli, has a small beach but if you want a larger beach with umbrellas, facilities etc you, may need to go a little out of town towards Capitolo or even to the area of Salento.
Monopoli with kids is perfect if you are looking for a child-friendly town to use as a base to explore the area.
Best things to do in Monopoli with kids
Explore the car-free town center
Monopoli has a delightful old center which is car-free and lovely for kids.
This is the part of town with the majority of tourist accommodations and restaurants and the area where you find the old port, the traditional houses and the mighty Monopoli castle.
In the town, kids can find lots of pretty streets to explore, fun shops with knick-knacks and gelato, street cats to follow etc.
My daughter found a fun swing (a photo prop) and we had a great time listening to the performers that fill the main square with music in the summer and at weekends.
The town has a 'tourist path' if you are only here for a few hours and want to see the prettiest part of the city.
However, you can also easily allow yourself to get lost here and let the meandering roads of Monopoli take you.
The town is tiny so 'getting lost' here is relative: you won't stay lost for long!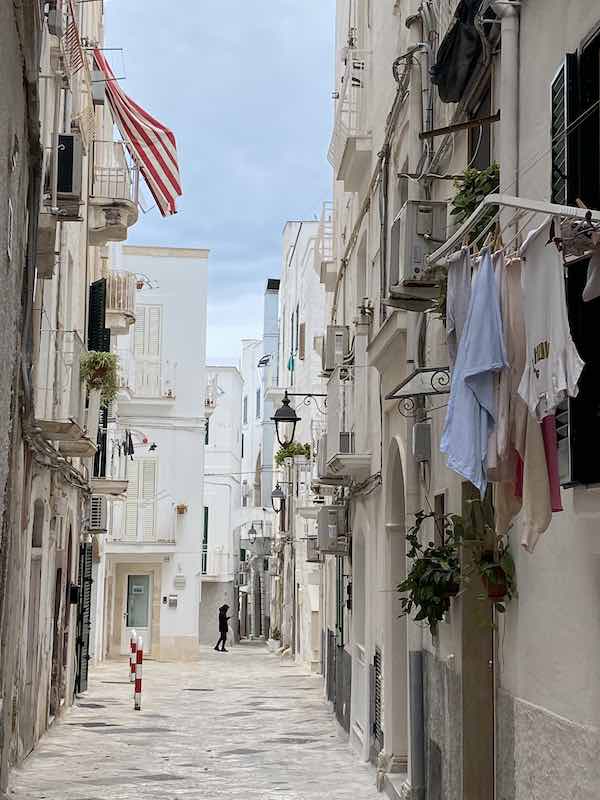 See the castle
Monopoli has a beautiful castle that is now a significant exhibition center. It is in the town center and it is cool for kids to see, even just from the outside.
A fabulous promenade passes just below it and there is a cafe just in front: a lovely spot to let kids run loose while you sit down with a view!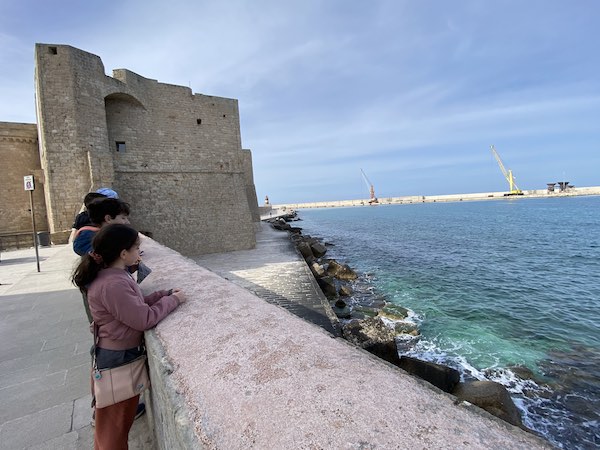 Mingle with local kids in the sports fields.
In Monopoli town center, just in front of the beach, there are sports pitches for the local kids and they burst with activity!
At weekends especially, we found the basketball court to be packed with local children: this was fantastic as it means that if you stay a while, your kids have a chance to make friends!
Go to the beach
Monopoli old town has a small sandy beach.
The beach is lovely as it has a beautiful view over the walls of Monopolu and it is great for kids to splash around in summer.
The beach is small and free with no beach clubs: if you make Monopoli your home base with small kids, it is easy to go for a few hours during the day.
Watch the boats (or hop into one!) in the old port
My daughter loved the small port of Monopoli and indeed, it is one of the prettiest spots in the town!
The port is cute to see the boats bobbing on the water, it has a pleasant promenade (hold hands with little ones on some parts) and it is a great place to see the fishing boats with their intricate mechanisms and nets.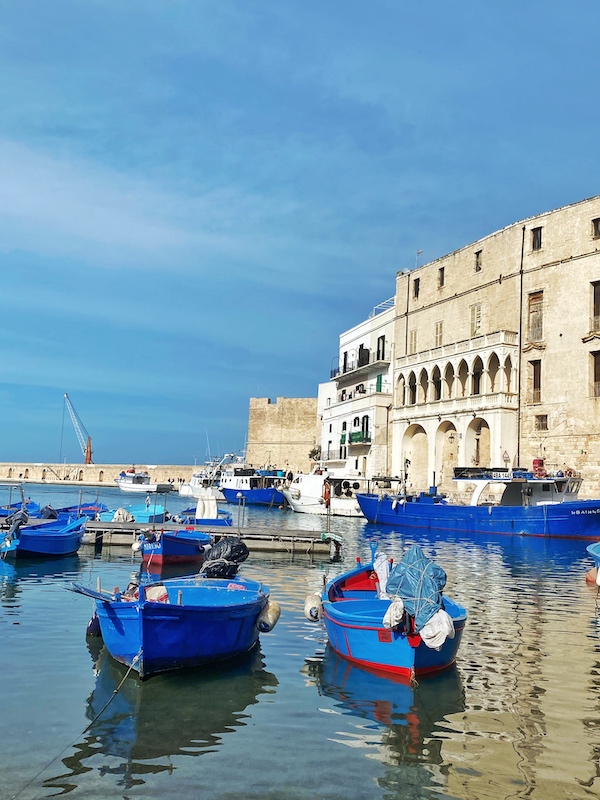 The old port is also where you board boats for day tours of the area.
See the spooky Church of Santa Maria del Suffragio
If your children like spooky things, they may like to see the church of Santa Maria del Suffragio, which has doors and columns carved with skulls and skeletons!
My children don't love this type of thing, so we didn't go in or make a big deal out it.
However, we did notice the skull carvings on the door and they were enough to keep them watching for a while, while I peeked around this peculiar and unique church!
Where to eat in Monopoli with kids
Monopoli has a plethora of kid-friendly restaurants.
Some we enjoyed are:
La Locanda dei Mercanti – fantastic, popular, kid-friendly restaurant with a delicious fresh menu at good prices and option for simple orecchiette pasta with tomato sauce for kids. Open for lunch and dinner.
Address: Via Giuseppe Garibaldi, 44, 70043 Monopoli BA, Italy
Il Guazzetto – delicious, mostly seafood place with also simple pasta dishes for kids. Open for lunch and dinner.
Address: Via dell'Erba, 39/41, 70043 Monopoli BA, Italy
Mameli – kids-friendly gastro pub with restaurant-quality dishes for adults and kids
Address: Corso Pintor Mameli, 31/33, 70043 Monopoli BA, Italy
Best day trips from Monopoli for kids
Grotte di Castellana
Grotte di Castellana are an impressive, beautiful cave system in Castellana, near Monopoli, that you can easily visit with kids.
The caves offer two paths, one short and one a little longer, they are cool for kids and adults to see and not too hard, even for people with claustrophobia.
Of course, it depends on how badly you suffer from it, but within the world of caves, they are not the worst at all!
You can reach them from Monopoli by car, bus or taxi. Online booking of tickets is mandatory: the tours start at specific times and are available in Italian and English.
Address and website >>> https://www.grottedicastellana.it/
Indiana Park Castellana Grotte adventure park
Close to the cave of Castellana you have one of the best kids' attractions in the area: Indiana Park.
This adventure park offer treetop paths suitable for kids of all ages, including 'baby tree trails' for children nad young as two.
Website >>> https://castellana.indianapark.it/
Polignano al Mare
Polignano al Mare is a pretty town close to Monopoli famous for its impressive location on a cliff plunging into the sea.
Polignano doesn't have a lot to offer to kids as such; however, the town is pretty and car-free, the cliffs are impressive for older kids to see and you may be able to cycle here from Monopoli, which is fun.
I say 'may be able' as when we went last time, the route was closed for repairs.
Before venturing out, ask the info point in Monopoli about road conditions.
They are also the bike rental place: you can usually get bikes on the day but, at busy time, you may want to pop in the day before to secure your ride.
Monopoli info office address: Largo Giuseppe Garibaldi, 24, 70043 Monopoli BA, Italy
Another fun place to visit Poignano with kids is bt taking a tuktuk tour. The tours are pricey but if you don't have a car, they are a fin ay to see this beautiful stretch of coast. Find info and price here >>> Monopoli to Polignano tuktuk tour
Fasano Zoo Safari
Only about 20 mins out of Monopoli, you find one of the best attractions in Puglia for kids, the safari zoo and park of Fasano.
Fasano Zoo is the second largest wildlife park in Europe: here, kids can see animals, learn about conservation but also have fun on the rides and amusement park games of Fasano Land.
Fasano is very popular with families and at busy times, the lens can be intense.
Plan to come here during the week rather than the weekends and early morning to have the highest chance of beating the crowds.
The official web address for the safari park and Fasanoland amusement park >>> https://zoosafari.it/
Aqua Park Egnazia
One of the things that make Monopoli great for kids is the proximity to Acqua Park Egnazia, the biggest water park in the South of Italy.
The park has all you expect from a water amusement park: pools, slides, water playground etc!
Find the official website here >>> https://www.aquaparkegnazia.it/
Visit the Trulli of Alberobello
The trulli of Alberobello are a very cool sight for kids and they are very easy to visit from Monopoli, only a short drive away.
If you can, come later in the afternoon to limit ceods, and just take your time to visit the town at leisure: trulli are all around you and super scenic, you don't need a tour or specific plans to enjoy them!
Find here >>> our guide to Alberobello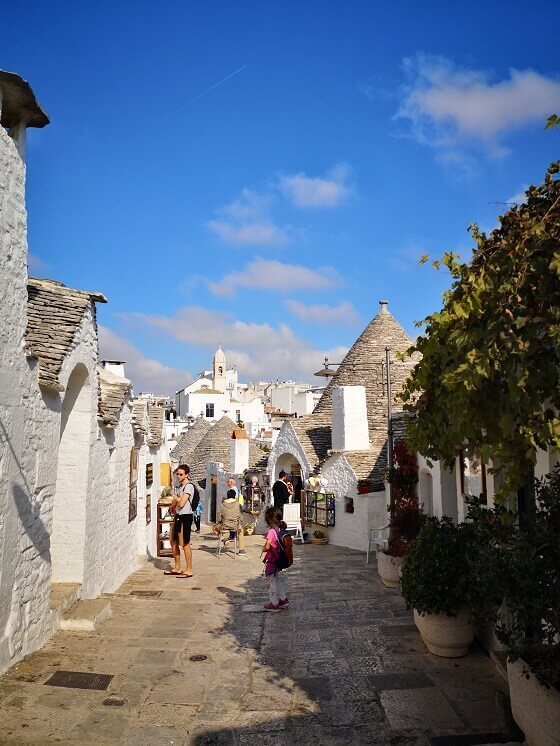 Best beaches in Monopoli
Monopoli is in an area with beautiful, small sandy beaches in between rocky promontories.
Need to know: I recommend Monopoli as a coastal town to use as a base to explore the area, with easy access to small beaches. If you prefer a pure sea and sun vacation with large beaches and stay put, I recommend you look at a hotel with private beach or head to Salento instead.
Monopoli beaches you may enjoy are
Cala Paradiso – both free beach and beach club, gently sloping waters, sandy seafloor
Porto Verde – cute beach accessible via a grassy path.
Cala Porta Vecchia – monopoly town, small sandy beach, free
Kids' attractions in Monopoli and nearby – summary
Several small local playgrounds in Monopoli town
Sports pitches and skatepark in Monopoli town center, in front of the main city beach. Address: Lungomare Portavecchia, 70043 Monopoli BA, Italy
Grotte di Castellana >> https://www.grottedicastellana.it/
Acquapark Egnazia >> https://www.aquaparkegnazia.it/
Indiana Adventure park >> https://castellana.indianapark.it/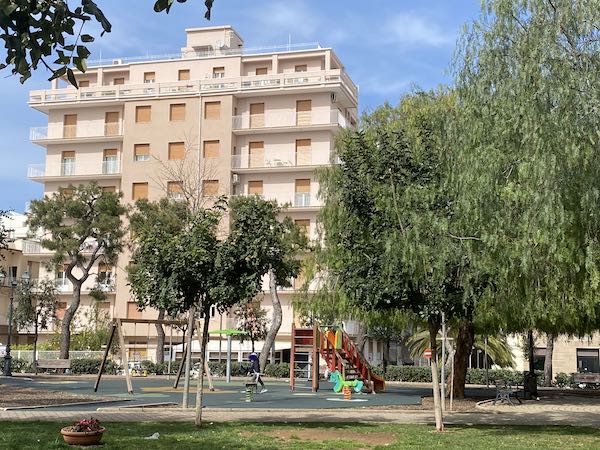 Where to stay in Monopoli with kids
HolidayMonopoly apartments – pretty, well-kept apartments in a super central position, with everything Monopoli has to offer on your doorstep, yet on a quiet and relaxing road. Some have steps: if visiting with small kids, ask for the more accessible unit.
Agriturismo Tenuta Chianchizza – lovely country stay near Monopoli offering family rooms, restaurant on site, seasonal pool, playground and the opportunity to get close to the farm animals of the estate.
Masseria Torre Coccaro – high-end, all-inclusive Masseria stay offering family accommodation, restaurant, and waterpark for littles. Beach club and many activities onsite and nearby for adults and kids
Masseria Santa Teresa, a beautiful property with family rooms, large grounds and a pool
Where to buy baby essentials in Monopoli
Monopol is well equipped with shops for all daily essentials.
Some are in the old town, and many more are in the modern part of town, easily accessible both from the center and the train station on foot.
In Monopoli, you can find:
Supermarkets (Carrefour Express, Despar, Familia etc)
Local specialty grocery shops
Prenatal and QuiBimbo shops for baby gear
How to get around Monopoli
Monopoli town center is closed to cars and it is easy to explore on foot.
If you reach Monopoli by car, there are several parking areas well indicated as you get to the town and that will allow you to cross the modern city to its historical center.
Bring coins for the play and display parking spaces.
If coming by train, the walk between the station and the old town is about 15 minutes.
Monopoli without a car
You can enjoy Monopoli without a car; however, if you stay more than a couple of days, you will quickly see how this will be limiting.
While the town, Castellana Grotte and Polignano are easy to explore on foot and by public transport, the rest of the area is hard to access without your own vehicle and may result in the need to take taxis regularly.
Please be advised that, in Italy, taxis do not require and do not carry car seats for children.