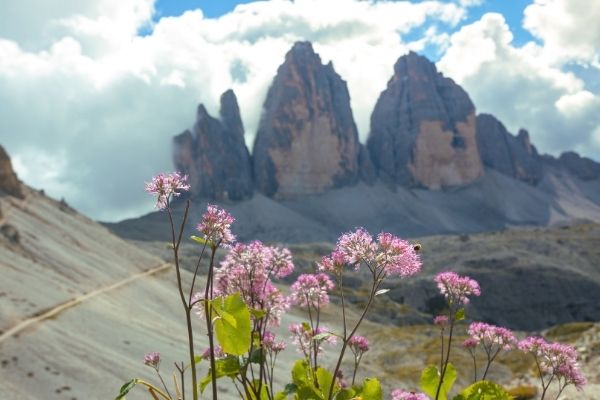 Visiting the Dolomites with kids: all you need to know to visit this Unesco natural wonder
All you need to know to plan a visit to the Italian Dolomites with kids. The best places to go, kid friendly hikes and travel tips for families.
The Dolomites and a beautiful stretch of mountains in the North East of Italy and one of the best vacation places in Italy for families with kids.
Part of the Alps, they are and area of unique natural beauty.
Pristine valleys, clear brooks, lovely lakes and stunning peaks, the have been a popular vacation spot for decades and, in 2009, entered the list of UNESCO world heritage sites and place of outstanding natural beauty.
The area has stunning mountains, picture perfect villages with flowery balconies and a many of hiking options for families with kids big and small.
For kids, it is an absolute paradise.
The nature here is majestic yet accessible, there are wonderful walking and hiking opportunities for all ages and farms and wildlife abound.
I have been coming to the Dolomites on vacation all my life (seriously, after 22 years our favorite hotel gave us a badge as loyal costumers!).
These are my favorite places and my travel tips for enjoying the Dolomites with kids.
What you need to know before visiting the Dolomites with kids
The Italian Dolomites are in the regions of Veneto and Trentino Alto Adige and are unique in Italy in terms of cultural influences and traditions.
This area was part of Austria until the I World War, when it became part of Italy, and the Austrian and Germanic influence here is still very strong.
The area is bilingual Italian/ German, the aesthetic of the architecture is very strongly influenced by Austria and so is the food.
While here you will find Italian specialties like pasta, pizza and gelato, the real delicacies here are from Austria and Tyrol: knodels, kaisesmarren, speck, spetzli, apple strudel are amazing here and dominate the menus.
Kids usually adore this cuisine but if they are expecting pizza and gelato extravaganza, you may want to warn them!
Good to know! This are has some of the best Christmas markets in Italy!
The Dolomites are a hiking destinations in summer and skiing destination in winter. Proper gear for these activities in necessary – do not underestimate the mountains here as while there are many child friendly hikes, nature here is powerful!
Please note: this post contains affiliate links. Should you make a purchase, we might make a small commission.
The best places to visit in the Dolomites with kids
These are our favorite places to visit on the Italian Dolomites with kids in summer and skiing season.
Please note: due to the nature of the area, it is paramount to to have your own car.
Alta Pusteria / Och Pustertal – the best place on the Dolomites for families who love nature
Alta Val Pusteria (OchPusterTal) is a stunning, picture perfect valley with pristine peaks, fairy tale looking villages, brooks and lots of hiking and entertainment options for all ages.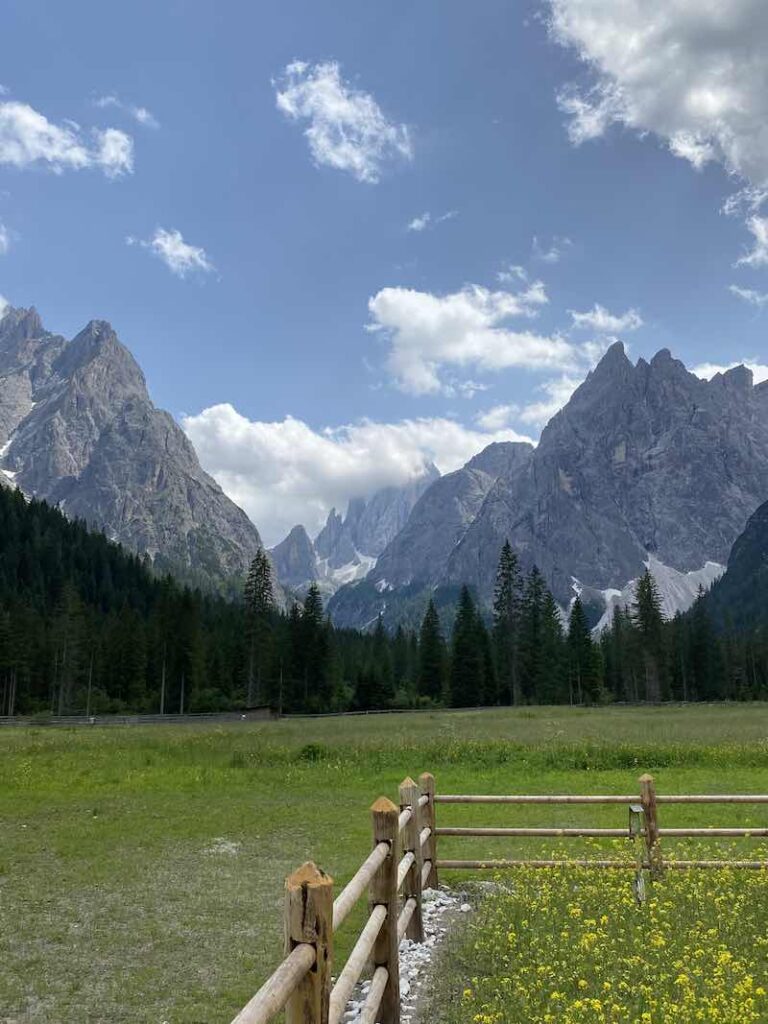 This is a wonderful place for families who love hiking and while it does have family structures and attractions it is first and foremost a place where to enjoy nature.
Some places we adore here are:
Val Fiscalina (in the photo): a tiny, enclosed, easy to access valley framed by pristine peaks with hikes for hikers big and small. The peaks here create a meridian that follows the journey of the sun (Meridana di Sesto) and hide beautiful mountain hikes.
Moso/ Moos : Pretty village with many garni (B&B), hotels, a pizzeria and legendary bakery as well as cable car up to Croda Rossa
Sesto / Sexten: slightly bigger than Moso, this is another lovely town with hotels, good access to hikes and a stunning historical cemetery with peculiar 'triumph of Death' frescoes (a little scary but very peculiar and usually of great effect on kids). Find here >>> our family guide to Sesto/Sexten
The cable here brings you up Monte Elmo, which has several child-friendly hikes and refuges and Olperl Nature Park, a wonderful family park with a playground, sensory path and local animals.
Monte Elmo is also home to some of the best family hikes in the area!
San Candido/Innichen: a bigger town, San Candido is lovely and has also crazy golf, Aquafun pool, bike renting option, a fantastic mountain playground for kids, Fun Bob slope etc. Find our full guide to San Candido here.
Dobbiaco/Toblach: larger again, this is another lovely town with hotels restaurants and shops, farms, wildlife park and easy access to both Veneto and Austria.
It also has a wonderful forest playground called 'Magico Mondo della Foresta' (aka Magic World of the Forest) and a Tree Village that is wonderful especially for young kids.
Dobbiaco is close to Lake Dobbiaco (great for camping, boating and hikes) and not far from Instagram famous Lake Braies.
In winter, this area has excellent skiing and cross-country skiing.
In summer, Our favorite hikes in this area are Rifugio Fondovalle, Rifugio Comici, Rifugio larici, Rifugi Gallo cedrone, Alpe di Nemes, and Rifugio 3 Scarperi. You can find our favorite family hikes in Val Pusteria here.
Good family hotels in the area are:
The best farm stays in the area are on the website: www.gallorosso.it (options for all budgets)
Misurina / Cortina / Braies
Lago di Braies, Misurina Lake and glamorous Cortina has been a popular tourist destination for decades both in summer and in winter, thanks to excellent skiing opportunities
Cortina hosted the winter Olympics in 1956 and still has the beautiful Olympic ice rink built for the occasion, which is super fun for kids (and adults) in all seasons.
Cortina has many hotels, restaurants and shops, most on the glamorous end of the spectrum, and plenty of kids attractions.
Great fun are the kids snow playground and ski classes (winter), sledging (winter), horse riding, indoor baby climbing wall, child friendly hikes (summer), playgrounds and the exciting 'Freccia del cielo' cable car, literally an arrow to the sky – this is what the name means!
This is a gorgeous area with plenty of famous hikes including access to the 3 Cime di Lavaredo, many family hikes and stroller friendly hikes and access to stunning locations such as Lake Misurina and Lake Braies.
Some family hotels in the Cortina/Braies area to check out are:
For agriturismo/farm stay, I recommend the website Gallorosso.it which has a lovely selection for all budgets
Val Badia/Gadertal
Val Badia is one of the most family friendly areas of the Dolomites and caters to children with family hotels and `movement parks' outdoor spaces for kids built to stimulate exercise and outdoor well being.
These parks are fun for kids as they offer family friendly hikes but also frames and equipment for water games, mountain biking trails, workshops etc.
They are excellent to get kids to enjoy the mountain environment in a safe and fun way,
The most famous and family friendly towns in the area are Corvara, Colfosco, La Villa and San Cassiano, all lovely and well equipped with outdoor play area for kids and great bases for walks and hikes.
Hikes to seek out with kids are Malga Val Parola, Rifugio Scotoni and not to be missed is the drive up Passo Gardena, which offers unbelievable views and access to stunning hikes hard and easy.
In winter, this is an excellent skiing area for all ages.
Fun fact! In Val Badia, as well as Italian and German you will be exposed to Ladino the language of this area! This is one of the many local languages still existing in Italy and it is interesting for kids and adults to spot even just the street signs in it.
For farm stays, check out gallorosso.it
Val Gardena/Grödnertal
On the other side of the Gardena Pass, a scenic drive, lies one of the most famous valleys in the area: Val Gardena.
The most famous towns here are Ortisei, Selva di Val Gardena and Santa Cristina and they have been welcoming tourists for decades, become among the best equipped ones for visitors both in summer and winter
Walks and experiences to seek out with kids and Kneipp paths, Col de Flam, the hikes in the Puez-Odle massive as well as the adventure path Col de Riada.
Val Gardena has several shops and structures offering baby gear rental options, which is excellent if you are flying in and cannot carry lots of baby and toddler items.
This is a very popular area with a wide selection of accommodation options for all types of visitors.
Some family friendly accommodation options in the area are:
Hotel Garni Snaltnerhof, Ortisei
Residence Villa Stella, Ortisei
Passo Sella Dolomiti Mountain Resort, Selva di Val Gardena
Cavallino Bianco Family Spa Grand Hotel, Ortisei
Hotel Albion Mountain Spa Resort, Ortisei
Biancaneve Family hotel, Selva di Val Gardena
Post Family Hotel Posta, Santa Cristina
Alpe di Siusi
Alpe di Siusi is closer to Bolzano than many other localities on this list and great for kids, especially, little ones.
You can stay at lower altitude and enjoy the lovely forests in the area or take the local lifts to get closer to the peaks and get hiking.
Some of the easiest and most child friendly hikes in the area are:
Malga Tirler (with playground), 'Sorgenti delle streghe' witch's path sensory path for kids, Malga Tuff and Hoferalpl (with playgrounds and animals for the kids to see), Malga Gostner
Family accommodation to consider in the area is Hotel Emmy.
Val di Fassa, Trentino
Val di Fassa is the only valley in this article in Trentino, rather than alto Adige and it is therefore a little farther south than other localities on this list
Stunning, this is the Valley you are most likely to have seen photos of, complete with beautiful peaks, perfect lawns and tiny churches with pointy bell-towers
Val di Fassa was the first valley to position itself as a family destination with entertainment with kids and still now has some of the best equipped hotels if all inclusive, active entertainment if what you are looking for
Great places for kids are Canazei, Campitello di Fassa and Moena and the fun Dolomiti Action Adventure Park (Campitello di Fassa), Adventure park Piciocaa (Pera), High altitude playgrounds/adventure parks (Ciampedie, Alpe Lusi, Ciampac)
Family hotels in this area are Hotel Astoria, Canazei, Family Hotel La Grotta, Vigo di Fassa, Hotel Fontana, Vigo di Fassa.
Why you need a car for a family holiday on the Dolomites
Many towns and villages on the Dolomites are served by a network of buses and/or trains however, the best way to enjoy the Dolomites with children especially is having your own car.
Driving your own vehicle is the only way to have maximum flexibility in terms of the hikes you can take and will allow you to adapt the pace to what your kids are actually able to handle.
Several hikes are not served by public transport and since many of the villages are rather small, you may end up missing out on what the Dolomites: nature!
Need to know! While having your own car is important to explore the area, I recommend against a road trip here. This is an area for an outdoor hiking holiday rather than sightseeing so the best way to explore the area is to stay in one place and explore locally.
How many days to see the Dolomites with kids in tow?
People usually spend on the Dolomites a week or more.
This length of time allows you to take your time on the trails and it also means you have a higher chance of sunny days: rain is common in the Dolomites in summer and if you only come for a weekend and are unlucky with the weather, this can really ruin your experience.
The best time to visit the Dolomites with children
The best times to visit the Dolomites with kids are the summer (end of June to mid-August) for hiking and December – March for skiing.
Summer on the Dolomites is mild and you will find a mix of sunny, dry days and rainy and gray ones. When packing for the Dolomites in summer, layers are paramount and you can find yourself in shorts and t-shirt one day and all wrapped up in a woolen sweater the day after.
Winter on the Dolomites is snow season so you will need sky gear.
Spring and fall are beautiful on the Dolomites however, they are a time for contemplating the beauty of the changing season more than a time for active kids. At this time, the weather can be cold, not all trails are open and many kids activities are closed as the area lives its low season.
This can be wonderful for older kids and teenagers who want time to slow down but it can be frustrating for smaller kids.
I hope you found this quick travel guide to the Dolomites with kids useful. Safe travel planning!