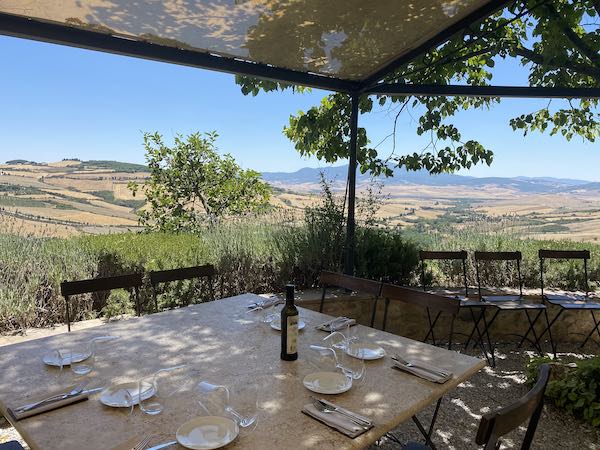 Tuscany without a car: 5 best ways to enjoy one of Italy's most beautiful region
How to enjoy Tuscany without a car: five great ways to explore Tuscany and all it has to offer, without having to drive.
Tuscany is one of Italy's most beautiful and popular destinations, an area famous for rolling hills, hilltop villages, and country stays in relaxing, picture-perfect surroundings.
It is at the top of most visitors' Italy must-see areas and an easy, delightful place to explore slowly.
The best way to explore Tuscany is with your own vehicle.
However, driving in Tuscany is not for everyone, so while I strongly recommend getting your own car, today I want to share some tried and tested, fun ways to explore Tuscany without one!
In particular, we are going to look at the following:
Challenges for visitors who do not drive
Using taxis in Tuscany
How to enjoy Tuscany by rain
How to Enjoy Tuscany by bus (public service)
Tuscany day tours
Tuscany drivers for ad hoc transfer services
The best places to see in Tuscany without a car
I hope this guide helps you find good ways to enjoy it!
Good to know: I have written this guide, like all other guides on this website, based on my experience and travels. I am Italian and have been going to Tuscany all my life for vacation, work and to visit family (my dad's side of the family is from Florence). All tips on this page come from what I learned while planning my own trips.
Please note: this post contains affiliate links. Should you make a purchase through them, we might make a small commission at no extra cost to you.
Visiting Tuscany without a car: challenges
Tuscany is a large region with beautiful towns, extensive rural areas and a long coastline.
The main challenges you'll encounter for car-free vacation in Tuscany are:
Not all towns in Tuscany are served by train and not all those that have a station have accommodation nearby or a local transport network allowing for local sightseeing.
So while it is possible to get to many places by train, you may then find yourself anyway in need of a car for local tours.
Country stays, Agriturismo, villas and Wineries are usually not served by public transport and usually not within a walkable distance of the train station or bus stop.
Taxis are costly and may not be easy to get in remote country locations and isolated properties. 
All this means that, when picking a place to stay, you need to consider how to get there, but also how you will explore locally. 
In many cases, even agriturismos very close to a town are not at a walkable distance from it and may require the use of a car: unless they specify you can walk into the nearby town, always assume you won't be able to get there without your own transport.
I highly recommend you plan your transport and accommodation simultaneously: sourcing a local driver afterward may prove difficult or prohibitively expensive.
Using taxis in Tuscany
Taxis exist in Tuscany but they are not always what you need to solve your Tuscany transport needs.
You can catch taxis in Tuscany cities, usually by going to a taxi stand or by ringing them on the phone.
Taxi apps do not work in the Tuscany countryside at present.
Taxis serve metropolitan areas and may be available for longer stretches.
However, taxis in Tuscany and Italy, in general, are not a good option for long-distance journeys.
While they are excellent for inner city stretches, their price goes up as soon as you leave the perimeters of the municipality and even a short out-of-town journey can easily set you back hundreds of Euro.
They may also be very hard to get in more remote locations and if you don't have Italian, it can get even more difficult as getting one may require a phone call.
So while getting a taxi to reach your accommodation in the countryside is possible as a one-off, taxis are usually not a viable option for regular transport needs unless your budget is limitless. 
Better solutions are below!
Using Uber in Tuscany
Uber does not operate in Tuscany at present. However, a limited uber service is available in Florence city, in the form of Uber Black.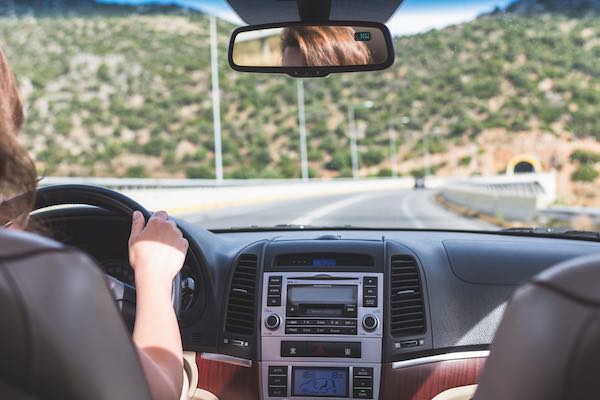 Using private drivers in Tuscany
If staying in the middle of the country, a better option than taxis and Uber is to get a local driver or transfer service.
The best and most convenient drivers are usually found locally.
I recommend asking your potential host if they can recommend someone and make a deal with them directly.
These are usually the people who know the area best, have the shortest to drive to come get you (hence the cost will be lower) and are often able to suggest hidden gems and scenic roads you may otherwise miss.
When sourcing a local driver, please check they are insured and match all the necessary legal and safety requirements. In Italia, the acronym for drivers' services is NCC = Noleggio Con Conducente.
Another good option is to contact companies specializing in transport and taxi service.
Some reliable ones I have come across in my research are:
Welcome Pickups – this company operates in most of the country and offers arrival transfers from train stations, airports etc, but also ad-hoc transport services. They have English-speaking drivers, can provide children car seats and they can also offer sightseeing services in addition to simple transfers.
Mydaytrip – this is a company I have seen recommended more and more lately by readers of this website who told me about their positive experiences with them. Clients reported they have nice vehicles, children's car seats and good guides.  
Exploring Tuscany by train
Tuscany has a good network of trains serving several locations on the coast and towns inland.
Some towns such as Florence, Pisa and Lucca are great as a destination and also as a base for train day trips. 
Others such as Siena, Cortona or many of the coast's localities are reachable by train but are surrounded by countryside best explored by car.
So when you are looking at a town to make your home base, please don't just check how to get there but also how you can move locally or may find yourself limited in what you can do
The best towns to use as a home base if planning on exclusively using the train in Tuscany are:
Florence, close to Chianti and several other small towns, as well as a stunning art city
Lucca old town, is especially suitable for families with young kids (see below).
Pisa, suitable for people who want a more local experience (see below)
Viareggio / Forte dei Marmi, good beach towns on the train line between Rome and La Spezia (Cinque Terre)
The best website to get tickets for train travel in Tuscany, both high-speed and regional, is trenitalia.com
You can find here >>> our guide to train travel in Italy
Exploring Tuscany by bus
Local buses are a fast and efficient way to explore Tuscany towns that are not on the train line.
There are several bus companies serving the region, all with buses of a decent standard and reasonable prices.
I usually look on Google Maps or Rome to Rio to get an overview of the options available for the specific journey I need.
Buses are invaluable in reaching many hilltop towns and smaller villages that either do not have a train station or have a very limited train schedule.
Buses cover almost all towns in Tuscany, especially if you are in Florence, which is a great train and bus hub as well as a wonderful destination in itself.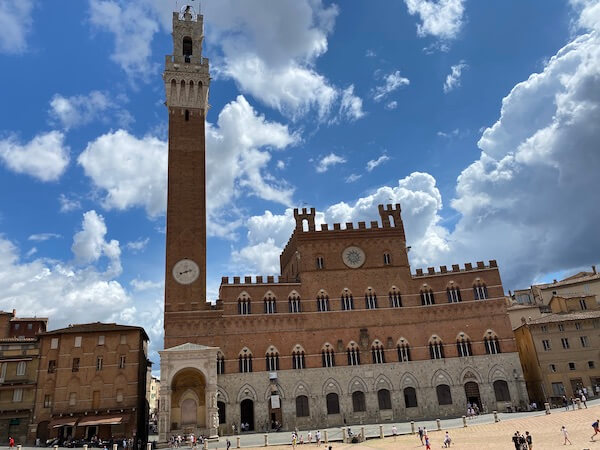 In most cases, buses run regularly between big cities and smaller centers and fewer regulars between one small center and another.
If you visit Tuscany by bus, I highly recommend you use Florence as a base and plan day trips from there.
Need to know! Buses are great for reaching villages, towns and some landmarks; however, they are often not a viable option to reach Agriturismo or isolated Airbnb in the countryside. If you are looking at that type of accommodation, I recommend you contact your local host to make sure there is a bus stop where you are staying and the schedule is reliable and satisfactory for your needs. 
Tuscany by organized day tours
One of the easiest and stress-free ways to experience Tuscany without a car is to join a day tour.
Day tours come at all costs and sizes and cover many destinations: group ones tend to cover the most requested destinations and tend to depart from a limited number of popular departure towns.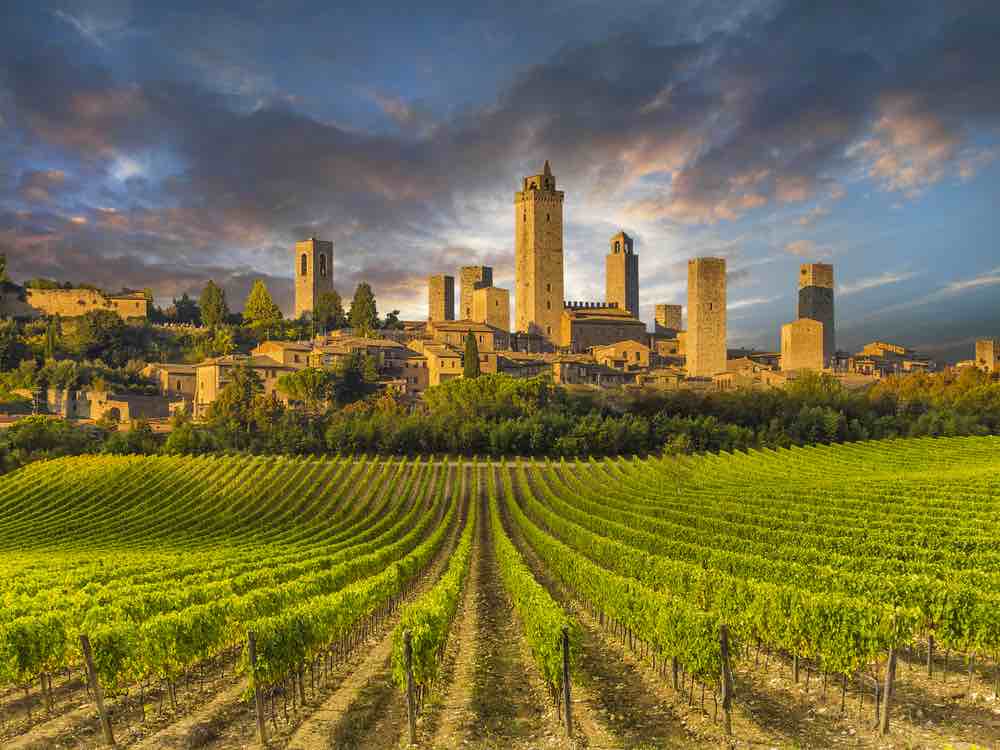 Private ones offer more flexibility and, if you are traveling with kids, offer the advantage of car seats. They do, however, have a much higher cost.
Good to know: many of the small towns in Tuscany are swamped with day trippers, and if you go with a big group tour, you may find it very hard, if not impossible, to lose the crowds. I personally recommend opting for a DIY trip by train or bus if on a budget, or for a private tour, as the best ways to minimize the crowded feeling.
Tuscany tours and day trips I recommend are:
Private Chianti Tour by LivTour – this is a wonderful, half-day (6h) private experience with a private driver who leads you to explore two wineries in one of the best wine regions in Italy and the world.
Chianti is a beautiful area, with beautiful hills, medieval towns and one of the places people think of when they think of quintessential Tuscany. The tour can be tailored to your needs and it is family-friendly.
All info here >>> Chianti private tour by car (day trip)
Tuscany countryside experience with cooking – this is not a tour but a wonderful day out in the country suitable for anyone who wants to spend a relaxing day in the Tuscan countryside and also learn how to cook a real Italian meal.
The day is great for all types of travelers, including families with kids and comes with an extra plus: the option of using the estate's swimming pool, a lifesaver during Tuscany's hot summers! Find info >>> here <<<
The best places to stay in Tuscany without a car
| | | | |
| --- | --- | --- | --- |
| Locality | How to get there | Good base for day trips | Vibe |
| Florence | Train | Yes | Art city, city break |
| Lucca | Train | Yes, some good options by train | Medieval town, family-friendly, |
| Pisa | Train | Yes, some good options by train | Local, mostly modern, convenient |
| Viareggio | Train | Yes, some good options by train | Beach town, upscale |
Florence
Florence is one of the easiest places to visit in Tuscany without a car and a great base for day trips.
Fast and comfortable high-speed trains connect the city to Rome, Venice, Bologna, Milan and all main Italian cities.
In addition, a well-functioning network of local trains and buses connects it with towns such as Lucca, Pisa, San Gimignano, Siena and many more.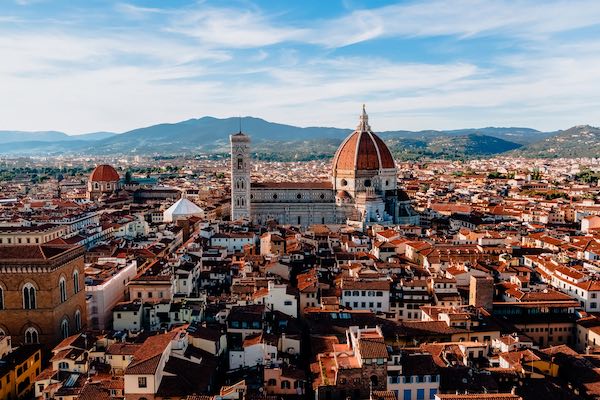 The main station in Florence is called Firenze Santa Maria Novella and it is in the city center. Florence is easy to visit on foot and perfectly located to arrange day trips to the country by bus or train.
If you are looking at visiting Tuscany without a car, Florence is a fantastic base! 
Travel guides to the area you may enjoy:
Lucca
Lucca is a delightful small town in Northern Tuscany, famous for its many churches, a walkable town center and wonderfully preserved medieval walls surrounding the city.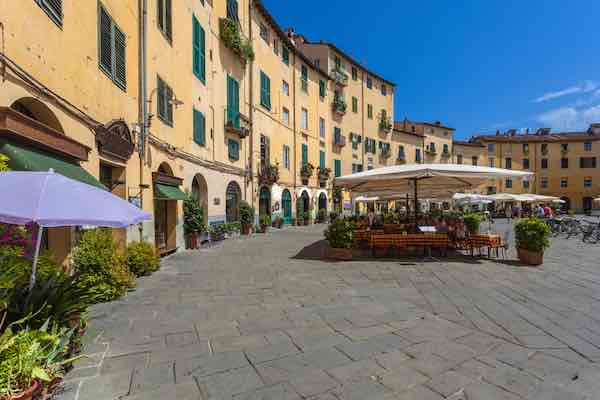 Lucca is a great base to visit in northern Tuscany if you have kids in particular since it is a fantastic small town for families.
You can easily reach Lucca from Florence and you can use it as a base to explore Pisa and the beautiful beaches of Versilia.
Please note: if you are staying outside of the town center, you may need to get taxis of local transport to reach your Agriturismo. If you are in town, the old center is all walkable.
Travel guides to the areas you may enjoy are:
Pisa
Pisa is one of the famous destinations in Tuscany, usually visited for its astounding tower and surrounding piazza, piazza dei Miracoli.
Psa is a town with a long history but suffered greatly during the war and lost part of its center to air strikes.
Because of this, while it is a stunning city to visit for day or so, it is rarely chosen as a base to discover the area, its modern feel not matching what most visitors look for when planning a stay in Tuscany.
However, Pisa is one of the best places to visit in Tuscany without a car as it is a walkable town, it is one train line and on well connected to Rome, Florence, Lucca and Cinque Terre.
Outside of the main piazza, Piazza dei Miracoli, Pisa is a local town where you can feel like a local (visitors hardly ever leave the area of the square, the rest of the town is much quieter!)
Viareggio
Viareggio is a beautiful seaside town in the north of Tuscany blessed with large sandy beaches and views of the mountains as a backdrop.
Viareggio is well connected by train to Rome, Lucca, Florence, Pisa and Cinque Terre and a good place to use as a base in summer if you want a beach location but also the option of the occasional day trip by train.
Viareggio is one of the best beaches near Florence.
Visiting Tuscany to visit without a car: summary
In my opinion, the five best ways to explore Tuscany without a car are:
Using the train, using Florence Pisa or Lucca as a bases
Using local buses, especially using Florence as a hub – best budget option
Hiring a private driver for ad-hoc transfers – highest budget option
These last two tours are fantastic for experiencing the Tuscany countryside in a day, without the stress of driving.
I hope you found this overview useful and it helped you plan your stay. Safe travels!
If you want even more help or you have any questions, please in my FREE Facebook group about traveling to Italy with kids: I will be happy to have you there and the tips from me and the other members are FREE!